We keep on telling you that Instagram is taking steps into turning from a social network into a creative e-commerce market. With the Checkout feature, you can sell anything directly from a business Instagram account. Ignoring a function like this would be simply short-sighted. Learn how to use Checkout and its possibilities to the maximum.

Having a well-organized Instagram shop with Checkout doesn't mean that you should not grow sales through a website or other large e-commerce platforms. For some niches, Instagram won't be the right audience source. But if you're selling Instagrammable goods or services, starting an Instagram shop is absolutely worth it.
Social media is full of information – one second a person might want to order your product, but as soon as they refresh the feed, they might forget about it. Besides, even now Instagram is full of competitors in many niches. Customers will always choose the simplest option.
When you let customers purchase directly from the post it will be convenient for potential buyers. Plus, the Instagram user experience inside the shop is handy and encourages purchases – people can read the description and head to Direct for clarifications immediately before they forget what they were looking at.
Perks of setting up Instagram shopping:
Convenient catalog with all your goods on display. When the Instagram Checkout is active, potential clients will see a classified catalog, with collections and similar products. From the feed, products may not be the focus of their attention. Thanks to this feature, clients will be willing to spend more time in a shop exploring and more inclined to buy.
Clear prices and product descriptions simplify purchases. Seeing a price tag is convenient for buyers and for sellers. Often on Instagram people need to ask about prices in Direct. Many shops stop replying or take too long to reply, and it's the main reason they lose hot clientele. When they see the price and the quick buy button, fewer steps need to be taken for them to order, and for you to make a profit.
Additional traffic to your website. When people use buttons leading from each product to a page on your website, you will get extra website visitors from IG. You can simply analyze the revenue and traffic from each product presented on Instagram with Google Analytics metrics.
How to sell in an Instagram shop: ideas from top accounts
Use auto-messages to quickly respond to clients in Direct.
In an Instagram shop, buyers have the opportunity to navigate to Direct in one click and pick one automated question. However, oftentimes if a shop didn't set up auto answers, the situation arises as in the example below. Customers never receive answers to their queries, and it may create a bad impression of the brand.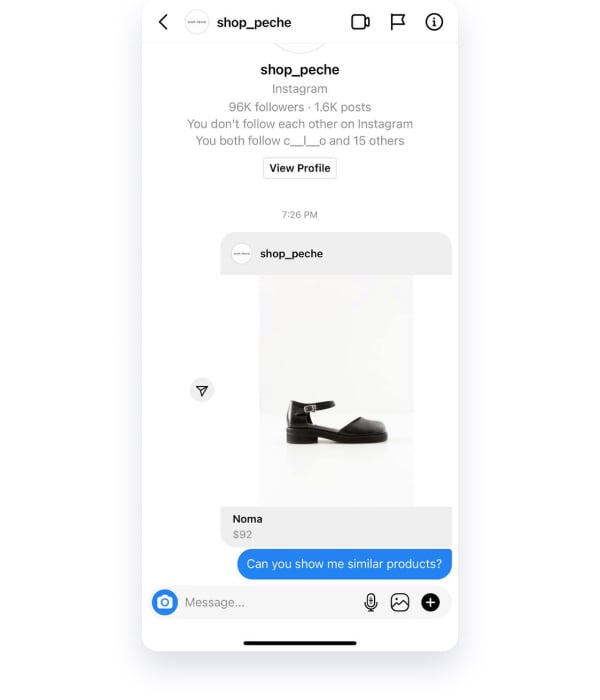 To avoid having to check your inbox all the time, you can save automated answers to the most frequent questions.
With the help of the Direct Module, users can add a list of keywords that Instagrammers most often include in their questions. For example, it can be the word "size," "color," and so on. For these frequently asked questions, you will save several variations of the answers that will be automatically sent by the system every time you receive a question with these keywords.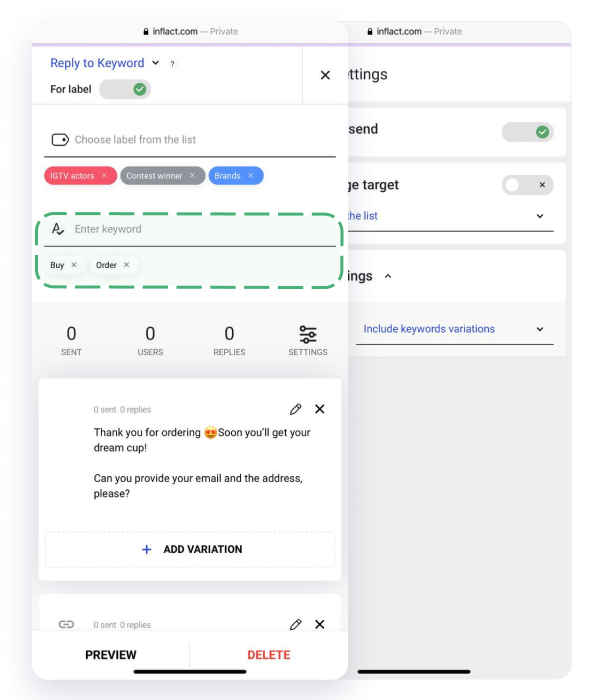 Also the Direct Module is a convenient CRM system for your Instagram shop. Here are the conveniences that you can enjoy:
Manage the customer base and fill out customer cards. In Instagram desktop chat and in the app, you cannot view the details about each person or their history of purchases. This can be inconvenient if several managers are responding to customers' messages. To keep the essential data about purchases, clients' birth dates, questions and statuses, use the built-in cards, notes, and labels.
Classify target buyers by boards. With the help of visualized Kanban-like boards for chats, you can define customer groups. Explore more in this article.
Search clients and chats by words or tags. In the Direct Module, you can add data about clients in the notes below their personal card. Later, indicating these words or labels in the search bar, you can find every chat that contains these keywords.
Enter your branded hashtag in the bio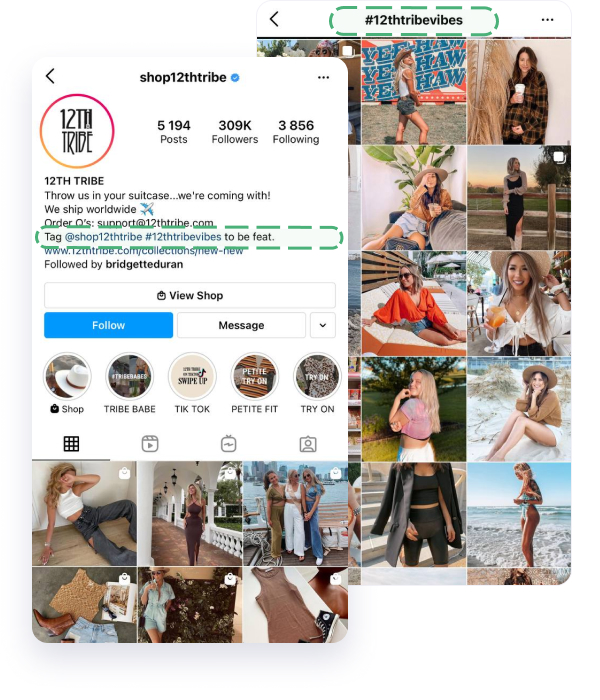 To ensure that your feed will always have an influx of fresh photos and content from users and from buyers, indicate directly in the profile description the hashtag for the collection. Thus, people who order from you and take shots using your products will get into the hashtag gallery. These photos will be social proof of the quality for new potential buyers.
Specify marketplaces where buyers can order your product
For some people, it may be inconvenient to order through Instagram, or in some countries, Shopping may be unavailable. Therefore, just in case, indicate the platforms where people can order besides IG, including your website.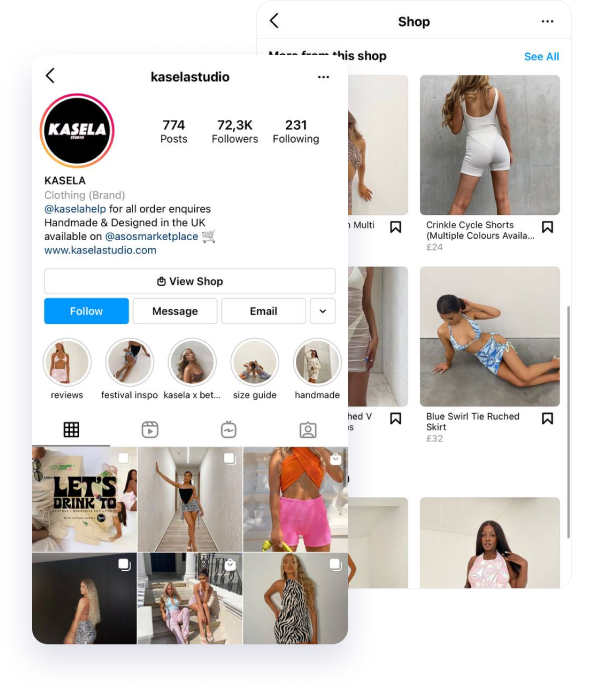 Categorize products by collections
When using the Checkout function, you can create collections of products. Thanks to this, it will be easier for people to find and discover all the items you list in the IG shop. A store will look similar to popular e-commerce platforms like Etsy, where collections are a common thing.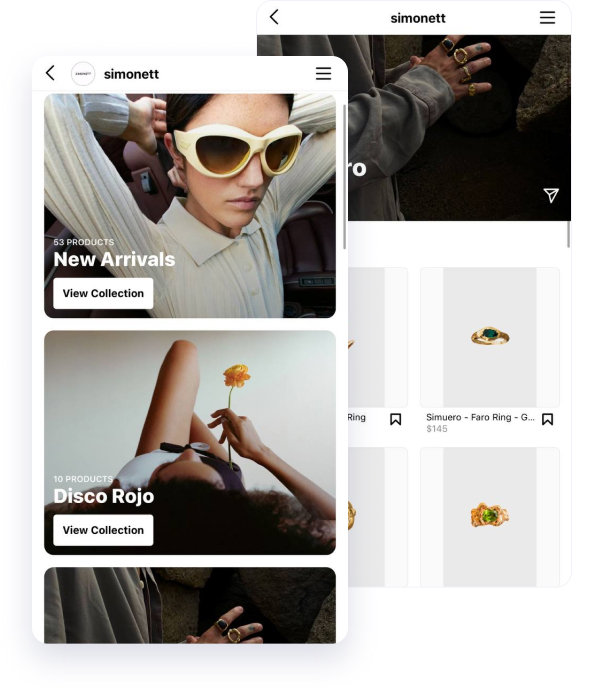 Experiment with guides for your products
A smart idea that we spied in one IG store is to make a guide containing several products. You can provide instructions on goods favored by influencers or explain the best ways to use or style the items.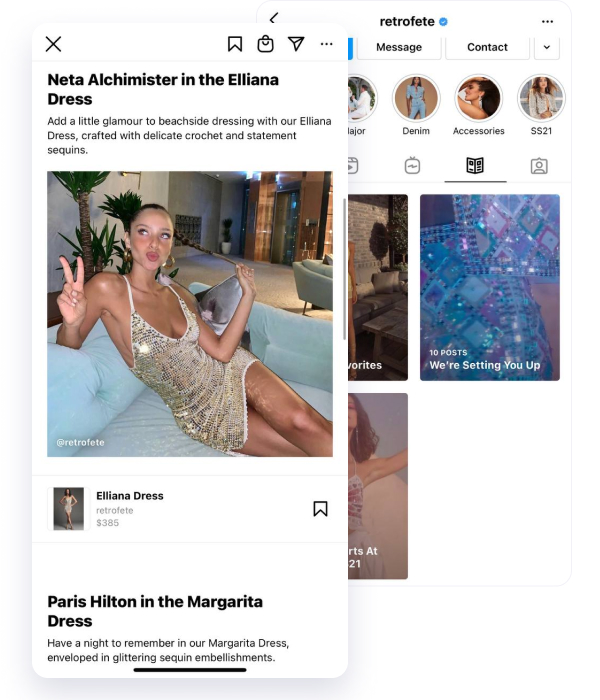 Guides will arrive as cute and informative blog posts with images embedded into the Instagram shop. Systemized information in a guide will help potential buyers to compare several items. This is much more convenient than looking for multiple products in the feed and reading each of the descriptions, don't you agree?
Add photos of people to catalog carousels
The Shopping feature on Instagram is certainly a catalog, but it doesn't have to be boring. On this app, apparel, accessories, or shoes without a model in them will not have such a strong effect as on e-commerce sites. Remember that this is primarily a social network. Therefore, try to make the presentation of your products as authentic as possible and demonstrate the products in use.
Learn how to shoot people for the Instagram feed.
How to start an Instagram shop – FAQ
What is an Instagram shop?
In addition to a successful presentation, Instagram allows you to promote through more channels. For instance, you can integrate shoppable tags into captions and stories, and your Instagram products will be more often shown in Explore to those who were interested in similar shops.
As you can see in the screenshots from Explore, four of the photos contain shopping tags. Therefore, if you get into Explore by using hashtags, users who often browse look-alike stores of your competitors will notice yours in recommendations.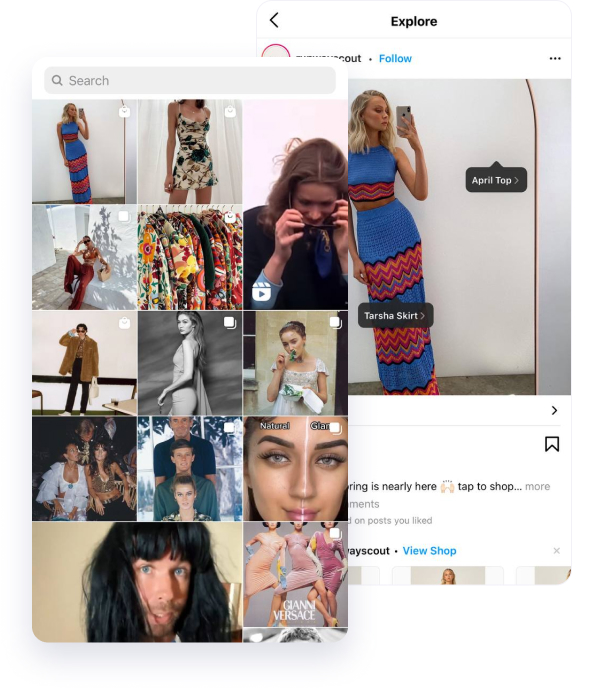 Every time users click on a shopping sticker, they receive full information about the product. For example, they will see the exact name, the carousel of photos, and the price of the product. They will be able to directly follow the URL and open the associated page on the website. Also thanks to similar products and a detailed description, the experience is getting more engaging.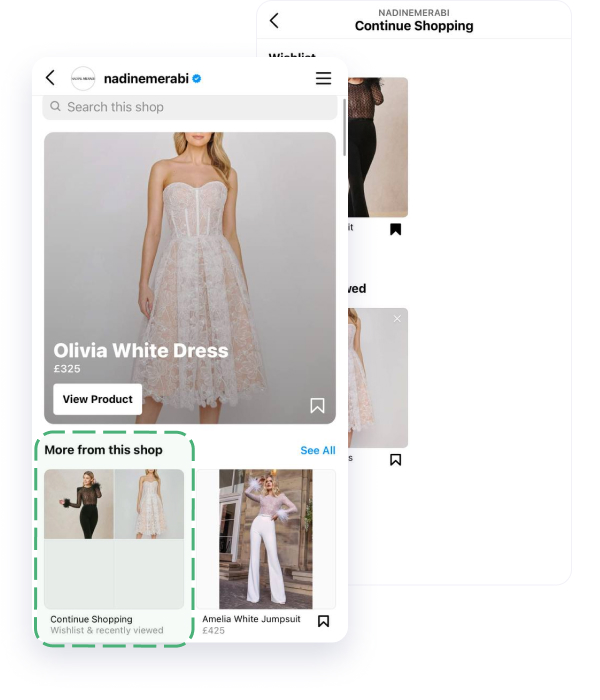 It is also very convenient that users will not forget items they were looking at. They can simply add a particular item to the wishlist and it will be pinned to the Saved section on their profile. Also, when users open an Instagram shop again, the entire history of views is before their eyes so they won't get lost.
Is an Instagram shop worth it?
In order to customize an Instagram shop and add visuals, descriptions, and links for each product, you will need to put in some time and effort. Also, it's necessary to set up a business page and link it to your Facebook account. But thanks to this, your Instagram store will look professional and result in more purchases and orders thanks to the fast payment and delivery options.
How much does it cost to have an Instagram shop?
Setting up a store on Instagram is absolutely free. In contrast, many e-commerce sites will charge you a commission for listings or a commission on sales.
How many followers do you need for an Instagram shop?
You can launch an Instagram shop even with zero subscribers. But we would not advise immediately investing so much time in the fully-fledged store in the beginning. To get started you should at least have your first followers and determine whether the products are appealing to the audience. Discover multiple ways to [grow your account from zero to 1,000 subscribers in this article].
As soon as you see that your product is attractive to the Instagram audience, feel free to transform your account into a professional shopping feed.
Is there any alternative to Instagram shop checkout?
Sometimes it is more lucrative and effective to find alternatives to an Instagram shop.
For instance, Instagram's transaction fees may become an issue. Based on their rules, the selling fee is 5% per shipment or a flat fee of $0.40 for shipments of $8.00 or less.
When the platform curates the delivery, you may lose private information about your clients that could be useful for your database. All information will be stored by Instagram. Therefore, if you want to collect phone numbers and other contact information, along with the purchase history, we advise you to supervise sales in the Inflact Direct Module.
If an Instagram shop is not available in your country (though you can do it anyway by using a VPN) or if you don't want to start it yet, apply tools such as Link in Bio. Thanks to such services, you can make every post on Instagram clickable. People tapping on the link in your bio will see every post linked to a certain page on your website. This will also facilitate orders.
If you need a detailed guide to set up a shop on Instagram, check the Full simple guide from the first shopping tag to millions $.