If you rack your brain every time you don't know what to post on Instagram, running a business account may be challenging. It's even worse when you need to start a new account from scratch. Mood boards for the Instagram grid will help you shape your whole concept, making the feed attractive for new visitors and encouraging them to follow you.

Conceptually stylish Instagram grids that sell effectively don't come out of nowhere. In order for you to be able to sell your products, your content must be somehow unique and stand out from the rest. To achieve this, you do not need a professional designer. The most important thing that will help you is the skill of making mood boards. In this article, you will learn how to make a mood board particularly for a social network, which might be the only place where you represent your goods or services.
Even though now it might be difficult for you to form a unique visual concept of your business on Instagram, and you may sometimes just copy competitors, it means you simply don't know how to analyze visuals and research trends, transforming them into a unique content. Here you will discover practical steps for creating an Instagram grid that puts an end to simply waiting for inspiration or copying others. Essentially, the fine look of the IG grid will definitely increase your sales because Instagram audiences choose by images.
What is a mood board?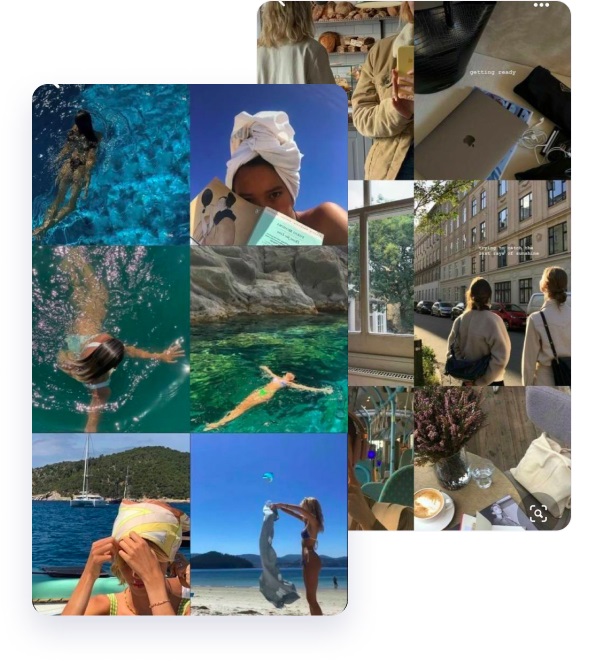 A mood board is a group of visuals that reflects an account's style and concept. Through it you can clear up ideas to focus on in the account, and define the sequence of posts.
Also, with the help of a visual board, you can explain to the rest of the team how you see the profile. For example, if a manager is in charge of your account, or you invite a photographer for a product shoot, a mood board will convey your idea better than words.
And what is essential – creating a mood board is not only searching for pictures and making a collage, it is also a way to transfer a certain mood through the images of your brand on IG. When making up a mood board, you have to rethink the pictures in order to convey the concept. For this, details from completely unexpected sources can help you. The methods described next help out people working in the creative industries.
In what cases is it necessary to make a mood board?
Before photoshoots for Instagram. At first, it can be challenging for you to shoot products or people for a business account. The final result may be far from your expectations. To avoid this, you have to learn how to make a mood board. Thus, all the team, including models, photographers, artists will catch the idea clearly. Also, a new vision and taste will develop naturally.
When starting Instagram from scratch. If you decide to become a blogger or start a business and promote it by using an Instagram account, it can be difficult for you to start posting from zero. To form multiple ideas into a single concept, a visual board will help you.
If you run Instagram for business. In this case, a mood board will be the basis of your brand book, highlighting your identity and vision.
So, saving images you like on Instagram and reflecting on them will shape up your creative thinking and taste. Let's review methods of making a mood board.
How to make a mood board for Instagram
Running boards right on IG is the simplest solution that will help you nurture creativity daily, while you are scrolling the feed. For this, you need to start following Insta-galleries or feature accounts. They select top visuals so you don't need to follow hundreds of influencers, competitors, etc.
There are several ways to systemize IG content into a mood board.
Curate collections in the Saved section in the IG account.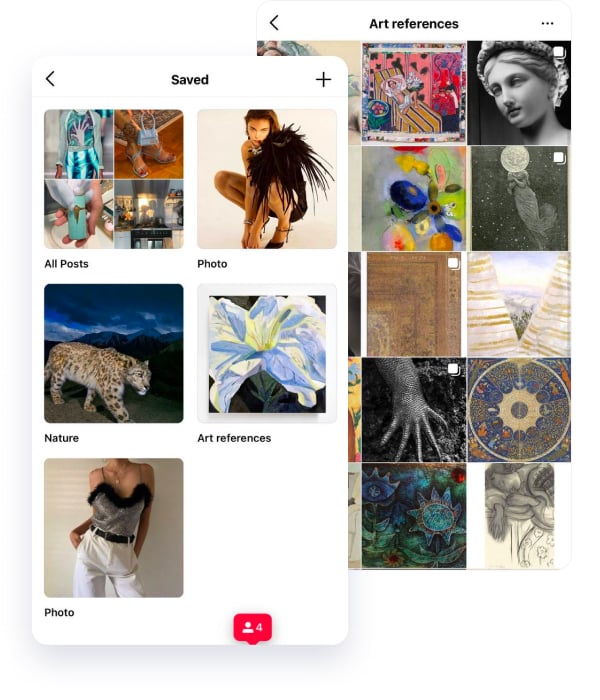 Create Collections for every project, photo session, or product. Add relevant images to them every time you see something eye-popping in Explore or in the feed.
Create a separate mood board account.
Many creative people use a dedicated account for selected visuals. It helps them to preview exactly how chosen images will look in the Instagram feed at a glance. For training, you can also create such an account (you can make it private).
By the way, it happens that mood board accounts on IG are becoming more popular than personal accounts. Other people might like your vision and start following to get inspiration.
Mood board on Pinterest (boards).
Pinterest is a whole social media that's akin to a mood board; it's full of creative tips, visuals, and archive images. Moreover, Pinterest will smartly show you relevant content based on your boards. If you are still not using it, sign up right away. Dedicate 10-30 minutes a day to research visuals based on your brand concept.
You can research visual inspiration not only on social networks but in movies, works of art, magazine archives.
Think of top films, icons, or styles that are related to your target audience. Write down these ideas right away and start exploring everything.
In 2021 even a movie frame can become a top-liked post, so don't miss the myriad less-than-obvious yet aesthetic ideas.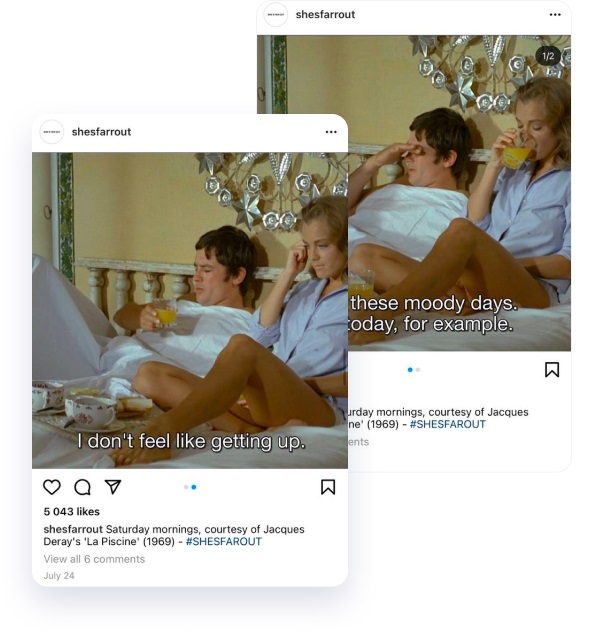 Save to your phone gallery.
Keep images you like in a separate album on your phone. You can save them from Instagram in original quality. Please don't re-use screenshots – the resolution will be killed. There's a smart service that allows bulk downloads from Instagram.
What is specific to Instagram as a social media is it has trends in content. An image might look great on a mood board but it can be un-Instagramable. That's why it's vital to determine top trends by niches – they may change even tomorrow.
So, our goal is to teach you HOW TO RESEARCH ON YOUR OWN. IT'S SIMPLE AND FUN!
How to research trends on IG
Follow inspiring IG accounts
You can create a separate account or use your mood board account for this purpose if you don't want a lot of following from your business profile.
Competitors & niche accounts. Competitors are a great source of inspiration and great for studying. I don't only mean your direct rivals (similar shops from your location). Follow indirect competitors, like giants in your niche or those who sell substitute products. By analyzing their accounts, you will simply catch up with new ideas.
Discover top-performing content via the Profile Analyzer. Simply paste nicknames of the best shops in your niche and view which posts are the most liked.
Influencers. They truly dominate Insta trends. What's more, we'll need influencers for partnering content. Pick 5 celebrities or top influencers, like Gigi Hadid, Kim Kardashian (usually they start trends), and 5-10 influencers related to your niche.
Feature accounts. If you are too lazy for the previous two steps, follow at least 5 feature accounts. These accounts are curated galleries with inspiring content, most of which are dedicated to a certain topic.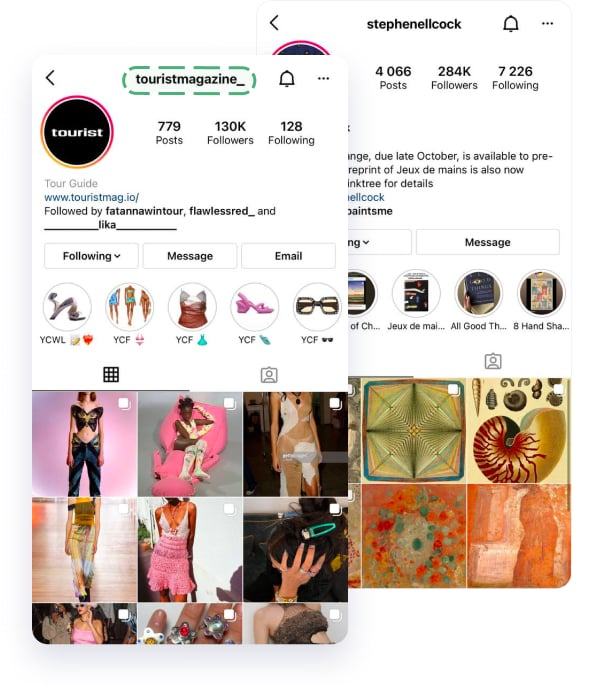 Top world brands. Market giants (not only in your niche) are trendsetters. I'd recommend you to follow luxury brands, especially fashion brands. Because general tendencies that appear in fashion dominate all over Instagram sooner or later.
Top magazines. Publishers spend millions on designers and creative teams who are responsible for Insta visuals. You can learn from them for free and pick up what you find suitable.
Reflect on the insights you get from these Instagrams at least monthly. Adjust your content and plan accordingly with these trends. It'll be simpler if you manage insights in a diary or in notes.
Follow channels with photo hacks
Special accounts for photography on IG and TikTok will help you to master photo-editing, posing, and much more.
PRO advise for creating mood boards
Sometimes even starting to create a mood board mood is not easy. These professional tips will help you get the hang of maintaining a profile and building a visual board that will lead you to your bottom line with ease.
#1 DON'T TAKE MOOD BOARDS TOO SERIOUSLY
A board with pictures or saved images on Instagram is not a specific plan; it's just the direction for further creation. You don't need to blindly copy or think for a long time about what you want to contribute there. Treat it like a game. And soon you will notice how you start to think in a single concept and ideas from visual boards naturally penetrate into shootings and re-used content.
#2 KEYWORDS WILL GET YOU STARTED
If you do not know what pictures you want to save for your business account, it may be easier for you to think through words. To do this, write down words that transfer the sense of what you do and the values of your brand. The words may be abstract and you can try to find more synonyms. Based on these keywords, save pictures that directly or abstractly embody the main message.
#3 MACGUFFIN
The technique will help you get completely unexpected, creative, and flamboyant Instagram. If you are thinking too literally for keywords or images in a particular style, try to go the opposite way. Look for photos or visuals that are completely inappropriate and unrelated to your brand. These can be images illustrating your current mood, something that is on-trend – songs, movies, TV shows, destinations. Anything you can imagine and that has nothing to do with your brand.
Then look at this selection and try to find and understand what attracted you to these things. Thanks to this technique, you can avoid banality and amaze new potential customers.
#4 STAY FOCUSED
Sometimes when you have too many ideas and a lot of keywords it can be hard to present the final clear picture. For this, you can use a trick. When you do not know whether to include a visual on the board, make sure that it matches several keywords at once. If it does, then feel free to keep this image.
#5 THE BEST IDEAS ARE HIDDEN IN DETAILS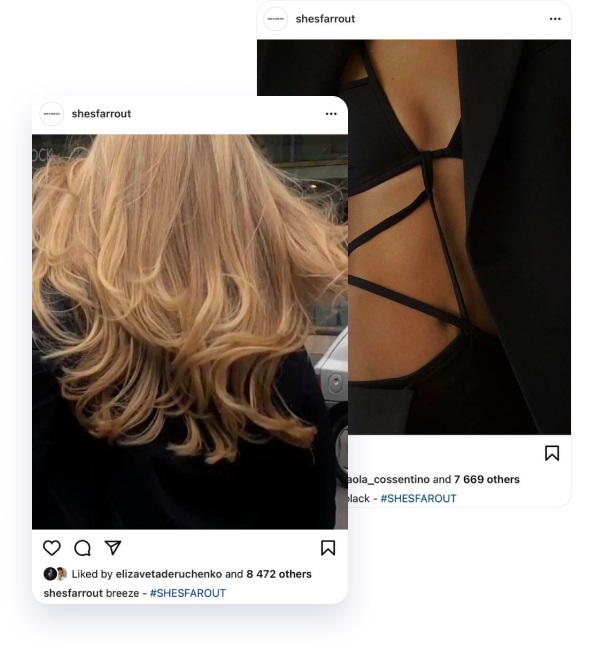 If you are looking at a picture with many details, people, and or objects, try to understand which particular part or detail attracted your attention. Use zoomed-in fragments such as textures and close-ups. Thanks to this, you'll achieve clarity and it will be easier to read a single visual concept without distractions.