When it comes to selling through Direct messages on Instagram, don't head your potential customer to the website from the first message. If the person asked you about something right in Direct messages, it means they want to communicate here. If you try to send them to the website, there's a chance you'll lose them as a customer. So you need to master the art of communication in Direct messages.

Direct messages policy
If the customer contacts you right in the Direct messages – no matter what your Instagram business is about – you should answer right inside the platform. Of course, you might think, big Instagram-popular brands like @fashionnova and @urbandecay are too massive to answer on Instagram.
But even big brands that have huge trade flows set up automatic replies inside social media so that no one will leave the communication without a reply from them. What respect to each customer!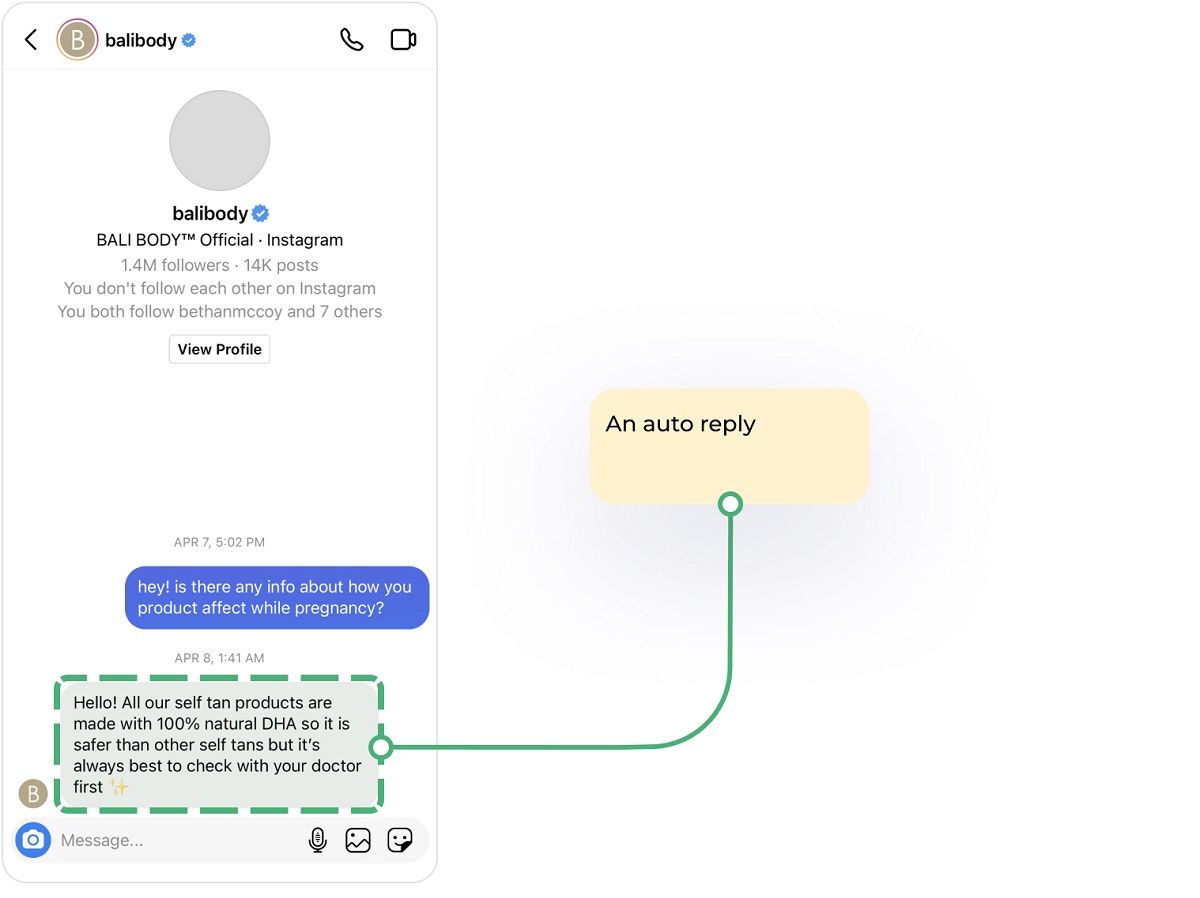 Sell through Instagram Direct messages
No matter what your business on Instagram is if you're selling something on Instagram you need to communicate with your potential customers professionally.
If you are a nail master – you should always have a presentation of your work and a price list with a timetable on hand to send out.
If you own a restaurant and promote it through Instagram – you should reply to reservations as quickly as you can and consult on the actual menu.
If you have a vintage shop you should have a vintage proof for all your products to show to a potential customer.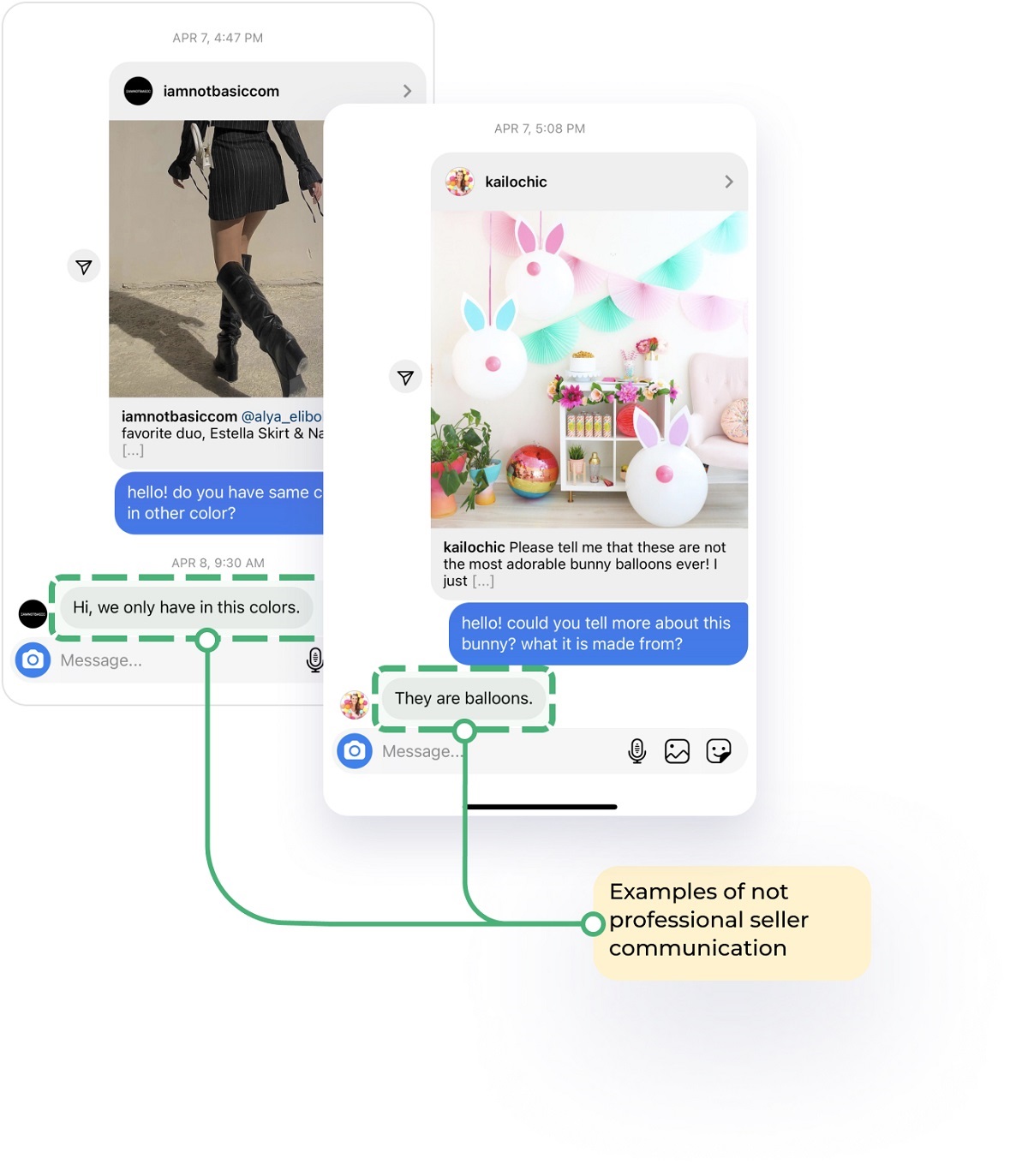 In any case, you need to handle every communication in order to sell your goods to every potential customer.
Every thread in Direct messages is a chance to sell.
So the first thing you should master is how to handle the objections of your potential customers.
5 brilliant ways to prevent objections in Direct messages
1. Detailed presentation
It doesn't take a lot of time and effort to sell a chocolate bar. Basically, there is no need for "tons" of information. The main advantages and a good offer are enough. But the more expensive the product, the more serious and detailed its presentation should be. Here the client is already interested in every little thing, even the smallest detail.
The text should convey the most complete information that will be of interest to a potential client (within reason, naturally – without going to extremes like saying that a leather sofa has white filler inside of it).
Create 3-5 main presentation scripts that you will message your customer with depending on customer characteristics like old/youthful, men/women, lifestyle, etc.
Create and reuse sets of phrases for communication: this will help you communicate more accurately, it is less time-consuming, it reduces grammatical mistakes, and it helps control the overall tone of communication with clients
Add these scripts to auto-replies in the Inflact Direct module.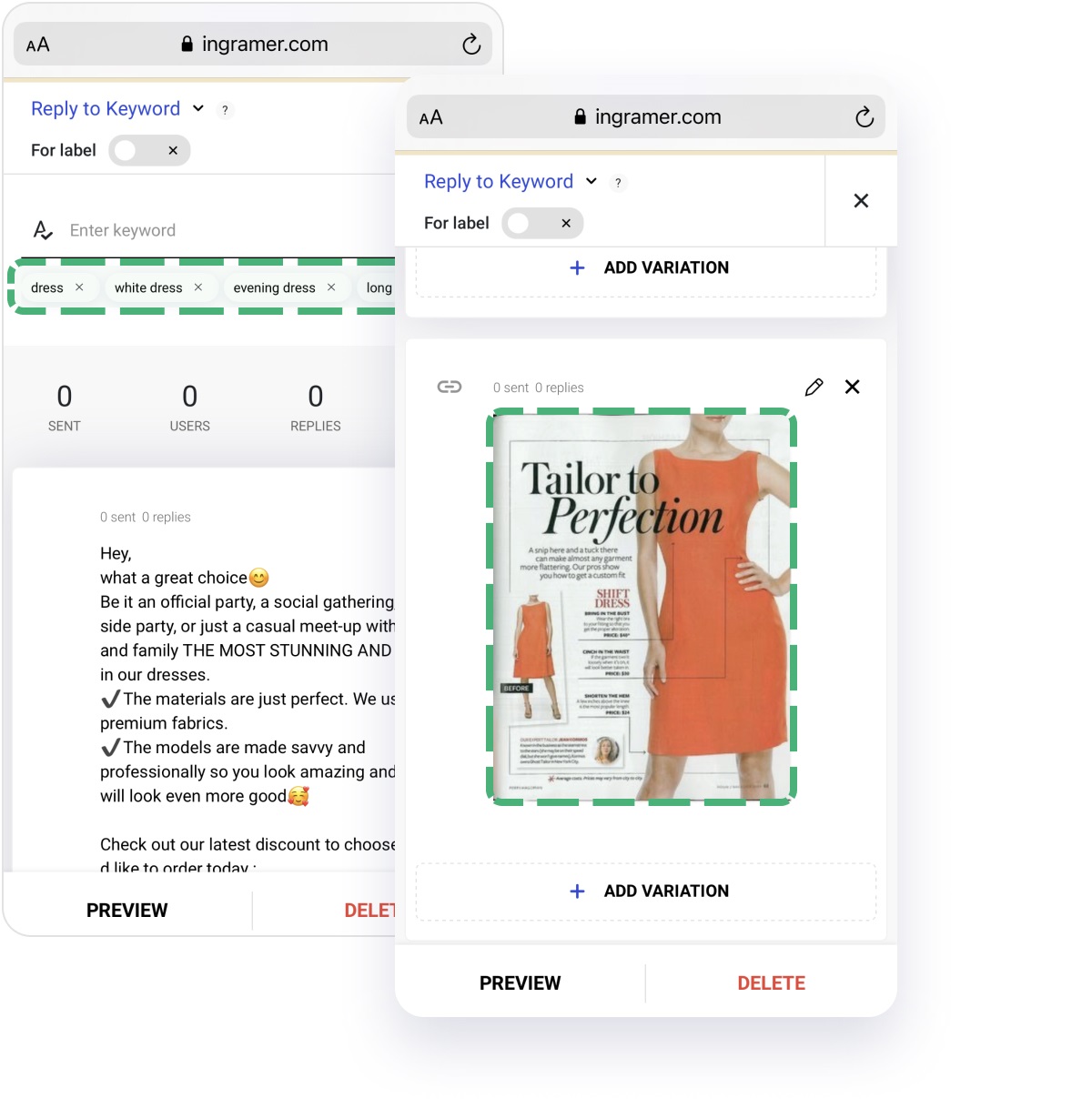 Instruction on how to set auto-reply messages with a detailed presentation in Inflact.com Direct module:
Go to Auto-Reply.
Choose Add auto-reply.
It is by default set to "Reply to a keyword."
Add keyword.
Tap Add a message.
Type or Paste the text of the message you'd like to be sent in reply to a message with this keyword.
2. Exact numbers
Try to provide accurate and "detailed" numbers. The use of all kinds of "rounding" is unacceptable here. If the starting offer is $127, then there is no need to artificially lower the price to an even figure - say, $120.
Remember, the "smoother" the specified amount, the more questions and mistrust it causes.
Say "the discount for this model is $35," and not "we offer a 7% discount on this item."
I think you will agree, $35 "looks" much more attractive than 7%.
Use custom fonts to make your offer even more magnetic.
3. Answers to questions
Be prepared from the start that there will be questions from the client. The task of the selling text is to predict them (and give a complete answer).
What should be considered?
To begin with, be aware of the fact that the client is already to some extent prepared and armed with knowledge.
Simply put, you need to study the product in detail and put yourself in the client's shoes. Then prepare a list of questions that might follow from a potential buyer. And write the answers in the text.
The Inflact Direct module is the king of smart, customizable auto-messages for keywords. These responses will help you to hold a conversation even if you are offline.
Often customers inquire about similar issues like size, timetable, materials, prices, and others.
So you can prepare standard replies, and they will be sent within 5-10 minutes of receiving them. Surprise clients with your responsiveness and customer care.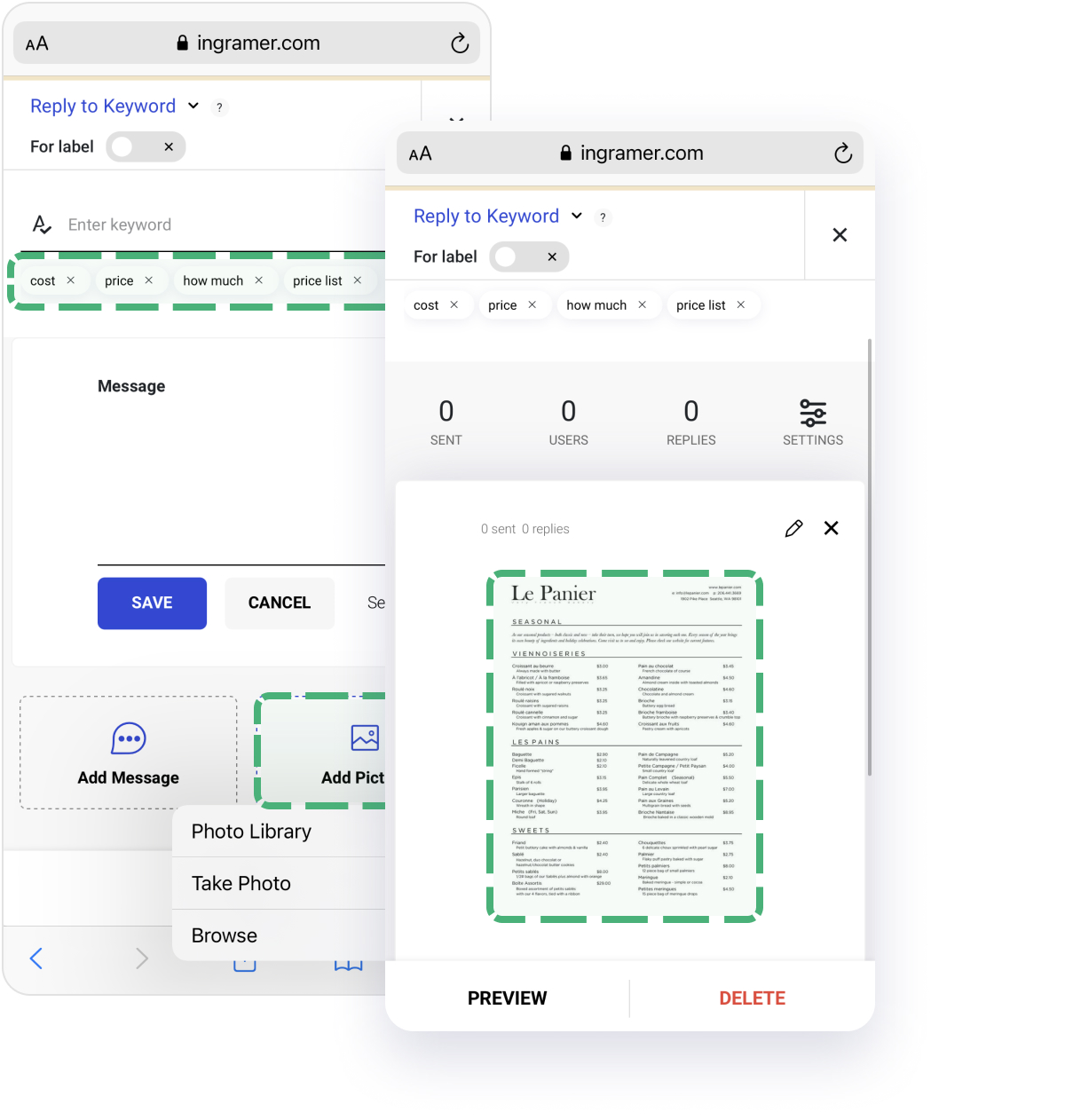 4. Future savings
As practice shows, a person is more likely to make a positive purchase decision if they are offered savings (of time, effort, or money). And the offer "product + GIFT" will be more effective.
Just seduce them with goods that they didn't even know they wanted to buy. The greed will take over.
This can be represented in the following comparison:
"You buy a [brand] watch, and you get a stylish clip for banknotes as a gift."
"You are buying a [brand] wristwatch that will serve you for many years with perfect precision to the second. This means that you always arrive on time for important meetings and give the impression of a serious, punctual person. "
Set up auto-reply messages for those who bought from you already. Use the direct module to Label all previous clients and then use this label to send them an offer with future savings.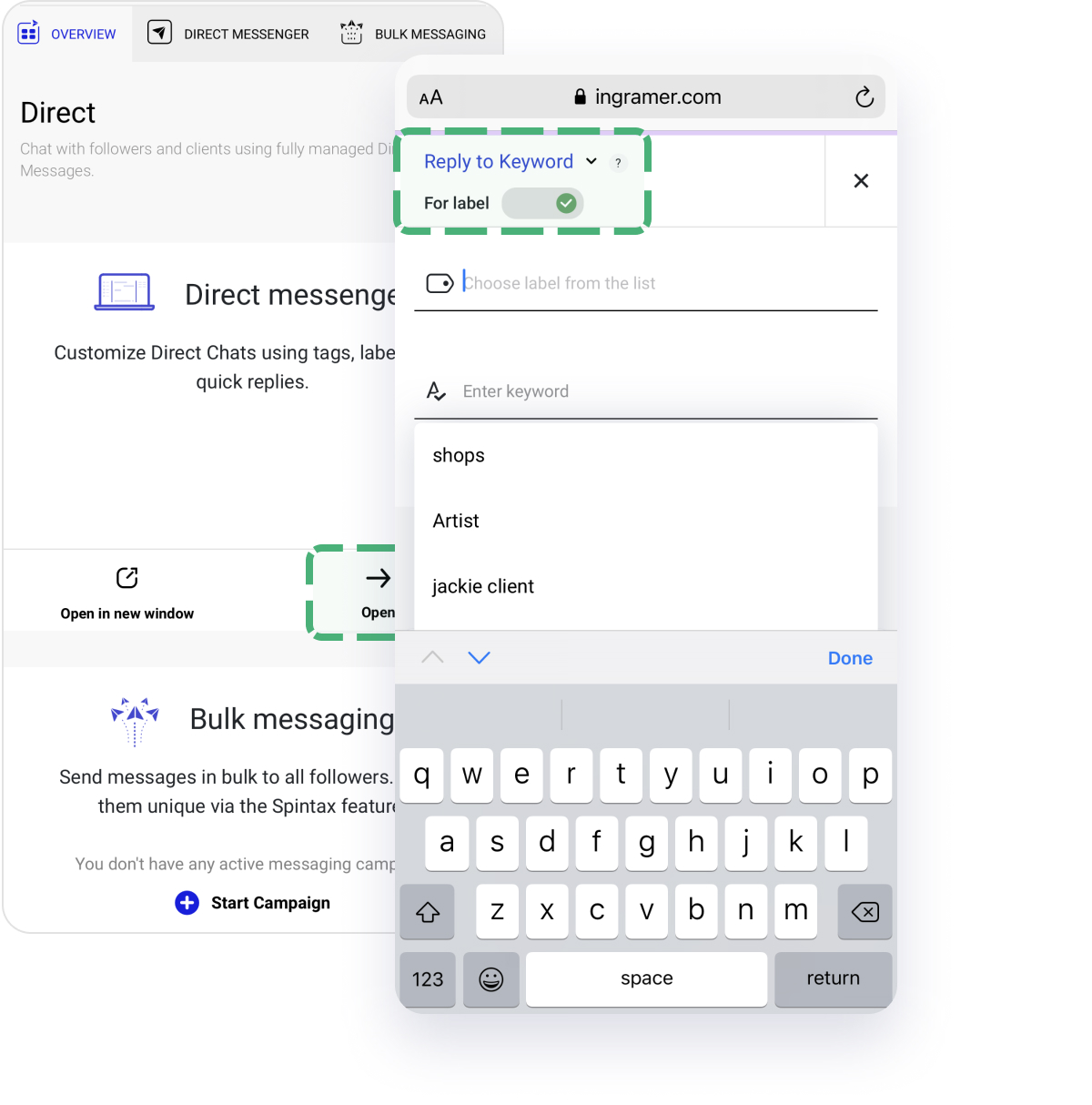 5. Get over psychological barriers
Sometimes clients who are already in the mood for a serious purchase have a certain psychological barrier. This obstacle doesn't let them say YES to you easily.
Good sales copy needs to overcome barriers with compelling arguments.
You can use arguments such as these:
Obtaining new status ("you buy the legendary Rolls-Royce, which is in almost every garage of Hollywood celebrities").
An appreciating asset ("this is vintage Gucci - it rises in value every day. Just imagine how much this will be worth in a few years").
New opportunities ("as the owner of this SUPER bike, you can try your hand in 2 months by taking part in the annual competition ____").
This is just a small sample of what can be offered to clients. Search and find your solutions.
Don't forget to add photos to your messages to illustrate what you want to show. A photo can raise the probability of purchase.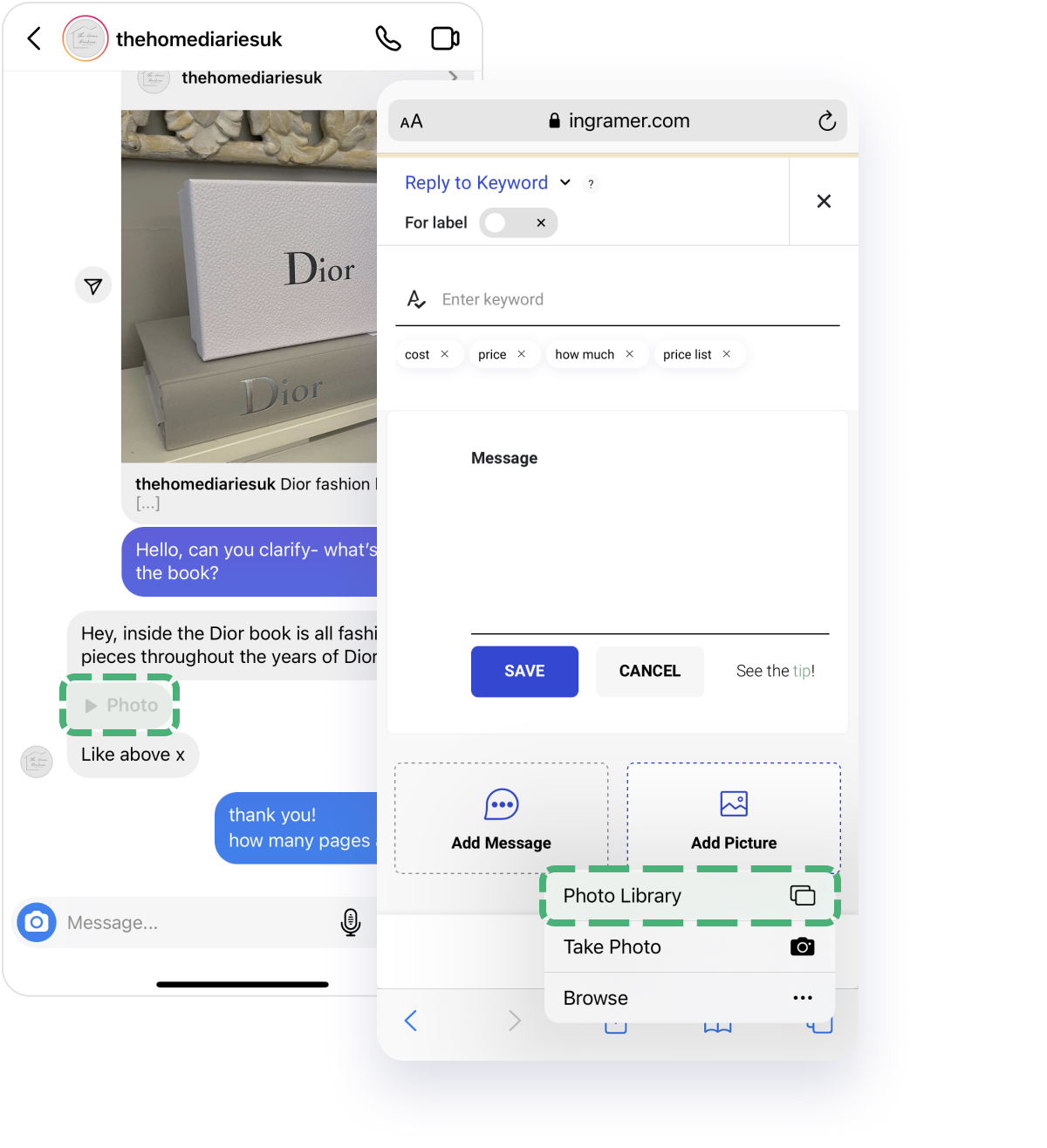 Lastly
All big brands which are popular on Instagram in 2021 use auto-reply in Direct messages. Some of them use this feature to create a feeling of excellent customer service, some of them use it professionally to head their potential customers to purchase.
Don't miss the opportunity to sell on Instagram with this method.