This social media platform lists more than 900 million accounts. But it's still inconvenient to search for people in the app. Want to browse users, influencers, and businesses like on Google? Learn these pro hacks.

It's straightforward to find users on IG if you know their nicknames. But what if you're not looking for one particular person but rather top accounts in a particular niche? Or sometimes, you gain contact data but need to find them on social media without having their username. Unfortunately, it's impossible to enter this information into the in-app search bar. But you can do this with User Search for Instagram.
This web-based service includes tons of profiles that users can find by phone numbers, emails, and keywords associated with their accounts. The process takes several seconds, and people can't tell if you searched for them on Instagram. What's more, you don't need to have an IG account and can browse and view profiles without signing in. Note, that this service can only be used for searching public accounts.
Below you will read how to find Instagram users for business or personal purposes even if you don't know their nicknames. Also, all the methods described are secure – you don't need to synchronize your contacts with the IG app.
How to find people on Instagram by keywords or contact data
In this section, we will use the User Search by Inflact. This helpful service will help you establish connections with influencers or discover schoolmates on Insta.
There are several methods to find someone on Instagram if their username is unknown:
By email. Users often attach email addresses to Instagram profiles to get connected with like-minded audiences. If you have a client base with emails, you can easily find your customers on Instagram.
By phone numbers. If Instagrammers use their phone number as a contact option, you can simply input it to the search bar.
By keywords. You can use this search option if you don't need to find a specific user. For example, if you want to find a local bakery, you need to input these keywords into the search field.
By niche. This option is brilliant if you aim to find influencers, models, partnering accounts, or competitors. You just need to select a category among the suggested ones.
Example: I need to find my client from the customer database on Instagram. I know only the email address. Here is what I need to do:
Open the User Search.
Enter the address.
Click on Search.
The associated account is in front of your eyes.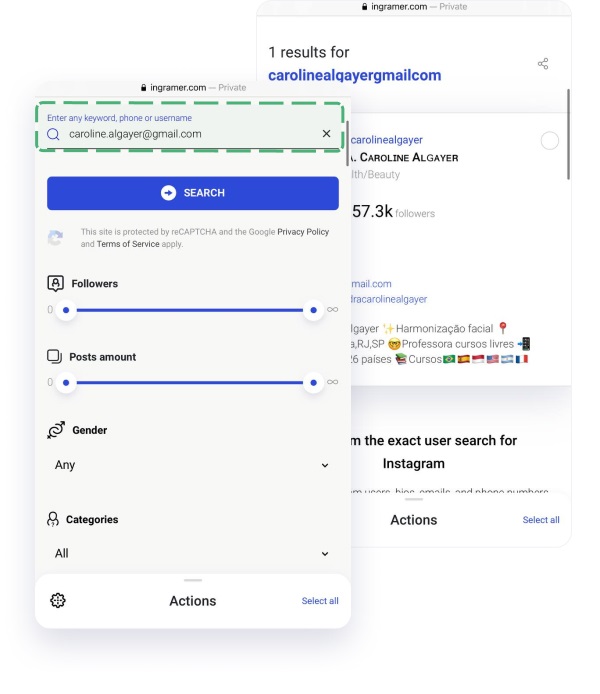 How to find people near you on Instagram
Since Instagram prohibited finding users by location in Stories, it's getting more complicated to discover users in your area. Nevertheless, it's possible to even find niche-specific profiles if you apply the User Search and other helper tools.
3 options to find users near you on IG:
Choose a location as a keyword in the User Search. If you need to discover bloggers, businesses, or talents in your city or country, specify this area in the search bar. Next, choose the category you require to investigate. This way you can find users in your destination for any purpose.
Explore local hashtags. Hashtags are smart IG keywords that help you navigate in the app. For example, if your aim is to detect a nail service in Berlin, enter #manicureberlin in the app's search bar.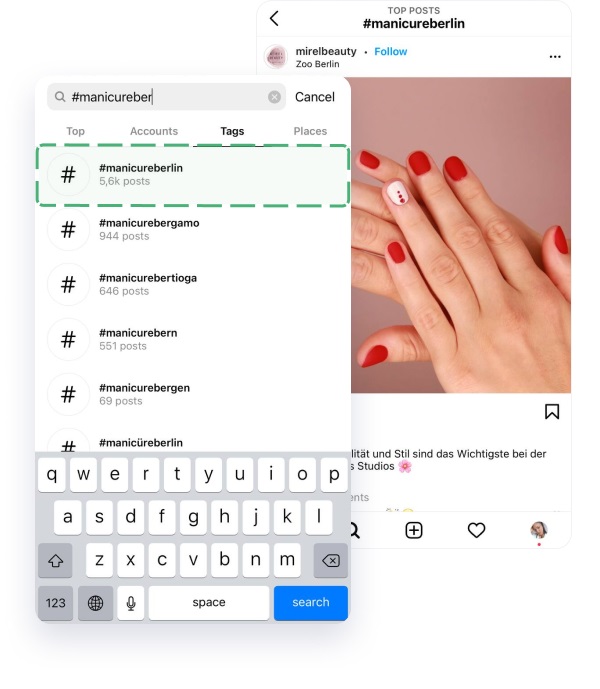 There's one handier possibility to recognize users nearby via hashtags – use the Hashtag Generator. When users seek people in the app, they can't view related synonymic hashtags. But you can in the Hashtag Generator. Thus, it's possible to come across more users that offer nail services in Berlin using related hashtags.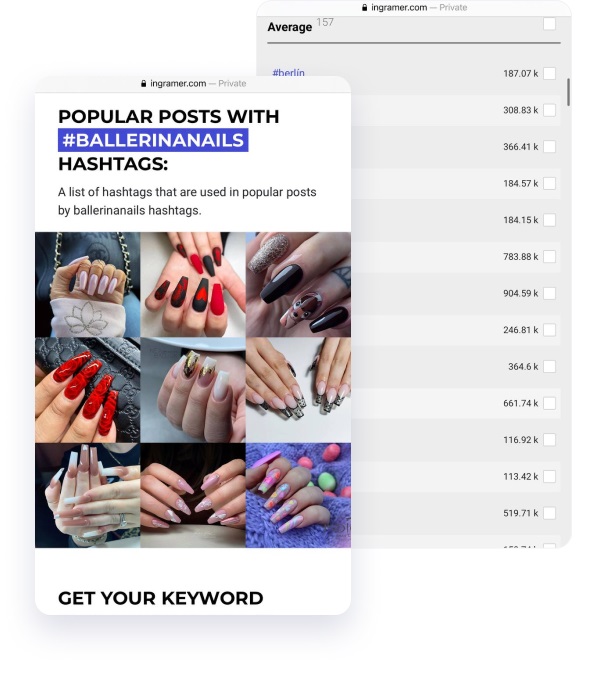 Tap on locations. You may perform this strategy of searching right in the app. Note, you won't be able to find specific users – just top and recent publications made in the region. For example, if you want to browse posts in Pont-Aven, you need to enter this location in the tab Places in the IG app.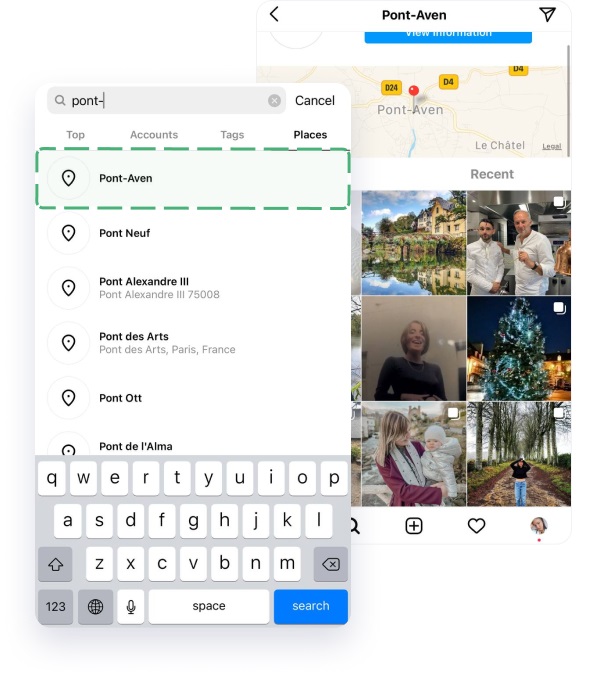 You need to manually browse among these posts and people if you want to reach out to them. It's okay if you are just curious about local influencers but if you want to reach out, I recommend applying User Search.
How do I find someone on Instagram without an account?
In this section, I'm gonna spill the tea – you can find Insta users if you are not registered (or banned) and view their content. So if you wonder how to find blocked people on Instagram, you just need a web Viewer for Instagram.
In the prior sections, you've learned techniques for studying users via the User Search. So if you aim to find someone in a certain category without having an account, fine-tune your browsing via this helper. Next, you can view someone's IG anonymously. Do as follows:
Open this Instagram web viewer – it's free.
Insert a nickname. If you don't know it, you can find people by contacts, names, or keywords via the User Search.
View posts of users. You can do it without an account or if a user blocked you in the app. It's possible to browse feed posts and read captions.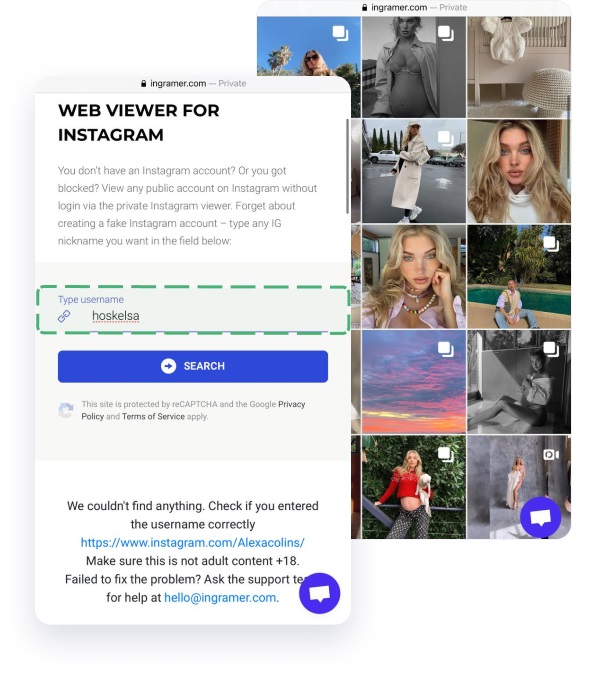 Spoiler: Do you also want to see stories anonymously (without login) or view stories of those who blocked you? Apply the Story Viewer – you can monitor recent stories and Highlights of any public account.
Alternative ways of finding people on IG
By now, you already know a lot about finding people on Instagram without a nickname and viewing their posts anonymously, , i.e. without logging in. We applied Inflact tools and the Instagram app. Now I'll show you bonus ways of finding Instagram accounts.
This option is also suitable for those who don't have the IG app and don't know the desired username. This way is suitable if you know the real name of a person and it's mentioned on Instagram. Also, people browse celebrities' Instagrams on Google because in the app they may find a lot of unofficial accounts. Google analyzes keywords users put into usernames and bios, but the results are not always granular and precise.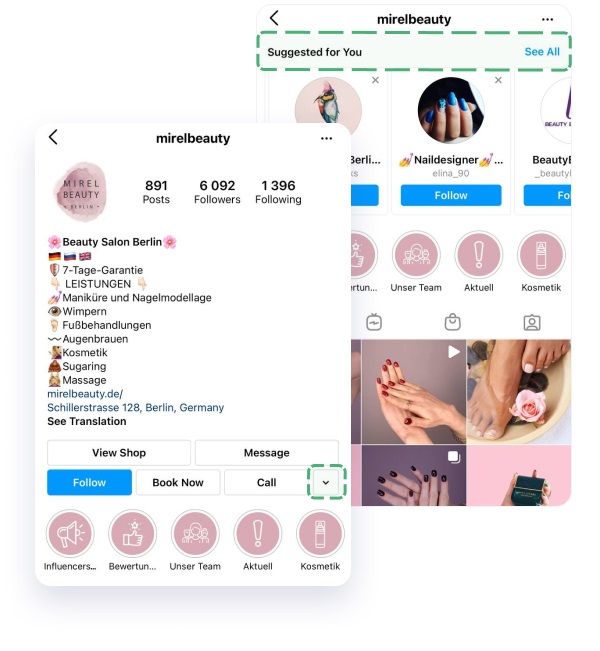 If you already follow successful accounts in your industry, Instagram will recommend accounts you might find interesting. For example, if I've discovered a nail service in Berlin but want to see more similar accounts, I need to click on the arrow next to the contact buttons.
Consequently, you can click on this arrow every time until you find a desirable brand/service/user.
Instagram allows you to follow not only accounts but hashtags. This is crucial if you want to fill your feed with fresh updates in your niche. As a result, you can find more people to follow this way. As soon as users you don't follow upload a post with a hashtag you follow, it appears in your feed.
For this reason, it's essential to use hashtags for promoting your account. They drive your post to the feed of interested users just like Instagram ads.
Lastly
Finding accounts on Instagram is as necessary as googling. With these skills, social marketers can build connections with customers, browse competitors and keep in touch with companions. Apply the User Search in your digital strategy and in daily life when you need to discover Instagrammers within seconds.