What is the foundation of a successful visual strategy for your IG? Yeah - it's new ideas and trends, and a fantastic-looking feed that's made professionally and can take away the heart of a viewer just from a glance.

What do you need to reach the visuals on your page that will significantly impact your engagement?
To get on top of the visual IG "Olympus," master these arts.
In 2022, you need to know photo editing and retouching from top to bottom! Cheats, tips, and schemes of working on any type of photos in order to make them look "instagrammable".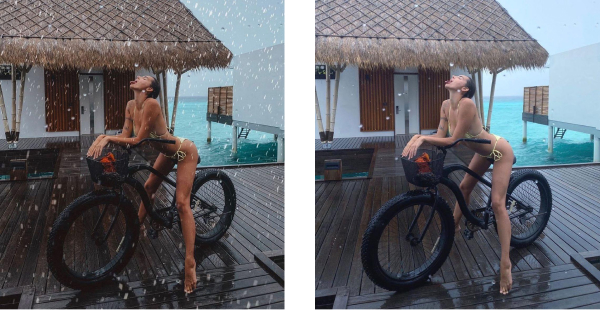 You're noticing how aesthetic photos are flooding feeds of every popular account, aren't you? You need to master the art of picking up such photos on Pinterest or making them by yourself right now.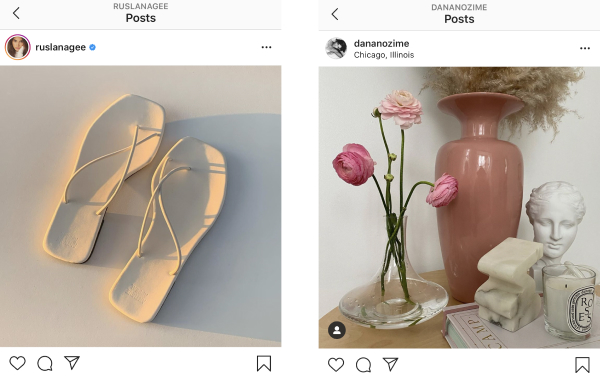 Fresh photo and video ideas
Every day dozens of trends are born within the Instagram community. How do you manage to select the right one that can boost engagement specifically on your account? Follow a photo tutor who works in a style that is close to yours.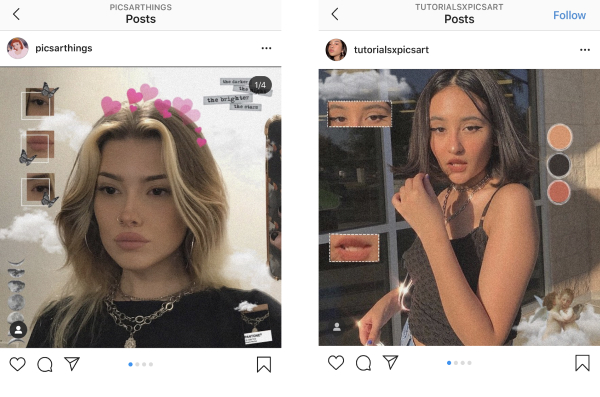 Inspiration for posing, backgrounds, props and lots more
This is a vital feed for account-makers. How to look great in photos, and what backgrounds are trendy right now. How great engagement can be brought to your post just with the placement of the right object in the camera frame.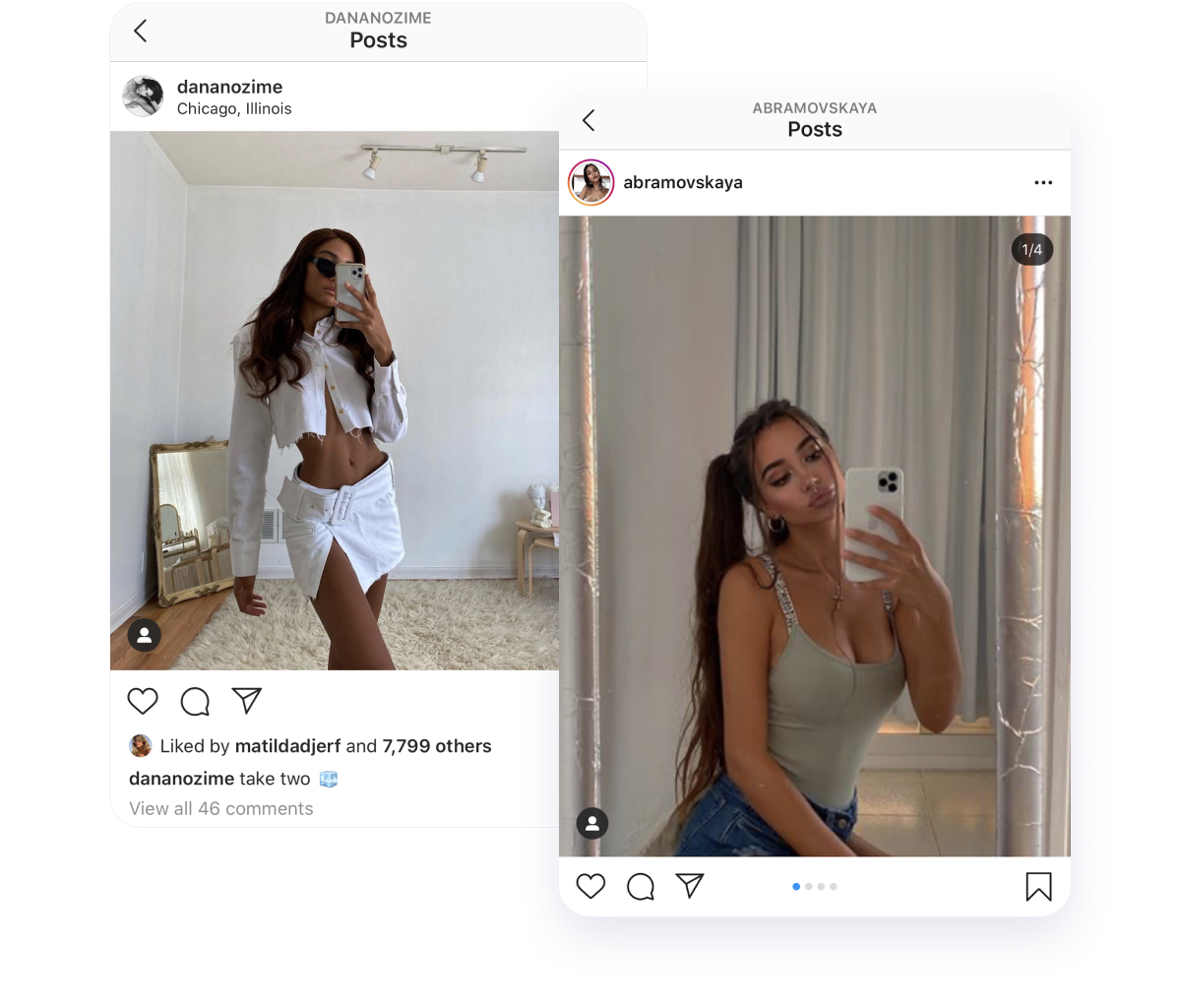 IG's quintessential influencer is that one whose page looks like the most trendy magazine covers all time. It is not only about brands that are demonstrated in photos. No. The idea of a trend is much wider on Instagram. It is about a fresh looking feed, up-to-date photo editing, colors, filters, composition, objects, and textures. And all of these details are barely connected with the monthly income of the account host.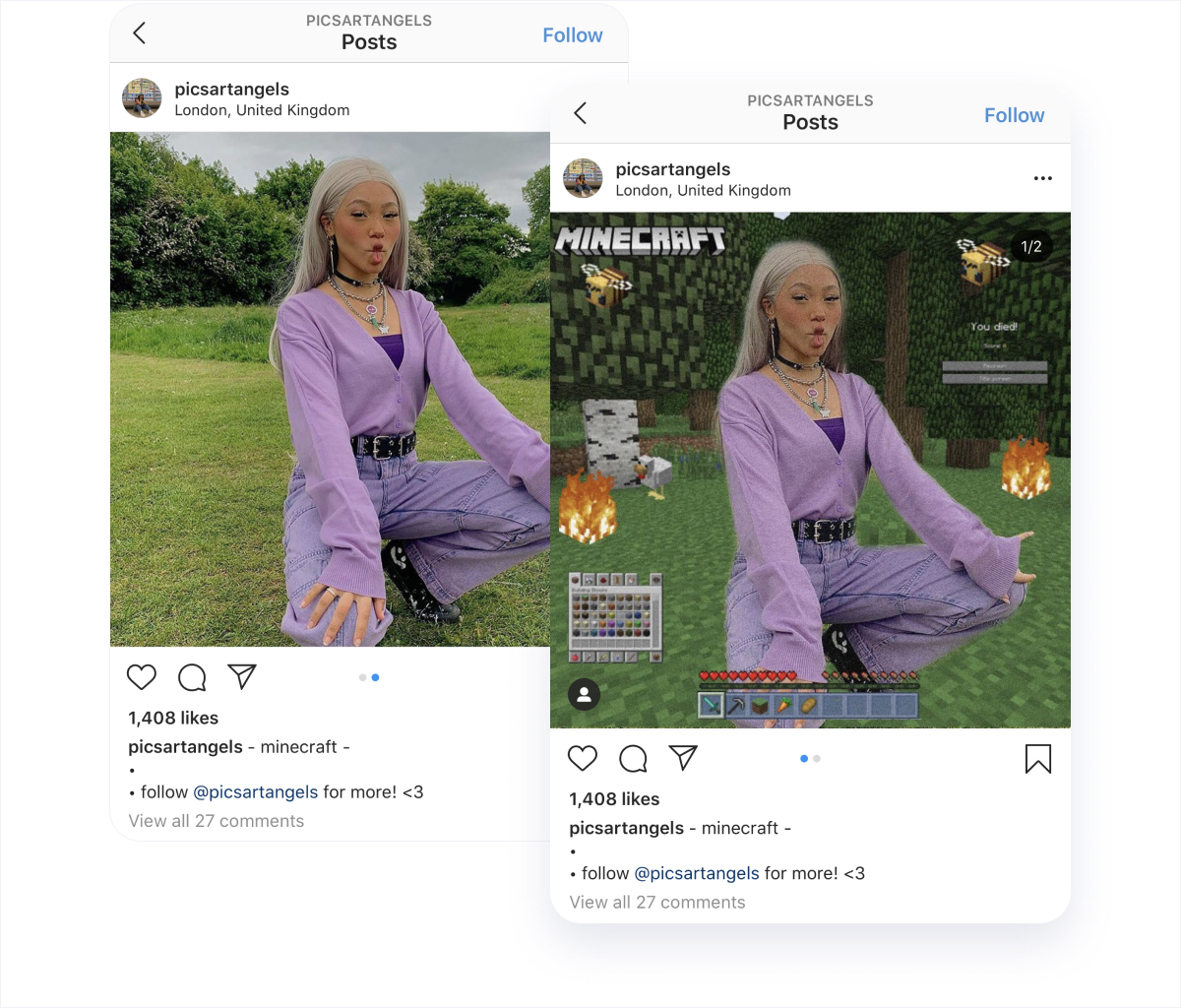 To keep up with the internet trends you should follow accounts who research this topic and make all the techniques of professional mobile editing, retouching, and design simple and understandable for everyone. Just copy and paste to your Lightroom - and voilà, you're on top!
Here are our top visual tutors' accounts on Instagram.
Pure, free-to-use trends daily in your feed:
#1 Filter like a pro with @vscoroom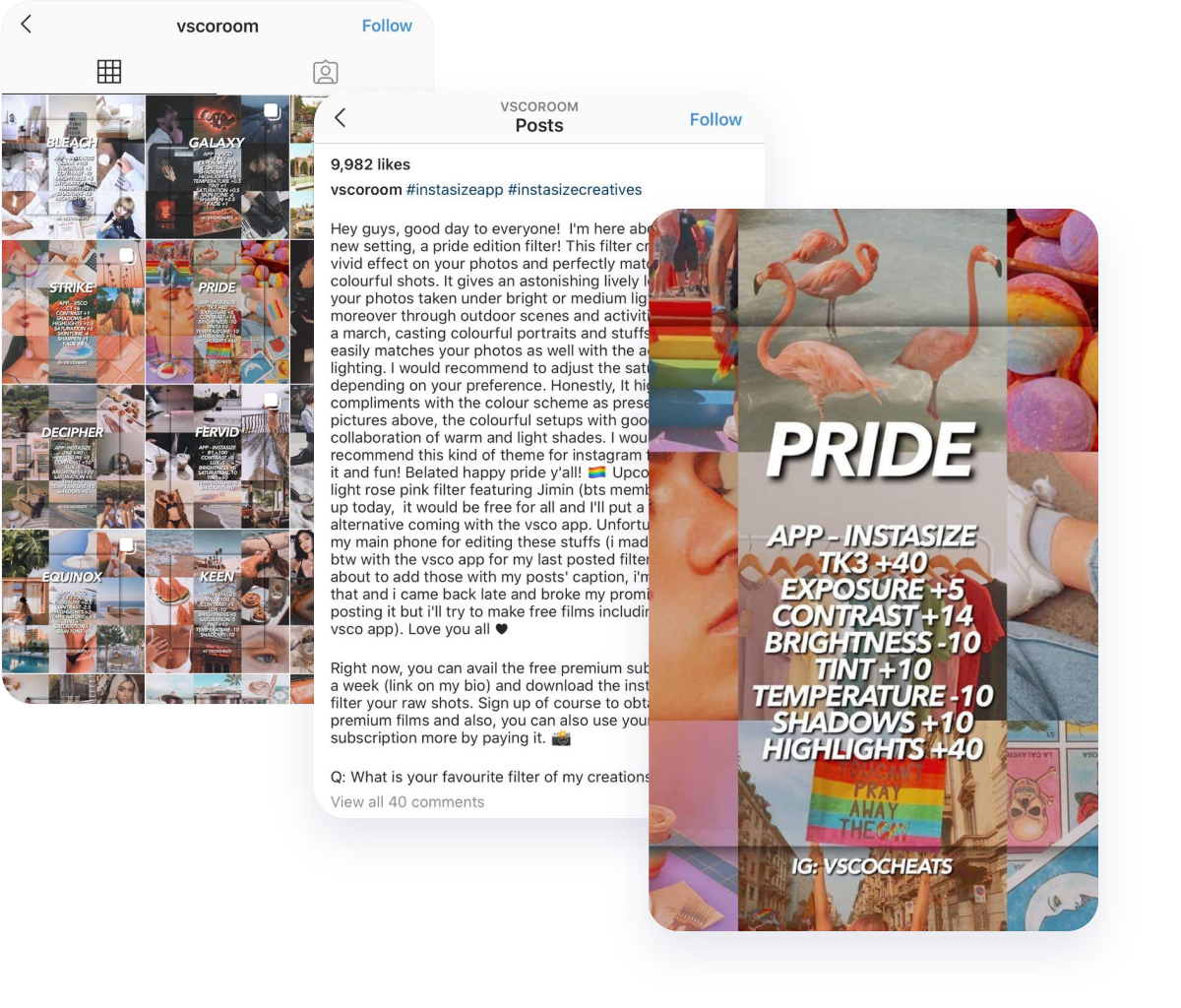 Do you want to get all the most popular and stylish presets for mobile photo editing apps? And live out the best "VSCO girl" life? After following @vscoroom you'll get ideas and presets for:
VSCO;
Lightroom;
Picsart;
Inshot.
You are getting all settings adopted for different apps nearly every day. Any style from grunge and dark moody presets to light beige are available to take and use immediately on your profile. Plus, the highlights are filled with useful tips on Stories ideas and viral visual trends on Instagram.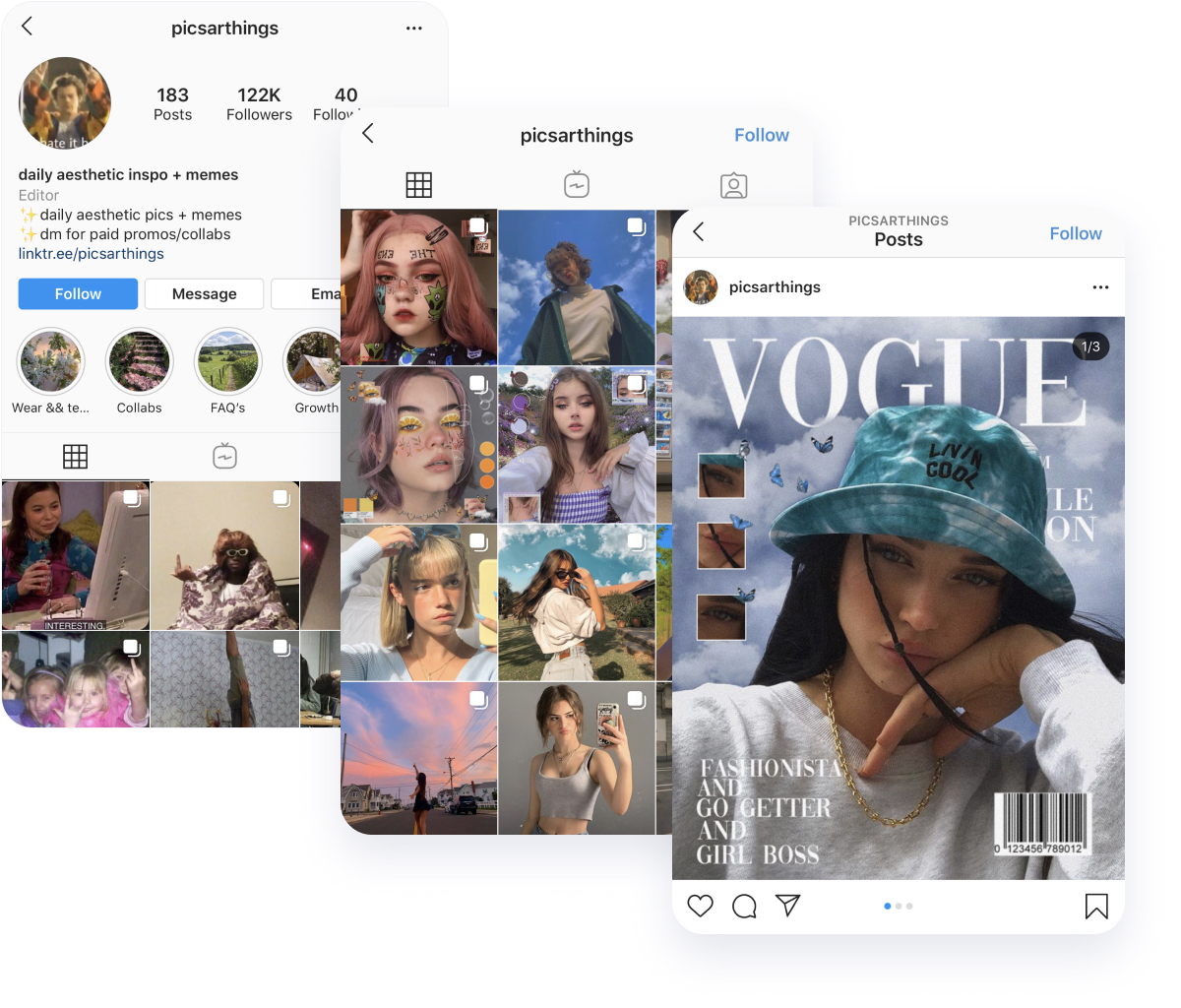 These accounts are a real treasure for those who need to see all processes firsthand. Almost all designs here are shown in a video format - step-by-step guides for mobile app photo designs. All ideas that you can find here are fresh and young-looking, which can make your feed popular among the most active audience.
This account is full of useful information about special and not obvious but crucial things like fonts, frames, collages and lots more. With this account, you can get hundreds of everyday secrets about how to take your edits to the next level. Find posts about how to:
Use textures on your photos;
Make a 3D effect;
Sketch your photos;
Gradient text;
and lots more.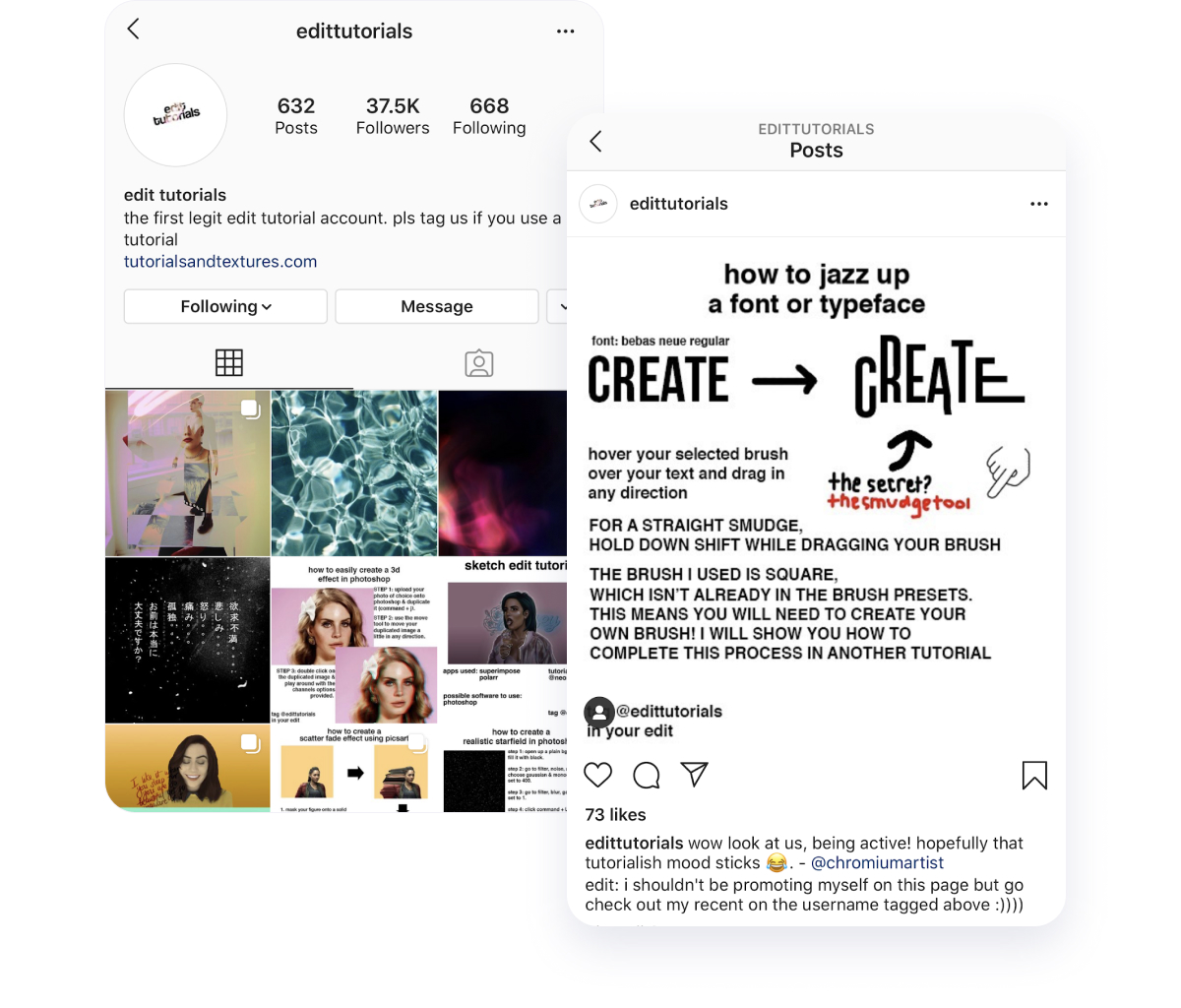 #4 Insider ideas with official @picsart account
Sometimes it is better to get tutorials on the app right from the app creators. Ok, not every app creates amazing content to show how to use its service properly. But Picsart is one that does. This IG account is a bible of trendy edits in the app. Not only official tutorials but many successful, popular bloggers' ideas can be found in the concept of the page.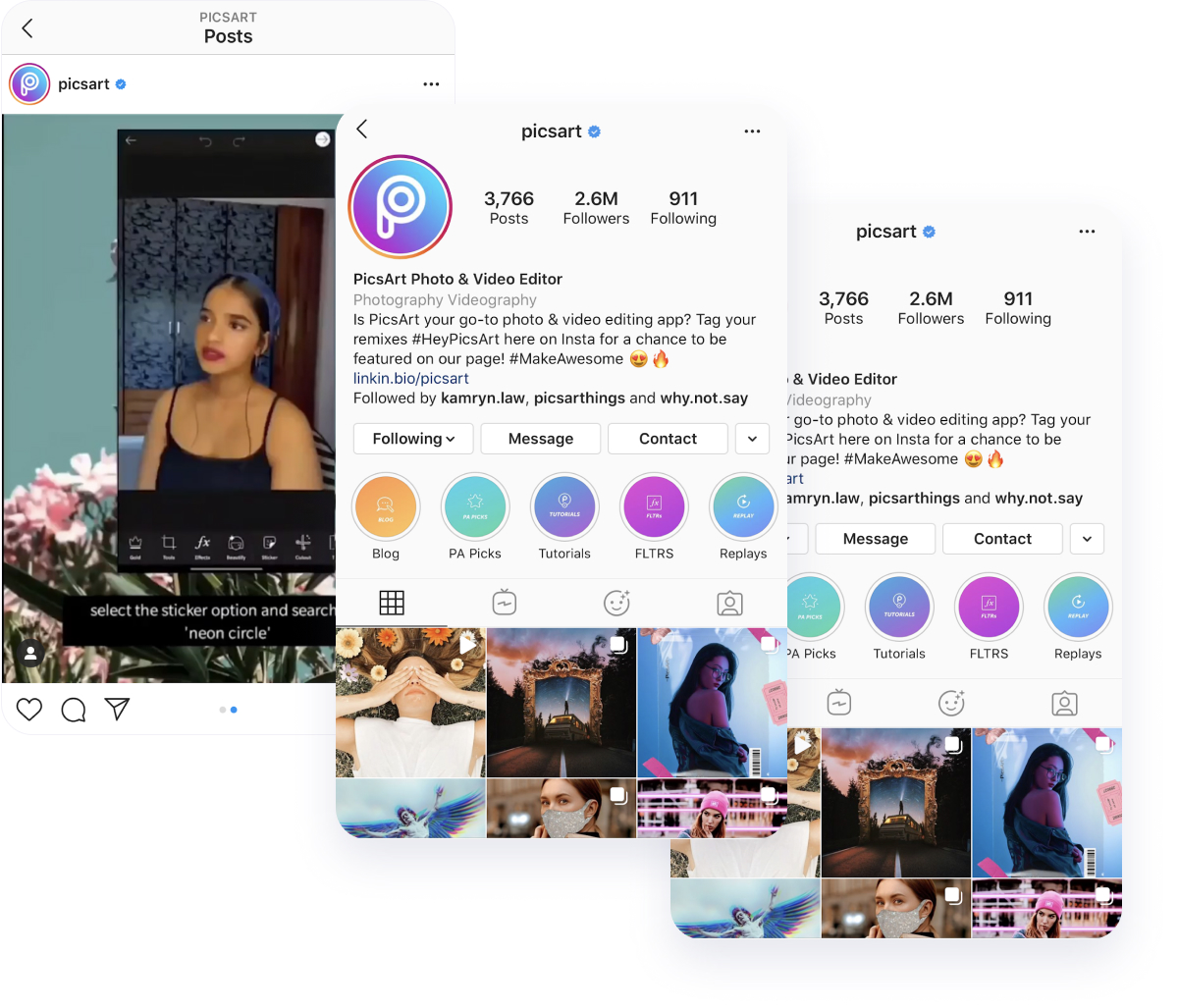 #5 Girly talk of visuals with @abramovskaya
I'm sure that you've been looking for an account with cool advice on edits for girl influencer accounts. This is it. And believe me, this Russian-speaking girl is a phenomenon you can only find on IG. She does amazing work on:
Trendy edits;
Face and body retouching;
Posing hacks;
Ideas for backgrounds and prop.