Find a whole new way to make money without selling on Instagram. Have you dreamt about getting way more money with almost no labor, but just a few social media routines? If yes, the Instagram lottery idea is totally for you!

There are many ways to make money on Instagram in 2021. This is completely new, and it goes further than all the existing ways: public pages, traffic arbitrage, Instagram selling of physical and digital items, etc. It is even simpler than you can imagine. So, we are glad to share the new concept for you to try.
Instagram lottery method essence
In order to make a lottery account, you need only three things: the concept of the lottery, the base of followers, and the constant promotion of the account to have a flow of new lottery participants.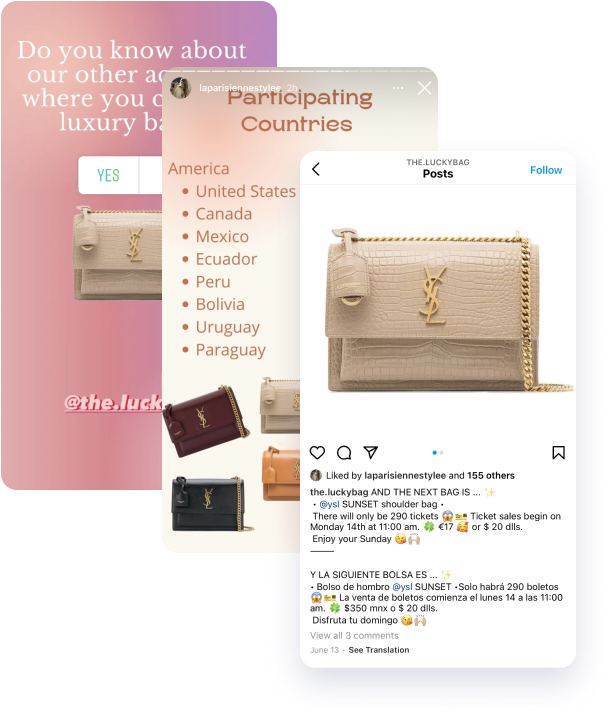 #1 BAIT PRODUCT
As for the concept of the lottery, they usually use one expensive thing as bait. It is something rather difficult to buy and requires a high investment, so a person can afford to buy this product. It must necessarily be an expensive product that is really very popular in the world. This way many people want to get it, and they will be delighted that you give this opportunity on your account. Here are some examples of bait products to try:
Luxury accessories
Expensive and universal automobile details
Jewelry
Exclusive perfumes
Interior decorating elements
Antiques
#2 INSTAGRAM LOTTERY RULES
The classic rules are simple. You need to keep them as easy as you can to achieve a big and steady flow of participants. And the transparency of rules is crucial for the Instagram lottery account.
Example of Instagram lottery rules:
Buy a ticket to play.
The lottery gift winner will be determined after all tickets are sold.
There are only 300 tickets for the lottery.
The winner gets the gift right after the lottery ends right from the website (link in a profile).
In one account, you can produce several lotteries at once – that is, you can offer several products at the same time with different tickets for them.
At the same time, it should be a product or a service that is not tied to any geolocation as much as possible. You will need to maximize the geographic reach to allow as many participants from all over the world as possible to buy your tickets and, accordingly, earn much more on the lottery.
Take a look at an example of how a lottery account runs: @the.luckybag
In less than a year, @the.luckybag has already earned the trust of users and at the moment has a very large number of followers. Take a look at how simple and clear it is to tell your users the lottery rules: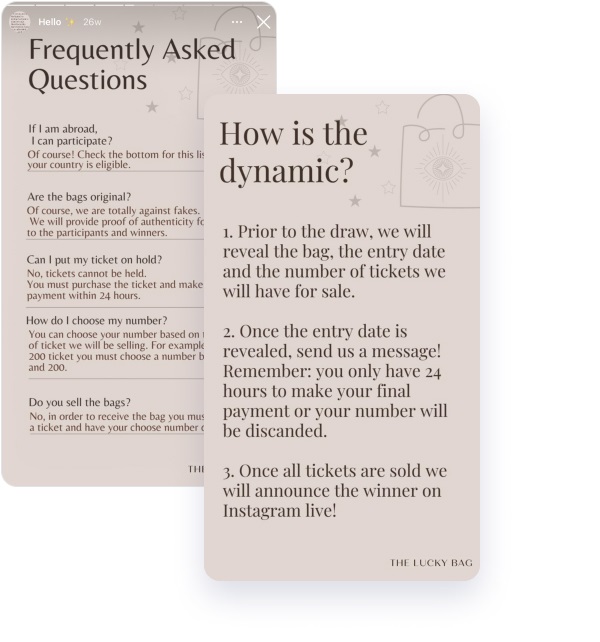 #3 FOLLOWER BASE
You need existing users who want to take part in your giveaway. It is very important to form such a base because it is this that gives new incoming users the belief that the lottery is absolutely legitimate, that you conduct it honestly, and that many users already trust you.
Well, in order to gain a base before your first time by using promotion, we advise you to use a bot because this is the surest way and requires almost no time or money investments.
Don't forget to set up fast replies on Instagram before starting a promotion to satisfy all users eager to know more about your lottery. Check out our article about Instagram fast replies.
How do you profit from a lottery account?
You can earn up to $2000 from one lottery. After all users send you payments for the prize you have an amount of money, that is twice bigger than the original cost of the prize. You buy the prize from the online shop and send it to the winner. The rest of money is yours. It is simple.
Note: To keep people participating, remember that the account requires a constant influx of new users. It's a pretty simple mechanic in which only one person wins.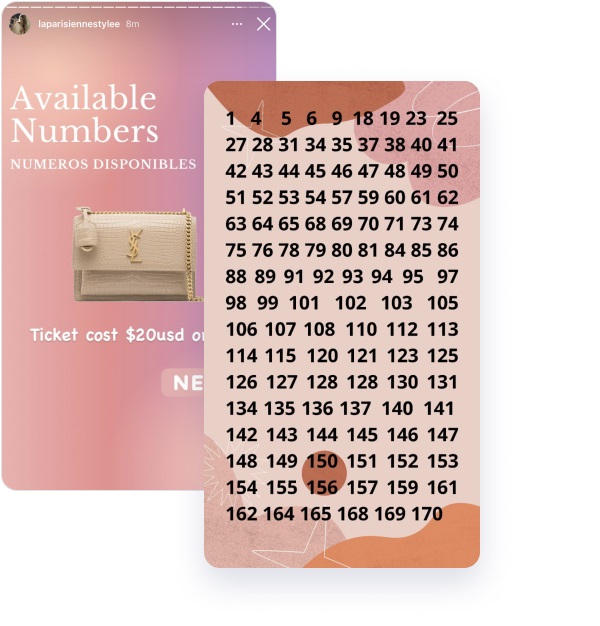 And with an understanding of the psychology of users who participate in lotteries, we can predict that most people who do not win will avoid taking part in the next lottery. They are likely to be upset for some time with the wasted funds and won't participate in the next one. So for each subsequent lottery, you will need to constantly provide an influx of new users who have not yet participated and who will want to buy a lottery ticket for your account.
To promote within a new account, we think the coolest way is to use the correct hashtags first.
People are often looking for accounts to participate in giveaways and contests on Instagram with the help of hashtags.
Furthermore, one of the important methods of promotion is promotion through pages with a lot of public influence, because it is this method that builds the trust of users. Find influencers to promote your account with.
How much will you earn?
Let's take a look at the specific mechanics of this account.
290 people participate, 290 tickets are sold out. Everyone can buy any number of tickets, but one way or another, it will not start until all the tickets are sold.
In less than a month of activation in the @the.luckybag account, 70 tickets have already been purchased.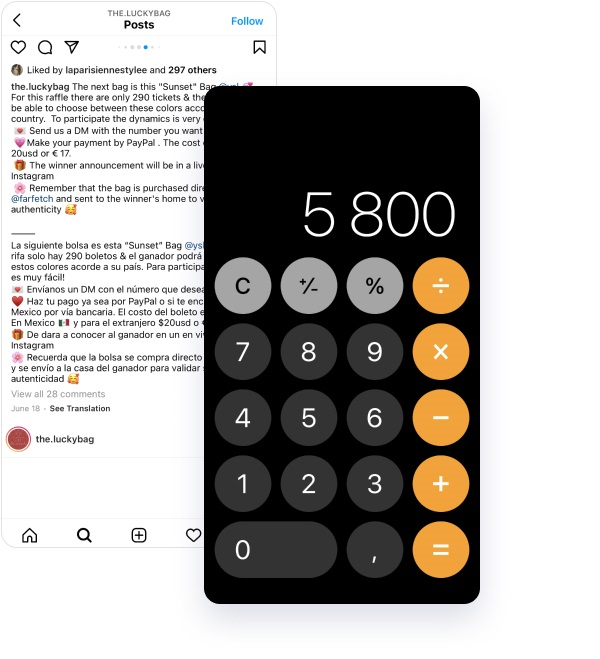 The original cost of the bag which is the main prize of this lottery is absolutely known to every participant and there is even a link to the specific bag that will be presented in the profile header. Everyone can see how much this bag actually costs.
Its cost is €1,500 or $2,000.
A ticket costs only €17 or $20, so each participant understands that by investing such a small amount of money, they can get the desired branded item for only 1% of its cost!
The counting process is very simple, we multiply 290 tickets by $20 and get the amount of $5,800.
Accordingly, the income from this lottery is $ 2,800. What is very cool is that the mechanics are super simple and this can be done by one person.