Do you feel a hunger for new followers? Learn what foodie Instagrams do to build their audience and become famous in this 6-figure niche. Read to the end to get the food hashtags set.

Even from just these three accounts, I've got multiple insights into perfecting a food Instagram and keeping up with trends in this saturated niche. In the last section, you will find the 30 best hashtags for food influencers capable of increasing your post reach by at least double. If you still don't know what, how often, or how you should post, let's dive right in.
3 Instagram food accounts and their deepest secrets
If you are one of those who want to gather all food-addicts on an IG page, you need to prepare for analysis. Being passionate about how to start a food Instagram, start with a simple investigation of successful accounts in your niche.
User Search and Profile Analyzer by Inflact are tools that I applied for this analysis on the Kitchen/Cooking niche.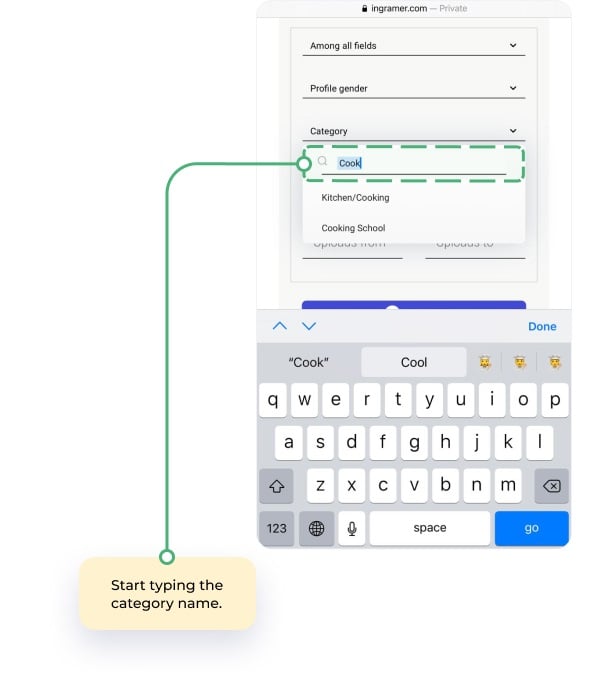 How to research accounts on your own:
Open the Inflact User Search.
Type keywords that account owners may use in names, bios, usernames. You can also leave this section blank and just choose a listed category.
For example, I've picked Kitchen/Cooking, Cooking School, and Food Consultant for my research.
View the Inflact suggestions and analyze the best profiles – simply click on Analyze.
Download the research data if you need to share it with someone. You can open the CSV file as a spreadsheet and filter the information via Excel.
What data to pay attention to:
The number of posts – learn how often you should upload new content to become noted as a food blogger.
Posting schedule – discover the best times to post in the food niche.
Best-performing posts – keep an eye on top content and try to experiment with these hacks in your food blog.
Often used hashtags – inspect the hashtags your competitors use and generate similar ones with the Hashtag Generator (I will show you how in the second section).
Now let's see my findings and insights into the IG food niche.
#1 @halfbakedharvest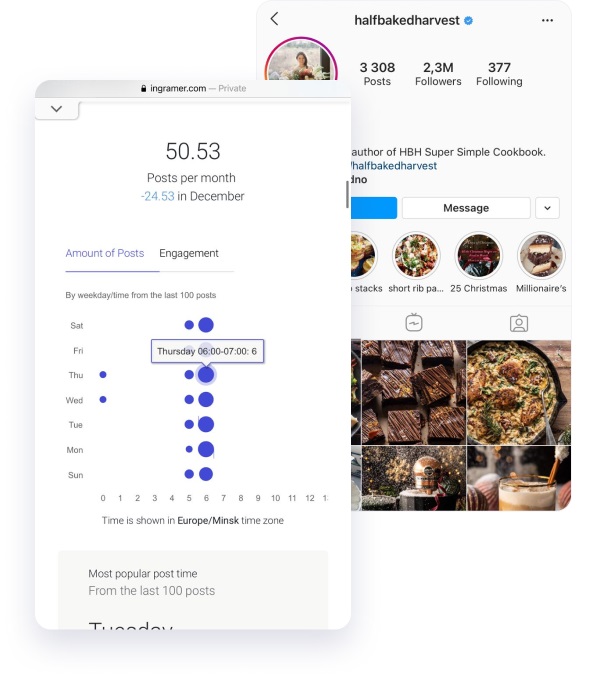 @halfbakedharvest is an account by Tieghan Gerard that has gathered 2.3 million followers since 2012. You will find thousands of recipes and cooking tutorials on its IGTV that are known for their simplicity. It's also a good source of inspiration for food photography.
Key takeaways:
Prepare at least 50 posts per month. According to the profile analysis, in December Tieghan Gerard published 50 content pieces. Moreover, this influencer follows a posting schedule and sticks to Tuesday at 6 AM (late evening in the US time zone).
Produce valuable content. Apart from using a single photo-editing pattern, it would be best to make your followers crave the food with the power of words (which is not easy). Every post is supplied with a lengthy description of a dish and linked to a dedicated website page with a recipe.
Hack: Use services like Linkinprofile to connect your feed posts with a particular URL.
Get crazy engagement with giveaways. Based on the analysis, the most engaging publications are contests – one of them counts over 451K comments and 170K likes.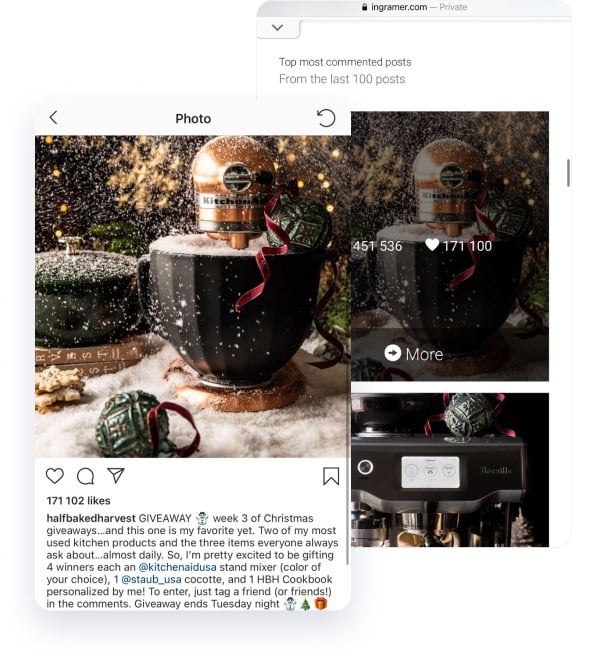 Such popular posts often appear on the Explore page, so you get a chance to attract new followers apart from engaging with your audience. Learn more about giveaways in the article Instagram contests that rock in 2022: Top techniques to win followers.
#2 @omnivorescookbook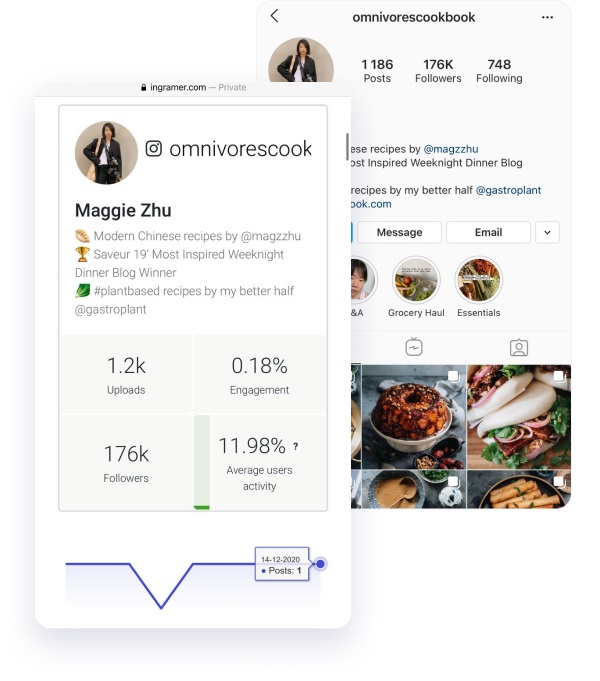 Compared with the previous example, @omnivorescookbook is a smaller and more niche foodie influencer with 176K followers. This Instagram is focused on Asian cuisine, powered with fermented ingredients, and umami taste. The dinner blog is a classic illustration of how niche-specific content can build a loyal following.
Key takeaways:
Narrow down your blog niche. Instead of writing everything about everything, dedicate your content to a particular cuisine. Maybe home-made Chinese food or vegan desserts are exactly your cup of tea?
Optimize your account for SEO. @omnivorescookbook is a good example of a bio that will work for IG SEO algorithms – it uses a hashtag #plantbased (31 mln posts), which is searchable in the app. Read our blog post Instagram SEO: 5 Hacks to Grow Fast.
Use 30 hashtags in every post. Maggie Zhu is a growing influencer; hence, hashtags are everything for her free promotion.
Hashtag marketing is capable of bringing a truly interested audience to your account. This audience is already searching for this hashtag or following it. In the last section of this post, you'll find the first hashtag set to begin with. Read our dedicated article Instagram promotion lifehack: a clever way to reuse your competitors' hashtags.
#3 @howsweeteats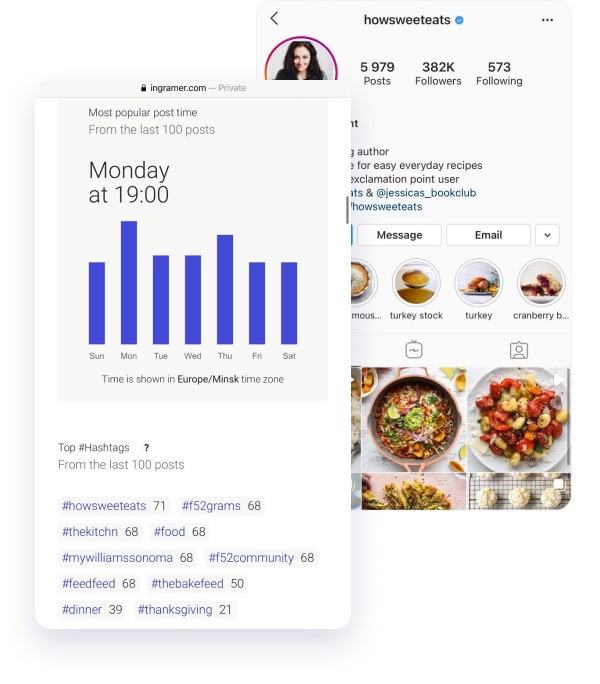 Jessica Merchant is a self-taught food blogger and author of best-selling cooking e-books. She shares simple recipes with people who love food on her Instagram and website.
Key takeaways:
Add a link to the full recipe. We analyzed the most commented post and have noticed that this blogger inserts a URL to a recipe right in the caption.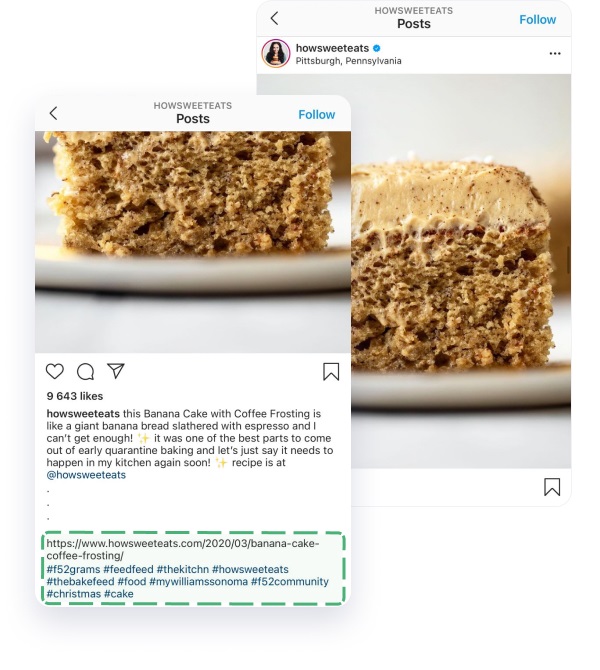 Despite the fact that this account is connected with Linkinprofile, it might be easier to copy and paste a link for users who use IG from the desktop. Try this lifehack for your audience as well.
Use hashtags of cooking communities. Who said that a food influencer should only apply tags with the word "food"? Branded hashtags of Instagram food communities give you a good chance to be spotted by interested users (I attach them in this article, as I promised). So, think outside the box when thinking over your hashtag strategy.
Share recipes in Stories. Stories are the easiest way to showcase your culinary prowess. And this is the major trend for Instagram content 2022 – it should bring actual value to the audience.
I hope by the end of this section, you've gathered some working ideas on how to be a food blogger on Instagram. If you want to continue the market research and stay in the loop of trends in your niche, add the User Search for Instagram into your weekly Instagram strategy.
Best Instagram food hashtags 2022 & a proven way to discover them
Knowing trending hashtags today in the food niche is everything. That's why I've prepared food hashtags for you to copy and use them in your next post:
#mycommontable #tastethisnext #foodblogeats #f52gram #foodfeed #buzzfeedtasty #foodfluffer #thebakefeed #dailyfoodfeed #hautecuisines #gloobyfood #thefeedfeed #food52gram #tohfoodie #foodphotooftheday #eeeats #eaaats #thecookfeed #appetitejournal #52grams #food52grams #hereismyfood #onmyplate #heresmyfood #eatingfortheinsta #buzzfeedfood #instayum #forkfeed #tastingtable #eattheworld
Note: It's a poor practice to use the same hashtag sets twice. Try to add new hashtags, mix them, and measure the post reach after.
I generated this set with the Inflact Hashtag Generator – as you see, most of them are not obvious and don't even include the word "food." How did I manage to create such a semantically diverse set?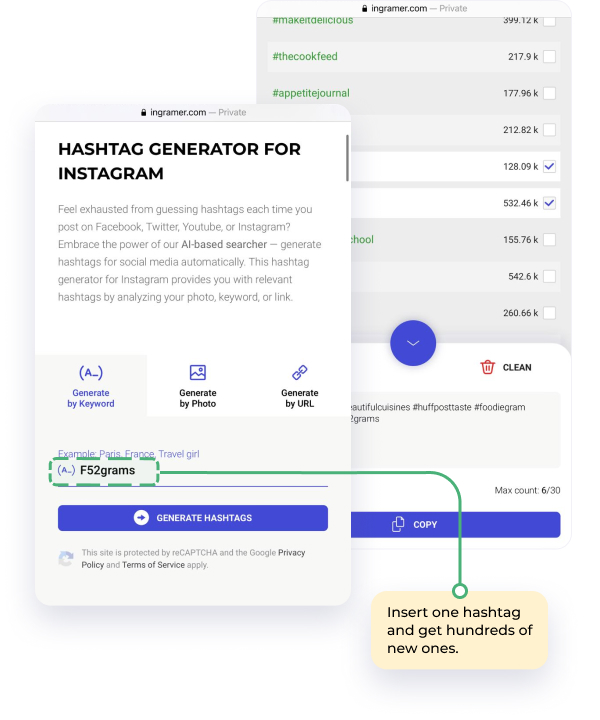 I spied the hashtag #f52grams from a food blogger profile analysis. @food52 is a cooking community of 2.1 million on Instagram.
I inserted it into the Hashtag Generator search bar.
I copied "suggested by Instagram" related hashtags (marked in green).
Just a brief investigation of your niche competitors + an advanced hashtag tool will cause 3X more views, and hence, more followers. Do such research regularly, and you'll be amazed by how fast and organically your audience grows.
P.S. You can copy Instagram food hashtags for free by following this link. But if you compare the hashtags, trendy ones are more spammy and won't bring your real audience for the long term.
Remember to share your thoughts in the comments below.