Instagram is a social media that can attract customers regardless of the niche you work in. Coaches, psychologists, and real estate agents simply sell their knowledge online to their IG communities. The Instagram marketing funnel will help you to increase the lifetime value (LTV) of your customer relationships.

The marketing funnel for Instagram, in essence, is a step-by-step communication plan that leads a potential customer from "I probably need this" to "I love this product and will recommend it to my friends." A proper funnel will help you to warm up an audience that comes across your offer the first time, so they will want to try your product or service.
The big mistake of many Insta-based shops and businesses is that they pursue leads but, after purchase, forget about communication with their clients. Instead, they should keep in touch with their loyal clientele in Direct to kindly remind them of services and offers.
Instagram Direct is an awesome place where you can nourish the connections with people who bought from you. You can find exact guidance in the dedicated article in our blog Make 10 sales in 10 minutes in your Instagram shop: reactivate past customers to make them buy again (+ follow-up templates).
When you base customer relationships on a certain scheme or pattern, you escape the seasonality. We call these pre-planned activities a marketing funnel, but in reality, it's a warm-relationship business funnel for Instagram. Explore its components below and start applying them.
Plan an automated marketing funnel for Instagram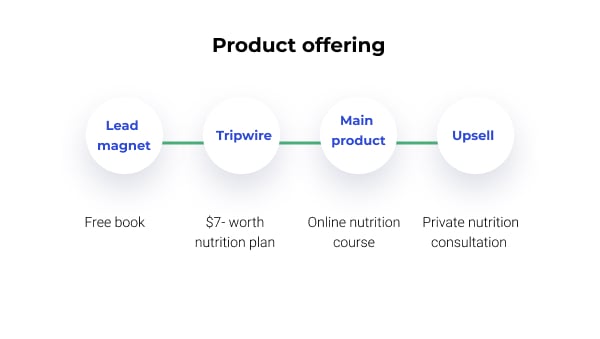 What is great about this technique is that the funnel works automatically. And once you create it for your business, every potential client will pass through every stage without your involvement. Sometimes you will need to adjust it, but the basis will stay unchangeable.
The automated marketing funnel for IG consists of your products, communication scenario, content, and tools. All these components will help you lead your audience through their pain points, objections and needs to the solution: your product.
What is a product offering? It is a group of products consisting of a lead magnet, tripwire, main product, and upsell product. These parts help to increase the lifetime value of a customer – by keeping them interested in your products over a longer period of time.
Let me explain to you all these unfamiliar words with an example. Imagine I'm a culinary coach and nutritionist, and I want to find clients that will buy my online course.
#1 LEAD MAGNET
A lead magnet is always a free and valuable product or activity that introduces your main product to clients. It helps you to identify the target audience with needs that you aim to satisfy.
For example, for a culinary coach who aims to sell a video course, it can be a free book with 5-minute quick and healthy recipes.
It's a common practice to use this free product for building your prospect database because they will need to enter their contact details in order to receive it. An Instagram target ad banner is a perfect way to announce a lead magnet. If you are struggling to attract first clients through Instagram, read the article Selling on Instagram in 2021: a practical solution to find clients from zero to thousands (free and paid tested methods).
Further in this article, I will show 3 brilliant examples of lead magnets used by successful Instagram entrepreneurs.
#2 TRIPWIRE
A tripwire is a paid but cheap offer that helps to get first sales and pay off the ad budget. The value of a good tripwire is always higher than its actual price.
For example, for every person who downloaded my free book with recipes, I offer a personalized nutrition plan according to their calorie intake norm. Tripwires are priced at $5–$50 with the majority being less than $20.
#3 MAIN PRODUCT
This is the complete product that addresses clients' pain points. In my example, it's a unique online course teaching people to eat healthy but tasty food. They can lose weight easily with delicious meals.
#4 UPSELL
Upsell products are offered for loyal clients to increase the LTV and income. For instance, I offer a private nutrition consultation, fitness course, and guided weight loss programs for existing clients.
As you see, before selling the primary product directly, entrepreneurs warm up the audience with free or cheaper solutions. Thanks to this scheme, people who see your offer for the first time in the feed or in ads face zero risks to try what you offer. Moreover, you detect those who have specific needs that you aim to satisfy.
Let's proceed to free offers that Instagrammers like most of all. Explore some ideas and think: what would be an ideal free gift to your target audience?
Top lead magnet examples for a business Instagram
If orders don't overload your DMs, start nurturing your audience with lead magnets. You can include free valuable things in your bio link and promote them via ad banners.
#1 FREE ACCESS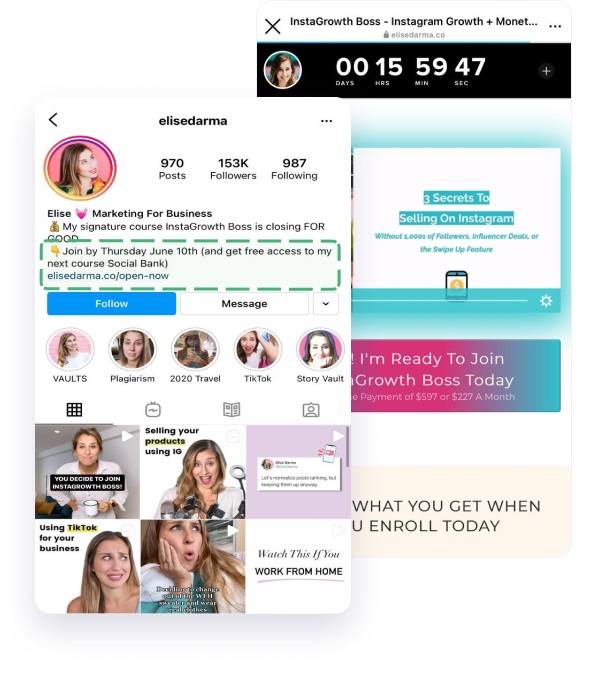 As you can infer from the example above, free access can be an exclusive lead magnet that will attract new customers. Combined with the time countdown, a sense of scarcity will boost your clientele.
You can provide free access in exchange for contact data that you will use to reach out to clients further. It can be a webinar, access to the event, live stream or, as in the example, access to your future course.
#2 FREE COMMUNITY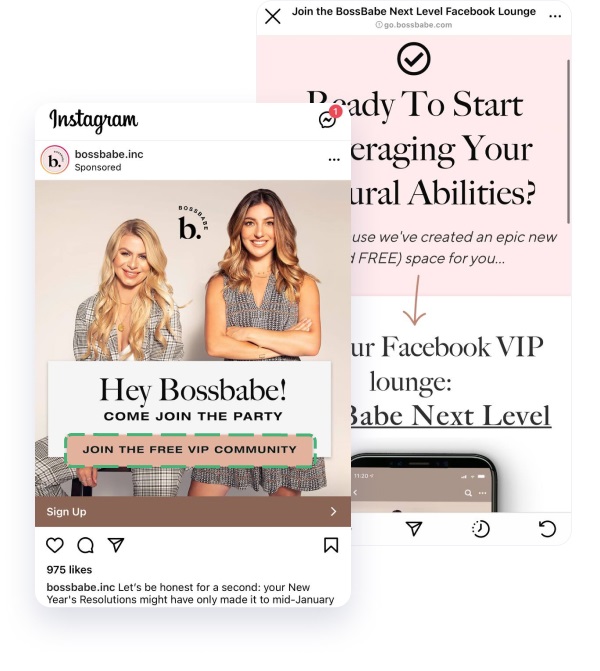 This is a creative example that is so simple to reproduce in any niche. Start a Facebook group with some exclusive or VIP information that will be interesting for your followers. You can share insider knowledge, coupons, promo codes, and many more things there. An invitation to a private FB community is a perfect way to build long-term relationships with your customers. People will engage with each other and with your content and will become more loyal to the product.
#3 FREE CONTENT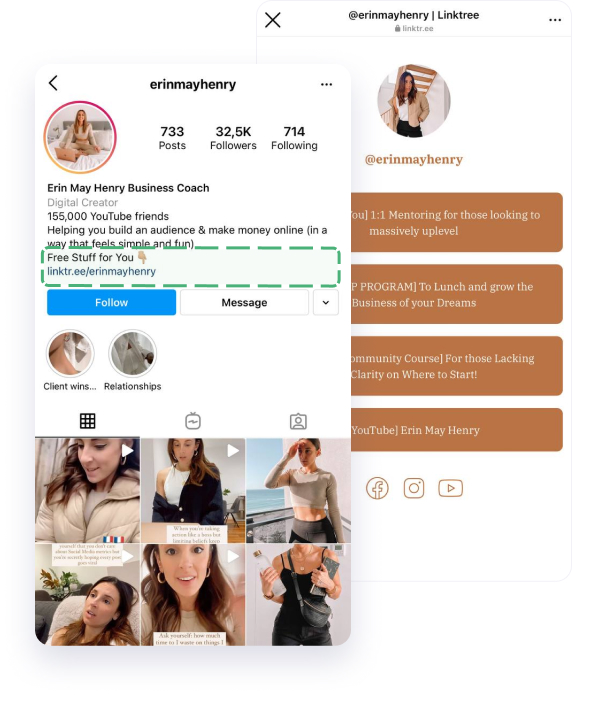 When random visitors open your Instagram for the first time and see the word "free" in the bio, they will likely tap on the link. So, make the most of this link and showcase the most appealing and helpful materials that your target audience needs. For example, for a business coach it might be guides, YouTube videos, and webinars like "For those who don't know where to start."
Free content is a good opportunity to present your expertise and proceed to the next level – selling the main product.
Connect the DM strategy with the Instagram marketing funnel
Essentially, you need to master Direct communication along with the marketing funnel for IG. It doesn't mean you need to disturb every new follower with salesy texts daily, but some DM templates may empower you with credibility. Consider using the following DM types:
Welcome messages for new followers. You can set up auto-welcome DMs via Inflact. Add images, link to your website, and offer something exclusive for recent subscribers. These messages help to convert cold followers into warm clients.
Bulk DMs. It's possible to connect with hundreds of your followers with the same offer in several minutes. Use bulk Direct messages to announce sales or contests, or to draw attention to a certain post. You can use bulk DMs to offer a tripwire for those who were hooked by a lead magnet.
Auto-replies for typical issues. Instagram DM can become fully-fledged customer support without requiring your constant online presence. Simply save the answers to common questions by keywords to keep in touch with your past clientele in the Direct Module.
Auto-reactions. Your customers will reply to your stories more actively if you respond to their reactions. Good news – in the Direct Module you can set up automated responses to such reactions (stories mentions and replies).
Direct communication is crucial for steady sales, so I advise you to study our comprehensive guide How to sell on Instagram with DM for brands and influencers to master it. You will find DM templates for every stage of the funnel.