Finally, you're here! I've been waiting for you here to teach you how to make money through your Instagram page.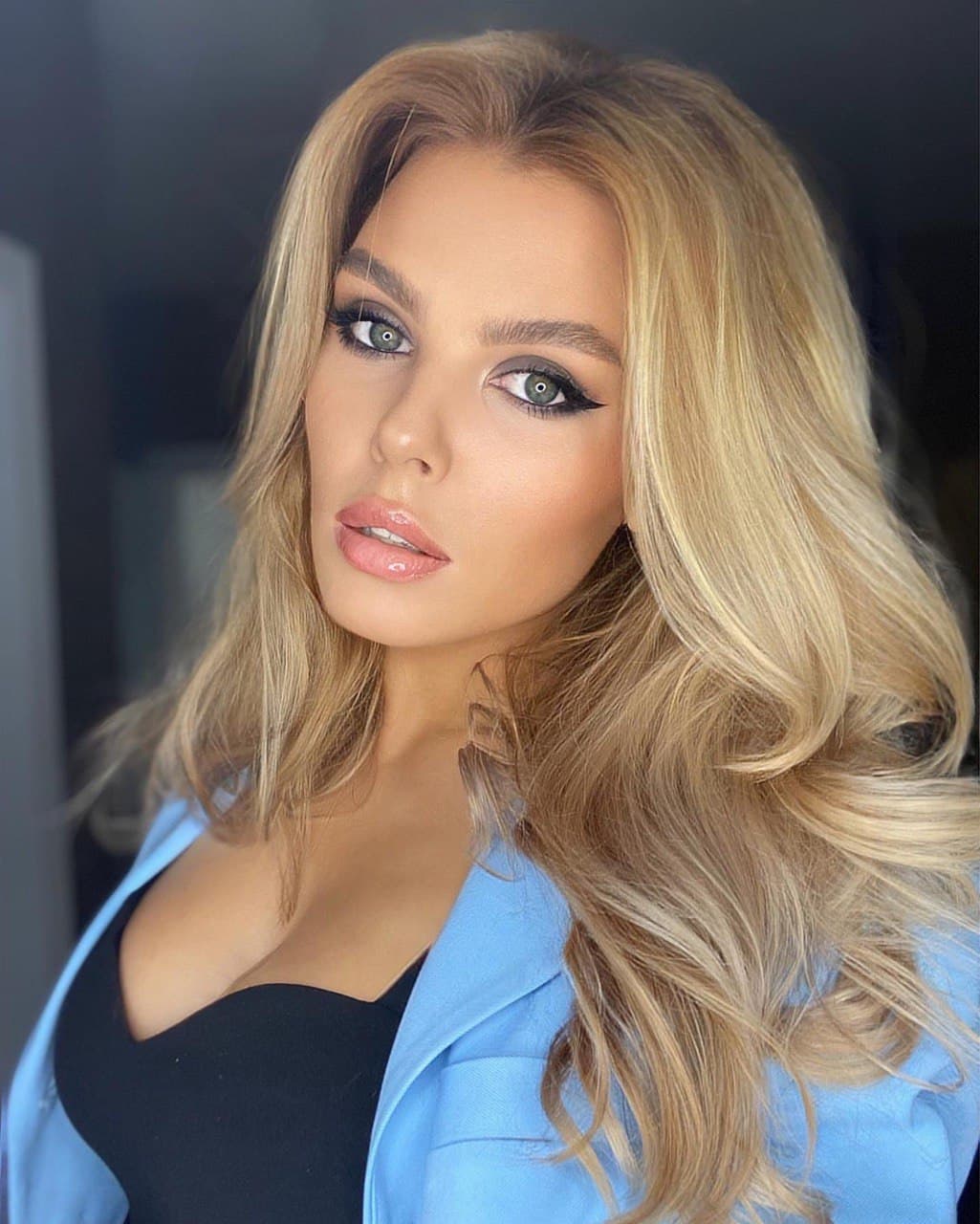 Violet Rich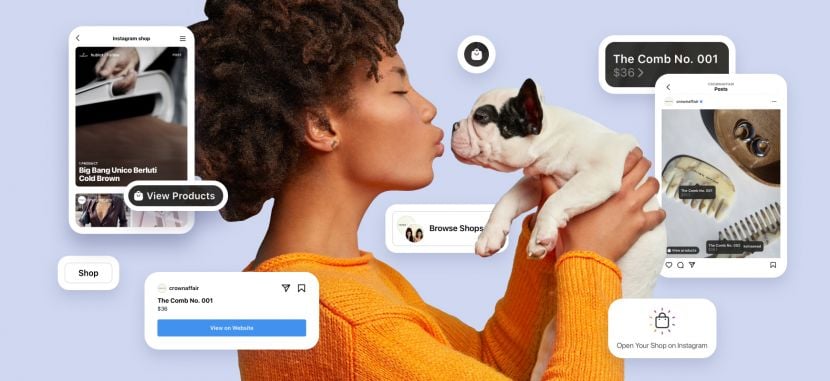 Finally, you're here! I've been waiting for you here to teach you how to make money through your Instagram page. You've probably been facing an idea that IG is not suitable for your business, or it doesn't sell that good to start investing time and money into it. It is a myth.
Did you know that 70% of shopping enthusiasts turn to Instagram for product discovery? And your shopping posts can be shared on Explore, where 200 million accounts visit daily? And even without an Instagram shopping feature, you can sell high on this platform?

You'll see further in this guide what you've been doing wrong and what you can undertake to make sales directly from your post. If you're ready to become a boss of Instagram selling right now, this guide is for you.
How to sell products on Instagram?
The product itself is an essential thing in Instagram selling. This phrase is outdated. Don't be fooled with such a narrow perception of business on this platform. The product matters. But the most vital thing is its representation. The content that makes your visitor love this product and evaluates its benefits from the doorway and the promotion, which leads your potential customer right to the checkout.
List of products that Instagram users love to buy
Here is a list of popular products, which successfully sell on IG in 2021. You probably knew that people sell literally everything on IG: from the pasta to the flooring materials. Inspire with types, categories, I hope kinds variety of these successfully working shops:
Accessories
Apparel
Cosmetic

Special tools
Interior goods
Kids goods
Home appliances
Car accessory
Food

Hope now you see that you can sell through Instagram any product even if it seems impossible.
Preparing your profile for traffic
Every online customer is interested in the safety of his purchase. It is one of the most valuable criteria for deciding to buy.
Safety of the transaction
Quality of the product
Conformity of the product with its representation on the profile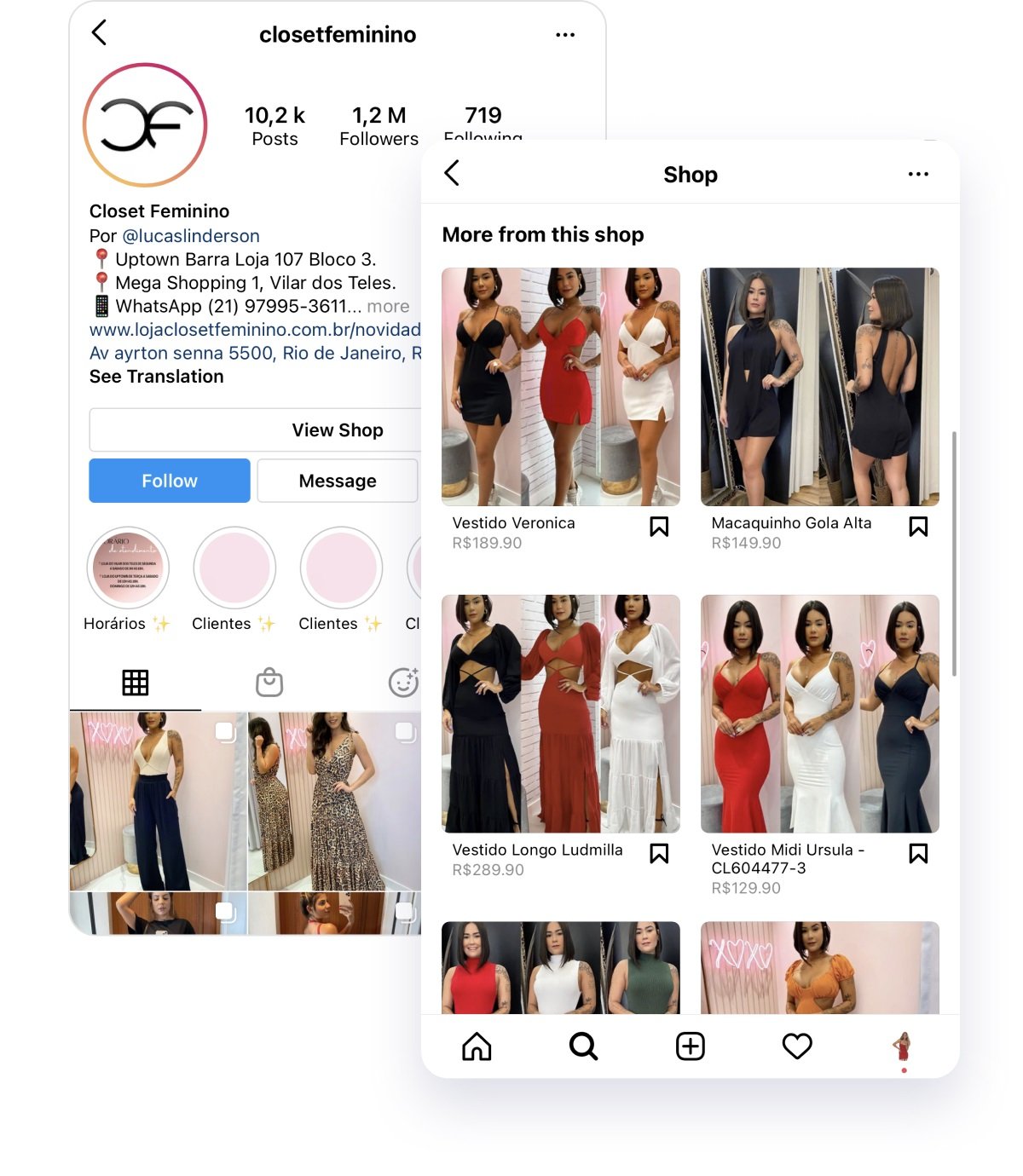 The critical thing that you need to do with your profile to persuade a random interested visitor to buy from you - create a feeling of a reliable, right quality product. What can you do to reach this look and atmosphere in your new not-experienced profile?
Create a basement
No one loves empty profiles. They look cold, inactive, unreliable. Create 9-12 fresh posts. Think about each of them like about your physical shop look - make them informative and attractive. Start with these universal topics for your posts:
When did you start selling this product, and why?
Show your team, your office and describe the concept you are following
Showcase your most popular product with a carousel post or video.
Tell about three-five main benefits your product has
Post feedback for your product. If you don't have one from a real customer - ask your friends or relatives to try it and share their emotions about it in a photo, video, or direct message format. Every review matters! Try to collect as much as you can
Show the production process
Tell about your delivery - how long does it take, how much does it cost.

With this minimal set of posts, your page starts looking professional and reliable. For getting into the art of the content, making go to Visual aesthetic guide. In this comprehensive itinerary, you will learn how to make your page look stylish and up to date to sell well, as big brands do. You'll learn where to get quality content, how to make a photo session of your product that will make the viewer love it immediately. If you're sure that for these first steps, you need video content to showcase your product at its best - go to the Video content guide and master filming like a pro without any additional tools.
How to make the first sales
If you're new to business - I'll tell you a secret. All businessmen do it:
We make big discounts to get first sales
Nobody wants to be first to buy. It is, is a bit scary, isn't it? Especially when the product is new for the market. Don't be shy to make a pleasant offer to your targeted audience to make first sales. A simple 3-step guide to making early sales:
Follow these steps:
Enter your primary keyword. Choose a preferable amount of followers and category. Tap Search and look at what you've got.

2. Go to the latest post of your competitors and open a list of people who liked it
3. Send this message to 50 persons:
"Hi! I've noticed you're interested in [your product].
And I'm interested in finding my first 50 customers.
I'd like to offer you a 50% discount if you want to be one of them.
Be sure it's not a bad promo. You can see in my catalog that the average price is twice bigger. But I'd love to start with excellent feedback from real customers!
If you're interested - let me know."
Instagram shop
Our traffic from Instagram has increased by 44% since implementing shopping on Instagram. It's a clean and straightforward way to show your product in a lifestyle setting, without impacting the user experience.
Savannah Boysen, Marketing Manager, TYME
When it comes to shopping IG creates an experience that is less transactional and more seamless than any other platform. Now with a few taps, customers can dive through inspiration to purchasing.
How can I sell my products on IG?
You need shoppable posts or just your website link. The second one is twice not so effective as direct shopping tags. But what shoppable posts are?

You can see a shopping bag sign on a post. You can tap and buy it. The only thing about creating a shoppable post - it should be fully organic to IG experience.
What do you need to create a shoppable post?
Facebook business page connected to your Instagram
Physical products to sell, not service.
Register your shop from these countries:
| | | |
| --- | --- | --- |
| | All Eligible Businesses | Managed Clients |
| NA | United States, Canada | |
| LATAM | Brazil, Argentina, Mexico, Peru, Uruguay, Paraguay, Ecuador, Panama, Puerto Rico, Dominican Republic, Belize, Bolivia, Costa Rica, French Guyana, Guatemala, Guyana, Martinique, Suriname | Chile, Colombia, Guadeloupe |
| EMEA | United Kingdom, France, Germany, Italy, Spain, Sweden, Netherlands, Switzerland, Ireland, Belgium, Austria, Malta, Portugal, Poland, Greece, Cyprus, Denmark, Czech Republic, Romania, Norway, Hungary, Bulgaria, Croatia, Finland, Latvia, Lithuania, Slovenia, Luxembourg, South Africa, Reunion, Mayotte, Morocco, Estonia, Slovakia | Egypt, Israel, Turkey, Algeria, United Arab Emirates, Lebanon, Saudi Arabia |
| APAC | Australia, New Zealand, Korea, Japan, Singapore | Hong Kong, India, Indonesia, Philippines, Taiwan, Thailand, Malaysia |
Protip: Instagram shopping alternatives
Hacker method:
If you're located in a country, where Instagram Shopping function is not available yet - use another VPN. It works for you only if you are planning to make a new account with IG shopping (you can't switch existing account to another location).
Buy a short-time subscription of a VPN service like this.
Turn off your location services on the device you plan to register your IG shop from.
Activate a VPN with a location in any country which is available for this feature.
Create a new Facebook page and a business page under a new location.
Create an IG profile and connect it. All the process of launching is described further.
Mirror method
Use a power of Likeshop service to create a shoppable feed outside of IG. This visual marketing software allows you to log in with your account and to manage all tags exactly like in IG shop. To get here your user would simply tap on a bio link. After that your feed will appear in a shoppable view behind his eyes. Moreover, every clicked post opens with a detailed and designed look on Likeshop.
How to launch an Instagram shop?
Link your IG to Facebook page
Go to

Settings

Business

Instagram shopping
Connect your Facebook catalog or website catalog
It s is not a do-and-done process. It takes time to be approved.

How to create an Instagram shop through Facebook
Facebook business page connected to your Instagram
Click on the blue F icon
Go to Pages - Publishing tool
Choose Shop
Add products and collections.
After you've created a minimum of ten products in your Facebook shop, you'll get a notification that your account is ready for Instagram shopping. Or, if not, check the availability manually. Follow with this path:
Go to Settings on your Instagram page
Select Shopping
Tap continue and select a product catalog to connect to your business profile. Tap Done.
Now you can tag a product on the photo you'd like to share. The product tag section appears under a person tag section.
If you tag every post on your profile, it feels unnatural and overly sales-y, somewhat desperate. You might lose a customer, who might not necessarily be ready to shop now when seeing the shoppable posts, but wants just to know more about the product and inspire for a future. That is why you must share amazing non-sales-related content, which reflects your brand mission and values.
How do you sell on Instagram sales funnel
Many IG entrepreneurs are facing a problem of many clicks - no sales. What's wrong?
The average answers of not a pro-IG-seller are:
I have not enough followers, and the profile is not popular
My product is not unusual for IG audience
The IG is a lousy platform for selling; I'd better put more attention to other markets.
Wrong. Wrong. Wrong.
The thing that I've noticed over 2019 and 2021 is that you don't need many followers to monetize your business. Many of well-selling IG shops are making money with less than 1000 followers.

The latest trend of the platform is that the shopping process is not always a part of following the philosophy of the brand—this just a process of shopping. So people are just not following the shops they purchased from. Most of them don't want to have your product but don't want to see your products every day, especially when the profile of it looks really as a display case of products. Instagram is indeed a relationship (not numbers) platform and is best for nurturing relationships and closing sales. So don't try to combat growth. Try to focus on the followers who ARE listening to what you're sharing.
At this step, the customer portrait is an absolute must.
Understand your audience
You need to get into the interests and hobbies of your future followers. Only after this step, you will get what specific products and what presentation of them you need to offer. Get clear on who we are trying to attract in your target audience. Who we are trying to reach with our shop.

To find relevant logic of selling and marketing create a customer avatar for your business:
(To simplify understanding I'll research Iphone cases profile in a parallel with you)
Start with a product you're trying to sell.
I'm selling super high-quality iPhone cases. I ship worldwide. My products are not cheap, but best and unique on the niche.
Picture an actual person who is interested in your product
(It can be a past customer, a customer of your competitor)
The last customer of my top competitor left a review in his Stories. This is a young man, David. He is 28. He works as an office manager. He has a new model of Mercedes and really expensive watches. He looks fashionable. Lives in Miami. I think his average yearly income is somewhere $30000.

Think about what are your customers' goals and values. And how your product can help this person achieve these goals.
David loves to be the focus. He wants all of his stuff to look tremendous and high-quality. He hates looking poor and ragamuffin-like. His goal is to keep his new iPhone safe and make it look gorgeous, as the stylish accessory.
Analyze your customer pain points about the product you sell.
He hates poor-designed and looks like a 10-Cent iPhone case. David doesn't want a case as everybody has, like mass-market cases. He is not ready to buy a super-fashionable but super rare case from Farfetch brands.
Think about possible objections and the role of this person in a purchase. Does this person alone buy your product?
David's decision to buy my product can be under the influence of his friends. They can troll him for a too bright a girl-like case or the cheap and poor-quality case.
After this activity, you're ready to create a marketing core for your customer, comprising all facts about him. What brands does she like, what pages he follows, what is he interested in. Use a profile analyzer to analyze your target audience profiles deeply. Copy a name or a link in search of the Profile Analyzer. You'll get detailed statistics for any public page.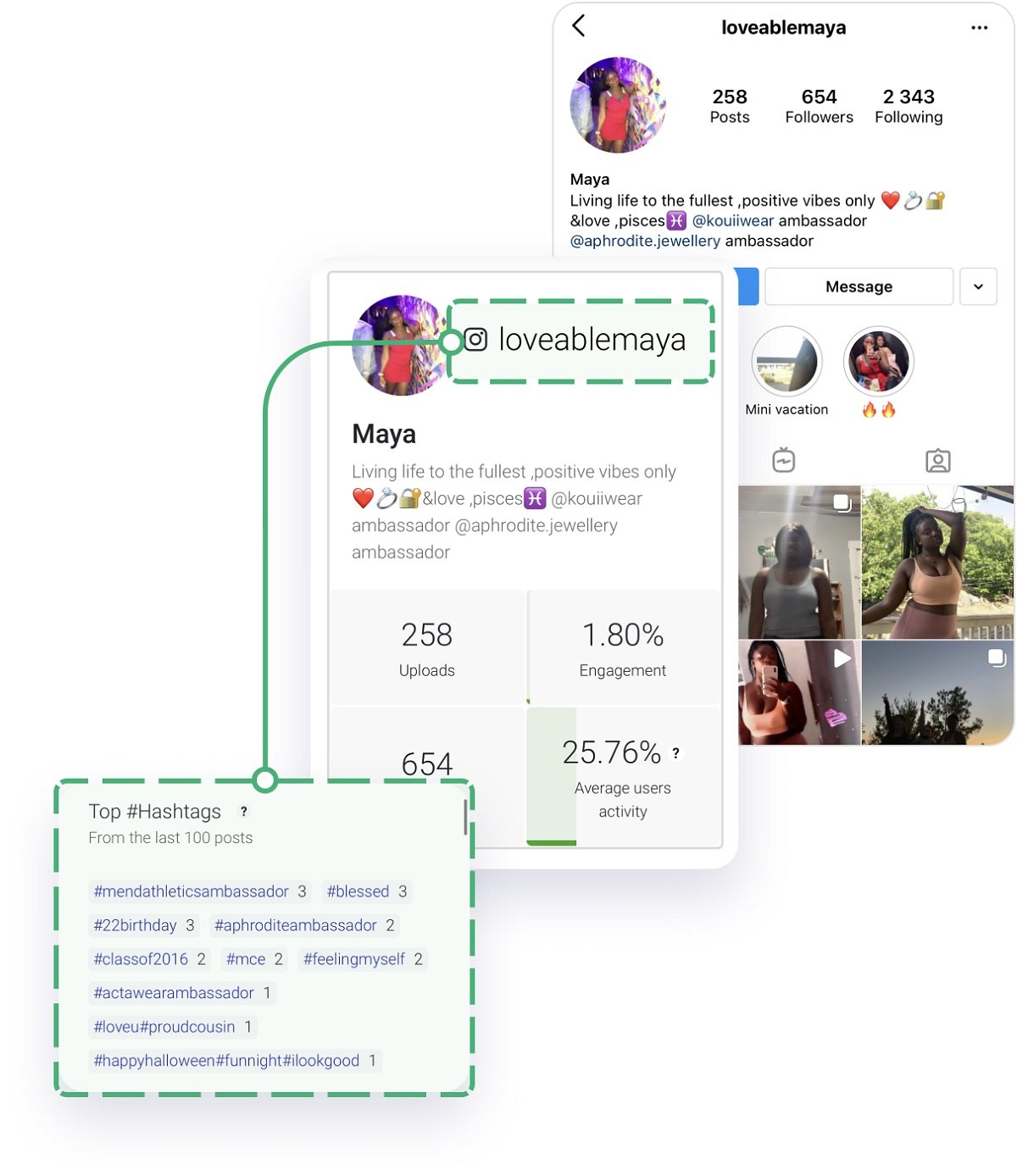 Look through these columns attentively. You can find useful information here Top hashtags, caption words and interests can help you understand your customer deeper. Segment your group of customers. Describe the- age group, locations, interests, etc.
primary audience
sub audience
micro audience.
For my iPhone cases example, the segmentation looks like:
Primary audience: stylish young men, Millenials
Sub audience: men who are 30-45 years old, class and rich
Micro audience: women, who are keen to find a good present for their men
You have on your hands this nugget of information now. Pick up relevant selling offers and content for each segment. Here are your target groups. The correct way of your account content creation, targeting, and promise will help you to drive lots of sales.
Customer journey to sell things on Instagram
Does your product is needed on the market now? How often do people look for your product?
Measure the level of demand and change the product if needed. Use Google trends to see if there somebody interested now (few last months) and where are the most of your audience located? Let us imagine ourselves at the place of the buyer. And somebody is selling a bed for us. Do you need to buy a bed now? Here and now?

If I say that the bed is fantastic and it has an orthopedic mattress? Are you ready to make such a purchase now?

When you work in the product business, you often encounter such a problem. You offer to buy a bed with the help of targeted ads to the people who have not even felt the need for this product yet. This can be compared to the proposal of marrying a stranger. Without telling and not showing advantages, not thinking about whether this person wanted to get married at all. There are still options with the intentional demonstration of a big discount on this product right now. This does not change your potential customer's attitude toward a product that he was still not going to buy. He was not going to buy it either for this price or for a price half as much. He has no desire to buy this product at all.
When a person has no need for a product, you can't force him to buy.
It is a bad idea to advertise on a screen of the person whose pain and need are not connected to your product. This method is random and implies a large expenditure on content design and advertising, but does not guarantee a good profit.
What you can do?
We need a customer path map - customer journey map:
The first stage of the customer journey is indifference.
No need. Your potential customer is used fire for lighting - and did not see it as a problem. But you have an electric bulb. The biggest mistake and the surest way to spend a lot of money is to try to sell at this stage. Here you can try to sell only hyper-popular products, which 100% cover the needs of most people and are not indifferent to almost anyone - for example, masks, sanitizers, spinners or other simply popular things.
TO DO: Create educational and interesting content, that will tell why owning a product is vital for your potential customer.
At the awareness stage, a person begins to realize that he has a problem. And that it would be nice to solve it. But how? It is at this stage that you need good content that fuels interest in your product, tells not just about its properties, but about what kind of problem it solves. It is easy and affordable to let a person understand that right now and here he will find his salvation.
TO DO: Create a persuading and strong content which will convince the viewer that the product can solve his problem.
Then comes the search and comparison - at this step, the potential client will attempt to find a good solution to his problem. The best solution is by comparing goods or services that cover his new need. Only at this point in the customer's journey can you show an advertisement for your product with such an attraction element as price reduction.
TO DO: Post a content with a structured and compelling comparative analysis of your and competitors product.
At the stage of choosing, we influence reviews, warming up with good content in the account, show all the best qualities of the product, high-quality photos, and videos in the profile.
TO DO: Time to use USG content and attractive videos about your product.
The moment of choice is the most important for you as a seller. You need to look absolutely best with your product to get a purchase.
What you need to do to start selling:
Show the most popular products most attractively in advertising, create good and accurate content that quickly and simply explains to a person what exactly and why you need to buy in your store. Show all the value of your product.
All of this you'll learn in the next Selling feed chapter.

Instagram ads
Instagram ads are a super popular tool which plays a giant role in a selling. This is an powerful IG shop tool in 2021 an algorithm of this social platform loves when you pay it directly. So it will show up your ad posts to the most engaging audience.
Before diving in a strategy of selling with IG Ads you need to:
Ensure that your business is ready for ads not to blow your money
Never get confused by the numerous Facebook Ad manager objectives
Find ads trends + real cases 2021 for the ad brainstorming and mockup
All of these activities are free to try and described in details in an AD Guide.
Hack:
To inspire with the latest ads designs and concepts of any other brands follow this instruction:
Go to Facebook Ads Library
Type the Facebook page name of any brand you're interested in
Choose a country of ads showing
Search for interesting fresh ideas to inspire

DM sales strategy
Every second sale is made with the possibilities of Instagram DM. If you master the DM tool of Instagram - it will bring you 500% more sales. Use Direct messages on the phase of nurturing your potential customers until they are ready to order. You should gently guide them to action by providing offers with triggers in your DM strategy.
Note: on this stage, a follower knows enough about your product. Probably they are already active with your content and community so that you need to sound more intimate in a DM.
Use this DM automation tool for seamless and simple sales-making through messages. With this full and comprehensive guide for DM messaging will become a marketing treasure for you.
Pro tip:
Create a CRM system inside your DM with an
automated tool
. Operate your Instagram shop sales without leaving the platform. This CRM-DM knowledge is vital for as a seller especially if you sell from multiple accounts. Now you can manage all of them right from one place:
The automated DM tool lets you having DMs from various accounts in one place. Your managers now will see all inquiries in one list of chats.
Numerous account managers have access to customer data from any device without logging in IG
Your managers don't need to log in to your various IG shops - but only in the DM tool. No one will have direct access to your shops anymore.
You can invent YOUR CUSTOM labels either for each of your managers - to delegate special parts of selling processes to a specific person or labels for each of the steps of a process of production and shipping. And of, course, you can use your fantasy and apply the labeling possibility in a way that suits your own business processes.
Selling feed
Is there anybody, who love to buy from an empty or dirty shop?

The look of your feed, it's content, colors, and composition - everything has a significant impact on the user's purchase decision.
Moreover, the look of your shop, the quality of photo and video, the clearness and mindfulness of your captions, and even masks in your brand stories - everything is essential. All these factors can influence user's opinion about:
The quality of your product
The price that your potential customer is willing to pay
The mood and atmosphere of your store, which he will buy with a product
Every part of your shop should be an argument for purchasing from you.
Let's see how can we turn your average selling account into a significant IG store in 5 steps:
#1 Professional selling Bio
The bio section in an IG shop is your business card. It must be clear and concise. Tell them WHAT you sell. Use a right and a brief statement. The biggest mistake of this step - is not being specific enough. You can experiment with this part and try out as many versions as possible to find a perfect bio. How to make your message super clear to attract the right follower? Be very, very clear about your particular customer. Do not waste time trying to describe your business in detail.
It should be so clear that without even seeing the feed of the store, your visitor should know what you are selling and how your product can solve his problem or add value to his lifestyle. Look at these two bio examples. Which of them is simpler to read and guess what is sold under it?

In the first line, you need to tell your person who you are and how you can help solve a problem. 9 of 10 people make this number one mistake in bios. They make it about a blurry mission that they have. Never do that. It must be about your target follower. Say that in the first line.
The second line is for the answer to a question of why you are different. Show a unique model or particular way you use in business. Name big websites, that wrote about you, or famous personalities, that used your product.
In the third line, I recommend placing a call to action. Here you can lead your visitor to click right below your bio. Most of the profiles have just a link - and there's no reason for the new follower to click. So place a great CTA in the third line of bio:
What can I get following the link? Will I get a free coffee with my order if I get a code there? Is there any free PDF for me? Is there an exclusive story about a famous person there?

Bio templates
#1
1: Helping (your market) turn (the problem you solve) into (your benefit)
2: (how many) clients served/ awards gotten/ people use your product plus (your results)
3: CTA
#2
1: Coach for (your market) looking to (your benefit)
2: Featured in (where? by whom?) or (How many years) serving clients
3: CTA
Example for Vintage jewelry bio:
Vintage jewelry, Silver and Golden chains
Unique old ✘Chanel ✘Dior ✘Bulgari pretties
Flea market findings from ➉ European capitals.
Buy originals from antique dealers here. ↓
# 2 Beautiful links
So after you called to click a link in bio - what's next? Unfortunately, you can add one link to your Instagram bio.
What if you want to add 3 links? 5 links? Or more? Here are two services, which are most favorited by IG brands to use for multiplying your bio links. Use one of them if you need to show more than one link, but make it look nice and simple.
#1 LINKTREE FOR INSTAGRAM
With а Linktree, add up to 5 links to a single Instagram account. Linktree account. After adding all you need in your Linktree account, you'll get a custom URL that you can add to the bio.

Click on the sign-up button.
Log in to your IG account through the service
Select your plan
Begin adding new links
To rearrange the links - simply drag them.
Cool things about this tool:
View stats of clicking for each link you've connected
Customize colors and styles for your link tree
Use the ability of Facebook retargeting for the audience, who clicked your links.
# 3 CTA
IG platform offers one-click action buttons on business profiles: Call, Text, Email, or Directions. You can use up to three.
The Call button is better to be used in a profile that offers services or reservations.
The Email button is great for urgent contact as it will open the user's email app.
Pro tip: What a nerve to add someone to your email list simply because they emailed you! Never try this. It's spammy.
The Action button is tied to third-party tools like Resy, Booksy, or Grubhub. These are great for making a reservation, purchasing tickets.
#4 Content that sells
After research of 100 of well-selling accounts on IG I've opened up these three points in common:
The quality of the image or video must be high. No excuses.
The content itself must be organic to the atmosphere of the IG. Too strict, photo-box, Amazon-like photos on a white background look ridiculous in the feed.
The caption should be short, human-like, and informative. And, in my opinion, it is tough to get your texts to meet all these requirements.
Here are three ready-to-use post ideas with recommendations. Use them - and you will make a sale.
#1 "INSTAGRAM LOOKING" USE OF YOUR PRODUCT
Make content that is Instagram-like. Use dream-like circumstances, locations, ultra-interesting people in focus, amazing backgrounds - and everything which is called " pure Instagram stuff".
Add a full and inspiring caption. Describe your product in a way as you'd do it for your friend, who hasn't ever heard about what you're selling. This type of content is worth trying for any IG shop, even if this not in the style of your product presentation.

#2 AN ILLUSION OF CHOICE POST
It is a really popular type of selling posts among IG shops - choice carousel. It benefits, among others, because it is highly engaging, very informative, and just fun. The main idea is to show as many products in one selling category as you can. These should be related to or the same products. Products should be interchangeable. The caption should be short. Just say that all of these products can be found in your shop.

#3 HONEST FEEDBACK POST
In 2019 every marketer was keen about posting a bloggers review with a product just right in his hands (on him, near him). In 2021 are a little bit more ads-blind, so the popular scheme doesn't work anymore. It is better to use screenshots of reviews, video reviews, audio reviews - anything that makes people stop scrolling for a second.
The selling feed is standing on two pillars - visuals and captions. For mastering the first one I recommend diving into these guides:
#5 Hashtags to make sales
Instagram hashtags are now used as signposts to classify the tons of selling content. This tool is very popular in 2021, as 1 billion product posts uploaded every day. And Instagram algorithm wants us to use hashtags wisely, properly, and don't mess everything up, so that the customer can find what he is looking for with just a few words.

The algorithm is even smarter than in 2019. And it learns what we love and don't love in seconds, trying to offer relevant things and hide irrelevant ones. So to sell with hashtags (not be followed and liked), you should use a special strategy:
#1 USE DETAILED HASHTAGS TO DESCRIBE YOUR PRODUCT CONTENT
Use a hashtag generator to find the most relevant words for your post. Don't pay attention to broad and popular hashtags for this technique. Try to choose those wordy and detailed hashtags that your potential customer may be searching for. Forget about a myth that people don't search on Instagram to find something to shop. They do. And the most developed way to find something is here - is hashtags. Use them as well as you can.
#2 MAKE SELLING HASHTAGS GROUPS AND WORK WITH THEM CONSTANTLY
After you've got a bunch of hashtags, you need to add them to your posts with great attention. You should test in these steps:
Organize a group of hashtags
Examples:
a) #iphonecasehandmade #leatheriphonecase #iphonecaseblack
#iphonecasesuede #iphonecasewhite
b) #iphoneXcase #ipnone11case #caseiphonex #caseiphone11
Put them on two newly posted publications.
Check impressions through hashtags in Insights and compare them with each other.
Find out which of hashtag sets works better. Save the result and test again with another content.
Hashtag selling strategy is a full and very powerful tool in your selling strategy. Go to Hashtag full pro guide to master it.
A lead magnet for Instagram sales
Have you ever faced the magic of lead magnets? This is a fast and creative way to:
collect an e-mail database of your potential customers
tell about your product in a naive and organic way
make sales with just a content
A lead magnet is something valuable and usable you offer a customer in exchange for their email, phone number — any contact information that can help you to follow up later.
How to create a lead magnet that brings sales in 3 steps?
Choose a type of content to share as a lead magnet:
People love facts and statistics. They love to know more about themselves. Do deep research on a narrow topic and design it well.
Checklist or goal-setting list
Take a topic connected to yours and choose a rather difficult aspect of it. Tell the most important points about the subject.
Offer a short free consultation if you're selling a service, coaching, etc.
Film a short and comprehensive video course about the painful and delicate point of your business.
It is a slightly problematic thing, but obviously, very engaging much a demand. Better to delegate its creation to a professional writer and perform as an expert to make it brilliant for your potential customer.
Everybody loves free trial. No more words - this is the shortest way to a sale.
Follow these 5 rules of successful lead magnet:
Make your lead magnet ultra-specific.
Choose a narrow scope in the problem it can solve. Instead of making your lead magnet topic broad and сommon, try to concentrate on a detailed and practical angle of view. For example, If you sell car accessories from your IG - choose a survey type of lead magnet, where you will show the benefits of different products for specific cars. Don't make an eBook of all you know about this topic. Solve a single but important issue with your lead magnet.
Example: "Guide to choosing a vitamin set for your skin type."
Make it easy-to-use
Firstly, create an opt-in process that won't take more than 20 seconds. Easy to find a bar to enter an email. Easy to open your lead magnet. Readable and all-devices-adapt design.
Example: Make a one-page pdf or short and simple checklist to make a clear and easy name for it. Make it easy to read, use short sentences, paragraphs, and bullet points.
Make it unique and high-quality
Quality is king. Don't make a fool of your potential customer. Give him a usable material and a feeling that you understand his needs. Narrow down to the audience you are targeting to. Don't try to attract passers-by who don't care about your business.
Call to action in your lead magnet
Don't forget this is a lead magnet, so the free thing that you offer should lead your potential customer to a sale. The action should be based on the information. The content works best when it actionable. So keep it short and easily manageable.
Solve customer's problem with your led magnet
Promise to solve as a well-formulated and urgent problem in the description to your lead magnet. You have to deliver on that promise. Ease a paint point of your potential customer - this will convert leads into customers.
Example: "A survey research of most educational games for a three-year-old.,"
3. Use 3 strategies of lead magnet promotion
#1 PUT A LINK TO IT TO A PROFILE BIO
Format your profile and make it business-ready. Create a well-written bio and add an easy-to-read URL and action buttons. The link in your Instagram bio is an absolute must for leads.
Include in the bio:
call to action (CTA)
value-added proposition for clicking on the link
pretty and short link to your lead magnet
For creating concise and readable links, use a service like bit.ly or tiny.cc. and add an easy-to-read URL and action buttons.
#2 CALL TO ACTION IN A POST
Get more reach for your lead magnet with a CTA in your feed post.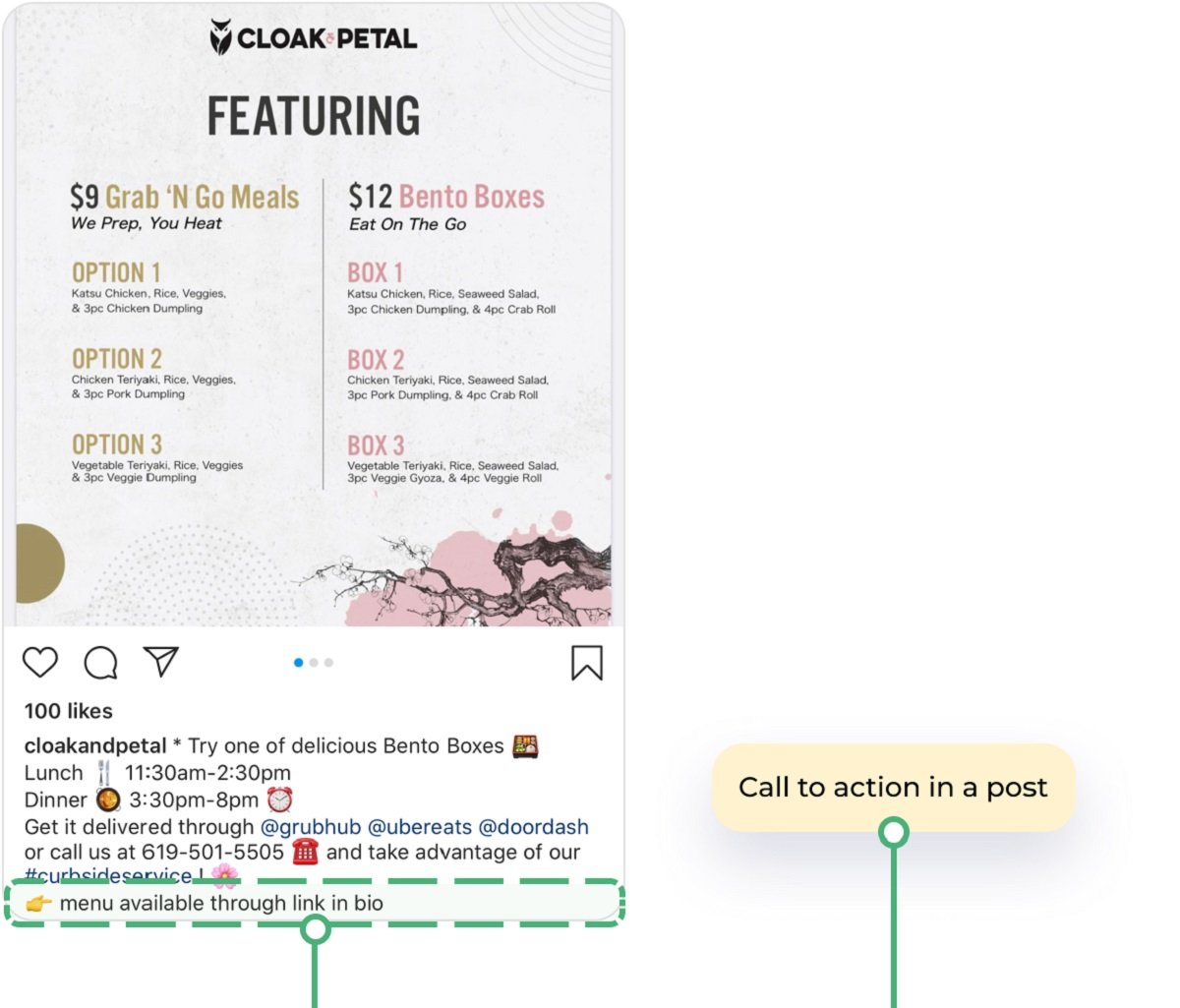 Pro Tip: To measure the effectiveness of your lead magnet which is placed inside your website create a page address with URL that's shared only on Instagram. Check the website analytics to see how many visits came from Instagram. Look through their further moves on the website and behavior.
#3 ADD A CTA FOR A LEAD MAGNET TO YOUR STORY POST
If you still don't have a swipe up feature for a link in your stories, direct users to click on the link in your bio.
#4 GO LIVE AND MAKE IGTV ABOUT YOUR LEAD MAGNET
The best thing about videos is that its description can include a clickable link regardless of account audience size. Cover the topic related to your lead magnet materials in a format of a video blog and direct your viewers to click a link in the description.
DM Selling Strategy
How to sell on Instagram with DM for brands and influencers (strategies for 6-figure sales and 300% engagement growth)
next guide