Now you have only a few steps left for the robot to start promoting your account. Settings will take no more than 30 minutes.

Margarita Terzi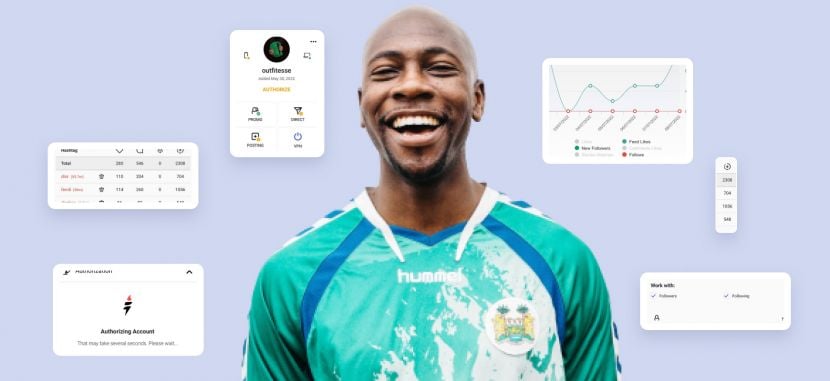 Minimum requirements for activating your profile promotion:
Account must be at least 14 days old.
Add your phone number and email address in your social network account settings.
The account must be public. The Promo Module will not work on a private profile.
Connect our free VPN - a mandatory step!
The VPN is a necessary guarantor of the security of promoting your profile through the Promo Module. When using the VPN, your IP address in the application and through the Promo Module will be identical. Therefore, for the social network, your activity will look like you are performing actions manually. The VPN is required for all Inflact modules where you pass authorization.
VPN settings can be found in this file. It is also available in the VPN section of the Inflact dashboard. You can read about the importance and functions of the VPN in the article.
After you request a VPN, you need to log into Instagram with the gadget you usually use to promote.
Sync the VPN with every device
If you open Instagram from different gadgets, you must activate the VPN on each device. This will provide a single IP address for each session. If several people open the same profile from different devices, then everyone must activate the VPN.
Account Authorization

To add an account to the Promo Module, go to the Accounts tab.
Click on the + icon.
In the "Add account" window, enter your Instagram username and password. Click Connect.
After correctly entering your data, the Instagram profile will be authorized and you will see it in the Promo tab.
You can connect several profiles to promotion through the Promo Module. Each one needs to be authenticated.
If you change your password on Instagram, then authorization will need to be repeated. If you have any problems, write to our support team via chat 24/7.
Make sure your profile is ready for visits
When the promotion starts, you will see an increase in profile visits and followers. Make sure you're happy with how your account looks.
In your bio, list your USP and benefits. You can also add opening hours, discount notifications, and other catchy information.
Add attractive visuals. Instagram PFP (main profile photo), posts, highlights, and stories will help people understand right away whether to follow you. Read our guide to Instagram visuals, as well as the Captions guide.

Hashtags. Insert 50 target hashtags that you can use to find target subscribers. The robot will analyze everyone who uses these tags and is displayed in the tag gallery. You can also subscribe to hashtags, which will be a signal that the account is targeted.

Hashtags should be updated periodically – at least 1-2 times a month. After the start of the promotion, you will see which tags are effective (i.e. they brought followers), and which should be removed.
Life hack: Copy the hashtags of your competitors. Insert ideas into the Generator. You will get synonyms and fresh ideas based on Instagram posts (marked in green). Copy and Paste into settings.
Use the Hashtag Generator where you will find thousands of relevant tag ideas, and you can sort them into templates and folders.
Usernames. Here you can include nicknames of your top competitors, similar profiles, and feature accounts that your subscribers follow. The bot will interact with their followers and following.
You can parse usernames of niche profiles through the User Search tool. Set up a search and download a file with target usernames in the column. Read how User Search works in the blog.
Locations. Adding cities and countries can be vital for promotion. The bot will look for relevant profiles in certain locations where your target audience lives.
Set up actions & run the bot
Actions. You can manually select the actions you want the bot to perform. You can place likes (on posts and comments), follow, and unfollow. An unfollow will be made if users didn't follow you in response, and it will only display unfollows made by the bot.
Safe mode & Safe start. The bot will use "Safe start" mode at the beginning of your promotion, since the build-up of actions should be gradual. In this mode, the bot will start visiting target profiles and watching stories. It will last about 48 hours. Over 7 days, the software will increase the number of actions every day. The speed and limits coincide with the requirements of IG and mimic the real behavior of the user. Safe mode means that the bot will slow down activity from the profile for 4-7 days, as if you decided to slightly reduce your activity. At this time, only viewing stories will be performed.

Analytics. After a few days or a week, go to the Statistics section. Here you will see a detailed graph of the number of actions taken. Also in the Targeting section, you will find the most effective promotion settings.
Read a full beginner guide to become a pro.
Video Content
Instagram videos: minimum investments and maximum ROI
next guide