Margarita Terzi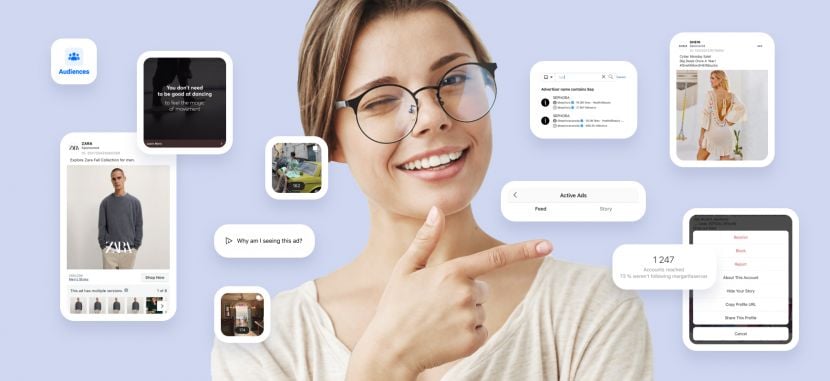 Chapter 1 - Instagram ads: basics, checklists, objectives
Ensure that your business is ready for ads not to waste your money.
Never get confused by the numerous Facebook Ad Manager objectives.
Find ads trends + real cases for 2021 for ad brainstorming and mockup.

Is your business ready for Instagram ads?
Should I pay for ads to get followers and sales?
The biggest challenge of running an Instagram and Facebook ad is determining the ad budget – many people feel they are throwing money to the wind. Before using a paid method for getting followers and pushing up sales, first try to boost your Instagram community organically and free via:
Hashtag strategy. Hashtags improve your post's exposure and increase a post's reach by 60-80%. Hashtags are free. Read the Hashtag Guide to boost your impressions and try the Inflact hashtag generator.
Valuable content. Engaging content with high value will attract people to your page organically. You also need competitive content on your account when you redirect people from ads. So read our guides about Visual aesthetics, Video content, and Stories to fine-tune your feed.
Genuine engagement in the community. Do you know your audience? Do you know their pain points and preferences? To increase authentic interactions with your followers, read the Promotion Guide.
The checklist to determine if your business is ready for a campaign:
Validated offer. Have you already gotten sales or leads for the offer you want to promote? If so, you are ready to win more clients and start putting money into ads.
Warm audience. Build a small and warm community before you consider investing in ads. It's slightly risky to take a brand new offer and run ads for it. I recommend that you build your followers and e-mail list, and offer your product to them before running ads, especially to cold traffic.
Example: Imagine you are scrolling the feed and see an interesting ad: a nutrition course from an expert. You tap on the ad but see only a few followers, no Highlights with testimonials, and just 3 images in the feed. Would you register or buy this course? Likely not, despite the excellent offer.
The exception to this rule is using ads for testing. Paid ads with lower bids can be used for testing audiences, offers, captions, and collecting data. In this case, you won't expect high conversion rates.
A fixed budget. If you are new to ads you need to figure out what budget you are willing to spend on ads.
The return on ad spend (ROAS) – is the amount of money you get after running ads. Ideally, the return is more than the expenses.
If you are running ads for data, you might be focused on the cost of acquisition. Before starting a Facebook campaign determine how much are you willing to pay to gain a sale.
Example: I want to sell headphones that cost $30. In this case, if I spend $20 for ads my ROAS would be $10. If I want to acquire a sale or get data, I can spend up to $30 on ads because the profit is not my initial goal at this stage.
Conclusion: The decision to run ads and the budgets you set depend on your business model and objectives. Make sure you have a warm follower base, a valid offer, and trusted content before growing spends for ads. That way you will make the most of your first campaign.
How to run ads on a budget – discover 4 working strategies in Chapter 2 of this guide.
How much does the ad cost?
Cost-per-click (CPC) depends on the industry, targeting, demographics, and placement options – Instagram only or Facebook platforms included. On average, one-click costs from 50 cents to $1. The more competitive your niche and locations, the higher the cost will be. See the average CPC by niches below:

According to Facebook, the minimum daily budget requirements by a goal are:
Impressions – $1/day.
Clicks, likes, video views or post engagements – $5/day.
Offer claims, app installs, and other low-frequency events – $40/day.
Why is it beneficial to use the maximum budget for ads?
When the budget is higher, the Facebook algorithm learns faster to find the cheapest and most relevant clients. Don't cut corners when you hold tests. Once Facebook learns your best audience, you can reduce the budget.
Example: The potential audience is 500,000 people
| | |
| --- | --- |
| Budget $2/day | Budget $20/day |
| Facebook will find the best audience slowly. the ad will be shown to the same people. | Facebook will expose the ads to more people, analyze more parameters, and will learn who is interested. |
Read this guide to the end to keep the CPC at the most reasonable level.
If you are new to Instagram ads you might find it confusing to correlate Facebook objectives, ad types, and your marketing goals.
Keep on reading this chapter to handle this issue – you will find the winning ideas for 2021, figure out the ad types with real cases, and discover an effective Instagram ad funnel.
Types of Instagram ads + best practices
Instagram ads by post type + specs and sizes
Facebook Ad Manager allows you to use the following ad formats for Instagram. Find more information about technical requirements in the FB blueprint. Below you will find the specs check-lists for the most common formats: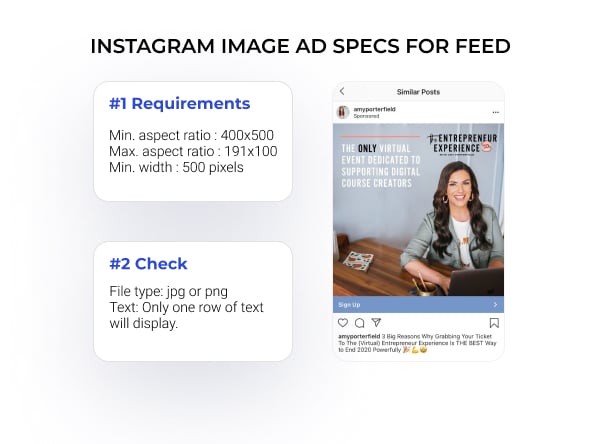 Note: TOP placement for 2021 is the Explore feed. When you place an Instagram ad in feed, it will also appear in the Explore section if you choose this option. You can repurpose the same post for the feed and Explore. The ad will be shown based on your targeting settings.
You can achieve the following objectives with IG ads:
| | | |
| --- | --- | --- |
| Objective | Description | Ad type |
| Awareness | Bring attention to a new product/service. | Photo, video, carousel, slideshow. |
| Reach | Facebook will show your ad to a larger audience based on the budget. Choose this objective to understand who your audience is and how it interacts. | Photo, video, carousel, slideshow. |
| Traffic | Drive people from your ad to your website or app. Encourage existing app users to open the app. | Photo, video, carousel, or slideshow. |
| Engagement | Ad aimed to boost the conversations and reactions in your community – get likes, comments, followers. | Photo, video. |
| App Installs | Promote your app with creatives leading to the app installation. | Photo, video, carousel, or slideshow. |
| Video Views | Expose your video demo/presentation/testimonial to more Instagram users. | Video |
| Lead Generation | Customer acquisition, collect information about clients with a pre-filled form. Viewers can leave their contacts in pop-ups to learn more. | Photo, video, carousel, or slideshow. |
| Conversions | Boost website purchases, drive people to the app catalogue, etc. | Photo, video, carousel, and slideshow. |
Facebook Ad Manager will provide you with different analytics based on your ad objective and post type. You can test several types and run ads with different objectives for various products.
Best Instagram ad ideas by niches 2021
Use ad ideas that convert from top accounts:
Niche

Idea

Example

Jewellery

Styling guide Story ad. Layer your product image with simple captions, graphics, and music. Teach viewers how to use your product and add the Shop button.

You will need a simple video editing app, like Over.

Beauty

A collage in Stories with your product. Minimalist design, stylish captions.

You will need a video editing app.

Apparel

Collage illustrating an item from different angles with a close-up. This idea works perfectly for e-commerce goods.

Use user-generated content (UGC) or collaborate with influencers to create photo ad posts.

Repurposing UGC for the Instagram ad campaign is the biggest trend in retail, food, and fitness niches.

Use the Inflact Downloader to save the images of your fans in high quality.

Food

Layer the photo of your product with some eye-catching graphics. This way the image will stand out in the feed.

Fitness

Provide valuable content (tips, how-tos) through the ads to build trust. Don't try to directly sell the product.

B2B

Use the fragments of interviews, webinars, or experts filming themselves. Add valuable advice in the caption and start your campaign.

Influencers

Film yourself speaking to the camera about how your content/course will help the potential client.

Subtitles and a lengthy caption are crucial so that the viewers get the message with the sound off.

Testimonials and people speaking about you in video ads and Stories work perfectly in 2021. You will gain genuine followers interested in your page.
Conclusion: Companies tend to use authentic, unfiltered content for their campaigns. Video ads, carousels, and ads in Stories are the top formats in 2021.
If you don't see examples in your area, you can research the ads of your competitors and market leaders by yourself.
PRACTICAL EXERCISE #1 – RESEARCH ADS OF YOUR COMPETITORS
Option #1 – Facebook Ad Library

Go to the Facebook Ad Library.
Type the name of the company you want to monitor.
See all the ads they run across Facebook and Instagram in various regions.
Filter the ads by impressions to estimate what works better.
Option #2 – through the Instagram app

Open the profile of your competitor on Instagram.
Tap on the three dots in the upper left corner.
Click on About this account.
Tap on Active ads – you'll be redirected to the Facebook Ad Library.
Chapter 2 – Instagram ads training: convert on a $5/day budget
Learn how to minimize the risk of throwing money away.
Uncover the effective system for setting up a campaign for beginners.
Practice marketing triggers for your future campaign.
3 killer and simple hacks to save money on ads
#1 TESTING
You need to get granular in testing what's working in your ads.

I advise you to run A/B testing in each of these areas:
| | | |
| --- | --- | --- |
| Targeting | Creative | Copy |
| Use the same ad for different audiences. You can vary interest, locations, demographics. | Run different creatives to the same audience. You can diversify the post type (carousel, video, image). Facebook will test which ad resonated best with your audience. | Change the headline, the body of the ad, the copy with and without emojis. When testing a caption, keep targeting and creatives the same. |
| See which audience interact better with the ad and use it further. | Determine the most triggering ad format among your potential clients. | Identify the winning headline and text format for your ads. |
By creating different versions of your ad, you will see the data on what works and what doesn't bring impressions/leads. Testing will help you to save money on Instagram ads by eliminating wrong ideas.
That's why you will need to prepare at least 5 versions for a single campaign.
Note: Use Dynamic Creative by Facebook which automatically identifies the best of your ideas. You can upload 10 images/videos and up to 5 versions of ad copy per ad, and the algorithm will combine them with the maximum effectiveness.
#2 USE HIGHLY ENGAGING POSTS ON INSTAGRAM FOR TOP-OF-FUNNEL ADS
When you are just beginning with Instagram advertising, use your Instagram organic posts for promotion. In this way, you will minimize the risk your ad will blow your budget because your audience already finds this content engaging.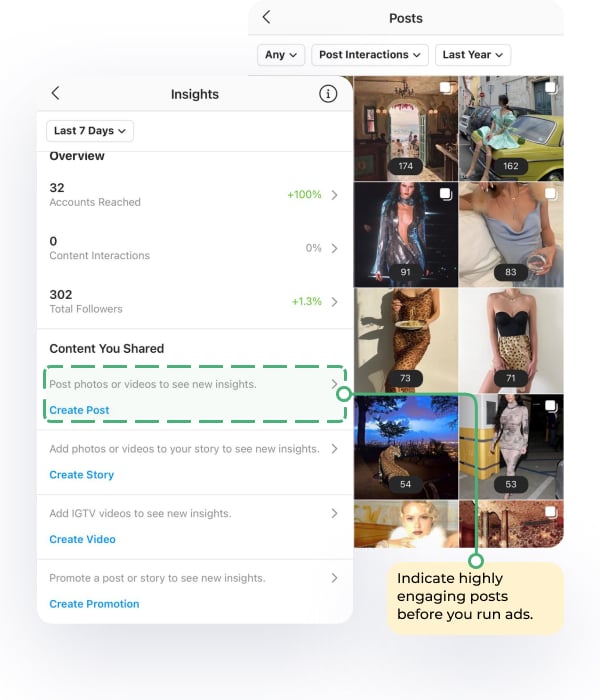 By checking the most engaging post in Insights you will find out what type of content your audience is responsive to.
Tap on the Insights in the Settings.
In the menu item Content You Shared find the section Create Post, click on the arrow.
Filter the posts by Post Interactions and the period Last year.
Create a custom audience in the Facebook Ad Manager by choosing Instagram business profile as a source.

#3 FIND YOUR AUDIENCE FROM COMPETITORS

The easiest way to know how to target your ad is to monitor the targeting of your competitors. This hack will help you to minimize the risk of wrong targeting:
Follow your competitors on Facebook.
Scroll the feed and stop when you see their ad.
Tap on

the three dots

Why am I seeing this ad?

Use some of the same targeting settings of your competitors.
3 exercises to gain followers and boost sales via ads
Do these practical steps when starting an Instagram ad campaign.
PRACTICAL EXERCISE #1 – OUTLINE THE OFFER

You need to figure out the objective of your Instagram promotion first. To choose the objective, read Chapter 1.
Your offer and CTA will be tied to your aim – attract new followers, boost your post reach, generate leads, or attract people to new products.
Examples of offers:
Lead magnet. You can offer a free trial, templates, or samples, or organize giveaways to achieve your objective. Lead magnets work perfectly to collect the contacts of your audience. Use the word FREE in your copy.
Discount code. Coupons and discounts work perfectly in retail and e-commerce ads. Include the code in your copy.
Buy one, get one free / 50% off. Popular offer boosting sales.
When you finish writing down your offer, move on to the copy and visuals. Remember to test different combinations via Dynamic Creative.
PRACTICAL EXERCISE #2 – PREPARE COPY AND VISUALS
Perfect copy for your ad should correlate with your client persona, it's crucial to speak the language of your audience. You can use these ideas when thinking over a text for ads:
Talk benefits first. Never put your product/features first when creating a copy. Your audience will be more willing to hear about the benefits and perks they will get rather than a list of the features.
Use emotional triggers. Marketers have long used FOMO, urgency, and scarcity as triggers in the text of ads, and they still work.
FOMO is the "fear of missing out" on something valuable for the client.
For example, 1,000 UX designers have already passed our course and found a better job.

Urgency – Use the timer in your lead form so that a client won't postpone filling it in.
Scarcity – Claim that your offer/discount/coupon is limited.
$20 flights across Europe – only 50 seats left.
These triggers will help you to get the most from your ads. Remember to include captions on your visuals.
PRACTICAL EXERCISE #3 – CREATE A CAMPAIGN IN FACEBOOK AD MANAGER
Go to the Facebook account tied to your Instagram profile.
Tap on

Create

Ad.

Choose the objective.
You can read the quick description of the Facebook objectives in Chapter 1. Facebook is smart and will find the cheapest audience for your objective.
Enable A/B test.
You can test a campaign with the same objective using variable audiences, creatives, and placements.
Note: A/B testing at the first stage will help you to determine the most effective long-term strategy.
Figure out your audience.
The easiest way to understand who is your target client is to open your Instagram Insights.
Using this data you can create a Lookalike Audience. This means that Facebook will show your ads to people similar to your target client. You can adjust the source, the location, and the percentage of the Lookalike audience making it more or less broad.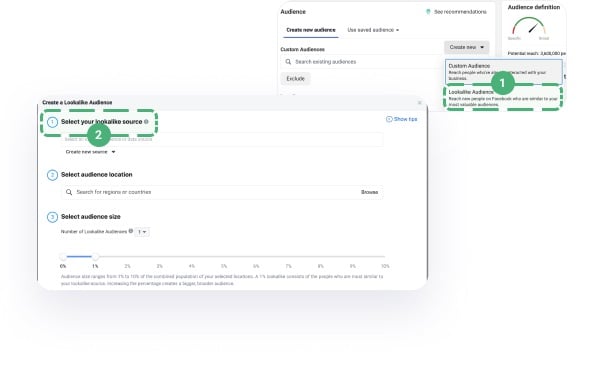 Adjust the placements.
You can choose the manual placement and pick the platforms where your ad will be shown. I advise you to broaden your placement to all Facebook and Instagram options.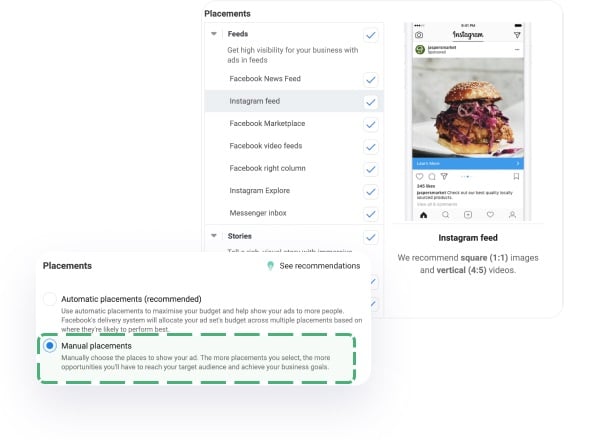 Figure out the budget.
Facebook will distribute the budget depending on what version works best. Don't put too low a budget when doing tests because the algorithm will learn more slowly. $5-10 a day is a standard ad spend. You can schedule ads so that your creative will be shown at a particular time.
Note: The time for your ad is chosen automatically based on your audience location.
If you want to achieve 3x higher exposure to your posts on a budget, use hashtags. The Inflact Hashtag generator contains over 12 million actual Instagram hashtags that you can find based on keywords, an image, or link.
Upload your media and copy.
You can prepare the visuals in advance or use Facebook Templates.

Thus, you can upload images and add captions to create video ads right in the Ad Manager. It requires zero design skills from you.
Insert your copy and variations for the A/B tests.
Done – now track the performance of your IG ad on the Facebook dashboard.
Read the next chapter to learn the best strategies for using ads to gain Instagram followers and grow sales.
Chapter 3 – Instagram ads strategies: gain followers and increase sales
Discover working ad settings to grow followers on Instagram.
Effective ad strategy to build trust and grow sales long-term.
3 top metrics to understand your ad performance.
Instagram ad settings to gain followers
Before we move to the effective ad strategy, I want to remind you – you can win over your organic audience without any payment. Post high-quality content and get it exposed to a larger audience via hashtags.
The Inflact hashtag generator is a tool to maximize your reach without ads.
Also, consider these guides to read: Promotion Guide, and Content Guide.
What is the best objective to get followers?
There is no objective in the Facebook Ad Manager called "Instagram followers." That's why you need to be more creative to attract new followers. The best thing you can do is to choose Instagram as your ad placement and choose Traffic as your campaign objective.
Tip: Story ads where you simply talk to the camera are a winning idea to gain new followers.
Practice these settings if you aim to gain followers via ads:
Switch to the Quick creation mode.
Save your ad in the Drafts.
Go to the Ad set and scroll to the Audience.
The best option is to target your Followers campaign to people just like those who already interacted with your page. Your cost per follow will be much less.
Set up a Lookalike audience based on your IG business page.
You may not specify the age and the gender for the Lookalike audience because Facebook already knows demos.
Don't narrow this audience with Detailed targeting, like Interests, etc. Keep it broad to get exposed to more people.
When choosing Locations, including English-speaking countries like India, South Africa where the cost per click is lower.
Select Manual Placement and choose only Instagram.
If you also choose Facebook, the cost per following will be higher.

Choose Instagram Stories in the Placement section.
According to my tests with feed posts, Explore and Stories, ads in Stories gain more followers at a lower cost.
Leave the Primary text and Headline blank if you run a Story for gaining followers. Your video Story will grab attention without any copy needed.
Insert the link to your IG account in the Website URL.
Run your ad.
Measure how many followers you get every day after the campaign is launched.
Instagram ads strategy for business: ad sales funnel
How do you grow your business with Instagram ads?
You need to use the sales funnel for your ads to convert in the long term. Has it happened to you that you see an ad and you're interested in the product but not ready yet to buy? For this reason, a buyer's journey should have several touchpoints. You may want to tap on the ad, look at the profile, maybe follow. A follower may become a client even 3-6 months after making the first contact, but this relationship will be longer-lasting.

Key takeaways:
Cold audience – the top of the funnel
Don't run an ad with a Conversion objective for new audiences. It will be more expensive to reach people with a brand new deal.
Customers want to learn more about your brand. Choose the Engagement objective as a low-cost way to find new prospects. Engagement audiences are much easier for Instagram to grow, scale and define.
Use demos and interests for this type of audience targeting.
Welcome people who started following you with a personal message. The Inflact Direct module allows you to set up bulk messaging to every new follower and auto-replies by trigger words. This will make people more attentive to your account.
Users who saw your profile / your ads
At this stage of your Instagram ad campaign, you will need to re-target ads for those who interacted with your previous ads.
Let the middle of your funnel add value to your brand.
Your objective in this stage can be lead generation, traffic, or website visits.
Warm audience
In stage 3 people know your brand, maybe they started following you and filled in a contact form on your website. They are warm and ready to buy your product so that you need to use ads to re-target audiences based on their behaviour – website visits, followings, leaving their contacts.
Clients / active followers
I advise you to run ads also for those people who are already your clients. This activity will keep them engaged and informed about your new deals. Remember it's more cost-effective to keep the existing clients than creating new funnels again.
What should an Instagram ad include at various stages of the funnel?
Brand awareness

Lead generation

Sales

Re-engagement

Introduce your product using a storytelling video. Focus on the benefits/solutions you offer to your potential clients.

Use testimonials and content from influencers to build trust. Highlight what makes your offer different from the competitors. If it is a video, it shouldn't last more than 1 minute.

Objective: Engagement.

Image, video, carousel post highlighting the benefits tied to the specific features of your product.

It can be a fragment of a tutorial, a how-to Stories series. It can be an e-book people can only download on your webpage. The link should redirect to your website or a lead form. This type of video can be long, illustrating the details. Objective: leads, traffic, website clicks.

This type of ad is aimed at hard sales. You need to convert warm audiences with a sound CTA and a good deal.

Offer discounts, promo codes, coupons, use triggers like urgency to stimulate sales via ads in this stage.

Ads for sales can depict your product in use and in various angles.

Objective: Conversion.

Re-target ads should be focused on new products, upcoming collections and events.

Your offer may include bonuses for existing clients. Promote complementary goods for those clients who already bought something.

Remember you can set up a "thank you" campaign by targeting it at customers.
Instagram ad analytics: only useful metrics
It's crucial to measure how your ad on Instagram performs. To do this, use the Ad Manager dashboard.
OPTION #1 – USE THE INSTAGRAM APP
The simplest way you can track the results of Instagram promotions is by going to the Insights under your post.
Open the

Insights

the menu item Content

Promotions.

Tap on See all (all the ongoing ads are located here).
Tap on

Past promotions

View Insights.

OPTION #2 – USE AD MANAGER
To see how the ads that you managed from Facebook perform, you need to open the Ad Manager dashboard.
The results you need to pay attention to depend on the objective and type of the ad – video, Story, image, etc. You can customize the metrics you need to monitor in the columns:

Here are 3 metrics you need to understand:
Return on ad spend
This number is crucial when you aim to sell via the Instagram ads. It shows the profit you got from the amount spent on ads.
If you need to monitor how ads affect your sales, go the ColumnsCustomize columns. Search for ROAS and add it to your dashboard.
Leads / visitors
Monitor the number of leads if you perform a lead generation strategy via Ads. If you redirect people from your ad to an e-commerce shop, track Link Clicks.
Cost per ThruPlay – for Stories and video ads on the top of the funnel
ThruPlay is the number of video views completed to the end. Track how much it cost for you to show a Story / video ad / slide show. This way you will understand how much you are paying for brand awareness and followers you gain through Stories ads, etc.
Conclusion: When you are just starting out with Instagram ads, try to test as many versions as you can. Monitor the results and costs to determine the most beneficial promotion strategy.
Video Content
Instagram videos: minimum investments and maximum ROI
next guide