In this section, you discover how to produce win-win content that will help you attract organic followers.

Margarita Terzi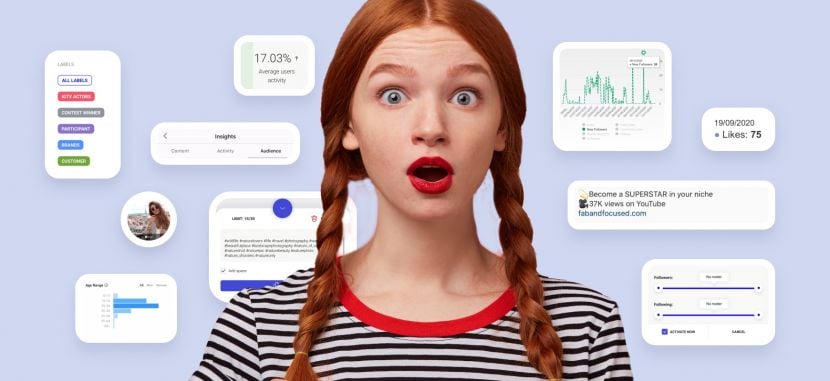 Chapter 1: Attract target audience
1. How many followers do you need to start making money?
There is no need to be Kylie to start making money
Do I need 100K followers to start making money on Instagram? No.
People think they need 50-100K followers to get reached by brands. That is true if you aim to sell shoutouts, but that is not the single way of monetization. Even having a 1K audience, you can earn even more than selling inconsistent shoutouts. Let me show you an insightful example.
Example:
Elise has 10K followers, and her engagement rate is 2.4%. She sells 4 shoutouts a month. The rate per one post she makes is $100-150.
Total income: $400 - $600
Laura's audience is 2K followers. She is a fashion blogger who shares high-end low-budget looks and sells handmade vintage, repurposed clothes. 150 people from 2K buy her items for $20-50.
Total income: $3,000 - $7,500.
Main point: Earning on Instagram is not about how many followers you have, but how you sell to these followers. You shouldn't win over more followers just to sell shoutouts. After a while, people on Instagram get sick of aggressive commercial posts, and you risk losing an interested audience.
It isn't only about how many followers you have. You need to think over your monetization strategy rather than pursuing a higher number of followers. Focus in-depth on a segment that is going to bring you money for a longer period.
Insight: the higher your exposure is, the lower the engagement rate. Micro and mid-tier influencers monetize better through affiliate programs and brand cooperations because higher engagement means trust, and consequently sales.
Engagement rate = likes + comments / followers count
Further, we'll calculate your ER to understand the starting point.
2. Ambassadors vs. Influencers – is there a difference?
Before we dive into growth strategies, let's clear up the most popular confusion beginners may face. Your monetization will depend on which group you want to join.
Influencers



An influencer is not necessarily a brand partner.
These are bloggers or individuals who gained an audience in a certain niche. Influencers engage with their followers and can stimulate purchase decisions.
There are numerous classifications of influencers: by the number of followers, by niches, and by ways of creating content. Content creators, celebrities, and experts in a particular niche are influencers.
Example: Kim Kardashian is a mega fashion influencer. People will buy clothes she wears even if she doesn't cooperate with this brand. Nevertheless, today people are more willing to trust people who are only famous from the web.
Brand ambassadors

Those Instagram influencers who established their authority in their niche and developed a relationship with a brand can become an ambassador.
A company hires an ambassador to represent their brand, sell shoutouts, take part in campaigns. Thus, corporate ambassadors are influencers who aim to increase sales of a specific product. They usually earn commissions from promo codes they offer. Often, influencers can become ambassadors for a period of time as the market changes quickly.
Example: Kim Kardashian was a brand ambassador of Balmain, Calvin Klein, and many other brands.
PRACTICAL EXERCISE #1 – CALCULATE YOUR ENGAGEMENT

Copy your username.
Go to the Inflact Profile Analyzer.
Paste your name into the search bar.
Tap on the Analyze button.
Find the ER and average user activity.
Track your engagement rate every week, as your audience grows.
If your engagement rate is low, pay attention to the most liked and commented posts. Why did people find them appealing? Don't worry – when you pass this guide and accomplish all the exercises, your followers will grow in both quantity and quality.
Theoretical and analytical facts will help you to pass the practice with a deeper understanding of:
how many followers you want to reach.
what your goals are as an influencer – reach brands, make your community, sell your services.
what your ER is and how to track it.
3. Instagram growth strategy: from 0 to 5K followers in a month

In this section, we will lead the first followers to your community. If you have followers and content, you may skip some exercise and pass to the Advanced strategies.
If you followed all the previous steps of this guide, you have an SEO-optimized bio with a clear niche statement and a working link or links. But how do you drive people to your account? Well, that's simple. You need to start. What we shall do:
Research hashtags.
Create the first 12 posts.
Optimize your Stories.
Boost engagement.
After you upload the first 12 posts, I recommend you use the Inflact post-planner. Scheduled posting allows a grid preview and auto-update of your descriptions, and it save hours of work. Upload images, insert captions, set the time, and the posts are always published on time.
PRACTICAL EXERCISE #2 – RESEARCH INSTAGRAM HASHTAGS
Is it important? Yes. Niche-specific hashtags in the right proportion are capable of bringing you higher reach and more followers. Discover the process in the Myth-busting Instagram Hashtag Guide.

Think over keywords related to your niche. Don't stick to the post or image itself.
For example, if you are a fashion influencer and are going to post about sneakers, your keywords will also include the interests of your audience – jogging, running, sports.
Collect keywords in this worksheet. You can add more groups to make the result even more complete.
Go to the Inflact hashtag generator.
Paste keywords for each group. You can use 1-5 keys per search.
Generate hashtags.
Select hashtags and Copy-Paste them in your worksheet list.
Mix hashtags from each category.
Follow 4 rules when using hashtags:
RULE #1 – USE THE PROPER BALANCE
1-3 frequent + 6-8 medium + over 10 rare hashtags = maximum post exposure
RULE #2 – NEVER DUPLICATE HASHTAGS MIXES
When you use the same hashtags, Instagram recognizes your posts as spam. Changing the order and updating the sets is a must.
RULE #3 – LIKE RECENT POSTS ON THE HASHTAGS YOU USE
As soon as you posted with a brilliant hashtags mix, tap on every hashtag and like the recent posts. These people are connected to your niche and are on Instagram now – you will get their attention and following.

RULE #4 – USE THE INFLACT SECRET FEATURE
Try the Inflact Post Planner to test several combinations per post and gain higher exposure. The description of your post will be updated automatically after a certain period.

PRACTICAL EXERCISE #3 – PLAN YOUR POSTS

People will find reasons to follow you if only you have content on your page. Even if you have 0 followers, if someone likes your feed and niche statement, they are likely to follow. Do these things to encourage follows:
Plan the captions for every post. It's better to come up with variations in advance and write them down in your content plan. Find your content plan template in the downloaded document list #2.
Spoiler alert: Further in this guide you will find working techniques for influencer copywriting.
Collect 12 high-quality images. You can begin by uploading your classes, personal photos, landscapes, text posts, some stock images.
Make sure these pictures match and look beautiful in the grid. They make the first impression of your account.
Post every day. You can post several images at once if they split. Consistency is a key.
Read the Guide on Instagram aesthetics to fine-tune your feed.
PRACTICAL EXERCISE #4 – BE PROACTIVE
When you've published the first post, let Instagram know your preferences for the content, what your niche is, and who your audience is. By doing these simple steps every day, you will grow organically, for free and fast because Instagram algorithms will suggest your content as relevant on the TOP feed.
Follow TOP accounts in your niche.
Comment and like their posts.
Follow hashtags in your niche.
Comment and like posts in these hashtags.
Do it every day.

PRACTICAL EXERCISE #5 – OPTIMIZE STORIES

By making catchy Stories, you have a higher chance people will DM you. Stories are more engaging, so you need to hop onto them doing this:
Hashtags. Type hashtags from your research in Stories. Shrink the size and hide them under Stickers, Quiz, Timer, etc.
Locations. Expand your reach by adding Location to a Story. You can add TOP Locations to get more views.
Note: The more responses in DM you get from Stories, the more often your posts appear on the feed because Instagram recognizes that people like your content.
Practical exercise #6 – Show off on other social media
Go to your Facebook page and leave the link to your account.
If you started a new account, go to your main account and invite existing followers.
Do the same cross-linking on YouTube, TikTok, Medium, Pinterest, Tinder, messengers, even your CV, and any social platform where you are present.

Check the guide 1M followers in 12 months on Instagram - just with a calendar to discover more growth methods.
Tip #1 – the day you are going to post, go to Instagram, and like and comment on recent posts. The comment should be thought-provoking and stimulate people to tap on your account. This trick also works since those people who have recently posted are on Instagram at the time. Thus, they are going to see your post as well.
Tip #2 – be responsive to new Instagram features. When Instagram updates its functions, users see Stories. Be among the first users to test this function since Instagram will reward you by showing your content to more people.
Tip #3 – shrink down hashtags and put them in Stories. Are you still not using hashtags in Stories because they are not aesthetic? Make them small and hide them under a sticker, timer, questions – people won't even know you posted any hashtag.

5. Instagram ads: tips and tricks

Instagram ads are a paid yet good way to get more followers and become an influencer. Many bloggers promote via ads, but before experimenting with it, you should be consistent in posting and win your first audience. I'll tell you how to use ads, not to waste money, and gain like-minded people around you.
Note: Set up your campaign on Facebook instead of the Instagram app. There are many more options for defining your audience.
Types of ads you can start:
Stories. Your Story ad appears when your target client watches Stories from his profile, and this form is super effective.
Photo. Basic photo ads in the feed.
Video. Video in the feed that can be up to 60 seconds long.
Carousel. A perfect type for e-commerce and displaying products in the images people can swipe.
Collection ads.
Ads in Explore page. It is shown when a target client taps on the magnifying glass in the Explore section.
I advise you to try Story ads first. According to the latest surveys, this type works the best for influencers.

The great thing about IG ads is that you can target them narrowly. So before running a campaign, do this quick practical exercise.
Get into the nitty-gritty of IG ads – read our Instagram ads guide.
PRACTICAL EXERCISE #7 – YOUR DREAM FOLLOWER PORTRAIT
Describe who your target follower is. Answer these questions and write them down.
Who is interested in my account?
What are this person's interests?
Where do they live?
Where do they go shopping?
How do they spend their free time?
After doing this quick brief, you will feel much more confident when setting up targeting.
PRACTICAL EXERCISE #8 – START YOUR AD
Go to your Facebook page. Tap on Create and choose Ad.

2. Now you've got into the Facebook Ads Manager. Don't be afraid of the many sections. I'll make it clear for you.

Choose your objective. When you create ads for gaining followers as an influencer, the best option is Traffic.
Choose split tests or regular ads. You can do split testing by running several ads to find your best audience. Now I'll show you the easiest option with a single adjust to show how it works.
Set your budget. I advise you to experiment with low budgets of $5-10 a day. When you find out what works better, you can modify ads and increase budgets.

Set up a bid strategy and schedule. It's an excellent option to fix the time your ad will display. Probably not so many of your target followers are online at 3 am?
Narrow down your target audience. Use the insights from the previous exercise. If I'm a prenatal yoga instructor from Berlin, my audience will be like this:

Choose the placement. Don't use automatic placement, which means Facebook will show your ads across all its channels. You can narrow down to Instagram and Facebook. If you adjust target ad in a Story format, it's better if you choose just Instagram. And if your purpose is gaining followers, there is no need to target people just using messenger, right?
Optimize your ad. I advise you to set the end day just in case you can't access your Facebook and stop the campaign. You can always extend this period if the ad runs smoothly.

Choose the Facebook page and Instagram account that will be mentioned in your ad.
Upload your media. It can be a video or carousel. Also, you can choose your existing post on Instagram.
Add headlines, description, your website URL. If you publish a Story ad, insert the URL to your Instagram page as a website link.
12. Tracking is a very effective option you can use. For example, my ad will display to people who Googled prenatal yoga, childbirth, delivery training, and similar terms. This works like magic.
e if you actually ask them to. Ask them to:13. Tap on Confirm and pay.
Your first ad is ready. Remember, you can test several campaigns to test your audience preferences.
I hope your ad will explode your Instagram with true fans and help you monetize.
Conclusion: putting all the exercises into practice will help to grow your organic followers from 0 to 5K in a short time. Further, I'll share content generation hacks that should become a part of your routine strategy.
Chapter 2: Content creator 2021 – PRO hacks
Many influencers start growing and suddenly run out of ideas. This can be very frustrating. Waste of time and money, right? People might follow you, but how do you keep them interested so they don't unfollow in a month?
The trick is a five-star content strategy and engagement. Keep on reading this tutorial to stay a relevant and much-followed influencer.
1. Content generation strategy – CHECT
The strategy I'm going to present is called CHECT. It's easy to remember and self-check every time you post on Instagram. The acronym is: C - Content, H - Hashtags, E - Engagement, C - Caption, T - Tagging. Let's review each element.
Following this blueprint, you are sure that every post is optimized for growth.
C - Content. Tools to keep you inspired and generate new ideas.
Use the Google plugin Keywords Everywhere. Once you type a topic in the Google search bar, this plugin offers you related searches that you can use as content ideas. Make sure this topic has a good search volume.
Answer questions. Track platforms like Reddit, Quora, and Facebook groups to learn what questions your audience asks in your niche. These ideas are inspiring and solve existing problems. Collect this list of questions and monitor consistently. Check forums in your niche to collect many specific ideas for your content.

AnswerThePublic. Use this service if you don't have time to monitor all the forums. Here you can find all the questions people ask online. Create content that gives people answers!
Ask your audience. This tip is essential to identify what type of content your audience wants from you — a simple genius. Take advantage of polls, questions on Stories. By polling your audience, you can be sure that at least one follower will find this interesting. Also, you stimulate engagement.

Create a Facebook community. Your next step as an influencer will be creating your group where people ask questions in public, moderate content by themselves, and help each other. This group will be a brilliant collection of questions to cover in your blog.
I hope these ideas will keep you energized to generate valuable posts.
Ok, but what type of content will work better in 2021? Feed posts, Stories, Streams?
I answer these questions further – check out the part Content trends for 2021.
PRACTICAL EXERCISE #9 – COLLECT MORE CONTENT IDEAS
Open your worksheet and go to the platforms I recommended above.
Write down questions in your worksheet.
Research forums specific to your niche.
Collect topics from these platforms.
Do this research every week or two.

H – Hashtags. Tutorial on hashtags research.
I gave you the precise tutorial on looking for hashtags in the previous chapter – Practical exercise #2 – Research hashtags. To fine-tune your hashtag strategy, explore our dedicated guide.
E – Engaging. Essential activities to get noticed.
Are you taking time to engage with other accounts? Make sure you are engaging and:
Like and reply to every comment people leave.
Engage with hashtags. When you apply hashtags, click into them and interact with other people's posts. Click into the most recent posts because these people are likely to be still on Instagram.
Try the Inflact bot. This tool likes, views Stories and follows profiles in your niche – your potential community members.
Adjust auto-replies and welcome messages in DM. The Inflact DM is a desktop messenger where you can:
Welcome every new follower with a unique message – point out the value you provide for followers, deals, events.
Answer popular questions automatically by using trigger words. Does everybody ask you about the collaboration rate? Preparean auto-reply explaining the terms.
Discover more strategies for Instagram Direct for influencers in the DM guide – working tricks to boost your content reach, engage organically, and increase sales of your own products.
C – Captions. Copywriting for influencers. SEO optimization.
If you follow celebrities on Instagram, you may notice they don't overthink their captions. They may write a couple of emojis and get crazy engagement. But unless you are Kylie Jenner, you need strong captions in your posts.
Copywriting is the creation of a text that has the power to persuade people and makes them want to buy. Exactly what every influencer should do.
Captions are the place where you share value.

Before you even start creating your perfect caption, let's do an exercise to relieve all the writing blocks.
PRACTICAL EXERCISE #10 – HOW TO BOOST YOUR WRITING POWER
This task is very simple.
Take a pen and a notebook.
Divide the page into 3 sections.
In the first section, write what you did yesterday. Don't think what to write - it should be all the random thoughts that come to mind. You have 5 minutes to finish this part.
In the second section, write down what you saw yesterday.
In the third section, write what you heard.
You can use some of the insights in your next Instagram post or Stories.
In 15 minutes of writing, your block disappears.
Practice this exercise every time before creating any copy to boost your creativity.
Four techniques for writing engaging Instagram captions:
#1 – BATCHING
Writing your Instagram copy on the fly is a mistake. Practice batching – this method is much more productive.
Batch work means that you perform the same activity at a particular time over and over. Let's say you will write out your 5 next captions every Monday at 12 P.M. Don't mix writing with other tasks like content planning or editing.
#2 – FOCUS ON 2-5 THEMES
Develop several themes for a week or even a month in advance. What themes could be:
a success story of a client
your life story
industry insights
your offer
Basically, caption themes are inspirational, entertaining, or educating.
PRACTICAL EXERCISE #11 – WRITE OUT THEMES
Go to your worksheet, open the list "Content ideas."
Based on the topics and questions you've found, write out themes for your posts.
Pro tip: You can pair your themes with any images later. Based on the theme and caption, it will be easier to find a suitable picture from your bank or stock photography.
#3 – USE THE SBA FORMULA IN YOUR CAPTIONS
Story - Bridge - Action
The point is that you tell your Story, find the Bridge to your followers, and provide a call to Action.
The Bridge is a key point answering the question: why should a reader care?
Tip: use the phrase "so that."
Example: I share my 10-minutes prenatal yoga routine in this post so that you can prepare for easy childbirth while still working.
After "so that," you as an influencer highlight the value your follower gets. So easy, so effective.
#4 – WRITE INFORMALLY
Breathe out and write like you usually talk. Imagine you're telling a story to your friend by phone.
Hack: Say out loud what you want to say and record it. Then, write a conversational caption.
Note: Add line breaks and try to make each paragraph no longer than 2 lines.
PRACTICAL EXERCISE #12 – CREATE AN ENGAGING CAPTION
After reading all the rules, let's learn by doing.
Take the first theme from your list. Record what you want to say as if you are talking to your friend.
"Bleed in the first line." The first sentence should be short, shocking and dramatic. Text that is too long will get cut.
Examples: I cried for 3 hours.
Write out your Story, using the SBA framework.
Include a CTA. People engage if you actually ask them to. Ask them to:
like or double-tap.
answer your question.
tag a friend.
share a post in a Story or DM.
do a quiz, like "Choose the number between 1-5, and I'll give you the right answer in the comments."
follow the link in your bio.
Add spacing. Line Breaks and emojis let your text breathe. You can use this service to format your text.
Remember to emphasize the main via stylish Instagram Fonts.
Great job!
Captions for a Story
They are important.

Even if followers watch Stories with sound, you need a caption to grab their attention. Captions in Stories make them inclusive for deaf viewers. You don't need to write out every word you say, but doing this is crucial for a few reasons:
Tease. Type a short version of what you are about to say so that people keep listening and watching.
Point out main and juicy facts. Write out numbers, or the conclusion of your Story.
You can add captions in-app or use free apps like AppleClips or AutoCap.
Copy for IGTV*

Three captions you need for an IGTV clip:
Title. A title should be solid so that people want to read the description. You have just 75 characters in this section. Titles that get tapped tend to be striking ones, all in caps. Use emoji arrows to explain that people can read more in the description.
Description. You can put a clickable link in the description, so this part should include a CTA. Give context in this section so people can understand what the content is about. Add hashtags to the description to make the video searchable.
Cover image. This caption is optional. But a copy on a cover image helps people to get the purpose of your video when they scroll down the feed. When planning out a cover image, make sure that the text is close to the center because Instagram crops the top and the bottom a bit.
SEO hack to add to your caption

Utilize Instagram alt text, which is a relatively new feature. Not a lot of people use it.
Alternative text allows you to input keywords into your photo. Originally, Instagram invented it for people with visual impairments – it will read your post to them. Instagram algorithms understand what your post is about and show it to more people. How to use it?
PRACTICAL EXERCISE #13 – ADDING ALT TEXT TO YOUR POSTS
Add to existing post
Go to your photo.
Tap on the 3 dots and choose Edit.
Tap on the Edit Alt Text in the left bottom corner.
Write out a description of your post. Summarize what you are talking about in one sentence.
Add to a new post:
When creating a post, go to the Advanced Settings at the bottom of this page.
Find the section Write Alt Text.
Enter your description.
Well, now you can write engaging captions and optimize your posts like a pro. Discover more SEO tips in the article Instagram SEO: 5 Hacks to Grow Fast.
T – Tagging
How can you up your engagement via location and tagging?
Tag other accounts in your posts.
Tag up to 20 accounts
Tag the location of your post. It doesn't have to ve the actual location.
If you consistently follow this blueprint when posting, Instagram algorithms understand your account is worth showing to more people.
That's how you gain exposure organically.
I know this strategy might sound complicated, but you'll find it's easy when you start doing. To fast-track your content strategy and save time, I recommend you to use Inflact Post Planner. As you upload 12 posts on your page, pre-plan your content, including Stories.
PRACTICAL EXERCISE #14 – PLAN YOUR POSTS VIA AUTOMATED SCHEDULER
Go to the Inflact Post Planner and register. It takes 2-3 minutes.
Order Post Planner at the best price.
Go to your Dashboard and verify your account.
Tap on Add content. Insert your well-planned captions and add an images / videos.
Set the best time and date.
Add hashtags from your worksheet. Use the auto-updated description to test 2-3 sets per post.
Plan your Stories.
Well-done – the content will arrive on time. Relax and continue researching groundbreaking content ideas for the future.
2. Content trends you can't ignore in 2021
To be ahead of the game, you need to stay in the loop of the latest Instagram trends and optimize your content.
The "no-edit" edit

No filters, organic palettes, and minimalism are the biggest trends in photo editing for Instagram. The more organic the image looks, the more likes it gains. Influencers are no longer fighting to be perfect – they want to be authentic and trusted. Since Instagram is hiding likes, influencers don't polish images anymore.
Hack: Try to take images in the daylight and think more about the content than aesthetics.
Real-time videos on the feed

Video content is going to be one of the biggest trends for 2021. Shoot short clips since they occupy 4X more space on the Explore than photos.
Don't think that making a video is expensive and time-consuming. Clips should look no-edit, authentic, and be real-time to win the audience. Influencers are predicted to post more feed clips in 2021.
Read our ultimate guide for filming Instagram videos with minimal investment.
Hack: Instead of taking a picture or a selfie, shoot a quick video. You see? You don't even need to overthink any idea. Slightly edit this clip and post instead of regular images to be in-trend for 2021.
Feed or Stories in 2021?
When people were crazy about likes, they posted real-time content in Stories and perfectly edited images in the feed. But things will change in 2021.
Instagram aims to increase feed content because most of the ads are there. They need to attract more eyeballs.
This means you need to focus on your feed posts, make the content valuable, and rather post videos. Use the time you spent on editing to re-think your feed.
Hack: You can edit and videos for Stories and feed on TikTok, which is the next trend you should keep in mind.
TikTok influence

TikTok content is highly engaging these times: authentic clips, no-edited, funny or instructive, and no obsession with being perfect.
Influencers use this trend and upload TikTok content on Instagram.
Also, TikTok makes it much easier to gain higher exposure than Instagram. You may have 10 followers and get 78K views on your video, as it will be shown to many people.
Hack: You should use TikTok to find inspiration, research trends, redirect people to your IG, edit, and generate content for Instagram.
IGTV
As an influencer, you can't miss out on IGTV to win more followers. Not everybody wants to read long captions, right? Give value to your fans – record tutorials, tips, travels, interviews.
Hit "record" and see how your followers engage with video content.
AR (Augmented Reality)
I bet you've already tried AR masks in Stories. In 2021 it's not only brands and celebrities creating their AR filters but also influencers. Try to experiment and generate your own AR effect to get exposed to more people across Stories.
At least, you should tap into AR quizzes and upgrade your photos in your Stories to remain relevant. Learn more in the blog post Instagram filters for Stories: 3 Instagram filter artists & 3 ways to search filters on IG.
PRACTICAL EXERCISE # 15– UPGRADE YOUR INSTAGRAM FOR 2021
Checklist for a trending influencer:
Don't edit images. Fill your mood board with eye-catching unfiltered photos and use these ideas.
Practice shooting short videos.
Optimize your feed so that people find it valuable.
Download TikTok and integrate it into your content strategy.
Upload IGTVs.
Create a branded AR mask. Use AR to make your Stories engaging.
3. Understand your account – basics of Instagram analytics
Do you check on your posts' insights? Are you sure you understand them correctly? Let's beat these numbers and read the statistics to increase your audience's response. Measure the effect of your posting.
I promise to explain all the analytics simply so you won't get stressed. It's crucial to measure the effects and optimize your content according to what people like.
Note: You should switch to a Business profile to manage your analytics. You need a connected Facebook business page, which is created automatically. Make sure you set up this page – cover image, description, links, etc.
PRACTICAL EXERCISE #16 – UNDERSTANDING YOUR AUDIENCE DEMOGRAPHICS
Go to your profile on Instagram.
Tap on the 3 lines and choose the Insights menu item.
Click on the section Audience.
Here you can see followers' growth, locations, gender, age, and the time when your followers are active.

How you use these insights:
Locations – optimize the language of your content to the locations of your followers.
Age, gender – use these demos when thinking of the tone of voice and content.
Followers' active hours – consider posting during the most active hours to gain higher reach.
PRACTICAL EXERCISE #17 – UNDERSTANDING THE ACTIVITY
Tap on the menu item Activity.
See Profile visits, Website clicks and other numbers you have in Interactions.
Look at the diagram showing the interactions by days.
Analyze what content (e.g. Stories, posts, etc.) you uploaded that day. Keep on posting more of this type of content.
Go to the less active days. Mark this content as not selling or valuable and adjust your strategy for the next period.
Go to the Discovery section. Here you can see how many people saw your posts and how many times your posts were exposed in total. Remember the difference:
Reach – the number of unique accounts that saw your post.
Impressions – the total number of times your posts were seen. One person may watch your video 100 times!
Impressions are always more than reach!
Analyze Reach and Impressions by days to adjust your strategy.
PRACTICAL EXERCISE #18 – CONTENT OPTIMIZATION BASED ON ANALYTICS

Tap on the menu item Content.
Open the section Posts. Tap See all.
Use filters to choose the posts for a certain period of time. Analyze what posts resulted in more shares, websites, clicks, engagement, saves, follows, etc.
This step is essential when analyzing what content works better among your followers.
When you filter posts by Engagement, Instagram counts likes, shares, comments and saves, but doesn't count multiple comments from the same user.
Do the same analysis with Stories. The statistics are available only for the Stories you uploaded in the past 14 days. So you need to analyze Stories' performance at least twice a month.
Tap on the Section Promotions.
Analyze Past promotions.
4. Use your stats to learn what your audience responds to
Every influencer chooses KPI metrics based on their goals, type of monetization and business. Here is some advice:
If you are building a community, make Engagement your KPI.
If your goal is growth, monitor Reach as your KPI. This metric shows whether you are actually growing or not.
When running a campaign or giveaway, monitor the Comments. Evaluate your contest based on this KPI.
Note: KPI will depend on whether you post images or videos. People often double-tap to like images, but usually just watch videos, seldom leaving likes.
Track all the KPIs in a document and compare the results every month.
How to use numbers to grow on IG:
Engagement rate. Review top and bottom metrics. Analyze each post from different angles: the presence of people, of text, colors, design, caption, animation, or video. Try to recognize a certain pattern for the best performing posts.
Discovery metrics. How and where do people find you? Monitor the trends on every post you upload. Afterward, do a split-testing of your hashtag set.
Reach. Estimate reach every week. Soon you will notice a pattern or correlation between what you uploaded this week and the reach you achieved. Figure out what activities or posts lead to a better performance every week.
PRACTICAL EXERCISE #19 – SPLIT-TESTING OF YOUR HASHTAG SET
This A/B test will help to optimize your post reach.
Use two visually similar posts with different hashtag sets. To learn how to generate the best hashtags, go to chapter 1.
Upload post one and monitor the Discovery stats. Upload post two with a different hashtag set.
Compare the impressions.
Use the best hashtag set to improve the Discovery metrics.
Hack: You can save shortcuts for hashtag sets in the keyboards settings on your phone.
PRACTICAL EXERCISE #20 – AUTOCORRECT FUNCTION FOR HASHTAG SETS

Go to your keyboard preferences.
Add a new shortcut.
Create an abbreviation for a hashtag set – for example, "htg1."
Paste hashtags into the correction field.
Every time you type "htg1," your phone will correct it to a hashtag set.
Soon you'll figure out what data is important for your influencer account.
Client Management
Instagram Client Management: From Leads to Loyalty with an Automated Tool
next guide