Now we will teach you how to find and use tags so that they bring you the maximum reach for each publication. For comparison, you can get up to 90% of your posts' total impressions just through tags in your posts:

Margarita Terzi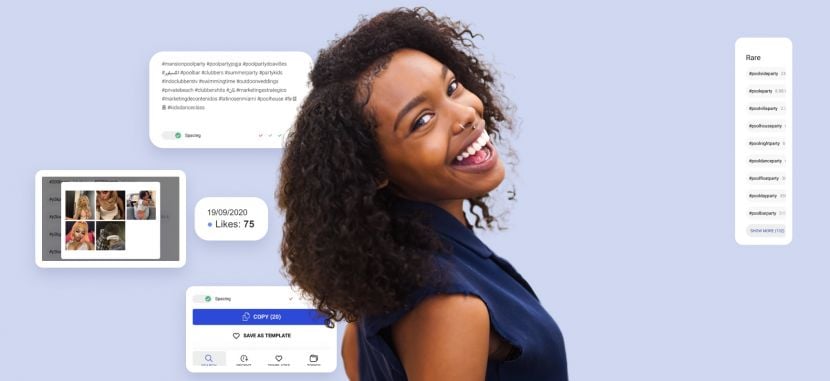 After paying for the Generator subscription, you can use an unlimited number of searches. Also, you will have a personal account and dashboard for managing tags, where you can save collections in Templates and Folders.
Must-know before hashtag research
In order for tags to bring you maximum reach, you should start with keyword selection. For keywords, you should use the most relevant ideas for which you want your customers to find you.
Before searching and thinking about keywords, ask yourself the question – what search query can a potential client use to find me on Instagram?
PSA: You should know that in 2022 the search algorithm on the social network has improved significantly and now you can be found by the words typed in the text search bar if they are included in your posts. That is, if previously the search worked only for tags and names, now the text, including the tags in the caption body, will be indexed by the search.
This means that the hashtags collections should also cover the maximum number of relevant synonyms for which you can be searched through the search bar.
So, don't stop testing various sets, renewing your hashtags and mixing them. Posting without hashtags is like promoting a new website without SEO keywords.
That's the point of generating tags. It also helps the algorithm to better understand what your content is about and what your profile is about to more often show and recommend you to a user who may be interested.
How do you find keyword ideas?
Keyword ideas can include:
your product name itself
your niche/industry
competitor brand names
location-related ideas
other relevant variants of these words
When selecting tags, it can be difficult for you to guess off the top of your head all the synonyms for which potential customers can find you.
Simple tip: You can copy the first ideas from accounts similar to yours or your competitors and paste them into the Generator.
Even simpler tip: You can generate hashtags without keywords by inputting an image directly to the AI.
How to use hashtag search
You can enter up to five keywords per search in the menu item GENERATE BY KEYWORD. Moreover, if you enter keywords separated by different characters, the results will be different.

List keywords separated by commas
If you are searching based on several words, then the tool will recognize each word as a separate criterion and will not link them into one hashtag. For example, you can specify the words "pool" and "party" separated by a comma. The generator will find you separately results under "pool" and "party."
Separate keywords with a space – it's not the same
If you separate keywords with aspace, then it will try to find those tags in which both keywords are present. For example, if you enter "pool" and "party" with a space, then you will probably see among the results "#poolparty" and its variations.
Try the quick Smart Selection button
You can choose tags manually or create a Smart Selection. When you press the Smart Selection button, you can get a random combination of tags in a smart proportion. After that, all you need to do is save the collection as a Template. Or you can add it right away to your copy by clicking on "Copy." Also, you can activate the option "Add spacing" if you want to hide the hashtags below the main text.
What hashtags proportion to choose?
We recommend making a mix of tags from different categories. You will see three columns with tags:
Frequent – Pick no more than 4-5 from this column. These will be the most competitive tags; with these, you will only appear in the hashtag gallery for up to 10 minutes.
Average – Select 5-10 tags from the second column.
Rare – Select a maximum of 15-20 hashtags from the third column. These are specific tags, and your post can be displayed in the gallery for several weeks and get likes and followers.
The proportion is explained by the competitiveness of tags and the time spent in the gallery. Since the first category is very popular, millions of user publications make for strong competition. The content is updated too often so your post will not remain at the top for a long time. It can bring you views and even within the next month.
What are Related Organic Hashtags?
We advise scrolling to this section in the Generator. Here you can find the most unexpected and non-obvious options for your key request. These are synonymous and similar tags that will not contain a query in a direct match. But they will fit the subject of your publication.
For example, for the query "y2k" you will find options like "#2000saesthetics."
AI search by image or link
If you want to search for tags without selecting keywords, you can use the built-in AI search.
To search by photo, open the menu item GENERATE BY PHOTO Upload a photo Click on Generate hashtags.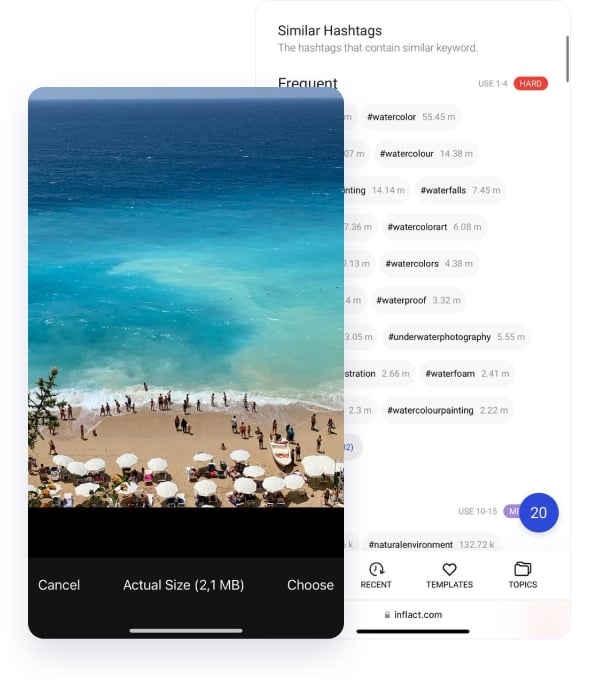 To search by a URL, open the tab GENERATE BY POST URL Paste a link to an Instagram post that you need to boost with hashtags. After a few seconds, you will see a selection that you can copy into the publication.
Find out more about the functions of the updated Generator in the article.
How to save collections

You can save collections in Template and sort them by Folders. In order to save the Template selection, you need to:
Click on the menu item "Save as a template" after you pick some tags.
In the window New template, enter its name. Or you can add the selection to a folder ("+Add to folder").
All templates and folders you will find in your account. You can form templates from various folders to gradually collect hashtags for quick copying. It's also handy for managing multiple accounts.
How to analyze the competitiveness

Browsing tag analytics and galleries will help you better understand how to outwit your competitors. In the Inflact Hashtag Generator, you can quickly browse post galleries.
When the list of hashtags is open in front of you, hover over the number of posts.
You will see these menu items: Posts preview, Similar hashtags, Analyze options.
Posts preview – Click here to open the hashtag gallery and see if the content here is right for you.
It is important to understand what posts exist in the gallery of the tag in order to determine whether it is spam, whether the publications there are relevant, and whether the competition is high.
Similar hashtags – Click here to get tags with the same semantic root.
For example, for the #cottagecorestyle hashtag the Generator showed in Similar hashtags #cottagecorestyles (the plural form). This will allow you to include all tags with the same root to cover all variations – sometimes there are a lot of tag variations and fewer publications in their galleries because they are new. In such galleries, you will likely become noticeable.
Analyze – use this button to quickly go to the analytics page.
Here you can study the competitiveness of the tag in more detail, find the number of posts per day, and see top publications.
Measure the effect of each set of hashtags. After a few days, open an Instagram post for insights, and you will see how many people have viewed it through hashtags.
Client Management
Instagram Client Management: From Leads to Loyalty with an Automated Tool
next guide