Are you a business owner, entrepreneur, or professional in any sphere of people's needs? No matter what you're going to sell or are already selling - there's no life without Instagram. In 2021 brands are losing positive impressions of their customers if they are not presented on this social media platform.

Margarita Terzi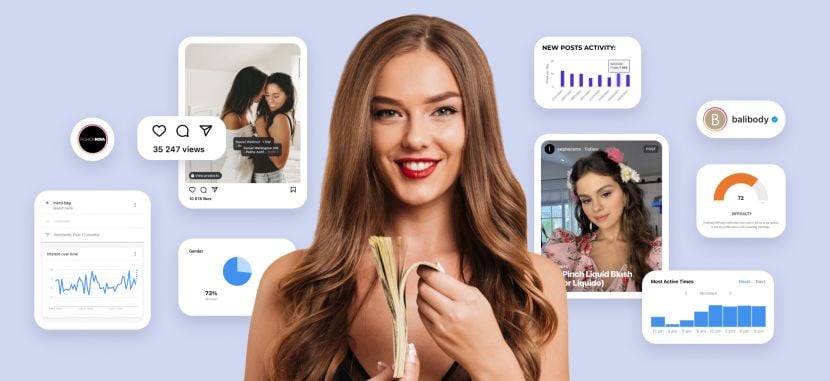 But merely being on Instagram is not your goal. The goal is to sell like crazy and create a community around your brand. So, what are you waiting for? Let's make your products or services fly out the door with your Instagram profile.
How to find your business niche
130 million Instagram users a month tap on a shopping post. Business profile posts are not only branding stuff. It is a real instrument to drive traffic and sales. 11% of U.S. social media users shop on Instagram. That's 12 million people who are keen to find what they need right inside their feed. The main activity on Instagram is looking at photos and videos. But don't forget the fact that one in ten users are using it specifically for shopping.
For ten years, brands have used Instagram mostly as an advertising tool to reach their audience and find a new one. Then the platform made a series of changes, and now it has become a shopping mall, learning center, and service catalog. It forces brands to adapt their marketing strategies.
IG remains a small player in retail compared to one-day delivery retailers like Amazon. But everything changes, and we won't even notice as IG becomes a powerful shopping platform soon. So get ready to sell and choose a niche.
Brainstorming for an Instagram shop business
Here are three steps to get into the platform with a merchandising niche:
#1 CONDUCT A MARKET ANALYSIS IN 3 STEPS
If you want to be sure that your future business will solve a real problem - and that people are willing to pay for it - do this analysis. As a result, you'll get key data that will help you to identify the target market, find information about competitors, and evaluate demand for your product or service.
1. Industry overview
Look at all businesses like yours. Find 10-20 examples of random lookalike IG profiles and analyze their activity in all this year's publications. Is the engagement rate growing or shrinking? Use Statista to check your industry, product, or service in the latest surveys.

2. Define your market size
Here you will determine the maximum yearly revenue you can generate by selling your products or services. Use this formula:

Example: I've counted all potential customers for a vintage jewelry shop using these IG audience stats by age and gender and this global forecast of Instagram users:
17% of IG users are my target audience (women between 25-34 years) out of 854M IG users = 145M potential customers.
I think the medium annual income of women 25-34 is $9K. By these stats, people spend no more than 2% of annual income buying online jewelry and watches - 2% of $9K is $180.
So, 145M x $180 = $26,100,000,000 maximum potential market.
This is the maximum annual revenue that I can have in this business. This number is not about the actual amount of money I'll get. But it is for comparing with other business ideas. Estimate 3-5 niches to find out the best potential.
3. Find the best pricing
Be sure that the price of your product is more than its original cost and delivery. Think about the message that your price sends to your customers. High prices are usually linked to quality. Or maybe you're competing as a low-priced alternative to other products or services.
Don't make the mistake of assuming that you will get one percent of your market easily. One percent of a $26 billion market is $260M a year.
It seems so simple to take one percent of the whole Instagram market! But think of what it means to take one percent of this market: it means making 1.4 million sales a year (1% of 145M potential customers). 1.4M sales a year means 3,972 sales a day! It is not easy at all. So build your forecast, having all facts in hands. Think of your pricing while having in mind a number of people you can serve.
#2 RESEARCH BEST-SELLING INSTAGRAM SHOPS
An Instagram shopping platform is still a bit rudimentary and not optimized for shopping like some other platforms.. You can't analyze order stats, investigate the on-app activity, and many other important facts. And what's more annoying for the customers and competitors - we can't see the number of filled orders. All that remains is to count reviews, published by the brands, and hope that the comments about products reflect the real situation.
Here is a list of profitable and best-selling Instagram shops in 2021 to get inspiration from:
This watch brand started in 2011. Now it makes more than 250 million a year. Young Swedish entrepreneurs started with two kinds of watches and 1,000 bloggers. D.W. began to send watches to bloggers aggressively. Soon reviews on them overwhelmed Instagram feeds. Today, of course, this is impossible: the algorithms of social networks won't show such a large number of the same publications. But they used this opportunity to the maximum.

The old cosmetics company that operates more than 3,000 shops in 66 countries won significant Instagram popularity. Their #ForeverAgainstAnimalTesting campaign broke all the records in 2019 with 60K publications. Their #Daretomask hashtag gathered 18K posts. More than 1,000 influencers promote this brand.

This company used Instagram to dominate fast fashion retail in 2017. FashionNova broke into the top five most-searched fashion brands in 2017, and was the most-searched fashion brand in 2018. F. N. has always believed in micro-influencers, with a following from 50,000 to 250,000. They also worked with Cardi B, the Kardashians, and more than 3,000 other #Novababes.

The Australian sun and skincare brand had more than 30K followers even before they made their first sale. Now they sell a product every 45 seconds. #Balibodybabe has 19K posts.
The world's most copied bikinis? It's an Instagram famous brand, Triangl. The company with 3 million following currently sells more than 45,000 bikinis a month worldwide.

Look at a quote from their email to influencers:
"We found your Instagram account – we love your page!
We have this fun little gifting program at Triangl.
We would love to send you a bikini from our website. There are no strings attached at all!
If you have any questions about sizing – ask me, alternatively, for real-time sizing advice, we strongly suggest that you jump into our LiveChat available 24/7!"
#3 CHECK GLOBAL STATS FOR ONLINE SHOPPING IN 2021
130 million IG users tap on shopping tags every month. 11% of users shop on Instagram. Look for a business inspiration in the stats of global shopping preferences by gender. 72% of women and 68% of men love to buy online. Think of what products you can offer to them. Estimate your possibilities and desire to solve their problems with your selling. 46% of women's and 40% of men's orders are for clothing and sports goods. 39% of online purchases made by men include electronics. Look at this list with great attention and find the most exciting niches for you and your clients.
43% of global shoppers research products online via social platforms. Just imagine how these numbers would grow after launching social commerce shopping tools — like checkout on Instagram.
More than half (59%) of U.S. shoppers purchased clothing online in 2018-2019. Books, movies, music, games, shoes, and electronics are following close behind.
#4 CREATE A LIST OF REAL INTERNET ORDERS
Turn the flashlight on yourself and your environment to find out what you can sell successfully:
Try to remember all the things that you've bought online this year.
Create a list of product types you consider online shoppable.
Ask your friends to create a list of their latest orders.
Create a little survey, merging lists of purchases.
Here's what I got from my own analysis. I collected 10 lists of my and my friends' last online purchases, merge them into one and counted the percentage for every niche we've shopped: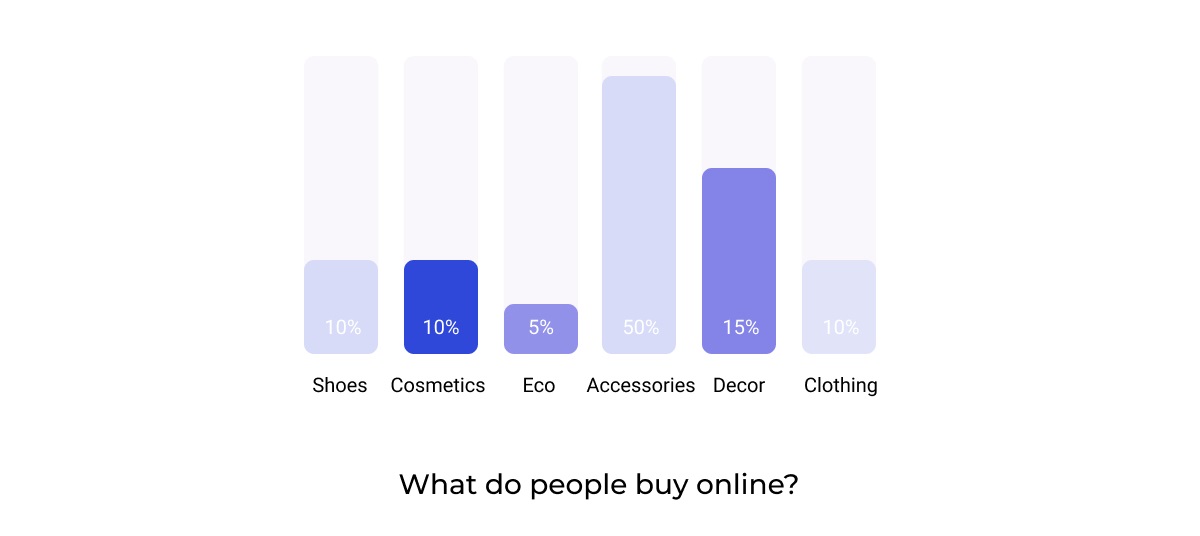 Look closely at the list you've got, apply these points for analysis:
What is the average price of the products you and your friends buy?
What gender, age, income level, and education level are you and your friends?
What is the level of quality of the products you buy? Is it premium or economy, handmade or mass-produced?
My example answers to these questions with my list:
The average price is $25. We are mostly women, average 30 years old, $30,000 yearly income, university education. We buy mainly mass-produced popular products.
After this analysis, it becomes clear that it is better for me to open a shop that sells commercial women's products or services.
This analysis is showing you what kind of business, price range, type of products or services you can get into to match the interests of real people like yourself.
#5 THE MOST PROFITABLE INSTAGRAM NICHES IN 2021
The Instagram shop is the hottest trend in recent years. After the platform introduced the shopping feature a few years ago, most e-commerce businesses jumped up to occupy their niche here.
With a bunch of updates and improvements on this feature, you now can buy and sell almost everything just inside social media. To choose your niche wisely, use Google trends and evaluate the demand for the product or service you want to offer.
In 2017 everybody was selling facial cosmetics in the Instagram shop. In 2018 - reselling clothing from AliExpress; in 2019 - scrubs. So what about 2021? I've researched Instagram sales trends with statistics for some products: these products are selling.
This year the most profitable Instagram shops are working in these niches:
Style and fashion
Lingerie and underwear
Concept eco stores
hokuoh_kurashi
shopnewclassics
Conscious cosmetics and perfumes
the_ayu
conscious.kin
nuni_wellness

Home decor

Jewelry and accessories
laing london
valetstudio
headpieceukofficial
mesamies.atelier
adriennewroah
Foods and beverages
thedailybar
hrvstfoods
ellapizza
caciocavallo
Electronics
happyplugs
shopskinwarrior
easyblendse
Unique products and merchandise
soytemx
alternative brewing
mercedes-benz
liverpoolfc

Handmade
utsuwa11raja homewares
madejacksonhole
Working on your business niche
Narrow down your niche
To start a business in 2021 (no matter if it's online, offline, or service), it is crucial to narrow down your niche. It might reduce the number of followers but increase the number of users who will buy from you.
Micro-niche business is top-rated now. Look how the fashion business has gone around in circles. A long time ago, small corner shops were popular. Then the era of enormous shopping malls ate up little businesses. And what now? The narrowest possible niches are coming back with a win.
Most business owners are afraid to niche down. Maybe they don't want to turn people away.

What's going on when the brand decides to stay broad and vague? This brand doesn't have a target audience and never speaks to a particular person. Don't afraid if all this sounds like your business. You just need to get more specific with who you serve. And narrow down your niche statement to ONE sentence.
So, let's look through some examples of narrowing niche down:
These accounts are quite successful on IG. Their creators have chosen a narrow and straightforward sphere for their businesses. It's an excellent choice for 2021.
Validate a demand for your niche
To sell well, you need to choose a niche with a good volume of search. Search volume means the number of searches that a keyword of your niche gets. It's best to analyze the latest trends of each keyword precisely.
To validate the demand, apply two-step strategy: check the search volume and analyze top profiles.
Check the search volume for your niche.
Validate the trend for your business with this hashtag tool. Simply enter your keywords or upload a photo of your product - and get a list of actual hashtags.
Click the most relevant hashtags - and you'll see all possible stats for this word inside the platform. Look closely at the hashtag "difficulty" - this reflects the ratio between its usage and searchability.
Post per day section will help you decide if the flow of daily posts for this topic is acceptable for you or if there are too many competitive posts to drown you out.
Look at the graph showing the typical number of posts with this hashtag for each day. This metric lets you see if this is a trend or long-standing interest.
Analyze TOP profiles in your niche
Master advanced Instagram search. You should use this tool to find large accounts in your niche. It is the only tool to search the platform directly through account bios, not with hashtags and names. The Instagram search is an absolute treasure, for example, if you want to choose the gender of the profile or the size of its following.
Follow these steps:
Enter a keyword. Choose a preferred number of followers and a category.
Tap Search and see what you've got.

How to present your business niche on IG
This chapter is vital for you - no matter whether you already have your business or just the germ of an idea. Rethinking the niche is essential because you need to get it clear: In 2021, Instagram is a platform of narrow-focused brands.
People come to this social media platform to consume something they love to look at, or to find what they need. They didn't come to be stuck in a wide range of your products, half of it not relevant for them.
The goal is to make a fast, reliable, and pleasant sale just inside the daily feed. The goal is not to show everything you've got. It is neither Amazon nor Etsy.
On Instagram, you need to gently inspire your followers to buy from you.
Two types of business can be presented on this social media: service or offline business and online shops. There are several differences between the concepts of Instagram presentation for these business types.
Service and offline business
If you already own or are planning to open a business of food delivery, manicure or salon, pet grooming, flower or balloon design studio, etc. - you should present it on Instagram. Moreover, you can sell through the platform's shop feature.

The key feature to help you improve your offline business through IG is excellent customer service to consult your clients immediately. There is an irreplaceable DM automation tool for this goal, and I'll get into that topic in the Customer service chapter. You can also provide a simple and updated calendar or a list of reservations for your clients to look at. Look, how Sweetgreen cafe uses Instagram to raise popularity and loyalty:
Luxebaloon have mastered Instagram to sell better than other companies in their niche.
Online business
The most popular thing to represent on IG is an online e-commerce shop. The savviest entrepreneurs have an on-app shop without even having a website.
Creating a profile for an online shop may seem as simple as ABC, but this is 2021. You need to have a strong marketing strategy to stand out among tons of e-commerce profiles. In this guide, you'll learn step by step how to do it.
How to set up your profile for business
You have only a few seconds to promise you can address the viewer's issue. You have only 180 characters to prove to the Instagram algorithm that your profile is relevant and searchable. An optimized profile look is a must-have for every business. Read on, and you'll learn how to create a sales-driving account in 10 minutes.
Create a username guided by three principles: simplicity, memorability, and uniqueness.
Don't make it too weird, as it can alienate people. Always think about the future while creating the name of the profile - it must establish your profile from the very beginning. Remember, you might become famous and recognizable all over the world one day. You won't be able to change the name after you launch, as you could lose a part of your audience after doing so. So take it seriously and generate a perfect IG profile name with these techniques.
3 username creating technologies:
#1 USE AN AUTOMATIC GENERATOR
Think over the central concept you'd like to transmit through your profile name. Write down a list of keywords that signify your product, services, and goals. Use these words to generate options through this tool.
#2 USE FORMULAS FOR EACH NICHE
Food
CafeCon + your product
Basket of + your product
Your product + cuisine
NextLevel + your service
Foodie + your service
GiveALittle + your product
Recipes + your product
Menu + your product
Developers
Your Name + for + your Service
Networking for + your clients
Number1 + Service + Name
Data + for + your service
FindYour + your service + your name
GetYour + your service + your name
Learning
Fortitude + your product
Learning + your topic
Better + your service
Lesson + your service
One + your topic
Voice + your product
Free + your service
World + your service
Awaken for + your product
WeListen + your service
Brands
Color + Your brand name
Your brand name + word that rhymes with it
Your brand name + number
Your brand name + is my heart
Only + your name + doing me
Lost in the + your service
#3 LOOK AT THE BEST PROFILES' NAMES
Learn, learn more, learn forever. All the best is already done before us. Look through the best profiles in your niche and figure out their formulas. Here are some examples of most followed profiles with significant profile names:
@itsdogthepoug
@KKW Beauty
@dumpedwifesrevenge
@soworthloving
@ayr
@doctor.mike
@casetify
@beardbrand
@penguinrandomhouse
@leesasleep
@masterdynimic
@sweetdazetx
@thisoldshirt
In this searchable section, you should include the best keywords for your business. Don't double your username here; you're better off using the most descriptive and targeted words. Be sure the algorithm will suggest your profile to those who type the same in the search. What keywords do you need to include in this section to make your visitor stop at your profile and buy from you? Use this insider method:
Find keywords for the name section
Type in your most obvious keywords in the Advanced Instagram search.
I typed in "jewelry."

Create your Name with these words.
Be honest in your bio. No arrogance in this part. Be succinct. Only a super bright and brief statement. The biggest mistake in this step is not being specific enough. Use a few cool symbols in the text.
You can experiment with this part and try out as many versions as possible to find a perfect bio. How can you make your message super clear to attract the right followers? Be very, very clear about your particular customer. Do not waste time trying to describe your business in detail.
In the FIRST line, you need to tell your target person who you are and how you can help solve a problem.
9 out of 10 people make this number one mistake in their bios: they make it about a fuzzy mission that they have. Never do that. It must be about your target follower. Say that in the first line.
The SECOND line is for the answer to the question of why you are different.
Show a unique model or particular method you use in business. Name big websites that wrote about you, or famous personalities that used your product.
In the THIRD line, I recommend placing a call to action. Here you can lead your visitor to click right below your bio. Most of the profiles have just a link - and there's no reason for the new follower to click. So place a great CTA in the third line of bio:
What can I get following the link?
Will I get a free coffee with my order if I get a promo code there?
Is there a free PDF for me?
Is there an exclusive story about a famous person there?
Bio templates

Example for Vintage jewelry bio:
Vintage jewelry, Silver and Golden chains
Unique old ✘Chanel ✘Dior ✘Bulgari pretties
Flea market findings from ➉ European capitals.
Buy originals from antique dealers here ↓
Highlights for a business profile
After the visitor scans across the bio, they are drawn to your sales content categorization.
In this section, you'll learn how to treat highlights as if this is your website. Make a landing page, FAQ, contact Us, product Catalog, Reviews, and Meet the Team section right on the top of your feed - All of these you'll find in this Highlights Guide.

Without this sales-boosting feature, all is lost. Every business page must have professional Highlights.
Instagram Shopping and Checkout features
Everything on this topic began in 2016 with an ability to use shopping tags on posts. And now, after all these years and Covid-19 times, Instagram introduced key shopping features. Instagram users in 46 countries can tap products that they came across in the Feed, Stories, or Explore section and buy them directly through the app.
This new feature is an absolute diamond for the type of business profile that we are making in this guide. It gives your social media profile a real potential to accumulate sales.
Most Instagram profiles note their sales increased by a minimum of 30% after using this feature, and traffic to a website from Instagram increased by up to 90%.
Instagram enabled business profiles to sync your product catalogs and tag your feed with the products you have.
How to make your Instagram shop?
Follow these steps:
# 1: Check eligibility for Instagram shopping.
#2: Integrate Facebook Catalog Manager with your Instagram.
Enable and create a product catalog on Facebook.
#3: Sign up for Instagram Shopping.
SettingsBusiness Shopping on Instagram
Follow these steps to submit your profile for review.

In May 2021, Instagram rolled out a checkout feature. It enhances the shopping experience as the process of purchasing is secure and straightforward now. Users don't need to follow outside links to buy something. Now it is almost an in-app purchase.
They need to enter their name, billing info, and address to order. Now everybody will have an option to purchase without leaving the app.
The Checkout feature is still in beta. Instagram promises to partner with platforms including Shopify, BigCommerce, and lots more in the future to make the process of shopping through the app seamless. After you tap on a product tag and open it, you' ll see a "Checkout with the Instagram button" instead of the old "View on Website." Payment is enabled with Paypal, Visa, Mastercard, American Express, or Discover.
Enable gift cards option on your Instagram
Make it easy for people to support your business while helping to generate sales.
After you've selected a partner for your gift cards on Instagram, you can set up the Gift Cards button on your Instagram profile.
Set up gift cards on your Instagram profile
To set up gift cards for your business on Instagram:
Go to your Instagram profile.
Tap Edit Profile.
Under "Public Business Information," tap Action Buttons.
Under "Select a Button," choose Gift Cards.
Select a partner to sell your gift cards. If you haven't already set up your gift cards with a partner, follow the instructions on the partner's site.
Add the partner link for the gift card service you selected.
After you've entered the website, tap Done.
Don't forget to let your customers know that you have gift cards now! Post this info in a post or Stories.
Instagram shopping analytics
Keep an eye on how your posts affect the actual sales. When analyzing your sales through IG Insights, stop and think about these points from the stats:
Audience: Who's engaging? Who is tapping the shopping button? How old are they? Where are they from?
Content: Which of your content is most engaging? Which content brings you sales?
Products: Which products are most popular in your IG shop? Why are they popular? What is the main difference between this product and others?
Promotion for a business profile
In this chapter, you'll get specific knowledge of how to grow your targeted audience following fast. I'll tell you what content you should create for your business profile to make them buy. Here you'll get acquainted with a simple and straightforward Instagram ad scheme for your profile. This part of the guide will open up your 5-step strategy to reach your dream sales flow.
Follower growth strategy
For these significant efforts, you need to get into the Ultimate Follower Growth Strategy 2021. In this guide, you will find a 10-step strategy for fairly and flawlessly growing your account following to one million in 6 months. Read it, apply it, and come back here to continue doing your IG business profile.
A strategy for business account follower growth

Most of the information on this topic you'll find in the Ultimate Follower Growth Strategy 2021 guide. But here we will note some steps that are significant for business profiles.
#1 Content creation
#2 Content marketing
#3 Influencer marketing
#4 Instagram ads
#5 Marketing insights
#1 CONTENT CREATION FOR A BUSINESS PROFILE
Content of your profile consists of:
Feed
Stories
Video and IGTV
Feed
A well-planned Instagram feed helps your traffic grow. Now the content strategy is not just a step for making your profile look great, but a step that brings you sales. That is why this part of the work appears in the Promotion chapter.
Good visuals for IG businesses are always made with great attention to detail and careful calculation. Top profiles are our depot of information. They show us how to take beautiful Instagram photos or videos, or what effects are trendy.
Read this guide to Visual strategy on Instagram to get all the tips for content creation in one place. It leads a brand's account to better recognition and popularity. And to better selling as a result.

Read this guide to Visual strategy
Anyway, you need to make your profile look gorgeous right now. Start with five or ten engaging posts that are worth commenting on and liking. It is obligatory to ensure any visitor that your profile is interesting, ready, and active.
Everybody knows that you must post high-quality photos of your product and focus well. Okay, but how to boost reach for your business profile posts with visual techniques? Use this list.
Top-5 ideas for a business profile visual content in 2021:
Use something interesting and eye-catching as a background for your photos. This can be a material, texture, or even part of the human body or vehicle, a wall, a natural object, etc. Switch on your fantasy and make a photo or video of your product that will make a viewer tap on it.

Old but gold. Use a photo of a popular person to drive attention to your post. Find a photo of a star that is connected to your topic. Or, if possible, use a photo showing how this public figure uses your product. Make a collage of your product photo and this one you've found.
Show your product near something ultra recognizable. It doesn't mean that you need to travel to the Eiffel Tower right now. Ask a designer to change the background of your product or service photo. Remember, that the colors and light on the background photo and on the product shot should be almost the same. At least the time of a day or weather while photo shoot should match.
Don't be ashamed to copy influencers' posts to catch attention. A blogger-looking feed is super popular on Instagram in 2021. It is a powerful trend to follow. Use the same angles, poses, colors, and atmosphere as influencers do. Create the same mood for your pictures or videos and add a gentle and natural product placement to make viewers feel like your product or service is an inalienable part of a popular persons' life.

Put your product or service in dream circumstances. Show it with a luxury interior, amazing yacht, or pristine seashore as a background.
Your viewer will associate your brand with something pleasant and desirable.
The least you can do before diving into a growth strategy is to launch your profile, set it up for shopping, and create posts. So, start with ten posts with your product placement. You can start with posting 5 in bulk, but only if these are your first feed posts. For further posting, always use Scheduled posting.
This tool lets you post automatically, without any action. It is a vital thing for a business profile. You should be like clockwork in your content posting. In the fifth chapter of the Visual Guide, you'll get into the topic of scheduled posting.
Here are quick tips for content creation:
#1 SHOOT IN DAYLIGHT OR THE "GOLDEN HOUR"
Good light is the main thing for a good photo. Try to shoot outdoors, near windows, or in well-lit places. Take a look - everybody shoots in daylight.
#2 USE TRIPOD AND TIMER
Finding the right angles is better with a tripod. Use it with a self-timer. Don't be afraid to experiment - take photos of yourself with a product or service in different positions and angles. Use your hands, legs, any parts of your body. Now there is no need to organize a professional shooting with models to start creating great content. Ask your friends or colleagues to pose for you.
#3 CHECK BACKGROUND AND COMPOSITION
The background should be either very simple or very interesting. Anything else can be annoying. Use the rule of thirds. Divide an image into a 3×3 grid, and align the focal object in a photo along one of the lines.
Tip: You can switch on a grid mode on your camera to see where to place an object.
#4 ONE VIDEO IS BETTER THAN THREE PHOTOS
Good lighting has an enormous impact on smartphone cameras. It will help avoid grainy areas in your video. Focus on your product well; try to stay in focus throughout the whole video. Remember that audio means a lot. Use pleasant, suitable music, if the original sound is terrible, or annoying.
The same as for photos, background is vital. Choose a monotone or unfocused landscape to shoot a product.
Here are some videos that could have been photos, but look much better as videos:
#5 USE TEMPLATES FOR A DESIGNER-LOOKING FEED
In 2021 there's no need to have a design team to make your feed look professional. You can take photos and videos by yourself and wrap them up in a fully-designed and fully-editable template. In this designer market, you can buy a pack of visuals that suit your topic.
Stories
Read how to make consistent and selling stories for your business profile in this guide for stories marketing.

Video content is a viral thing in 2021. There's no successful business without great cohesive films about their product. Read this IG video strategy guide to master this step.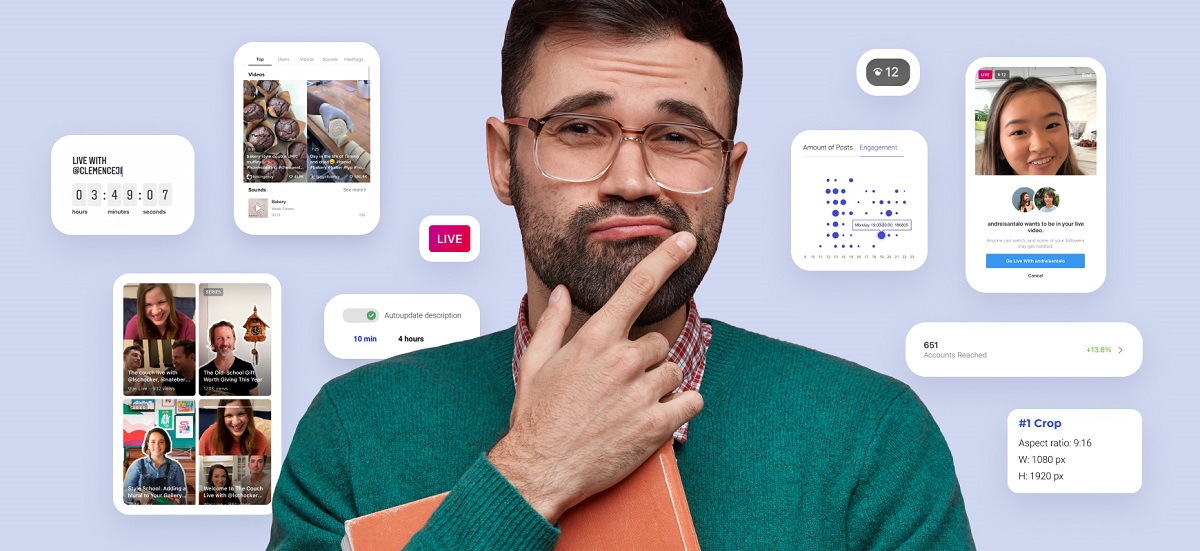 #2 CONTENT MARKETING
Content marketing begins with a correctly written caption and ends up on a hashtag strategy.
The caption trend for business accounts in 2021 is obvious and stable.
Just open your Shop section in Explore and look through a dozen shops' posts.
Did you notice the similarities? 90% of shoppable tag posts are made like this:
Short description of a product.
Discount, sale or limited offer mentioned.
Clear, simple text used for the caption.
One or two emojis help to add a friendly tone.
Hashtags are obligatory for a business post.
With this list of simple trends and our ultimate Caption Guide and Hashtag Guide, you'll make texts that sell. Read through and come back.
#3 INFLUENCER MARKETING
No successful Instagram business can live without influencer marketing in 2021. These fantastic people with a broad and devoted following are ready to tell everyone about your product or service and make it best selling. Let's dive into the influencer marketing strategy in this step.
72% of Instagram users said they have made fashion, beauty, or style-related purchases after seeing something on the app in an influencer's feed.
Your goal of influencer marketing
Before we start choosing your perfect Influencer army, let's set our sights on your marketing goals for doing this.
#1 BRAND AWARENESS
If you want to create all around talk about your brand, hire macro-influencers. They normally have 200K+ followers, and this is your chance to widen your popularity in a few days.
#2 CONVERSIONS
Here you need to check influencers' engagement rates.
Use this method to calculate Influencer engagement:
Add up all engagements on the latest post (likes, comments, clicks, shares) and divide it by the number of followers. Then multiply this number by 100.

The typical Influencer engagement rate is 2%.
This number matters much more than follower count if you need conversions. Middle-influencers with 25K to 200K followers show the best results in this contest.
#3 NICHE AUDIENCE
For a specific niche, find Influencers with a particular community following them. They mostly have under 25K followers.
Finding your influencers
Choosing the right person for advertising your products is a vital thing in this strategy. No one's asking you to do it manually. Use our Instagram search and profile analyzer tool.
Firstly, decide on what categories of interest you can use to promote your product. Don't go too far away from your sphere, but also don't be too limited. Choose your promotion goal and make up your mind about what type of influencer you prefer.
Open Instagram search.
Type in your business keywords, choose a category, gender, and the follower count.
Choose 5-10 Influencers from the list.
Click "Analyze" to see all metrics for each account.
Key points to analyze:
This percentage must be at least 2%. This number is a minimum that shows regular activity of followers to engage with.
Most commented posts and most liked posts.
Inspect these posts carefully to understand what type of content you would suggest with your product placement. This point is essential to determine which angle of presenting your business can be most interesting among the followers of this influencer.
Choosing a type of influencer ads
Don't forget that you can choose what type of ads you want to get from influencers. Here is a list of options and advice for each:
This is the most popular way to promote through blogger feeds. Simply place your product on the blogger's body, in their hand, on a table, in a room, or anywhere you can. Or put your blogger into your shop, cafe, gym, etc. Photos are a profitable and successful type of ad that bring you sales the whole time they stay in the Influencer's feed.
Making a clip about your product or service is a great idea. But it always costs more than a photo and requires a fresh concept to make it engaging and selling. If your product or service needs a video to reveal all potential and benefits for a customer - spare no effort or money for this.
It is probably one of the simplest and cheap options on the influencer market. The only way to reap the fruits of this type of ads after 24 hours is to agree with the influencer that they'll place it in the Highlights section on their page.
This type of advertising is short-term and successful, as this is a profitable deal both for the influencer and the brand. Offer your influencer the chance to give away goods, certificates for services, or money for their following. Partner with other brands to create a massive gift base in a "loop" giveaway and excite many users to participate.
Ask an influencer to become your brand ambassador. This strategy is long-term, and this is a new level of marketing. It requires a steady approach and concept of promotion. The minimum basis of the ambassadorship scheme: the influencer must show love for your product and keep sharing content about your product within an agreed period of time.
How Much Do Instagram Influencers Cost?
These are approximate numbers for influencer marketing in 2021.

Use an Instagram Earnings Calculator to calculate the approximate cost of working with any public figure on Instagram.
Contact and agreement with Influencers
Try to contact a chosen influencer directly, bypassing their agency or manager. Use all possible ways - direct messages, email, messengers. But the one thing that is common for all these methods is a particular formulated offer to collaborate. Here is a template of the deal offer to the influencer:
(Introduction)
First of all, I hope you're having a great day.
We want to collaborate with you. I just spoke with my team. We would like to place ads of our (product, service, brand, etc.) in your (feed, stories, videos, etc.).
(Your brand name, product or service) is a (what is a goal or sphere of your business).
(Offer)
We offer you (coupon code for the purchase, a free product, a cash reward) for this collaboration.
If you're ready to partner with us, you will receive a personal code of (10%, 20%, etc. off) to share with your followers or friends.
You will also be reposted on our official Instagram page, where more than (how many followers follow us) people follow us!
You will also have the possibility of putting in your Instagram biography that you are "(your brand) Ambassador."
How much would such a collaboration cost for us?
We are looking forward to having you on the (your brand) team.
(your name)
Social Manager & Collaborations at (your brand)
www.(your website).com
Pro-tip: Barter with other brands
Brands contact brands. It is a flawless scheme of promotional collaboration. You can get exposure to another brand's audience. Find business profiles which are slightly connected to your topic and have the same targeted audience as you have. But your market goals should not intersect.
Examples of B2B collaboration in IG:
Cafe profile - Dress brand
Bags brand - Shoe brand
Jewelry brand - Make up artist profile
Phone cases brand - Headphones shop
Car wash profile - Model profile
#4 INSTAGRAM ADS
This part of your promotion strategy is crucial. Everybody uses it. Not everybody succeeds in it.
Read this full Instagram Ad Guide. Here you'll get Instagram ads training, including how to convert on a $5/day budget. Plus, get lots of killer and simple hacks to save money on ads.

Go to the Instagram Ads guide right now
#5 CUSTOMER SERVICE
After you've created everything to engage with your followers, what comes next? Brilliant customer service.
What is great customer service on Instagram? It is automated and instant direct messaging. Every perfectly-designed and timely message is a potential sale.
Instagram's Direct Messages feature has more than 375 million monthly users. People love DM, and people read DM.
This service allows you to communicate with your potential customer directly without any barrier.
This is a face-to-face conversation and a powerful tool for promotion. You should use this tool for your advertising in 2021. But keep your honor here - don't even try to send misleading or obsessive messages to your target followers.
People hate spammy messages, and you'd definitely get banned. Remember that every target user counts. In this automated Direct Messages promotion tool you can do everything you need to deliver great customer service through DM.
3 easy steps to start gaining followers through automated DM:
Set auto-reply
The tool offers a feature where you can set up an auto-reply so that you automatically answer up to hundreds of messages from your subscribers.
Just click the Auto-replies section and add a new auto-reply. Enter a keyword that a user might use in a message to you—for instance, "price, size, delivery, shipping," etc. Add a message and image which they will receive after using the keyword in their message.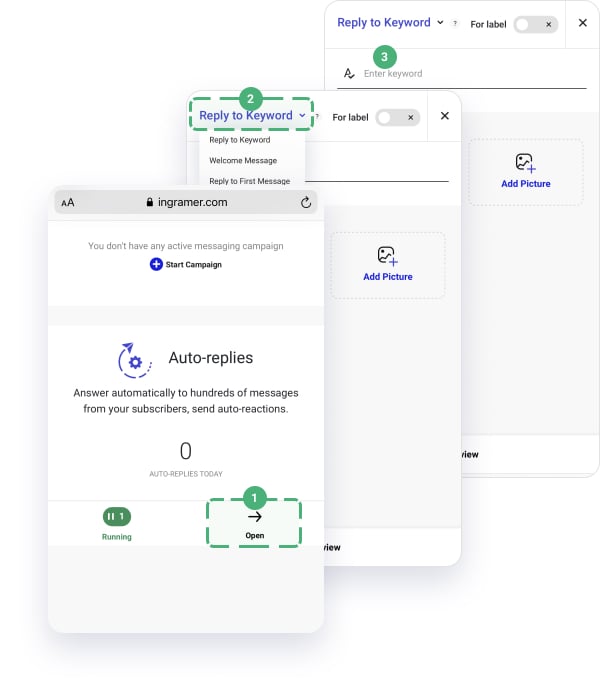 Fully customizable replies are sent when a message containing a keyword is recieved as a trigger. The responses are immediate.
Here is an example of auto-reply dialog:
Hey! I'm looking for an inexpensive bike for summer rides. I think I need some help.
Okay, if you need a consultation, please text "specialist." If you want to see all products, type" catalog."
Specialist.
Hello! My name is Alice. Can you tell me how often you plan to ride? What are the essential features for you? I will offer you the best models.
I want to ride every day. I need a model with a basket.
(Customer manager response)
Welcoming message
Begin with a feature that allows every new follower to get a welcome message. This can help them to engage with your profile twice as fast.
All you need to do now is to create a template for messages.
The creation should follow certain rules. Consider some of them:
Come up with an interesting title. The title should be simple, contain figures or facts if possible, and attract the attention of the user.
Write clearly and understandable. Try to use short sentences without a lot of unnecessary words and formulate your thoughts clearly.
Get right to the point. If you start the text with a long introduction, few people will get to the beneficial information.
Provide factual information. "Five times faster," "three times more accurate," "ten kilograms of meat per hour" — all this specific information inspires confidence and attracts the attention of the recipient of direct mailing.
Accompany the text with a link. After reading the text of the message, the user is likely to want to know more. So leave the link so they can easily find the information that interests them.
Here you can find 30 Templates for DM by niche.
Ready to keep the potential audience in the loop for hot deals, speed up and simplify lead-generation?
3. Now create a mail out.
Try these ideas:
Announce your news in a friendly manner. Don't try to make a sale right now, just show what you've got. Use high-quality images.
A sale or other event Invitation
Let them know if you're doing something exciting.
Send them important industry news that is truly relevant to your product and important enough.
Whether you wish them a happy New Year or send a Valentine's Day postcard - a simple greeting makes your communication much warmer.
3. Master direct messaging
Go to the Direct Messaging section. Here you can find CRM features:
Message sorting
Search by words
Labels for each thread
Now you can find everything you need to work with past clients again, sending them updates they may be interested in.
Unlock the potential of Instagram Direct communication. You can automate business processes and increase sales with this DM Guide.

Go to the Guide for mastering Direct Messages
Marketing insights
Nobody can market successfully without analysis and testing. Did you know that these are two pillars of a profitable promotion strategy? But this step is often missing—and that's a big mistake.
Account metrics analysis in 10 screenshots
For everybody who needs a simple way of profile metric analysis, we created a weekly IG report template. Now you can analyze your profile with just ten screenshots.
Use the Instagram app.
The simplest way you can track the results of your Instagram promotions is by going to the Insights under your post.
Open the Insightsthe menu item ContentPromotions
Tap on See all (all the ongoing ads are located here).
Tap on Past promotionsView Insights
You need to fill in your report (using the template) with screenshots every seven days. After a month of this effort, you will get a full vision of what's going on in your business profile.
How to use it properly.
Download reports
Make screenshots of this information once a week:

#1 INSIGHTS HOMEPAGE FOR INSTAGRAM AD TARGETING
Target the demographics of your current audience. Screenshot demographics in the Followers section: gender, age group, and location (you need at least 100 followers to see this data). Tap More to see Gender, Age range, Top locations, Online times.
#2 INSIGHTS HOMEPAGE FOR RECOGNITION OF THE BEST TIME TO POST
Screenshot online times when your followers are most active on the network. This info will help you to create a posting schedule that best reflects when your audience is online.
#3 INSIGHTS HOMEPAGE FOR FINDING OUT WHAT CONTENT WORKS
Tap See More to view new posts. Choose from these filters: Content-type, Measurement, Time. Make three screenshots for most Engaged, Reached, and Saved content within last month. Identify successful posts to see what your audience prefers to see. You might discover, for example, that your audience engages more with videos of products than carousel posts.
#4 BEST POST INSIGHTS FOR FINDING OUT WHY CONTENT WORKS
Take the three posts from the previous step and work with their Post insights—screenshot the Discovery section for each of them. Here you will see where the activity came from.
#5 INSIGHTS HOMEPAGE STORIES FOR FINDING OUT WHAT CONTENT WORKS BEST
Access Stories data from the Insights homepage to see all of your Stories' posts for the past two weeks. Screenshot Stories with the most significant impressions and reach numbers - these are the best ideas. Use this report to create content for the next week or set up a new ad campaign.
Highlights as a Pro
Sales-boosting Instagram Highlights Guide
next guide