Do you want to make a sale immediately after a user discovers your IG profile? After a visitor scans your bio, Highlights can draw them directly into your sales content categorization. It is a powerful tool to accelerate a sale.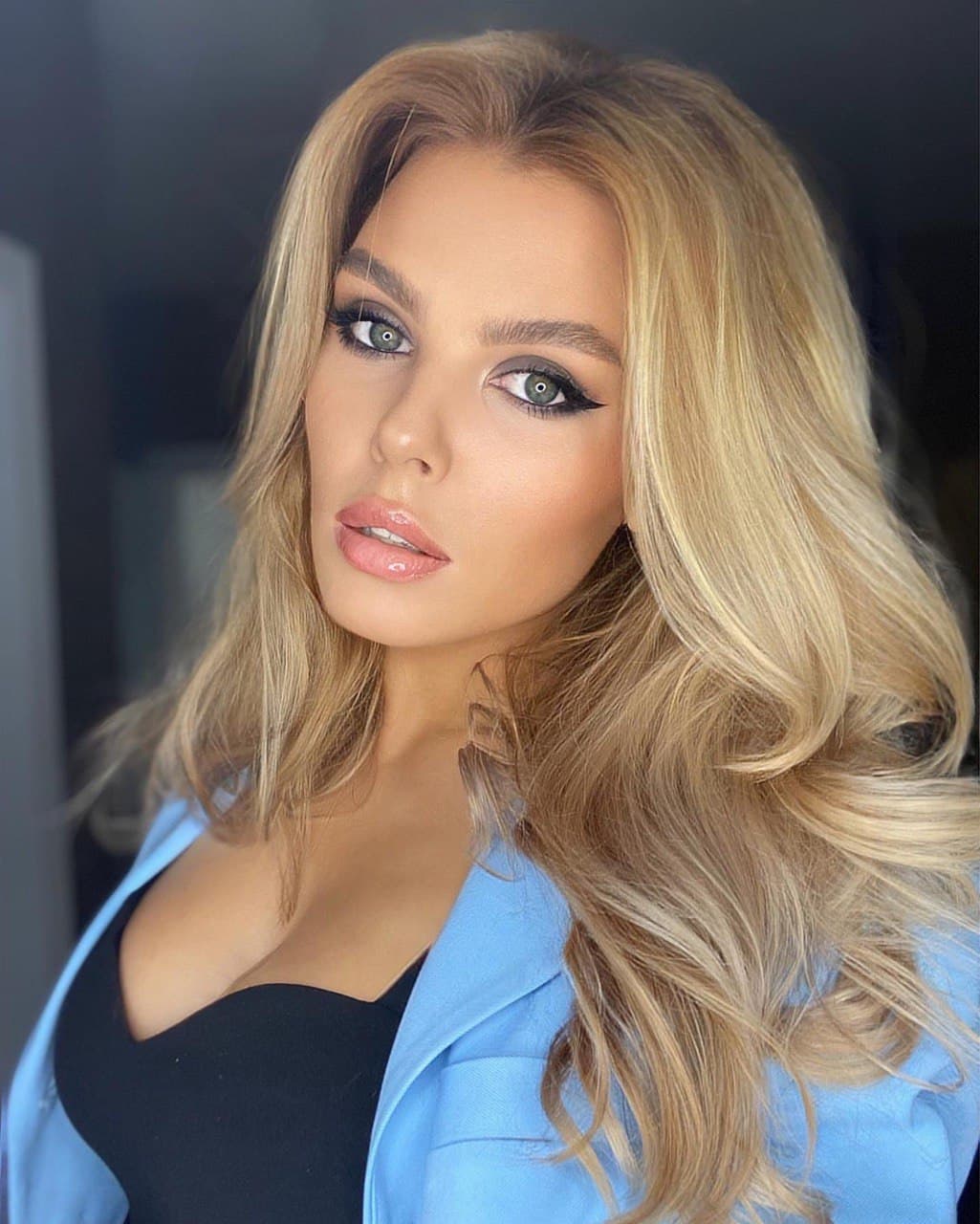 Violet Rich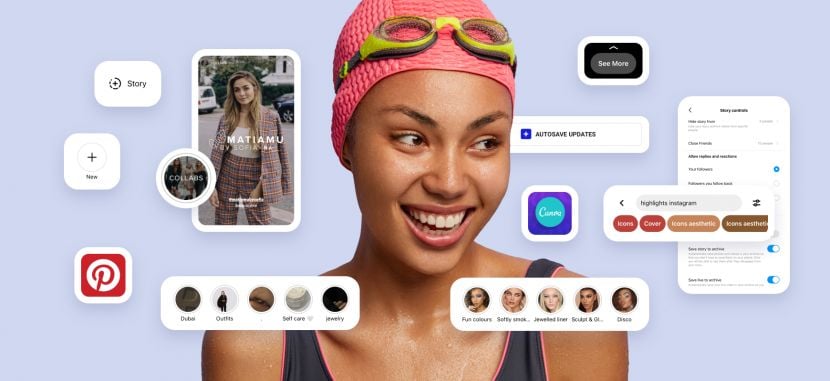 Introduction to the topical circles
Do you puzzle over how to turn followers into clients? Your secret key is Highlights. I'll tell you the strategy of how to use them like the big brands do, just stay tuned until the end. Before I dive into the topic, let's first cover 5 FAQ about this tool.
1. What are IG Highlights about?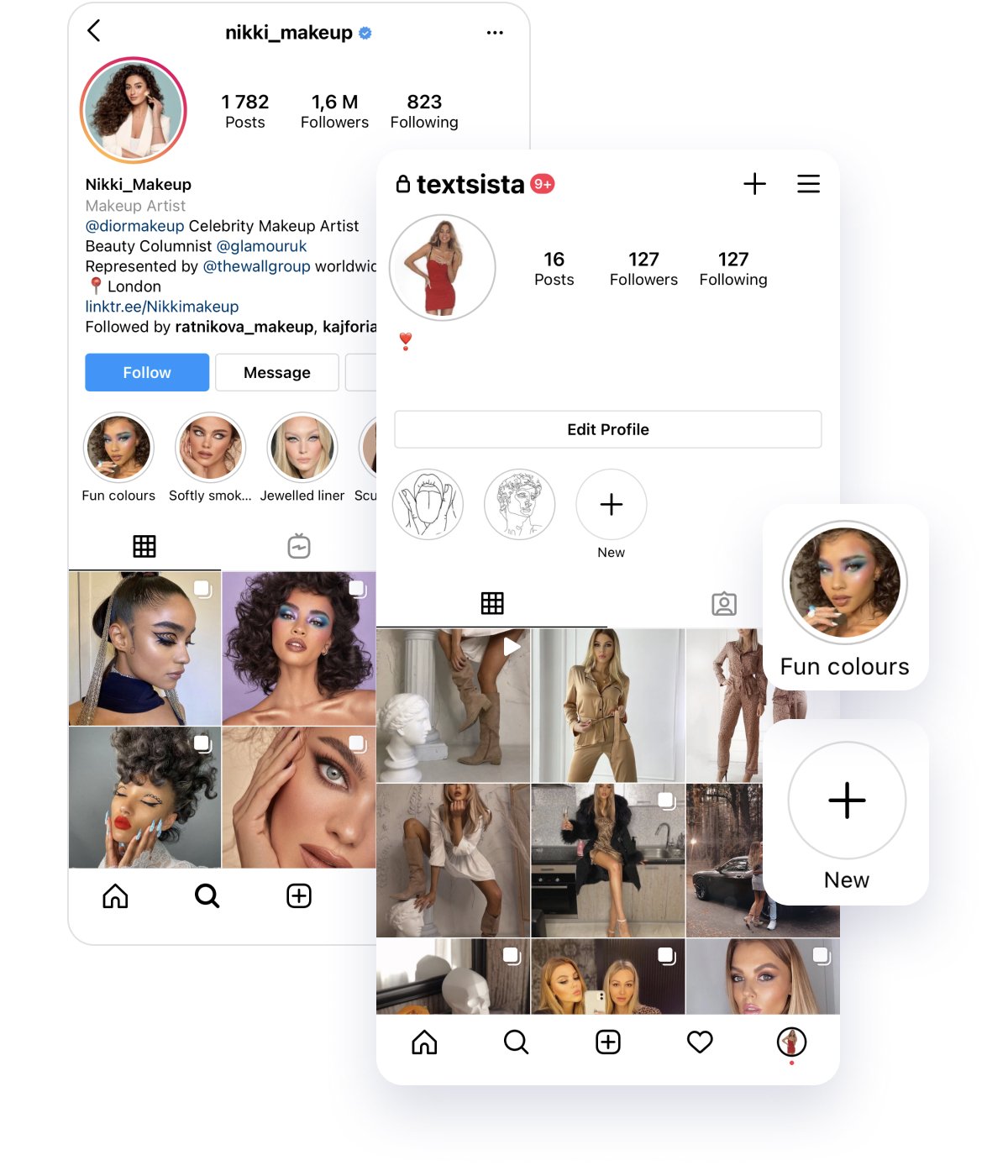 I'm speaking about those circles that live right underneath your bio, on top of your feed. You can save Stories here forever.
Read this Stories Guide to produce valuable Stories worth saving.
Sometimes we make lovely high-value content that we don't want to disappear after 24 hours.
Instagram Highlights save it on your profile permanently. Here in these circles, you can categorize your content.
Switch on Auto-archiving on your profile.
Go to SettingsPrivacySave story to archive.

2. How can I Create and edit Highlights?
Create:
Tap the "New +" circle under a bio and tick Stories you would like to add.
Upload a cover photo for this circle from your Camera Roll.
Edit:
Hold your finger to the chosen circle...and Edit Highlight.
Add or remove Stories.
Tap Edit Cover.
Choose the photo from your Camera Roll.
3. What are the limitations of this tool?
Your Highlights can live permanently and will never expire.
Create any number of Highlights on your bio, but you can add only a hundred Stories in one Highlight. (If you add more than 100, it will start to remove the first ones that were added and return them to your Archive.)
The list of Highlights viewers is available 48 hours after uploading.

4. Where can I get Highlights icons?
It's super easy to use the Canva app for creating these icons. It's free.
At the top of the Canva menu, choose a template, and then just get a blank one.
All you do is change the background color to your brand color.
Add little graphics - choose from free ones suggested in the app or import graphics you get from Google images, like PNG symbols.

Showcase your business aesthetic: font, capitalization, color, emoji. Draw icons yourself and upload them to your Camera Roll to create uniquely "raw" Highlight covers.

5. How do I save someone else's Instagram highlights?
Use this IG Downloading tool. This service downloads any content in high quality and lets you watch it offline and reuse it if needed.
How do I download an Instagram Story on a PC?
Copy the username or an account URL and Paste it in the Downloader search bar.
Tap Download.
Scroll down to see all.
Click on the Download button under each post.
How do I download a Story on a smartphone?
Open IG on your smartphone.
Find the profile you want.
Copy the username and Paste it to the Downloader search.
Tap on the Download button.
Stories will be saved on your phone.
Pro Tip: Turn on Autosave Updates - to automatically download every new upload and never miss anything.

6. How can you see someone's Highlights without them knowing?
If you need to watch something without being in a list of viewers, use the Instagram Story Viewer. You can watch anything anonymously. It is free and works from any device without app installation.
Highlights tips and ideas 2021
The content
#1 TREAT HIGHLIGHTS AS IF THEY ARE YOUR WEBSITE.
If you have a business, you typically have a website, and usually there's a navigation menu that you have at the top of it. I'm talking about things like Home, About, Services, Blog, Contact us, Testimonials - all those kinds of titles. So if you're just getting started, I would first look at your website navigation menu and replicate those topics.
#2 FIND SALES-BOOSTING IDEAS:
The FAQ. This is a great section to have. Answer all frequently asked questions for your industry, no matter what kind of business you owe. This idea will help your followers to get all the answers in seconds. Don't make them wait until their direct messages or comments get answers. By the way, to have professional and speedy DM communication try out this Automated messages tool. Every minute counts from the moment a user becomes interested in your product. Give them a simple and persuasive FAQ. Don't let them order from your competitors just because your profile is not in tune with their needs.
Pro Tip: Provide your FAQ in a video format.

Contact me or Locations. This is a must for every business page. You can't even imagine how many times you lose your sales opportunity just because this section is missing! Sometimes it is so hard to get in touch or find an address. Put all modes of communication you can offer here. If you have 10K+ followers, it's better to make swipe-ups for each of your contact channels. Make it as easy as you can. Lead your customer to a sale. Make this process entertaining and straightforward - use beautiful backgrounds, big and readable fonts for their convenience.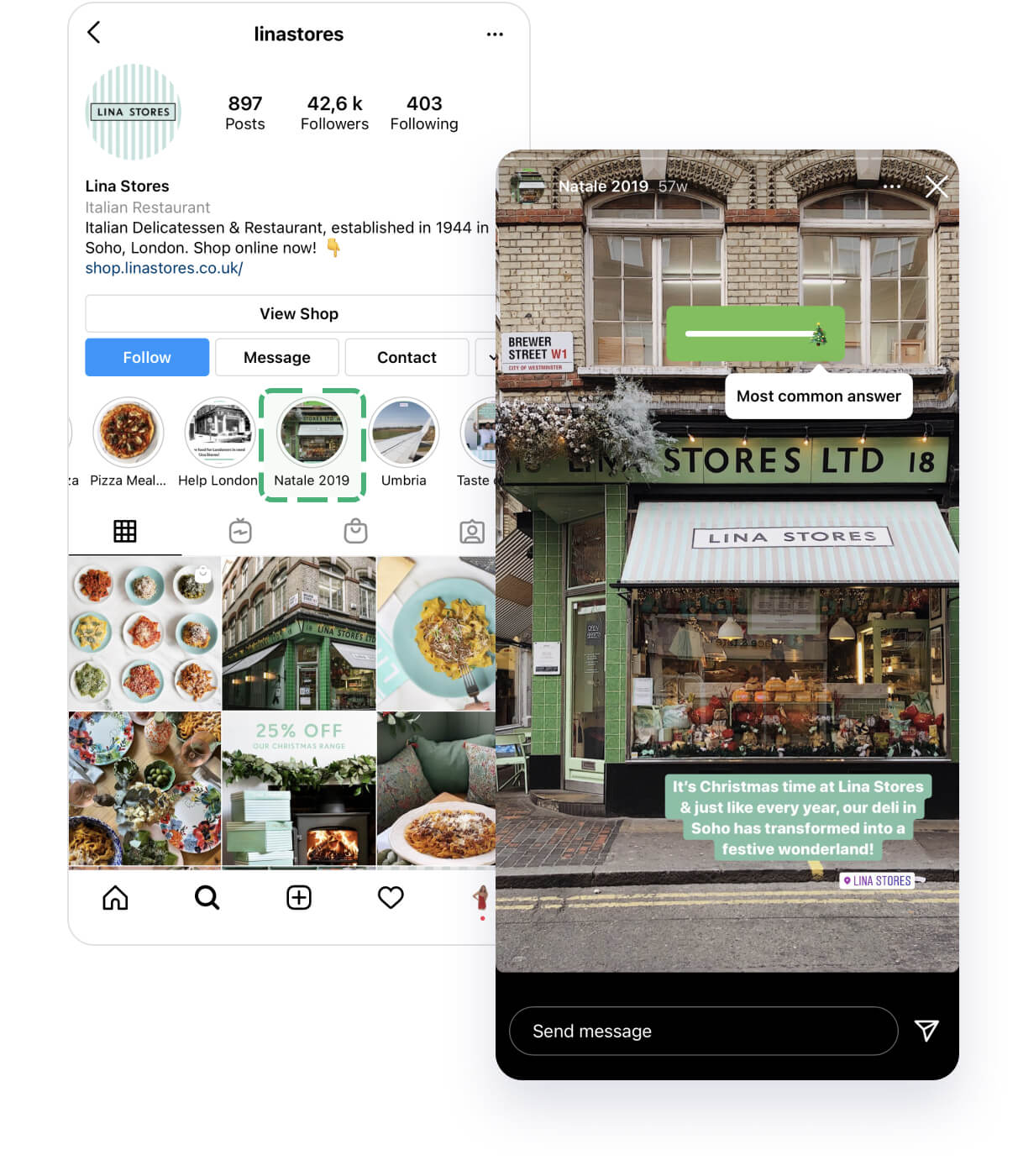 Reviews and feedback. Actual results, reviews, testimonials from real customers. Well, what content can sell better? This section is vital for sales acceleration on your IG. Focus on collecting customer reviews around the web. Offer future discounts, partial money back, or any other favors for clients who @tag your page on video reviews. Use a Downloader tool to save all user-generated content in the best quality.
Develop a branded look for your user reviews. We have free designer-made templates for this goal. Save them on your phone, upload them in your Stories, paste USG in the center, and type in some information about your product placement in this review. Now your reviews will boost interest in your product or service in seconds.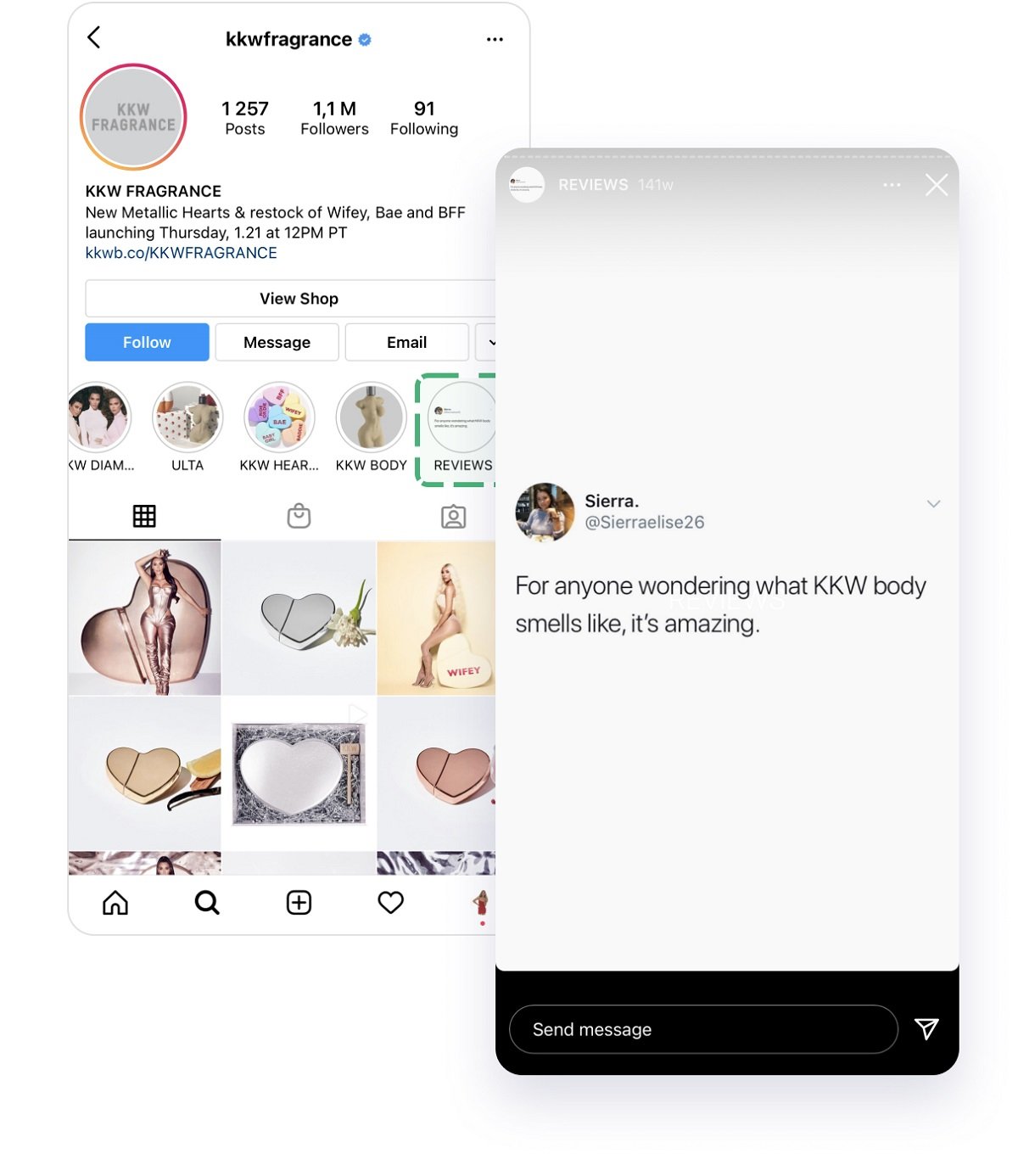 Categories or collections. Use this section to represent all categories of your business or your brand collections. Vintagebar does it great. Let your following see all your range in one place. Systematize your profile with this section - show exactly what kinds of goods or services customers can buy from you.
New Arrivals or In-Store. Categorize all new and available items you have. Always update this section on time! Don't let your customers get annoyed with outdated information.

Your Hashtag. If you already have your brand hashtag, create a special place to share its results. Tarte cosmetics have #BigEgobrows for their particular product. In this section, they post all User-generated content they have related to this hashtag. Moreover, you can create a library of your materials by a navigation hashtag here. Example: you have a navigation hashtag in your posts: #SkincareroutinebyCara. Share all of them in Stories. Then add them to a specific Highlights. Voila, your client gets all content for the topic in one catalog!

Meet the team. Show who is working behind the scenes.
Resources. Share your useful resources. Lists, videos, e-books, etc.

Tips, guides & tutorials. Just share any useful content which can educate your following. Film fresh videos for this section. Read this Video guide for creating eye-catching and engaging videos.
Before and after. This is a fabulous thing to catch the attention of your followers. This is very useful for services. Also, if you're selling a product, show how it can change a life or solve the customer's problem.

Countries. Influencers use this categorization idea to share their travel experience. Brands can show their shops or corners all around the world.
Unboxing. This section is excellent both for business profiles and for influencers. Show how your product looks when received and unpacked. Most customers do not understand what exactly they will get from you. Let them see. As for influencers, the unboxing of fresh products is exciting and fetching for your following.
Playlist. How do you make playlist Highlights on Instagram? Share your favorite music or podcasts like a pro: create a Story with a suitable background and a link to a resource.
#3 KEEP NAMES SHORT AND VALUABLE
The key is to keep the names and covers relevant to the topic. Sometimes people like to add texts to the cover image, but remember this is a very tiny space on the Instagram interface. So if you add a lot of wording, or if it's a hard font to read, people cannot read that at all.
Now, whether to make your cover images branded or just use a screenshot, that's totally up to you.
You have a tiny space for adding texts to name your Highlights. If the word is too long, Instagram's just going to cut it off and give you the old dot-dot-dot. No more than nine characters. Choose one short term for the name.
#4 DON'T MAKE TOO MANY
You can see five circles without a slide on a smartphone screen. And seven on the PC version of IG. Five to ten circles is enough. Better to concentrate on creating valuable and exciting content. Too many options might confuse people and spoil the user experience.
#5 CALL TO ACTION OR START CONVERSATION
The last slide in the Highlights is a direct call to action for the viewer. It could be:
DM you.
Swipe up.
Follow a link in the bio
Use a clear call to action so your viewers know what they should do.
Creating that Direct Messages thread is a brilliant way to engage with your audience intentionally.

Hashtags in Highlights
Including even one hashtag brings on average 12.6% more engagement to each of your posts. Don't miss an opportunity to be found by a keyword that can bring you a real customer or client right inside the platform. What does placing hashtags in Highlights brings you?
Hashtag page views
Read the full Hashtag Guide to master this tool.
Here is a quick lesson on how to find relevant hashtags. Let's do it using the Inflact Hashtag generator, a simple yet professional and up-to-date service for this goal.
Firstly, look at your content and find a word that will describe its subject.
Type it in the search line of the tool. Click "generate hashtags."
Look, you've got a lot of relevant keywords. If you want to master how to choose them wisely - read our myth-busting Instagram Hashtag Guide.
If you're ready to choose hashtags right now, simply tick those you consider suitable.

Don't forget that you are allowed to use only 10 Hashtags in Stories. After you tick the relevant ones, they appear in a box in the upper right corner.
Click Copy. Paste as a text.
Add a PNG Image or Instagram GIF or sticker to hide hashtags.
This is your opportunity to appear on a search results page for a keyword search on IG.
Look what Instagram tells us about it. To get in those searchable Stories, you need a high viral score on your content. Gain it by getting replies, swipe ups - any kind of activity.

Things to keep in mind:
Post content in the order you want it to appear in the Highlights circle.
Stories that have been deleted before the expiration period won't be seen in the Archive, and you won't be able to save them permanently. Leave Stories on your profile until they end up showing in the Archive.
Deleted Highlights can't be restored.