Before you start making your Instagram visual identity, read this. You may reconsider your approach.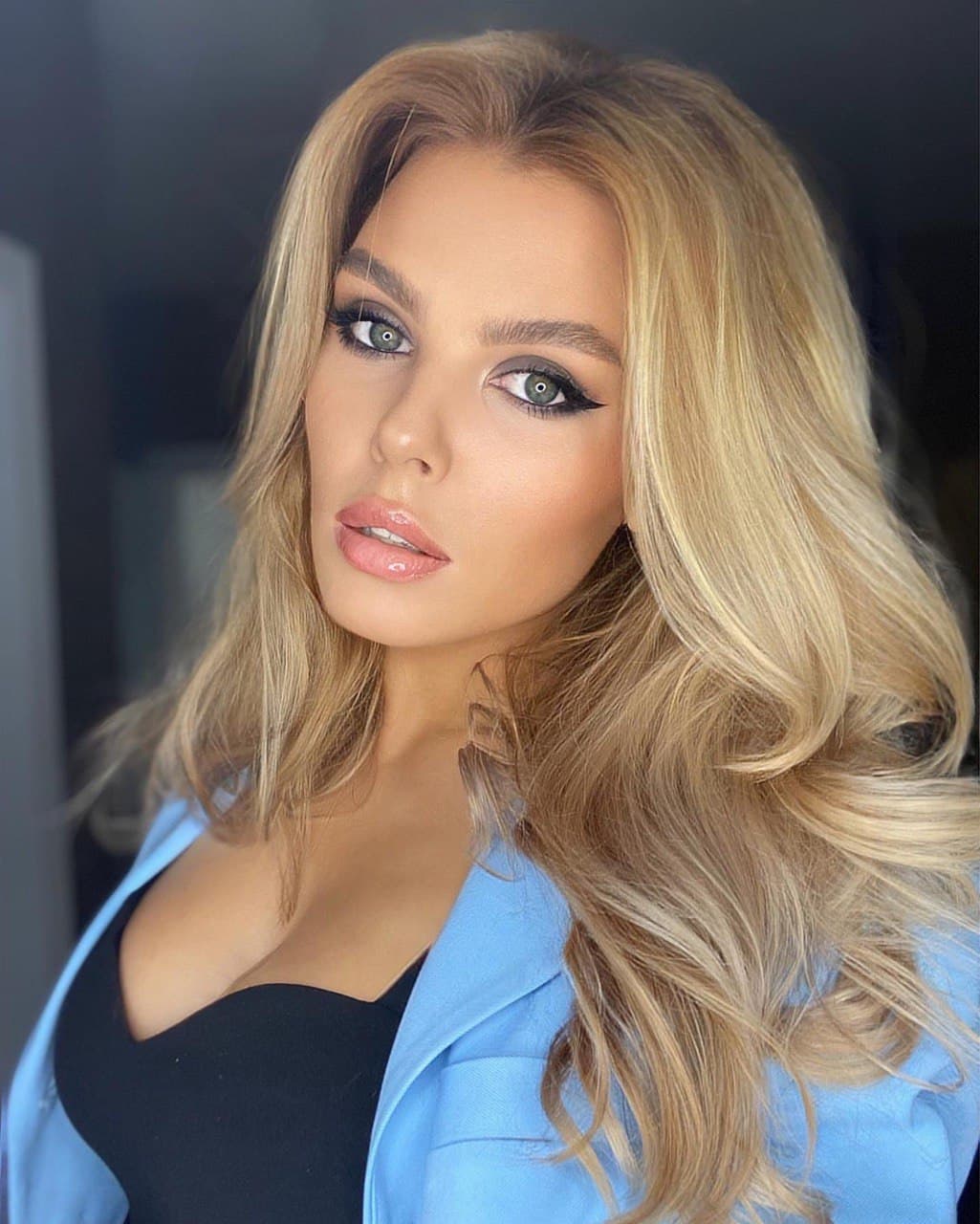 Violet Rich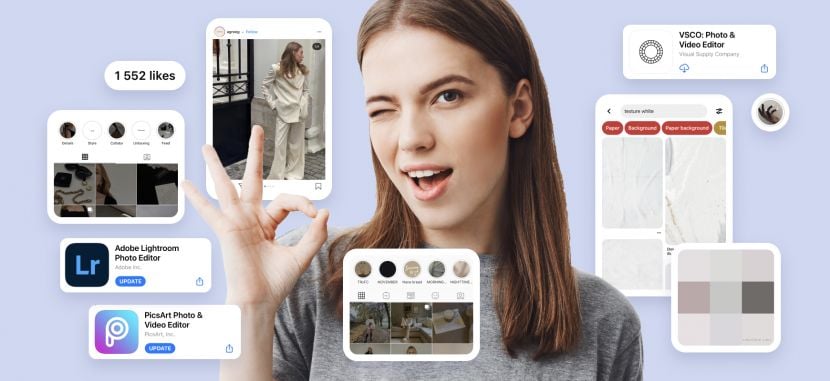 In this comprehensive social media guide I'll cover:
How to run an Instagram feed which boosts your likes and followers.
What tools are urgent for improving visuals in 2021.
What feed jams of your top competitors you should adapt to reach success.
And lots more.
So if you want to create an Instagram aesthetic and get tons of followers - you'll love this guide.
Here is a workbook for the guide. Complete it step by step with every chapter, and in time, you'll get a full and definitive portrait of your visual brand identity for Instagram.
Let's get started.
---
Chapter 1: Instagram Aesthetic Feed Basics
In this chapter, you'll cover the fundamentals of an aesthetic Instagram feed.
First, learn what visual impact means for Instagram marketing.
I'll also show you how unique ways of improving the Instagram feed helped to grow blogger and business accounts.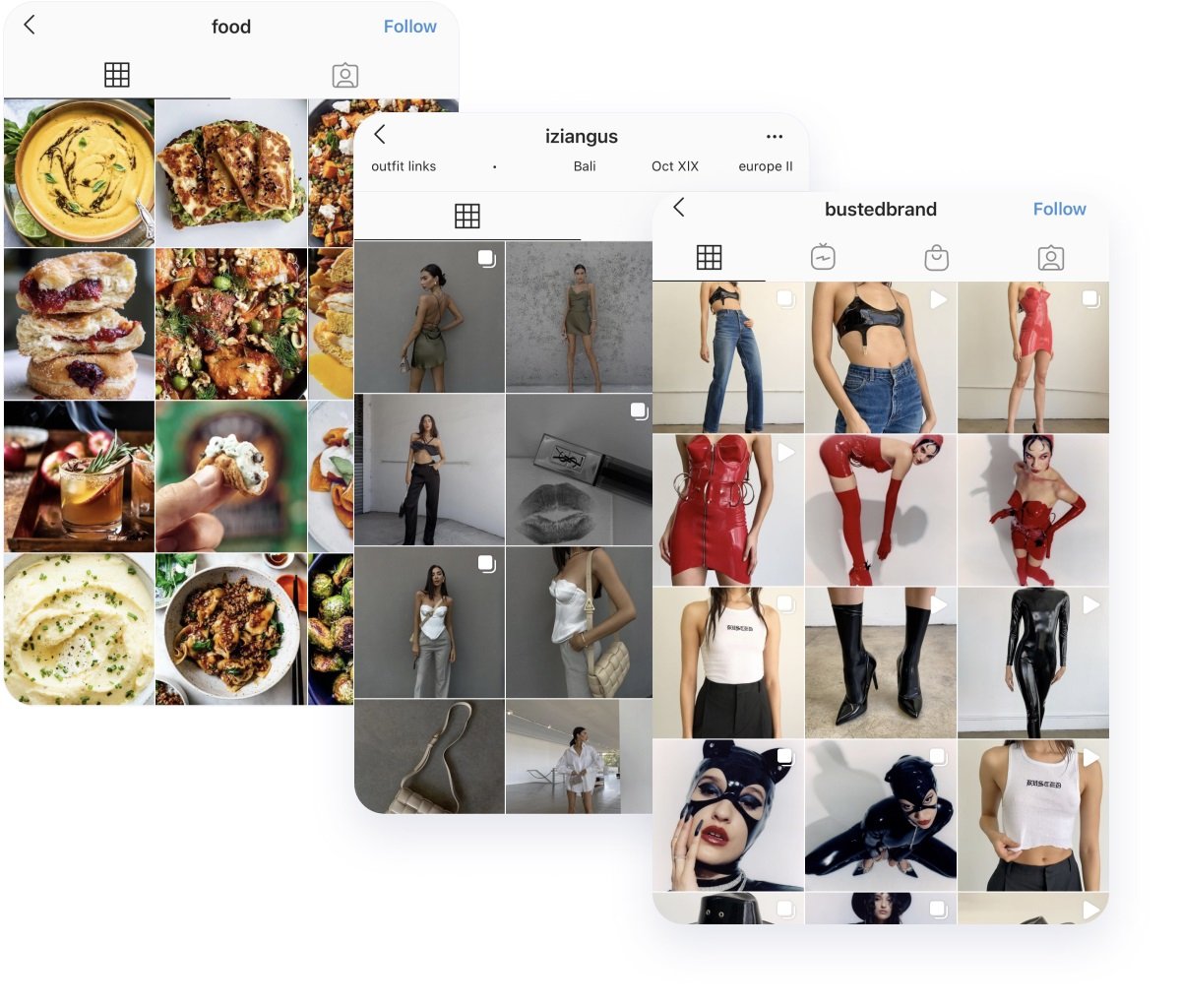 What is Instagram aesthetics?
As this social media platform has grown to over one billion monthly users, it has turned in a visually consistent medium: luxury bathrooms, perfect skin selfies, and avocado toast - all carefully staged, color-edited, and glossy-looking.
Such images and videos play into the trend and perform well. This style has become synonymous with the platform itself.
No one has invested in this popularity more than influencers. Some of them are even making money on beautiful photo presets - predefined sets of photo edits that you can apply with just a click - that turn any picture into a blogger-looking feed.
But not every photo with the right preset will gain millions of likes in a few hours.
Do Instagram aesthetics matter? This is not about visual templates only. This is about mood, ideas, pithiness, fashion, and lifestyle. Cover it with the right amount of bright, creative stuff like frames, filters, and color palettes.
The best formula sounds something like:
"make the profile look dope, but stay meaningful and consistent."
You can create any style - 90s aesthetic, anime aesthetic, even a dark and bloody mood for your page. Just choose a theme for your IG feed.
Does Instagram visual branding affect commerce?
Research by Business Insider revealed that 72% of IG users purchased a product they saw on Instagram at least once. One more fact: 60% of users learn about new products on the platform.
Think about it: what do you remember about the brand that stands out in your feed? Right - the visuals help you differentiate.
How can a well-composed Instagram feed help your traffic grow?
Good visuals are always made with great attention to detail and careful thought.
Top profiles are our depot of information. They show us how to take aesthetic Instagram selfies, or what effects are trendy.
"The number of likes grows under a feed with improved visual aesthetics". - Instagram shops would say.
Inspect your favorite Instagram account from the first publication and you'll see this effect.
More than half of brands try to make their identity stylish, unique and eye-catching and share it through their feed. This leads a brand's account to better recognition and popularity.
Note: Sum up results after the new feed aesthetics trial. Do it in Instagram analytics every week - to see what editing works for your profile better.
How does your feed look?
It is important to achieve a comprehensive, consistent style for your profile, which we call your "Instagram theme." All media, every letter, and pixel of content should play a role in the understanding of your concept, goods, or philosophy. You need to pay attention to such details in the bio of your profile, your highlights, and the grid of your feed.
Bio
This is an important thing for every profile - no matter if you're an entrepreneur or a celebrity. The bio of your page should look professional and easy-to-understand—just perfectly planned phrases. Use aesthetic Instagram bio fonts to make it look outstanding.
As an example, I'll make a bio for a unique handmade iPhone cases account.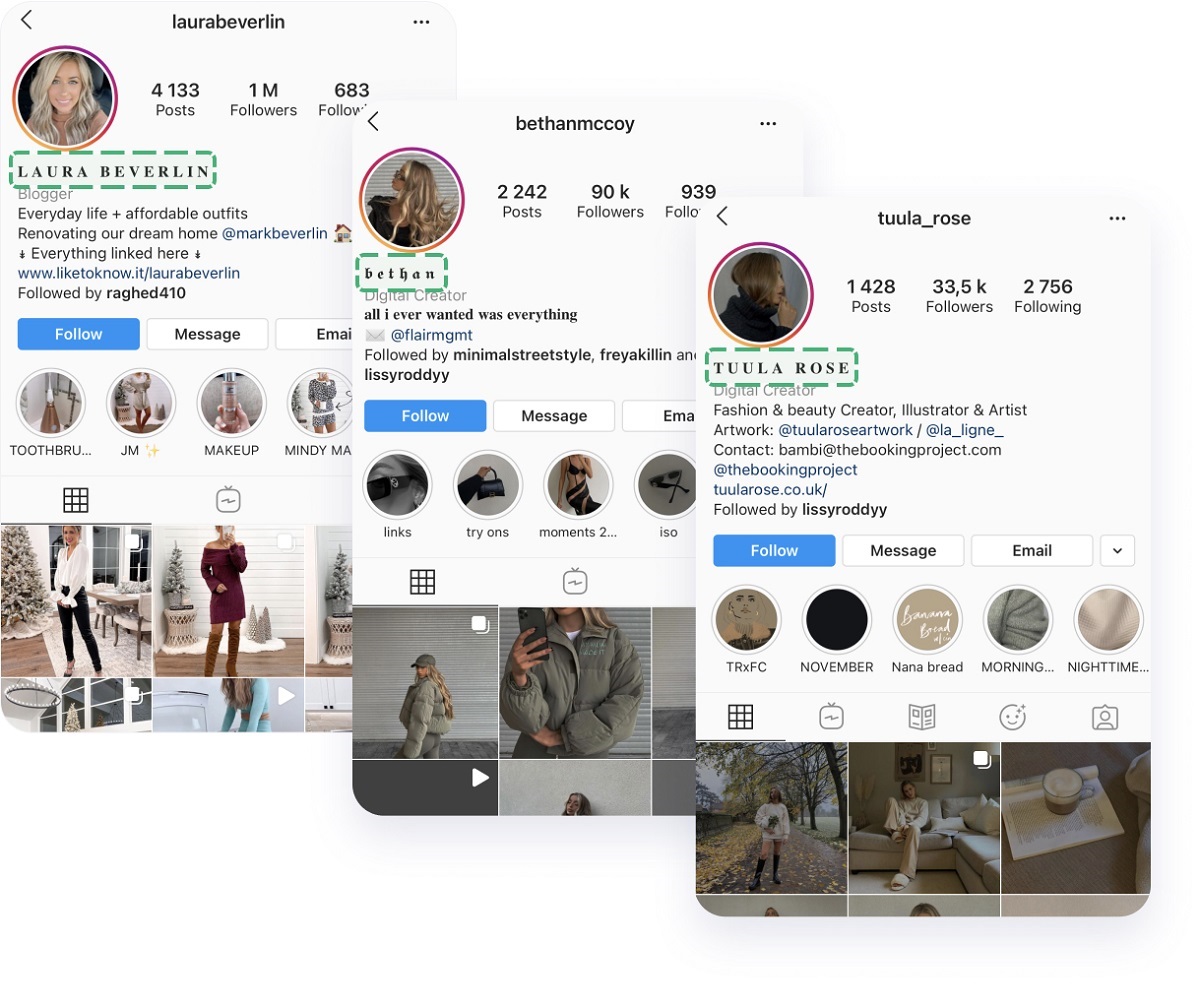 Tips:
Use your vital keywords for the name field. (iPhone cases handmade in Paris)
Add emojis to accent key information. (📲🥐)
Use hashtags that are most relevant for your page. (#customcaseiphone #caseiphonexr #caseiphone8)
Call to action right here. (Tap a link to see all my prices)
Use spacing and line breaks as needed.
Choose a recognizable and memorable profile picture.

Highlights
Everybody knows that highlights should look cool on your page in 2021. Start with making their covers nice and match the whole tone of your profile. Make the contents of highlights highly useful and always update them according to the schedule.
You can choose what to display on the covers of the highlights:
Useful symbols
Text
Photos

Tips: While your grid of posts is something like your blog, your highlights play the role of a guide.
Don't forget that highlights are a hub for any or all of this content:
The entire range of your products in one place - in all colors, models, and sizes
Price lists
Policy
Contacts, addresses, maps
FAQ
Promos and discounts
Challenges
Want to know how to make promotional and sales-boosting highlights? Read through this Highlights Pro Guide.
Grid
Your aesthetic Instagram page grid layout should look professional and catch attention immediately. Use different angles and compositions.
Tip: To make your videos match your feed just take a screenshot of a beautiful moment in it. Then edit like a normal photo for your page and include it as a one-second shot inside the video. Then choose this moment as a cover when you post on IG.
Chapter 2: How to Find Instagram Feed Aesthetic Ideas
Now it's time to get into the topic on a practical level and create a mood board.
Specifically, it's time to generate ideas for creating an aesthetically pleasing Instagram feed.
In this chapter, I will show you some steps to come up with magnificent ideas for your visuals. Let's get started.
Brainstorm
First, brainstorm a list of the best accounts on Instagram. Books about IG marketing and universal advice will only get you so far. Then you need to get hands on.
It is time to puzzle out lots of posts to become a professional.
There is always some "weekly updated list" that features Instagram profiles of any type which are really dope and trendy.
Let's try to look through some best visual Instagram accounts right now. But promise that you will try to find something new when you need it, because there is always something more trendy every day.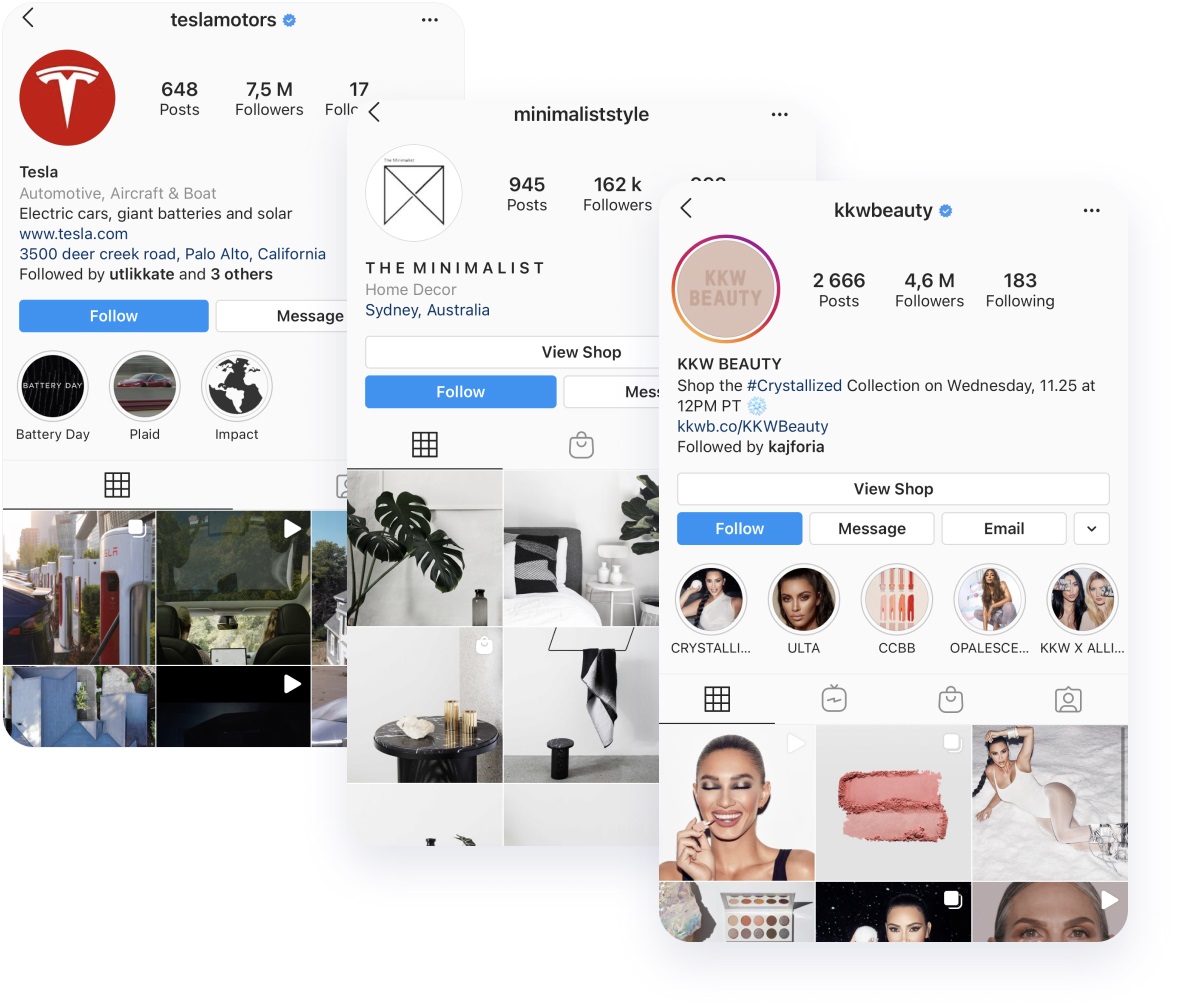 Find unique ad small accounts with great visuals through relevant hashtags for your topic.
Don't fear looking through small but beautiful accounts! Most of the ideas of style and mood of Instagram pages are created by simple creators. Not only by social media managers working with big brands.
Tip: Find one account you love. Click on it and look through Instagram suggestions under its bio. Try to understand the concept that connects all of them.
Research
Research your keywords and hashtags to type them on Pinterest, Behance, and Google. You need to know all the words that are connected with your business to find all possible visuals to use.
Analyze popular accounts
Use this advanced Instagram search with filters and higher sensitivity to find much more than in the usual one.
Here you will find all popular profiles which apply to your topic. And you will find words for your account here. Look at the "top caption words" used by these accounts to find more ideas for your feed.

Find hundreds accounts to inspire in an Instagram tool.
Find content to use in your profile
Now get into Pinterest and Behance, typing your top 50 keywords into the search line one by one. Use it as an image source.
Note: Stop for a second while typing something in a search box on Pinterest, Google, etc. Look what the algorithm suggests to you. It really helps! Stick to this method.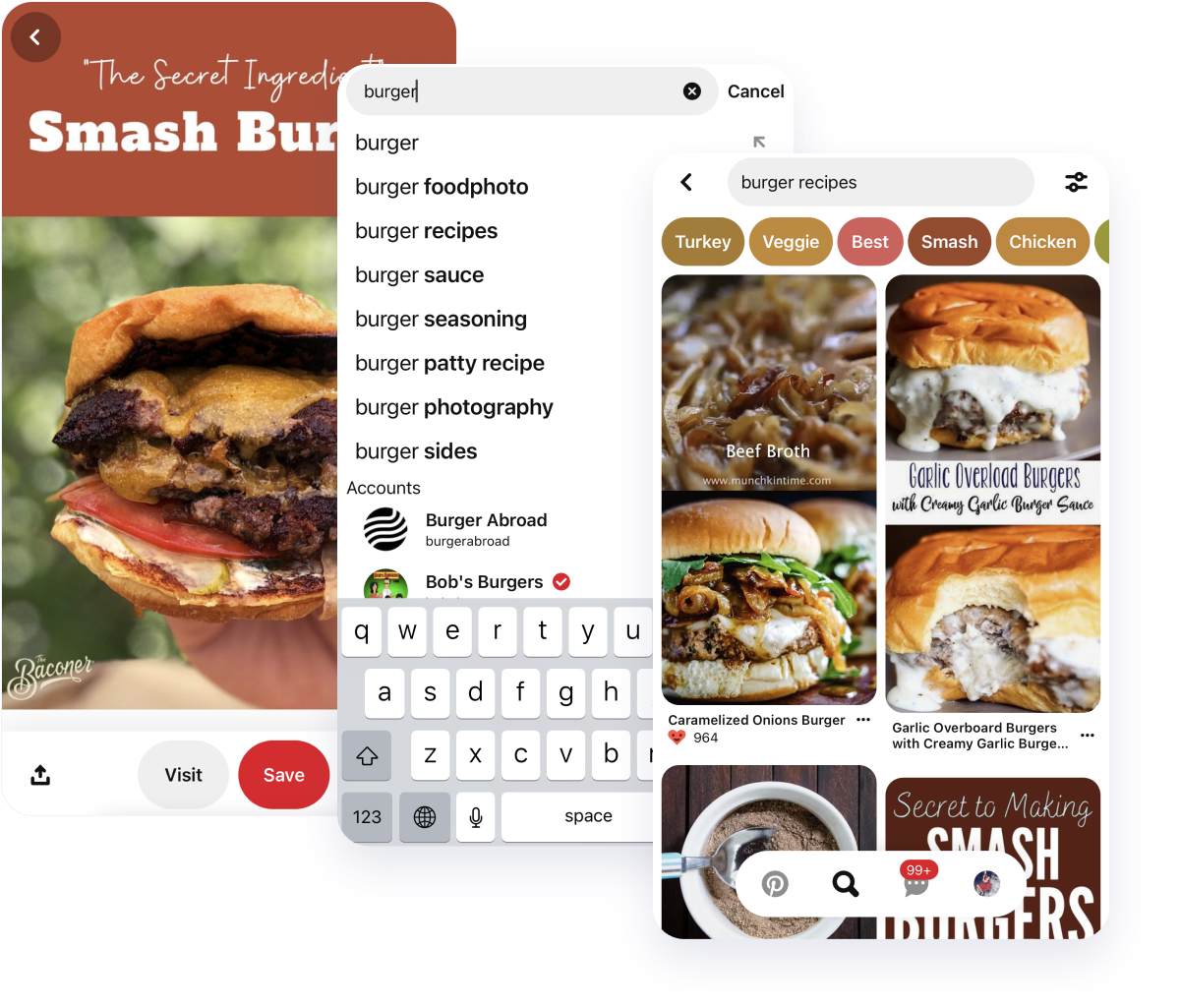 Tip: Never forget to Paste an image credit in a caption.
Analyze content
Analyze best accounts not just with your own eyes, but with special tools. Instagram Profile Analyzer can conduct a thorough analysis of any Instagram profile and give you 13 metrics of it in seconds.

Number of Followers, Engagement Rate, Average user activity, Posts per day, week and month, Uploads amount, Most popular post time, Top hashtags used, Top caption words, Audience interest, Top most commented posts, Top most liked posts.
All this info can hardly be gathered without a tool. And no app offers you such full stats in one place.
After this automated analysis, it's time for manual analysis. You need to find the best angles, best object placements, composition, and palette.

Get into the feed of top accounts - and write down what you see.
Let's analyze an account for the topic of iPhone cases: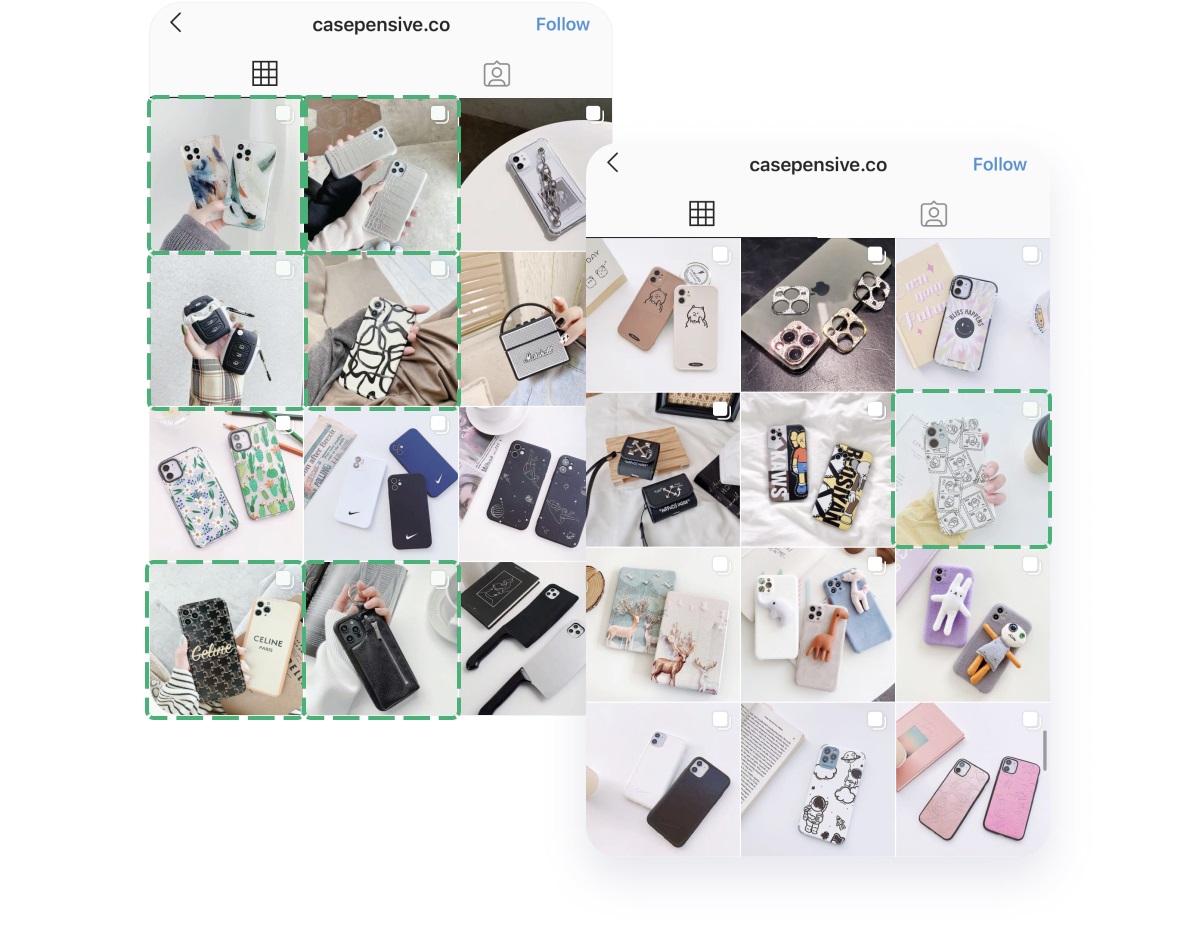 Answer these questions:
How often is the product itself placed on the page? (In examples: 10/10)
How many posts are barely connected with the selling itself? (In examples: 0)
What posts are most liked? (For this answer use Instagram Profile Analyzer )
What angles and cropping are used on photos on the profile layout? Flat lay, portrait, macro, wide-angle, etc. (Selfie, photo in hand, flat lay)
What are the main colors of the page you like? (For this use Color palette analysis)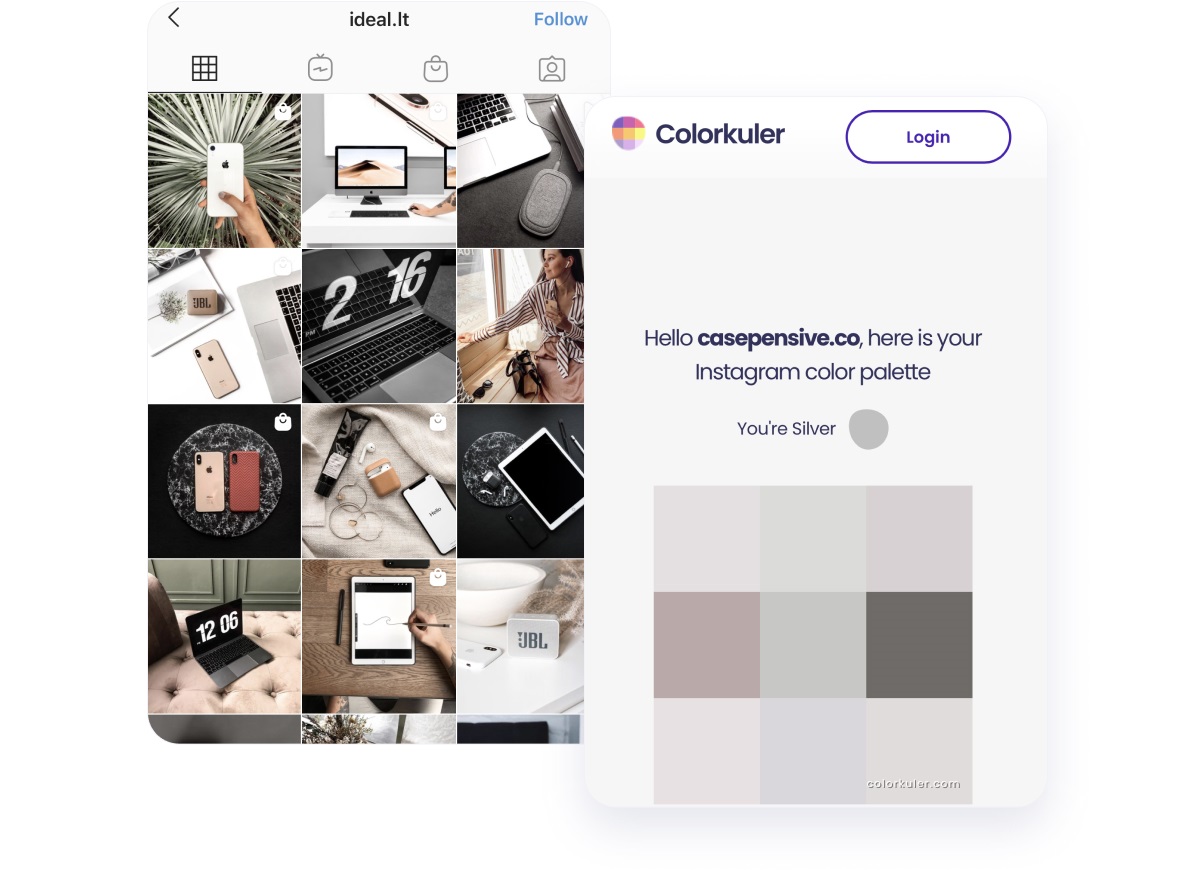 After this activity you will have a ready-to-use template for your Instagram feed.
Answer these questions for your account.
Brand colors and brand personality
Analyze audience
Wouldn't your work on your profile be so much easier if you knew exactly who your target audience was and what they needed?
This is absolutely must-have knowledge that is often missing. Open the pages of your competitors and manually find 30-50 private profiles of their random followers.
After this activity, you will be a thousand steps closer to your client - and to an idea of how to represent your business in a way that attracts your customers.
Create
Where do you get visual content?
Make photos & videos by yourself.
Get from Pinterest, Behance, Google.
Take user-generated content.
Buy from a stock.
1. Make photos & videos by yourself
These three things are important to make a great photo:
#1 Daylight or "golden hour"
Good light is the main thing for a good photo. Try to shoot outdoors, near windows, or in well-lit places. Just take a look at Instagram, everybody shoots in daylight.
#2 Use a tripod and timer
Finding good angles is better with a tripod. Use it with a self-timer. Don't be afraid to experiment - take photos of yourself in different positions and angles.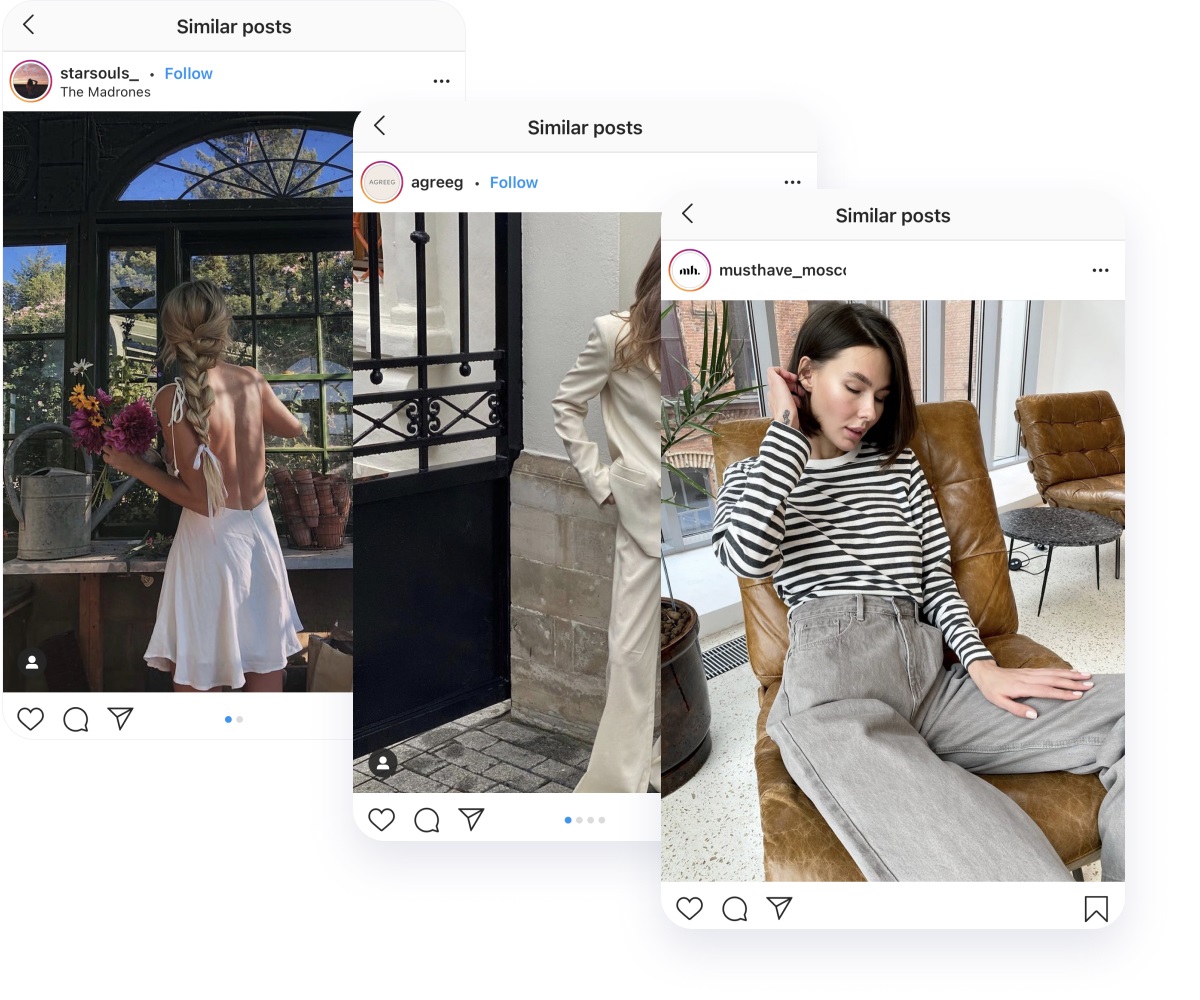 #3 Check background and composition
The background should be either very simple or very interesting. Any other backgrounds can be annoying.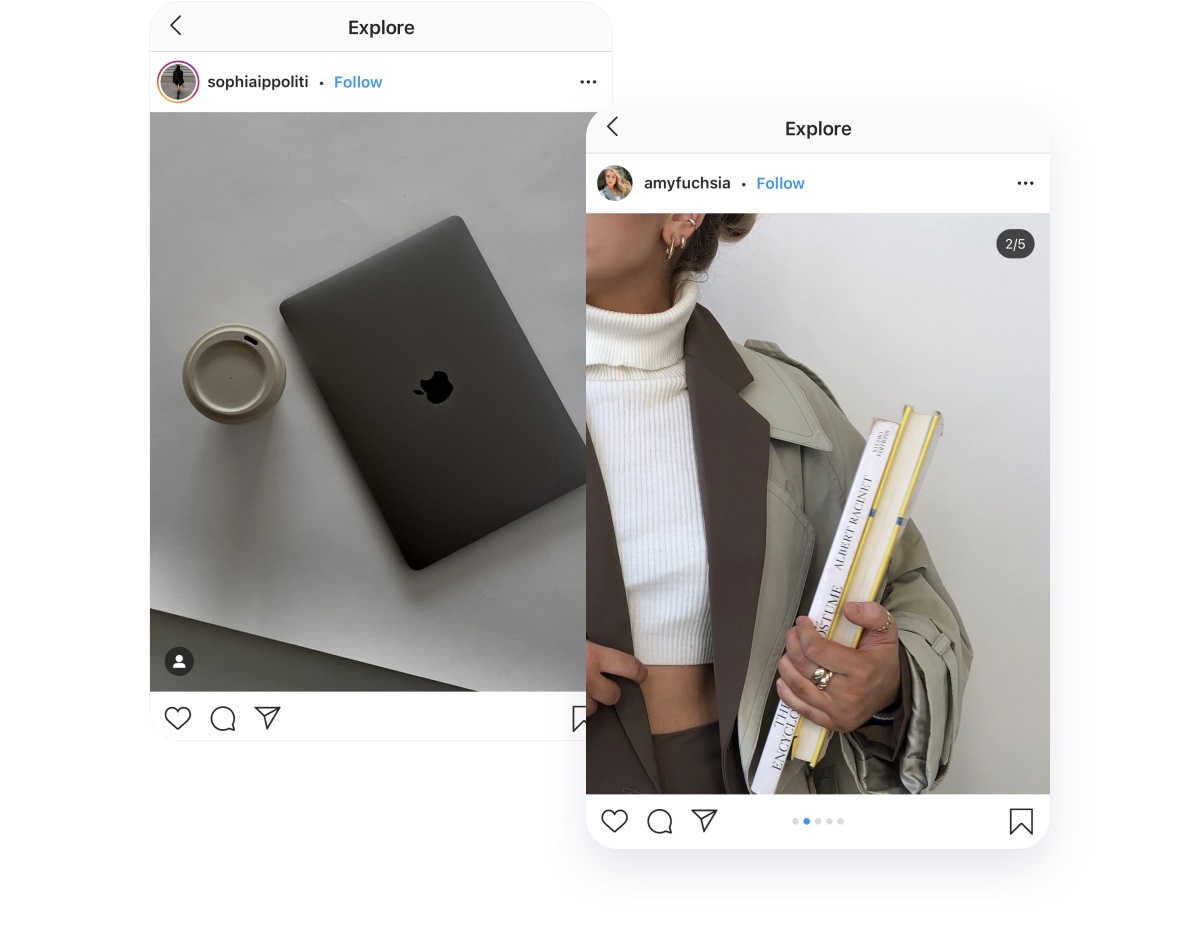 Use the rule of thirds. Divide an image into a 3×3 grid, and align the focal point of the photo along one of the lines.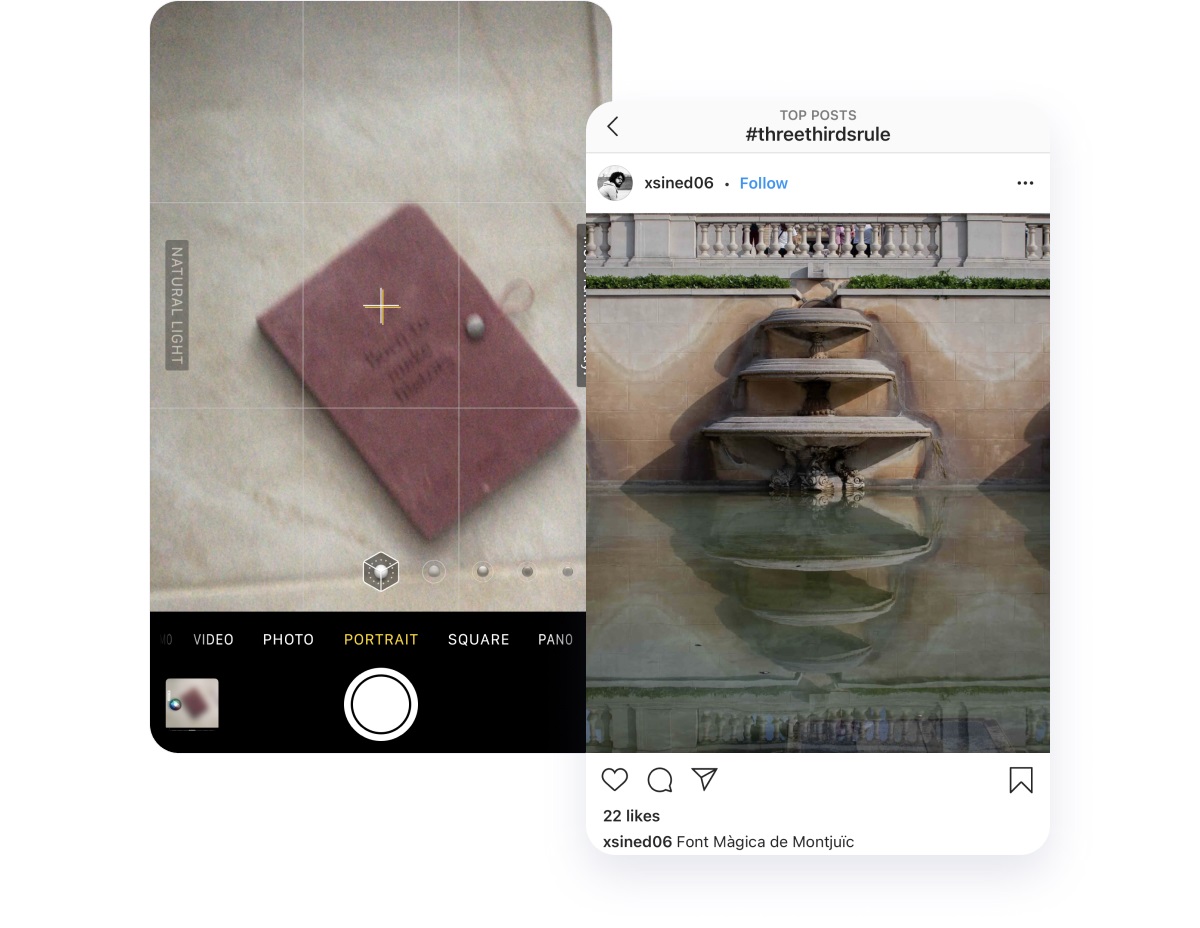 Tip: You can switch on a grid mode on your camera to see where to place an object.
#4 One video is better than three photos
Good lighting has an enormous impact on smartphone cameras. It will help avoid grainy areas in your video.
Focus well, and try to stay in focus throughout the video.
Remember that audio means a lot. Use pleasant suitable music, if the original sound is bad or annoying.
The same as for photos, background is vital. Choose a monotone one or unfocused landscape to shoot a product.
Here are some videos that could have been photos, but look much greater as videos:
2. Get content from Pinterest, Behance, Google
You can get any content from these platforms. The only problem with it is that most of the content has restricted copyright.
To avoid any problems ALWAYS credit the author at the end of your posts. This is social media etiquette. Just Copy this and Paste:
from #NAMEOFAUTHOR feed via @NAMEOFPLATFORM
Not sure what to search on Pinterest for your Instagram content? Just type any of these in the search line:
White/beige/orange/red/black/gray (etc.) texture
Use textures as backgrounds for your texts, as parts of collages, frames for videos.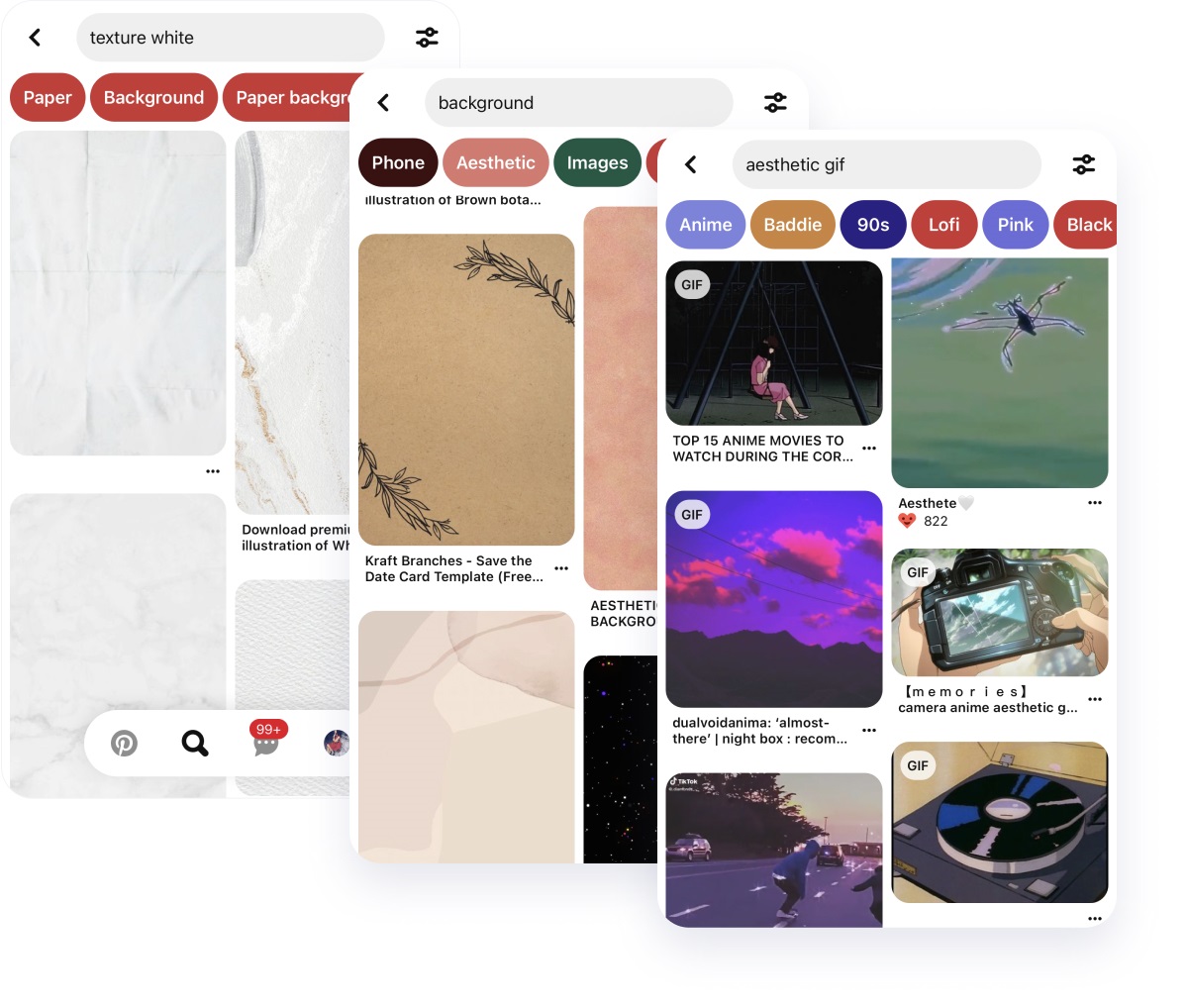 GIF sea/town/dance/smile etc.
Background white/paper/starry/shiny etc.
Template for recipe/planner/trip/instruction etc.
3. Take user-generated content
UGC is a simple way to share content that will drive sales for your brand. This is the Instagram equivalent of a word-of-mouth recommendation. It is so important to post it in a way that your followers will love. You can simply make a screenshot of the content you want to repost. But the quality will be low after cropping all the unnecessary stuff.
Better to use Instagram Downloader to get images in their full quality. Save Instagram photos and videos from your Instagram account or any public one.
Instagram Post Downloader is a service that saves any Instagram picture or video to any gadget. No matter how you decided to apply the Inflact Instagram downloader, you can collect photos and videos to PC, Mac, Android, or iPhone. You just Paste the link and automatically get photos or videos to your device.
4. Buy from a stock
If you're not ready to take photos by yourself, there are lots of image stocks that specialize in issuing high-quality images taken by professional photographers:
Pexels (Free)
Stockthatrocks (45 photos/month for $75)
Deathtostock ($15/month)
Create a content plan
You've already researched and analyzed. Now it's time to build. For this, let's create an Instagram content plan and schedule.
Making a unique and cohesive content plan is so annoying sometimes. It is hard to find a hundred ideas for one product. That's why we've created a universal content plan for Instagram feed and stories :
Don't try to follow the content plan manually. I have never seen a person who posted to their feed every day without any gaps or delays for the whole month, as stated in a plan.
To achieve the goal of a fully-realized content plan, just use a tool for scheduled posting.
This Instagram aesthetic planner handles all you're posting. In one place. No reminders or additional actions required from you. Everything is done at the right time. And what's more, with this visual planner you are able to see exactly how all posts will look in the gallery. Plus, you can plan your Instagram feed on the computer. No other app for organizing your Instagram feed can do all of this.

Tip:
To establish the best time to post in your Instagram feed scheduling, don't forget to check out the peak times using a
Profile analyzer.

Chapter 3: Tools to Create a Unique Cohesive Instagram
This chapter is all about tools. Are you trying to create a cohesive page without the right instruments? Taking photos, writing text, and only doing in-app editing?
Sure, it's possible. But editing tools and organizing apps make the entire process a lot easier and put your work on a new level.
With that, this is a list of stunning Instagram aesthetic editing apps.
If somebody says to you that it is obligatory to stick to a single subject to create an eye-catching account - disagree.
Diversify yourself and post about different topics (travel, fashion, food - no matter what your main idea is). Just follow the concept you keep in your mind. Create a cohesive aesthetic throughout all your posts.
Note: To showcase your Instagram aesthetic means having a sense of unity in your pictures. You need to find a consistent way of editing your photos. This doesn't mean having only one filter. Create plenty and use them to create a visual theme.
Choose your own color scheme that represents your concept. Try to choose three to four dominant hues and repeat them. Feel the balance. Find your style guide.
Here we need to mention some Apps to help you.
Apps for creating good visuals for Instagram
These are aesthetic Instagram editing apps to use on your photos. Free download for all of them. Even without a premium subscription, you can use them successfully. Please ensure that your pictures are shot with good light, are free of trashy background, and the quality is on the level.
PHOTO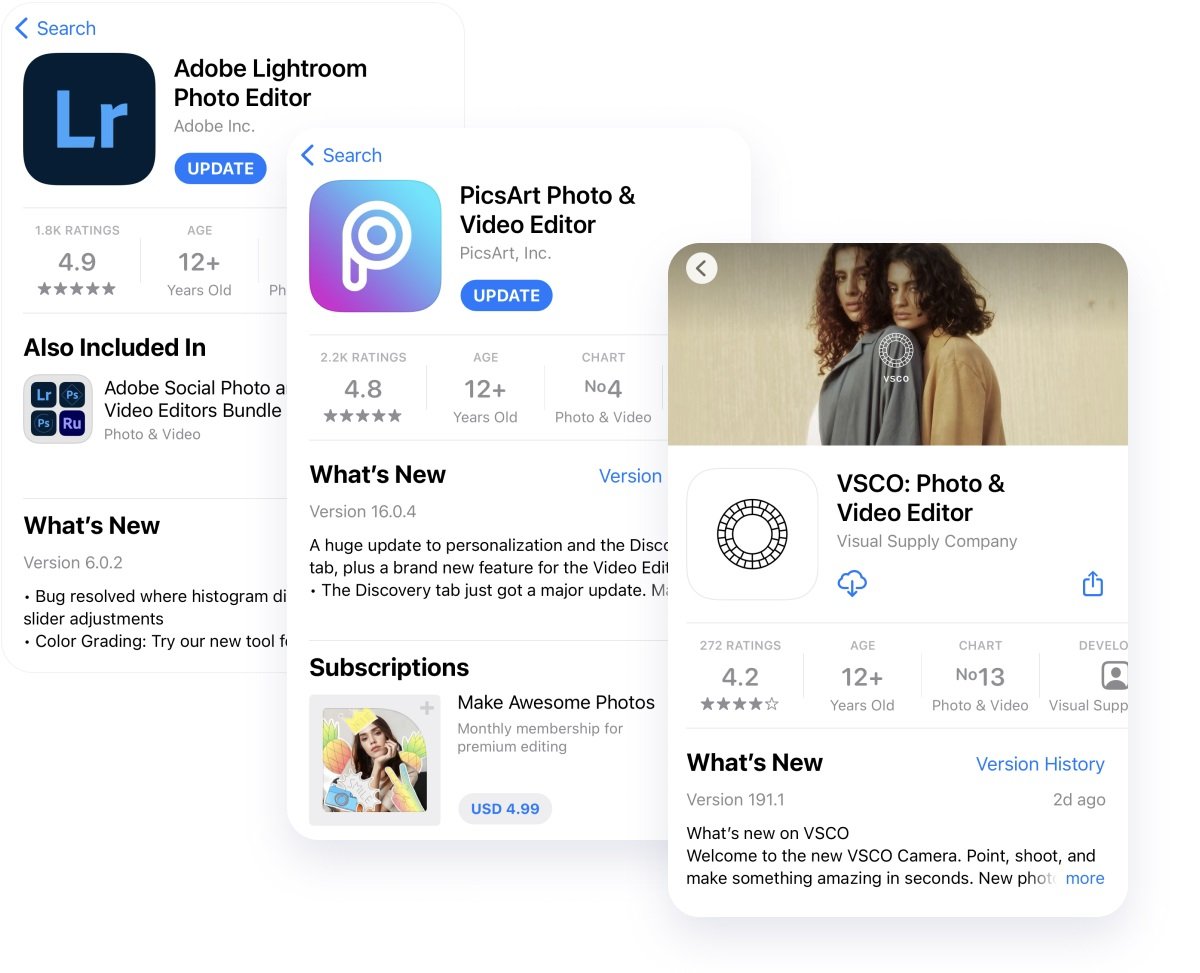 Picsart - For colors, double exposures, text on photos. You can create anything from a light and bright aesthetic to a dark and moody page. Use it for posts and stories.
Try using BRNZ2 in Effects section.
VSCO - For eye-catching filters, light edits, textures. Every influencer needs to have it and to create the best VSCO filter for their aesthetic Instagram feed.
Try "no filter" filters G8, A12.
Lightroom - Lightroom presets are just amazing things to try to create a unique Instagram aesthetic.
Find amazing presets for this app in bloggers profiles.
VIDEO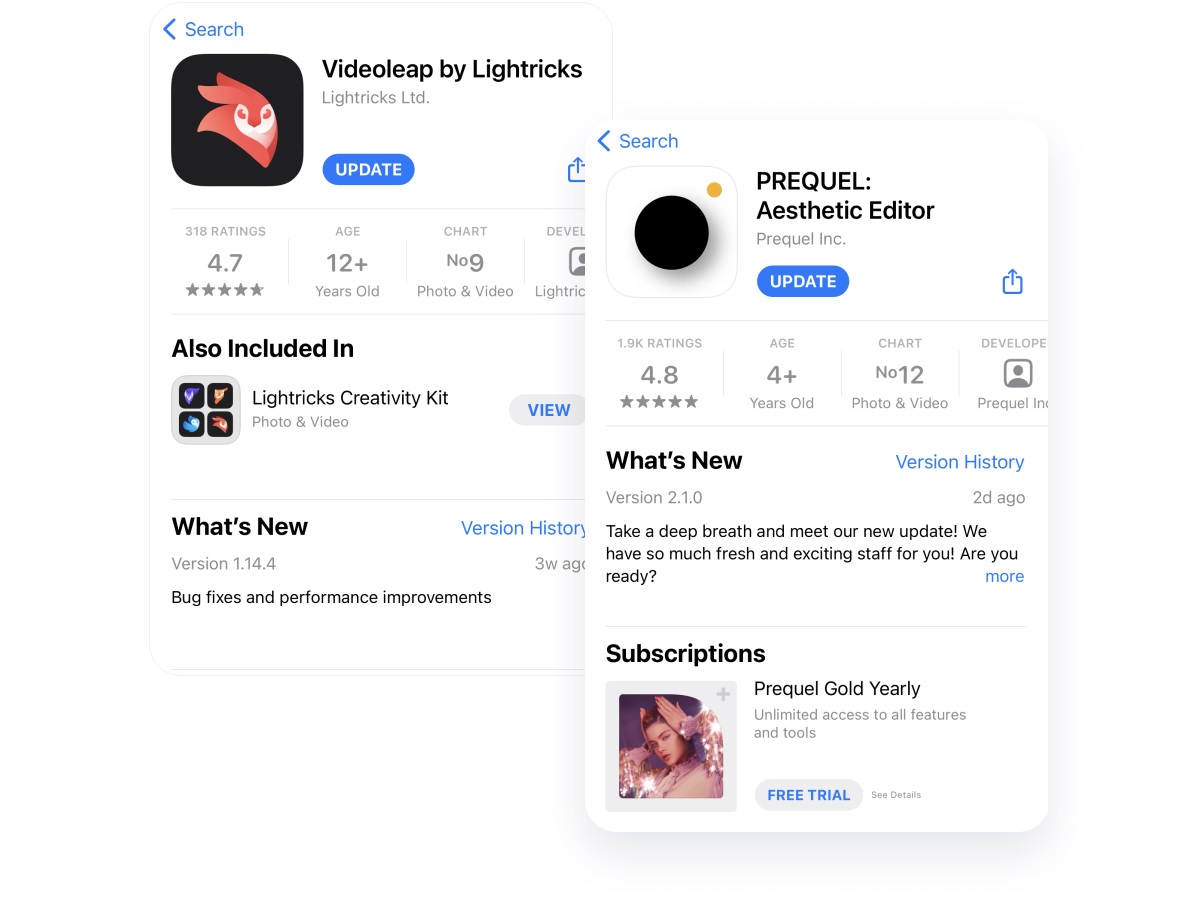 Videoleap - For adding favorite music, new latest effects, stickers, ready-designed captions.
Prequel - Focus on adding filters and editing color easily.
Don't forget about the caption. If you look closer at inspiring IG pages, you'll see that texts are important for the whole visual strategy. Captions are the voice of the profile. And a few of the right words under your post are a huge opportunity to build a stronger relationship with your followers. Here is a tool to make your captions look outstanding. And fun: Fonts Generator
Stories are super worthy of use in 2021! They can put you on top of people's news feeds, and the editing style here is super important. Based on the latest Instagram research, most of the users spend 70% of their time in the app watching Stories! This is a super important visual detail to care for in 2021. With these instruments, you can make Stories look appropriate and trendy.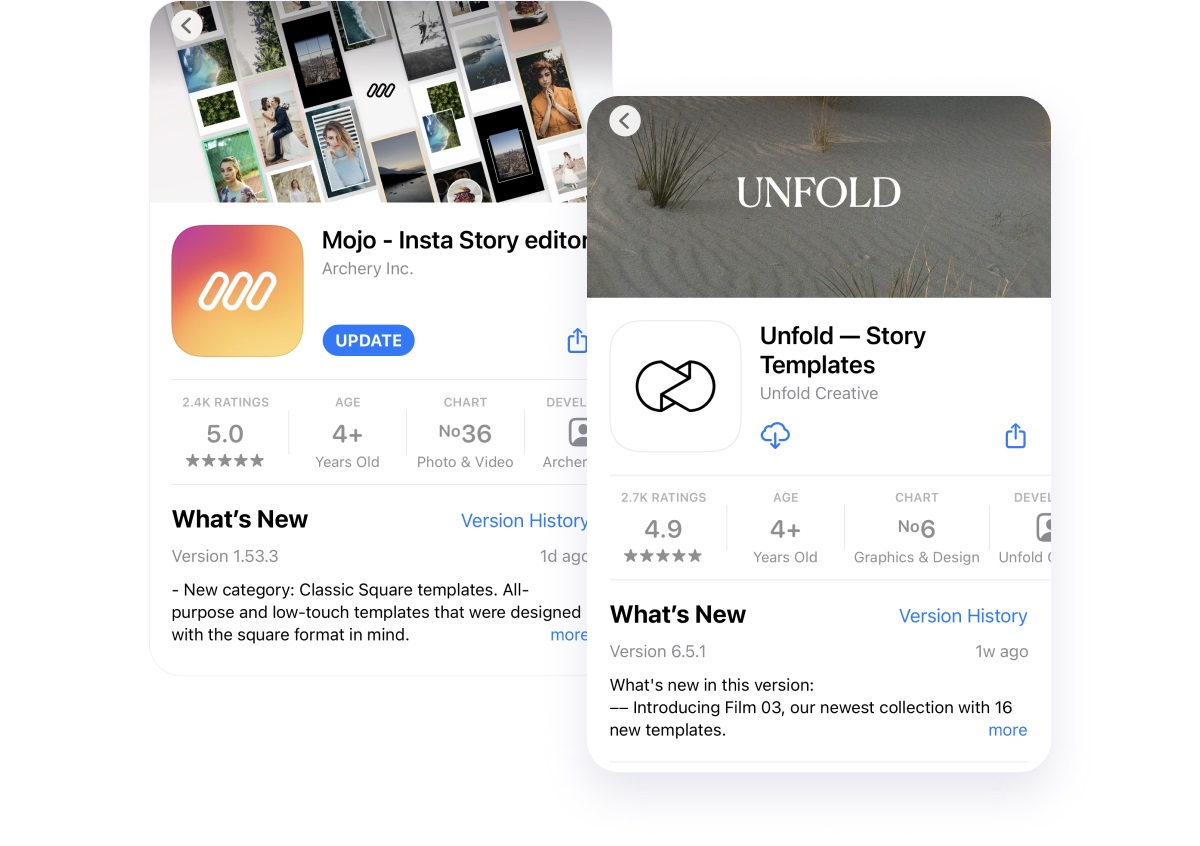 Unfold - Stories templates for making clear and noble backgrounds. They can represent your brand identity.
mojo - To hit Stories trends and curate a clear and pure aesthetic for your brand.
Tip:
Try using
Type mode, introduced by Instagram
to let you post text-based Stories without a photo or video. Or use polls and questions - anything that offers users a way to engage immediately in your Stories. Choosing these tools consistently, you'll get an engaging feed.
Constancy
The principle of constancy is the best friend of Instagram's visual consistency.
In order to make your feed constant, you should always have a bulk of photos or videos on hand. Do you think that all bloggers post only those photos and stories that they've shot today?
The truth is that they all always have stocks of content created beforehand for a week or even a month.
Tip: There are lots of apps that let you plan your Instagram feed ahead of time, but experience shows that desktop planners work much better.
Here is an Instagram Scheduler tool - it will help you to plan your feed and make it stylish.
Chapter 4: Advanced Instagram Visual Content Tips
Now that you have an understanding of how to get more aesthetic with Instagram and what can help you in doing it - let's sum up a little and add some tasty accents.
Unfortunately, there's no tool out there that will tell you: "This is the best way to make your aesthetic Instagram feed." Or "this the secret of creating a cohesive Instagram."
Instead, you need to size up each photo or video, word and story, in the context of your world and social media trends. Then, pick the one that's the best fit for your business, adapt it to the trends, and go ahead.
Visual trends of Instagram posts and stories in 2021
Simplicity is power. It inspires. Post your images untouched. Realistic pictures allow us to build trust and authentic relationships with followers. Add a slight change in color, contrast, brightness, and follow your profile color palette. Create an Instagram aesthetic that is pure and free of heavy edits.
Forget about the glamorous and flawless feed. Try to be honest and show the real side of the business. Share relatable moments, team accomplishments, volunteer profiles, and office life struggles.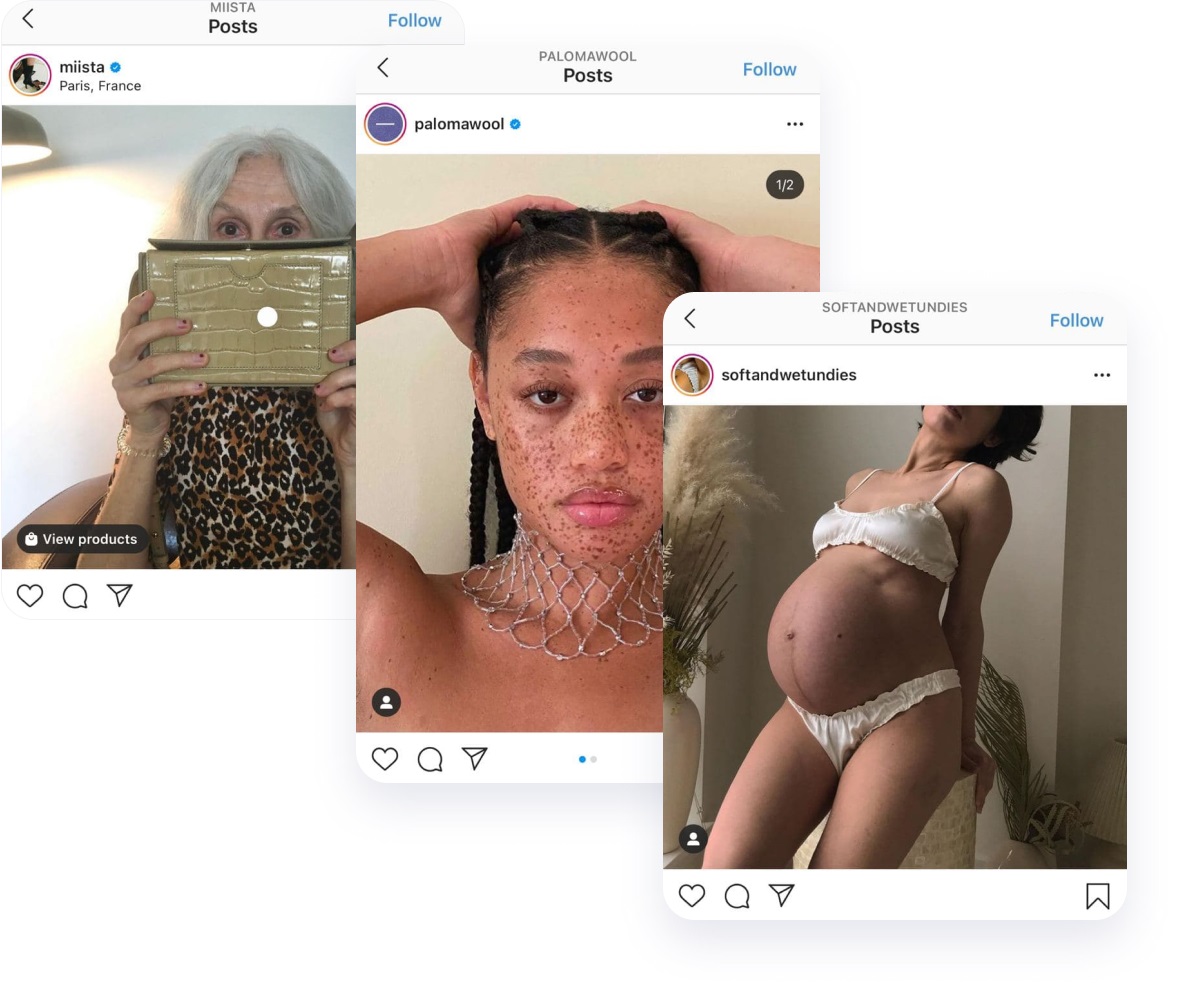 The key to attracting followers in 2021 is to show inclusion. Post content that represents the diversity of the community which your company serves.
Universal advice from top accounts:
1. Shoot in natural light
This is the most important part of shooting a good photo for a good Instagram visual. Nothing can be more pleasant for the eye than natural daylight on a subject.
2. Stick to the same color scheme
If you want your photos to look good across your whole feed, you need to use the same color palette on all of them.
3. Look at your grid
Whenever you post a new picture, you have to make sure it looks good with the photos that you have previously posted there.
Never do these things.
Don't overcrop photos - give them some air and always keep in mind that in the grid, only the central square of your photo will be shown.
Don't post too many repeating, same-looking boring photos. Always try to diversify your feed. Make it meaningful and more interesting than just advertising for products every day. Your page's visual appearance should be magnetic.
Don't post low-quality photos or videos. Never.
Don't use too much text on photos. It creates a trashy look on your page.
Don't use in-app Instagram filters for photos (unless they happen to become cool again).
Now It's Your Turn
I hope your workbook is full of new facts, ideas, and inspiration.
Which tip from today's guide are you going to try first?
Let me know by leaving a comment below.
DM Selling Strategy
How to sell on Instagram with DM for brands and influencers (strategies for 6-figure sales and 300% engagement growth)
next guide