Should I start blogging? Should I start a lifestyle, photography, or fashion blog? Do I need a business account? Find the answers to all beginners' questions and start influencing.

Margarita Terzi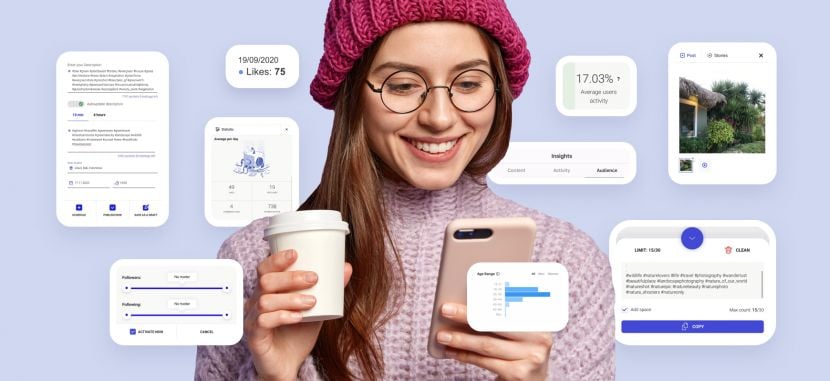 By the end of this module, you will find the answer to your primary question: "What niche should I pursue to get maximum profits and generate valuable content without burning out?" I'll share the working techniques for defining a niche that is interesting for you and trendy in 2021. After reading and practicing in parallel, you will be able to:
focus on one niche if you are still doubting.
analyze the trends and content ideas.
set up your profile better than an SMM agency.
optimize your account for Instagram search.
start blogging on Instagram.
I've collected the industry jargon in the PDF file you can download and share. This chapter will help you grow from zero to intermediate in personal branding and influencing on IG. Let's start.
Chapter 1: How to find your influencer niche
1. How to become an influencer: the importance of knowing your niche
Being a beginner, you probably underestimate the importance of your account specialization. You may start by describing your travels in one post, your fitness routine in the second, and your cookie recipe in Stories. But people won't get your value and tone of voice this way.
Example of a well-defined account specialized in travelling:

Three reasons you should cover specific topics:
Random posts are confusing for viewers. When a user opens your account, they will likely be lost. Imagine how challenging it will be to share this account with other people.
Tip: help viewers to find logical reasons to follow you.
Example: I share Jenn Chiu's account with my vegan friends because she posts vegan recipes every day, recommends organic shops, and shares promo codes. If Jenn would also write about fashion and pets, could I easily associate him with my friends? No, they would get confused.

You accelerate authority on a certain topic. When you go in-depth on a particular niche, people consider you an expert. This leads to higher conversion and engagement rates since people trust your insights and experience.
Specialization is more profitable. You can demand higher rates for your services if you are an expert. Generalist accounts attract a broad audience, so it is challenging to define your advantages among the competitors and get sponsored.
As you grow a community, you can experiment with new topics. But when you're just starting out, highlighting your specialization is a must.
2. Content brainstorming
Brainstorming is the working technique successful influencers begin with. The task is simple yet effective.
PRACTICAL EXERCISE #1 – YOUR ZONE OF GENIUS AS AN INFLUENCER
Download this spreadsheet and open it in a new tab. With this spreadsheet, your niche will become laser-focused. In the first list, see my example. The second one you should fill in by yourself. After this exercise, you will feel relieved and stop dabbling. What you are going to do:
Write down all the categories. Don't hesitate and include even the wildest topics for your blog.
Brain-dump all the content ideas. Include as many topics per niche as you can.
Identify the easiest niches. I bet you can see now for which categories it was easier to come up with content ideas.
Those niches that were most effortlessly filled in are your zone of genius. Have you typed the ideas fast and with passion? This topic is your true calling.
Note: it is crucial to concentrate on these categories, because you will feel enthusiastic about maintaining your content for a longer time.
Conclusion: even if you are interested in something, it doesn't mean you have enough creativity around it. Brainstorming helps you to set priorities.
PRACTICAL EXERCISE #2 – NARROW DOWN YOUR NICHE
Well-done – we came up with one strategic niche. Now we need to pare down this category to make it specific and provide value for your audience.

Example: My niche is yoga.
For whom is my type of yoga? Yoga in pregnancy.
Who are these women? They are working pregnant women who didn't practice yoga before.
What problem am I solving? Lack of time, stress, and anxiety.
How do I solve this problem? 10-minute complex of exercises every week, live streams with therapists, meditation.
Result: My specialization is prenatal yoga for working women under stress. I help them relieve anxiety and prepare for the delivery through complex asanas, meditation, and medical consultations.
This is a perfect example of a narrow niche able to produce valuable content. Answer these questions in your brainstorm map – list #3. We will use this statement later when we are setting up your Instagram bio.
3. Analyzing search volumes
Now when your niche is crystal clear, we are going to evaluate the demand based on the search results. This step is easy because I'll show you tools for amassing analytics on the web. The issue is:
Do people search for the topics you will write about on Instagram? If the demand is low, this niche is not worth your time and effort.
Your starter pre-analysis package:
Keywords Everywhere. This tool is a plugin for Google Chrome. When you type keys on a topic in the Google search bar, the tool suggests relevant ideas. You can see the key volumes in the related searches. These ideas can become core in your post, or you can develop them in your future posts.

Inflact Hashtag generator. Instagram hashtags showcase trendy topics, and you can use Hashtags searcher to analyze the topic volume. This service works like Keywords Everywhere but for Instagram. I typed in the search bar "prenatal yoga" and noticed hashtags #prenatalyogacouple, #prenatalyogabali. These hashtags give me more precise ideas for future content and prove that this niche is narrow, yet it is in demand.

AnswerThePublic is a free online service where you can type your topic and view what people ask search engines about any subject. You can easily tell if the niche is trendy and in-demand and discover new content ideas. For example, I typed "prenatal yoga" and noticed that people want to know a lot on this topic – prenatal yoga or pilates, prenatal yoga apps, etc. Thus, my specialization is predicted to be trendy.

PRACTICAL EXERCISE #3 – VALIDATE THE DEMAND FOR YOUR NICHE
Hashtags generator analysis:
Go to the Inflact hashtag generator.
Type the keywords associated with your topic.
See how many hashtags are listed in this area.
Tap on hashtags and see how many posts people post every day.
Go to the most popular posts and check if there is any engagement. Do people like and comment on these posts?
Copy the hashtag ideas to your spreadsheet. You will need them later when we plan your content.
AnswerThePublic analysis:
Go to the website.
Type your keywords in the search bar.
See how often people ask about your topic. What are the related questions?
Copy some insights into the worksheet. You will need them later when we plan your content.
Well done. Your niche is precise and valuable, so we can continue our pre-analysis.
4. The most profitable niches for Instagram in 2021
Let's imagine you have no idea now what niche you want to target. It doesn't mean you shouldn't start influencing on Instagram. Look at the most blooming niches for 2021 and come up with ideas.
Health and sports. Even though this topic is saturated, humans will always want a perfect body, stay healthy, and strong. The fact that this niche is popular proves that there is a high demand for it. During the pandemic and lockdown, the trend for online workouts and healthy living is growing. People post over 140K posts per day related to fitness.
Note: this niche is broad, so you need to focus on a tiny slice of it – vegetarian nutrition, raw diet, jogging, etc. Narrow your area using the pare down method.
Beauty. Do you spend all your spare time watching makeup tutorials? Are you the very person your friends ask to do their makeup and hair for events? The core of this area is exploring new products and unique styles. The trend of 2021 is natural looks, healthy skin, and hair. Why not post about low-end budget tips based on organic skincare tips? Or maybe you can successfully write about anti-aging makeup hacks.
Note: to get noticed by brands, devote your content to a particular topic. Don't repeat someone's ideas, but develop your own influencer voice.
Fashion. To become an influencer in this niche, you need to be distinctive and maintain your philosophy and authenticity. The predicted trend is in DIY-clothes because people after the pandemic are supposed to focus on sustainable consumption. Maybe you are good at repurposing clothing? Can you create fashion masterpieces from second-hand items and style them? This doesn't mean you have to sew by yourself. You can collect looks and feature designers on your profile.
Note: the Instagram audience is sick from perfection. You need to highlight your difference instead of pursuing trends. Plus-size looks and looking expensive on a budget, are always in demand.
Business. Have you grown a working business? Or maybe you can teach others about social media marketing and online sales? As a result of the economic downfall after coronavirus, your business insights are valuable content. Moreover, people will be switching to all possible online formats. That's why your tips on growing on YouTube, SEO hacks, or Instagram marketing insights might be the most profitable niche.
Note: you can become a business coach and promote your own business simultaneously. If you run a marketing agency, this blog idea works both ways.
Education. People spend hours on Instagram. Why not help them feel proud instead of guilty through teaching? You can teach languages, cooking, parenting, arts – whatever you are good at. If you already have experience in teaching, monetize it as an influencer since people will trust your expertise. The growing demand for Live streams and IGTV is a perfect form you can utilize as a teacher.
Note: your tutorials should be interactive and funny. School-like lectures don't fit in the platform.
Travel used to be one of the leading influencer niches but taking into account the recent lockdown, I wouldn't recommend it to begin with. It would be pretty challenging to generate live content, YK.
5. Analyzing the successful accounts in your niche

As long as you passed the test and finished with your niche identity, it's important to get to know top influencers in this area. Why?
Learning from someone's example is a risk-free method you can put in practice from the comfort of your couch. You will see the TOP-rated posts, most engaging posts, and less popular content. This step is going to fine-tune your niche and help to concentrate on the most exciting issues.
Note:
The exercise and
the tool
are 100% free in comparison with marketing platforms where you have to pay to access the database.
PRACTICAL EXERCISE #4 – ANALYZING TOP PROFILES
Go to your spreadsheet and open the list #5 with the most popular hashtags in your niche. We discovered these hashtags with the Hashtag analyzer.
Copy one of the hashtags and insert it in the Instagram search bar.

Open the TOP post. Go to the account that published this post.
Copy the nickname of this account.
Go to the Inflact Profile Analyzer. Insert this nickname in the search bar.
Tap on Analyze.
Now you see the most commented posts, most liked posts, engagement rate, posting schedule, and other valuable data.

Go to the most commented post. Read the caption and highlight this idea in your niche research.

Check on 4-7 posts.
Analyze as many hashtags and TOP accounts as you can.
The key goal is to indicate the buzz topics to make your niche even more fine-tuned.
Tip: find and analyze more influencers in your niche by seeing the suggested relevant profiles.

Congratulations – you've passed the Basic step on the way to your lucrative Insta influencing. Now your niche is well-defined and narrow, and you have an obvious idea of what problems your blog solves. You analyzed TOP influencers in the desired niche and probably already have an idea on how to optimize your bio and aesthetics. I hope you've collected all the analysis in the spreadsheet.
In the next chapter, I will show you pro-hacks for optimizing your account from zero.
Chapter 2: How to set up your profile for influencing
1. Should you separate personal and influencer accounts?
Probably now you are running a personal account where you post selfies, fancy meals, go-outs, and family photos. Usually, people who run a business separate this kind of personal Instagram from a business profile. We try to divide private life and work, and it makes sense. But successful bloggers suggest that you should find the balance and run one account – personal branded account:
Key point: share personal facts and branded content in one account. That's how you grow a strong personal brand.
If you promote your business, mix the corporate posts with personal content. People are more interested in actual experience rather than bare facts. You are here to entertain and bring value.
Example: Biz coach posts the images of her family and business tips on her account.

By the way, it's easier to grow one account, so you need to focus and find the best proportion of your content.
2. How to choose a username for Insagram
Ok, I got it. But what to do with my nickname? Should I use a personal name? Should my brand be my name?
Key point: pick a short username that is as close to your or your brand name as possible. This nickname should be easy to remember.
Note: don't trust any company or an individual who promises to deliver a taken name for you. Choose one from the available options.
3. Filling the Instagram bio like a PRO + SEO hacks

Optimizing your bio for becoming an influencer on Instagram is crucial. You have 2 seconds to prove your profile is a solution for a viewer's problem. Also, the name section of your bio needs to be SEO optimized. Keep on reading and find out awesome and working Instagram bio ideas.
#1 – INSTAGRAM NAME

Instagram name section is searchable, which means you need to include keywords instead of doubling your personal name. When people are searching for a fitness trainer and type 'fitness' in the Instagram search field, the algorithm suggests your profile.
Tons of people don't know who you are or your real name. But if you add the keywords related to your services, you show up within this search name. Don't miss this opportunity.
PRACTICAL EXERCISE #5 – KEYWORDS RESEARCH FOR THE INSTAGRAM NAME SECTION
Sometimes you might be struggling with what keywords to include in your Instagram name and bio. I will tell you one insider method to improve Instagram SEO.
Type in the Instagram search bar the most obvious keys. I use "prenatal yoga."
Go to the first account.
Copy the bio.
Paste it to this service – free word cloud.
Repeat with 10 accounts.
Choose the words from the list, sorted based on the frequency.

#2 – YOUR NICHE STATEMENT FOR INSTAGRAM

Do you remember we have narrowed down your niche to 1 clear sentence? Use this statement in the bio description. You don't need to copy someone's ideas if you don't know what to put in your Instagram bio. The bio should include:
who you help – your target audience.
how you help – your expertise.
the results of your help – your achievements.
Well, it looks like you need to fit a CV in your bio. And that's true. The key is being precise and saving the limited space with the help of emojis.
PRACTICAL EXERCISE #6 – NICHE STATEMENT FOR BIO ON INSTAGRAM
If you accomplished the previous tasks, making a valuable bio is a no-brainer.
Example
The niche statement
My niche is a prenatal yoga for working women in stress. I help them relieve anxiety and prepare for the delivery through complex asanas, meditation, and medical consultations.
The adoption for bio:
Name: Prenatal Yoga, Meditation, Consulting
🤰Helping pregnant women prepare for labor
⏰15 minute asanas, meditation, daily streams
🔝+ 1.5K women managed delivery fears
You can mention your YouTube channel in your bio as an authority builder. The number of happy clients and other achievements will build trust and stimulate people to tap "Follow."

Task.
Open
the worksheet
, list #6. Create the bio statement using the niche statement from list #3 and keys. Add emojis, results of your work, authority builders.
Note: when you write an Instagram bio once, it doesn't mean it should stay like that forever. Keep evolving it and test more options. The most important part of your bio is done – you nailed it!
#3 – HASHTAGS IN INSTAGRAM BIO
Some influencers also add hashtags in a bio. The function of these hashtags is to navigate people through the account, collect contest posts, and other user-generated content. If you don't feel like your community and content needs a branded hashtag, you may leave your bio without hashtags.
Alert: the hashtags in your bio should be unique and tightened to your community. There is no reason to add broad hashtags.
#4 – CTA (CALL TO ACTION)

If you insert a website or any other link in your bio, a call-to-action is a must. Make sure you left some space in the description field for a CTA.
Call to action is a must because many people are cautious of what links they click. By putting a clear CTA, you assure your audience this URL is not scammy. Also, you are giving a context for this link.
4. Instagram link in bio: how do you add several links?

If you don't have a landing page or want to provide links to your website, YouTube channel, and Medium blog, you can do it. These services allow influencers to link out multiple sources from using a single-link application. Here I've collected the most popular and trusted resources for adding a link in bio on Instagram:
Linktree. The most beloved and widely used link-in-bio tool. Entrepreneurs and celebrities use it. You can use an unlimited number of links for free. The pro package with detailed analytics costs $6/month.
ContactInBio is a good alternative. You can also collect orders and payments, add links to your messengers and other social networks. You can develop a micro-landing page. The price is $7.
Campsite allows you to create a simple social landing page and combine links. The service allows influencers and businesses to customize this page to their brand style. You can integrate with MailChimp and even customize the domain. The fee is $7.
I hope you will use this opportunity to get free traffic from Instagram to your website or other blogging platforms.
PRACTICAL EXERCISE #7 – ORGANIZING LINKS IN BIO
Go to the worksheet, list #6.
List all the links you want to add to your bio. Add only those links that are valuable.
Use one of the services above to create a single page for all your links.
Paste the resulting link in your bio.
Conclusion
By the end of the Basic module, you tapped into the nitty-gritty of Instagram blogging. Make sure you passed all the tasks one by one. If you were consistent you now have:
A laser-focused account, solving real problems in a certain niche.
An understanding of your niche and TOP influencers.
A bunch of content ideas.
A well-optimized profile for influencing.
A single page with links to your services.
Keep on reading to learn how to gain your audience and monetize your profile very soon.
USEFUL LINKS:
Pre-analysis tools:
Link-in-bio:
Keywords for Instagram bio:
DM Selling Strategy
How to sell on Instagram with DM for brands and influencers (strategies for 6-figure sales and 300% engagement growth)
next guide