Would you like your posts to get to the top, like the best sites in the first lines of Google search? This wish can't come true without hashtags. They help the Instagram algorithm to understand what content is about and show it to everyone.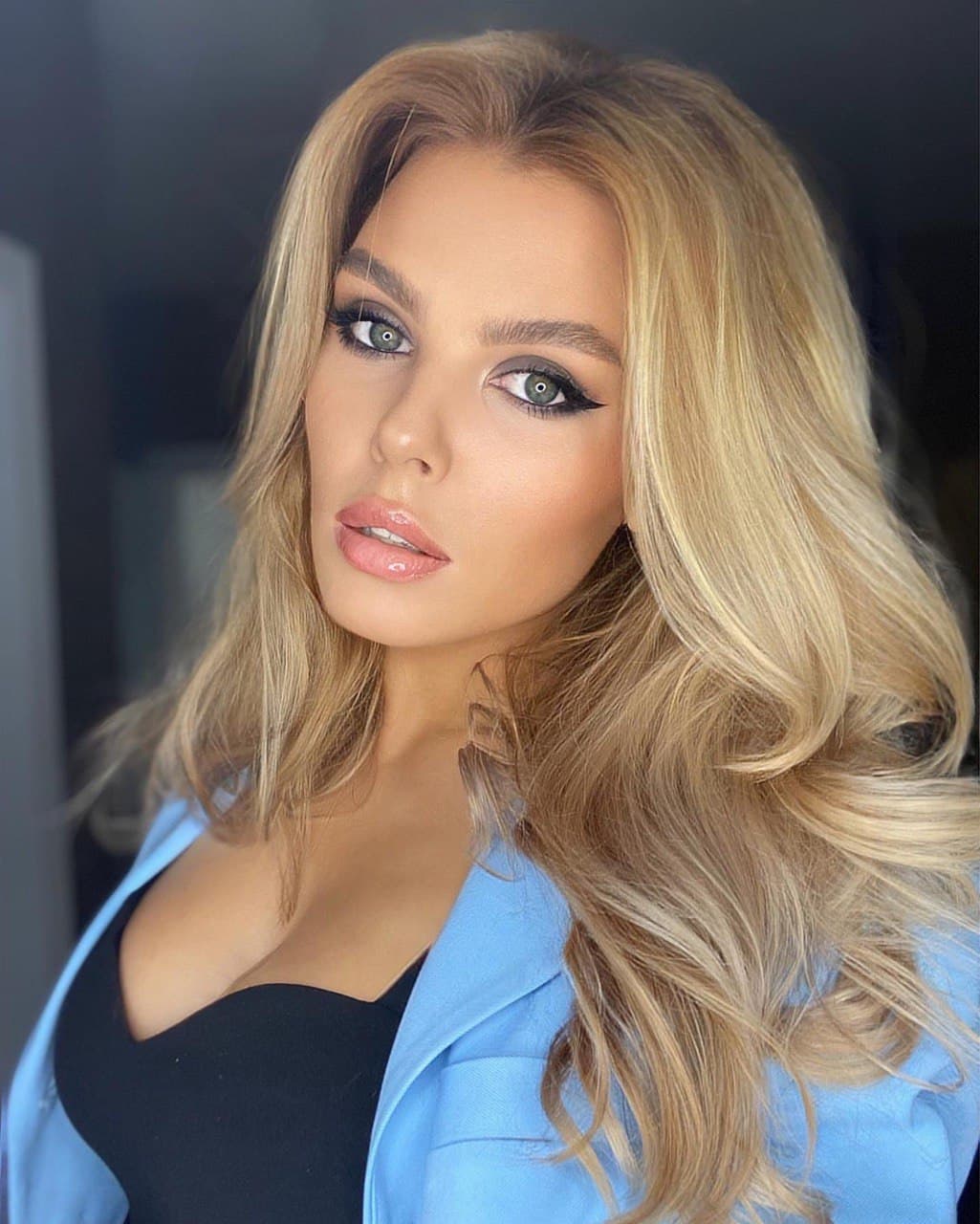 Violet Rich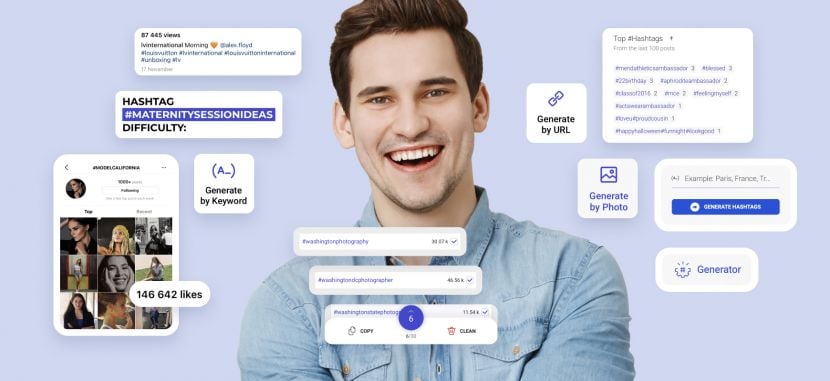 Don't be afraid, though. Hashtag marketing is easy when you know the strategy. In this guide, you'll see the simplest and clearest hashtag strategy for 2021. Forget about hashtag volumes, frequencies and other distractions.
What's new in hashtag strategy in 2021
"Relevant hashtags = free source of traffic".
Types of hashtags
Learn the concept of Hashtags
Hashtags identify the topic of any piece of content on social media. On Instagram they can be used for posts, Stories, or bio. They are all searchable. As Instagram Helper says: a hashtag is indicated by a "#" sign before the text, without spaces between words.
Hashtags are vital for:
Increasing traffic and reach.
Grouping publications.
Being noticed and loved by the Instagram algorithm.
Adding and following hashtags
Adding
Add hashtags as a comment on your post immediately after publication.
Add hashtags to your Stories as a sticker or as free text.
Following
In addition to adding them to your own content, you have the ability to follow appropriate hashtags. Only a few people use this tool, which is designed to simplify the search for the right Instagram content.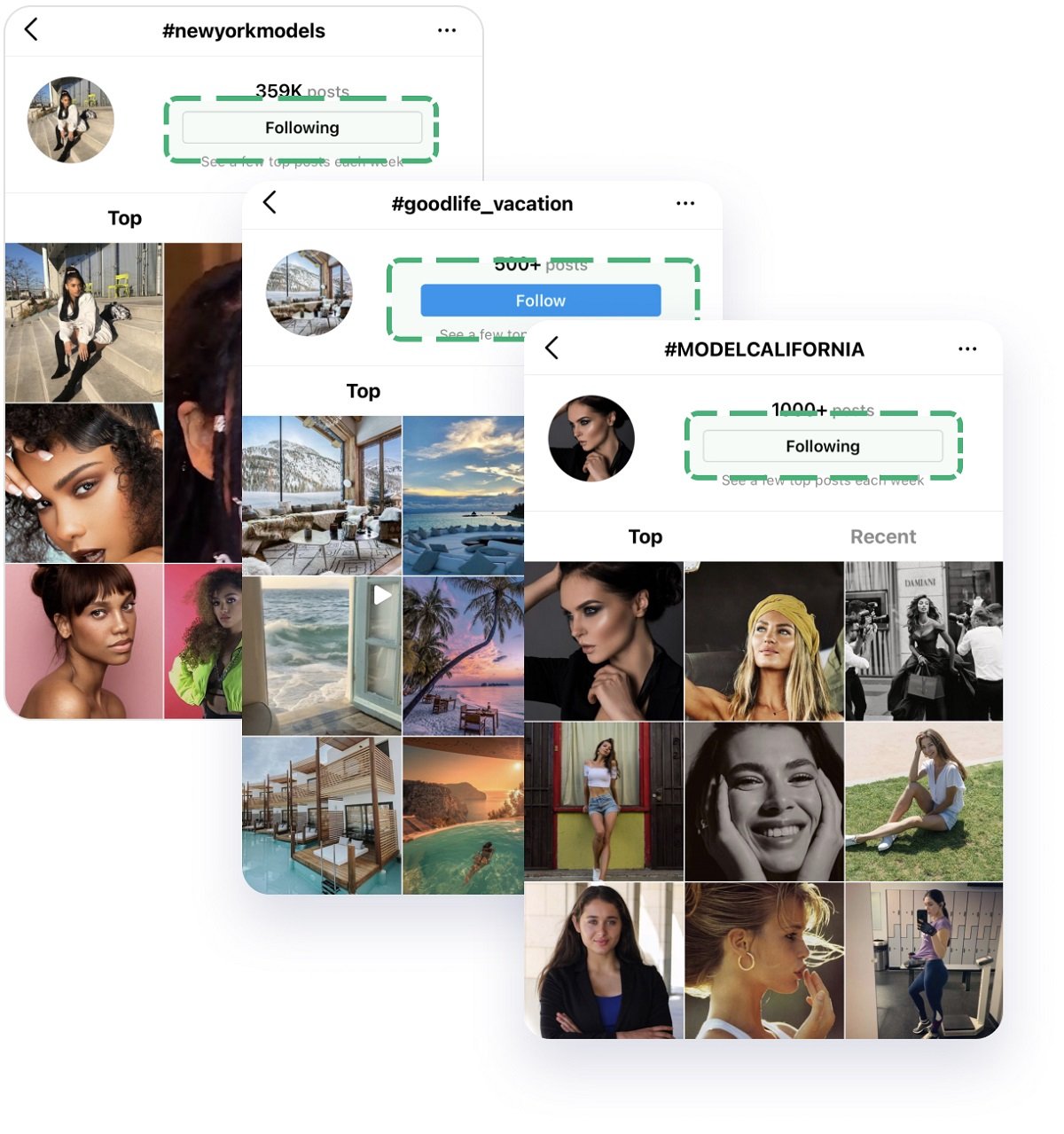 Several reasons to follow hashtags:
Save your time getting right to the information you are seeking.
Keep an eye on competitors' feeds.
Follow the industry trends.
Hashtag frequency IS TOTALLY OUTDATED:
Adding hashtags with the right frequency is not a vital strategy nowadays. But don't worry, I'll give you an effective technique for picking hashtags once it's clear that hashtag frequency doesn't matter anymore.
Relevance of hashtags
Some people assume using irrelevant hashtags under posts is a way to reach more people and boost engagement. This is irritating for users and the Instagram algorithm is trying to get rid of that behavior.

Some irrelevant hashtags are just leftovers. Others ruin the whole purpose.
3 pillar principles of 2021 Instagram hashtags strategy
Forget everything you've read before about hashtags on Instagram. Times have changed and all previous knowledge about the Instagram algorithm is not applicable now. If in previous years hashtag strategy was based on volume and frequencies, now it is all about understanding the community and your potential followers' needs.
1 Create an audience portrait
The key thing in the new hashtag strategy is to understand your audience. You need to get into the interests and hobbies of your future followers. Only after this step will you get what specific hashtags you need to be found by your potential followers. Get clear on who you are trying to attract in your target audience. This is who you must reach with your hashtag strategy.
To find relevant hashtags, first create a "customer avatar" - a representation of your ideal customer - for your business: (To make it more understandable I'll go through an example of a photographer's profile together with you)

Start with a product you're trying to sell.
I'm a maternity photographer from Washington. I can make family photos, maternity photos, beautiful portraits, and exciting photo journals about any family event. My clients can be from any city within my state, as I'm ready to travel for work.
#babyphotographerwashington would be a suitable hashtag, but it is not searchable, and nobody follows it. Let's type it in a hashtag generator search to find suitable words for this point:

Literally picture an actual person who is interested in your product.
(It can be a past customer or a customer of your competitor.)
My last photo shooting was for Mary. She is 30-weeks pregnant. She is 32, and worked as a hostess in a hotel. Her average income is $1,500 a month. She loves yoga, beautiful luxury rooms, and romantic dresses. She follows bloggers like Leonie Hanne and Kim Kardashian. I need to reach girls like her with my posts. So, I will find hashtags searchable by this kind of audience. As Mary is interested in style and beauty while in the maternity period, I should try to show it on my page:
#maternityoutfit
And check the possible varieties through hashtag generator:

Think about what your customers' goals and values are. And how your product can help this person achieve these goals.
Mary aims to have a big family. Her husband is very busy and didn't even have time to attend the photoshoot with her. Mary wants to look stylish and luxurious. Mary loves beautiful shoes and premium clothing brands, but shops on Asos. She wants to seem happy and calm, but in reality she is sad and nervous.
Think of how to show her that she will look great and happy in her photos, and how fast this photoshoot will be.
Analyze your customers' pain points about the product you sell.
Mary was nervous about how she will look in the photos - would she look fat? Or too old? She wanted me to show every photo I've taken in order to choose the best pose. Mary asked me to Photoshop her skin and curves a bit. The pain point is her appearance. The challenge is her husband's timetable. She wanted to choose the right time for the photoshoot, to invite him for several shots. But he was late.
Show in your profile how fast and simple your photo shoots are. Show how beautiful your models look in your photos and comment with searchable hashtags that can interest women who are preparing for a photo shoot:
Let's look for #maternitysessionideas in a hashtag generator.

Think about possible objections and the role of this person in making a purchase. Does this person alone decide to buy your product?
"This is too expensive. We don't have enough time for a photoshoot. I'm too fat for photos. I don't have proper clothing to look great in the photos. My makeup is not professional, and everybody will mention it."
Her husband and her best friend Chloe have an influence on her decision to buy my photoshoot. Find hashtags to dispel doubts of a woman who has these objections.

After this activity, you're ready to create a marketing core for your customer, taking into account all facts about him or her. What brands they like, what pages they follow, what they are interested in. Use a profile analyzer to analyze your audience profiles deeply. Copy a name or a link into the search line of Profile Analyzer. You'll get detailed statistics for any public page.
Look through these columns attentively. You can find useful information here. Top hashtags, caption words, and interests can help you to understand your customer more deeply.
This is about my previous client Maya: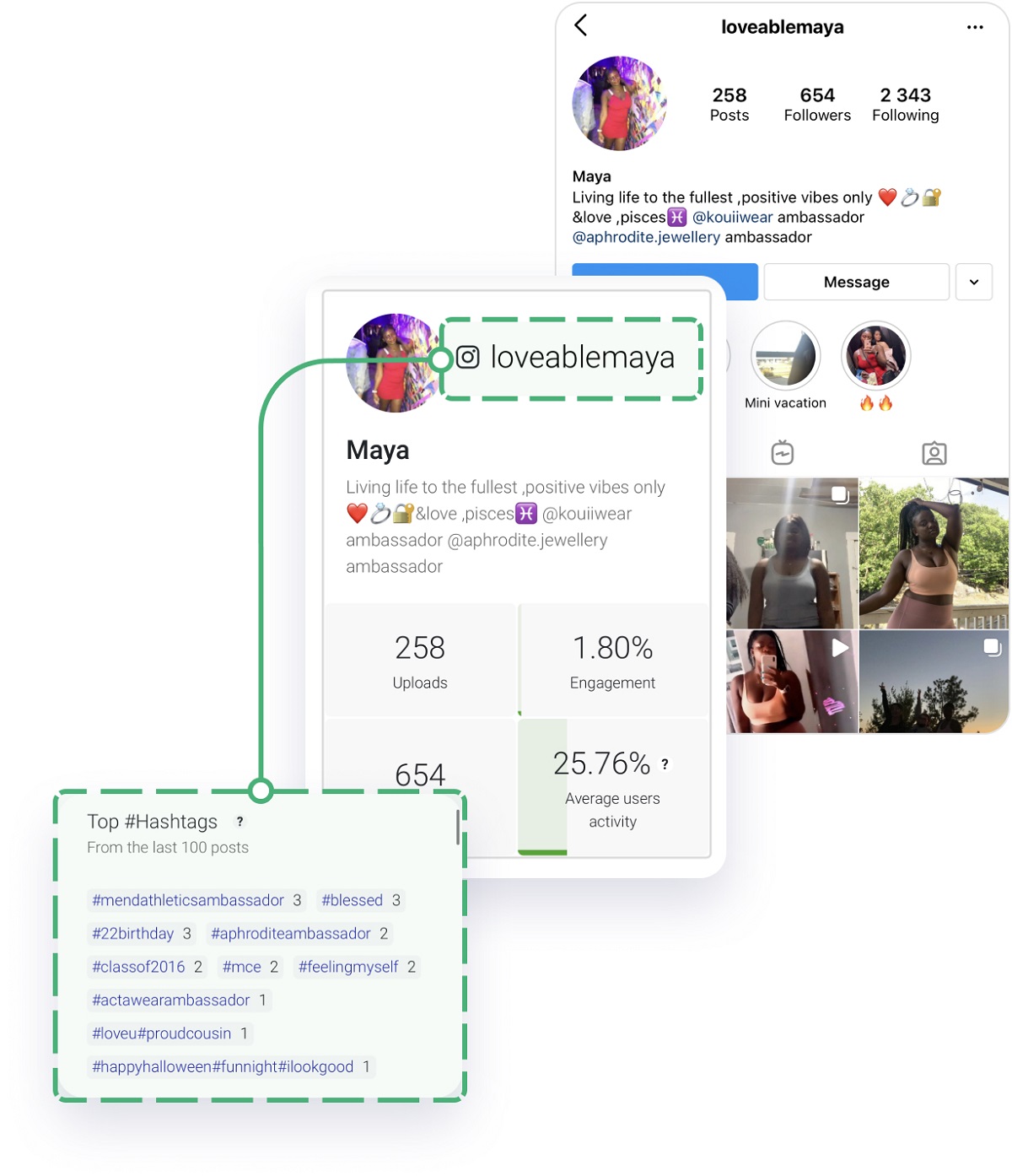 She is a fan of sports obviously. She loves mornings, mentions beauty, fashion, and art. I can comply with all her interests in my publications and hashtags. Women like her will love my account.
Segment your group of customers. Primary audience, sub audience, micro audience.
As for kids photographer, the segmentation looks like:
Primary audience: mothers and fathers, or future mothers and fathers
Sub audience: grandmothers
Micro audience: any person who has children in a family.
Now that you have this information in hand, pick out relevant hashtags for each segment.
2 Test hashtag groups to find best hashtags for Instagram
Let's forget about hashtag frequencies and concentrate only on the hashtag relevance.
That is how the 2021 hashtag classification looks:
A word with a specific sense. It is concise and imaginable. This kind of hashtag always has a community behind it, interested people, or even followers.
Examples: #beigeoutfit #weddingphotographer #bulldogsofinstagram
For a maternity photographer case, we can use community hashtags like: #35weekspregnant or #maternitydress (use them only if you have posts with suitable content)

Highly precise hashtags. Most of them include the exact name of a brand or a person, location, event.
Examples: #Harleydavidson #fashionweekmilan2019 #kimkardashianoutfits
For our photographer case: #photographerwashington #asosmaternitydress #maternityphotoshoot2021

Not pointless (don't use them if you want to drive engagement to your post!)
Nobody follows or searches for these spammy hashtags. We use them for sharing emotions and circumstances.
Examples: #love #sunny #smile
You should pick hashtags that relate to the first or second group.
If you've found a brilliant hashtag for your topic, but it might be not fully suitable for your profile, think about creating a profile specifically for its audience (for example #washingtonwedding)
Testing
After you've got a bunch of hashtags, you need to add them to your posts with great attention. You should test in these steps:
Organize a group of hashtags
Examples:
a) #washingtonfamilyphotographer #maternityphotographer #pregnancyphotographer
b) #maternitystyle #pregnancyphotosession #maternityphoto
Put them on two newly posted publications.
Check impressions through hashtags in Insights and compare with each other.

Find out which of your hashtag sets works better. Save the result and test again with different content.
3 Avoid bad hashtags and be careful with top Instagram hashtags
A bunch of top hashtags today are permanently spammed. It is useless to add ultra-popular, pointless hashtags like #live #like #love etc.
In Inflact hashtag generator, we have a rich 12-million-hashtag database. Exactly zero other Instagram hashtag tools can offer such a vast choice.
We clean out our database from Instagram-banned hashtags weekly. Use this safe generator and don't be fooled by anyone's advice to use #smile in your strategy.
To sum up best practices for hashtags, look at this list of practical advice:
Don't use commonplace phrases. Find more relevant, unique words to describe your post exactly the way your target audience needs.
Think like your future follower. A hashtag itself is the audience you want to interest.
Use your own experience of using Instagram search as guidance. If you wouldn't like to see this photo in the search results for this word - don't use the hashtag.
Find hashtags: 3 cool hashtag picking techniques
1. Search by photo (by AI)
AI-based hashtag research on Instagram by photo is available in Inflact free hashtag generator. Upload an image, Copy the automatically selected words for it, and Paste. The system suggests high, medium, and low frequent hashtag combinations for you.

You can use this tool not only for searching by photo, but also a link or simply typing in a base word.
2. Analyze competitors and their hashtags for Instagram
Do research of best-selling or most popular accounts in your topic with a profile analyzer tool. Look at these points:
Quantity of hashtags they use
Placement of hashtags
Successful cases of usage
Composition of hashtag frequency

Look through search results on your top hashtags. To understand the dynamic and patterns of it pay attention to:
Correlation of likes in the posts and frequency of the hashtag in the search.
Number of followers and likes on other posts of the profiles shown in the top.
Periodicity of renewing post in the top search results.
Date of publication of post appearing in the top section.

3. Find hashtags by perspective
To promote your page, it is very important to combine different types of hashtags correctly. Each group has a special function: some attract new subscribers, others inform about the field of activity, and yet others generate leads.
Types, classification, relevance
Types of hashtags by perspective:
Industry hashtags: #photographer
Niche hashtags: #weddingphotographer
Location hashtags: #sydneyweddingphotographer
Event hashtags: #weddingphotographermeeting
Brand hashtags: #weddingphotographermeg
Community hashtags: #weddingphotographergroup
Celebration hashtags: #NY2021
And more.
Analyze results to find your most popular Instagram hashtags
You need to have a business account for full testing. Here you can read our article to learn more about switching to this type of account.
Select the publication for detailed analysis.
Click on the analytics button. It is located in the lower left corner.
Swipe up to see the analytics of the selected post.
Pay attention to impressions: from home, profile, hashtags, other. Concentrate on impressions from hashtags. Compare it to other publications. Try to figure out what hashtags bring your impressions and followers. Fix this knowledge in your mind and move forward.
Refresh and delete hashtags
It is vital to refresh your hashtag set for "young posts" and to Delete "old post" hashtags. Younger posts are 2 months old or less. Posts older than 2 months are considered old.
Reasons to Delete old posts' hashtags:
Repeating these hashtags in newer posts, and avoiding duplication in in your profile.
Denying your competitors the chance to copy your successful combinations.
Controlling your profile's hashtag map so that it won't get in a list of forbidden ones.
Refreshing of hashtags needs to be done weekly. A successful post can continue to reach new people for a while after publication, with the right set of wisely picked hashtags.
Try a secret feature for hashtags on Instagram
Try the Inflact planner secret feature to test several hashtag combinations and gain a better engagement rate. The secret is in this feature: the description of your post will be updated automatically after a certain period of time. And new hashtags will bring new impressions to this post.

Pro tip: Branded hashtags
Create
Each successful company has one or two of its own brand hashtags. Brand hashtags help to attract attention and create a loyal community of followers.
Examples: #nikerunningclub #timetocare #TheBodyShop.
How to create an Instagram hashtag:
Make a list of all tags that may relate to your brand.
Search for them on Instagram. ( In case another brand has used the words before.)
Test the tag in social media. Make sure that the combination of several words does not form newly banned words.
Checklist to create your successful branded tags!
Make it unique. It should be relevant and catchy.
Bring out emotions. Induce positive feelings through your branded hashtags.
Use humor. Funny hashtags tend to be memorable.
Turn on the wordplay. This technique will make it easier to remember the tag.
Promote
Use tags under each post.
Add tags in sales posts and giveaways.
Collaborate with other brands.
Motivate users to use your tags. Give them a discount or gift for doing so.
Use tags for navigation.

Navigate
Branded hashtags can structure your content.
Example: #sneakersale, #sneakerscatalog, #sneakersfeedback, #shoesgiveaway
Safety, handling, and usage
The hashtag limit on Instagram is 30 tags. You may face a shadow ban if you break this rule - and your page will not appear in the search. It's ideal to use about 25.
What to do if you got banned:
Delete the tag from the post.
Turn off all used Instagram bots.
Correct all spam Instagram content.
Stop Instagram activity for 2-3 days.
Convert to a business account or vice versa to a personal profile.
Report to Instagram if you think that you did not violate the Instagram rules.
Banned hashtags
Certain combinations of words result in banned hashtags. They can cause temporary or permanent blocking of your Instagram account. The account recovery process may take an indefinite time, as Instagram does not have a support service.
It's better to use the best tool for finding hashtags to avoid being banned. This Hashtag generator cleans its database daily to ensure there are no banned hashtags.
To prevent this from happening, you should always have The Full List Of Banned Hashtags 2021 at hand.

Mistakes to avoid in 2021 in hashtags usage
Not using hashtags.
Using too many hashtags.
Choosing too popular and long-winded hashtags.
Repeating the same Instagram hashtag list every post.
Ignoring local hashtags.
Working on hashtags without testing and analyzing.
Putting hashtags in captions, not in comments.
Client Management
Instagram Client Management: From Leads to Loyalty with an Automated Tool
next guide