Brace yourself, you're about to get all the answers about the prime promotion tool in 2021.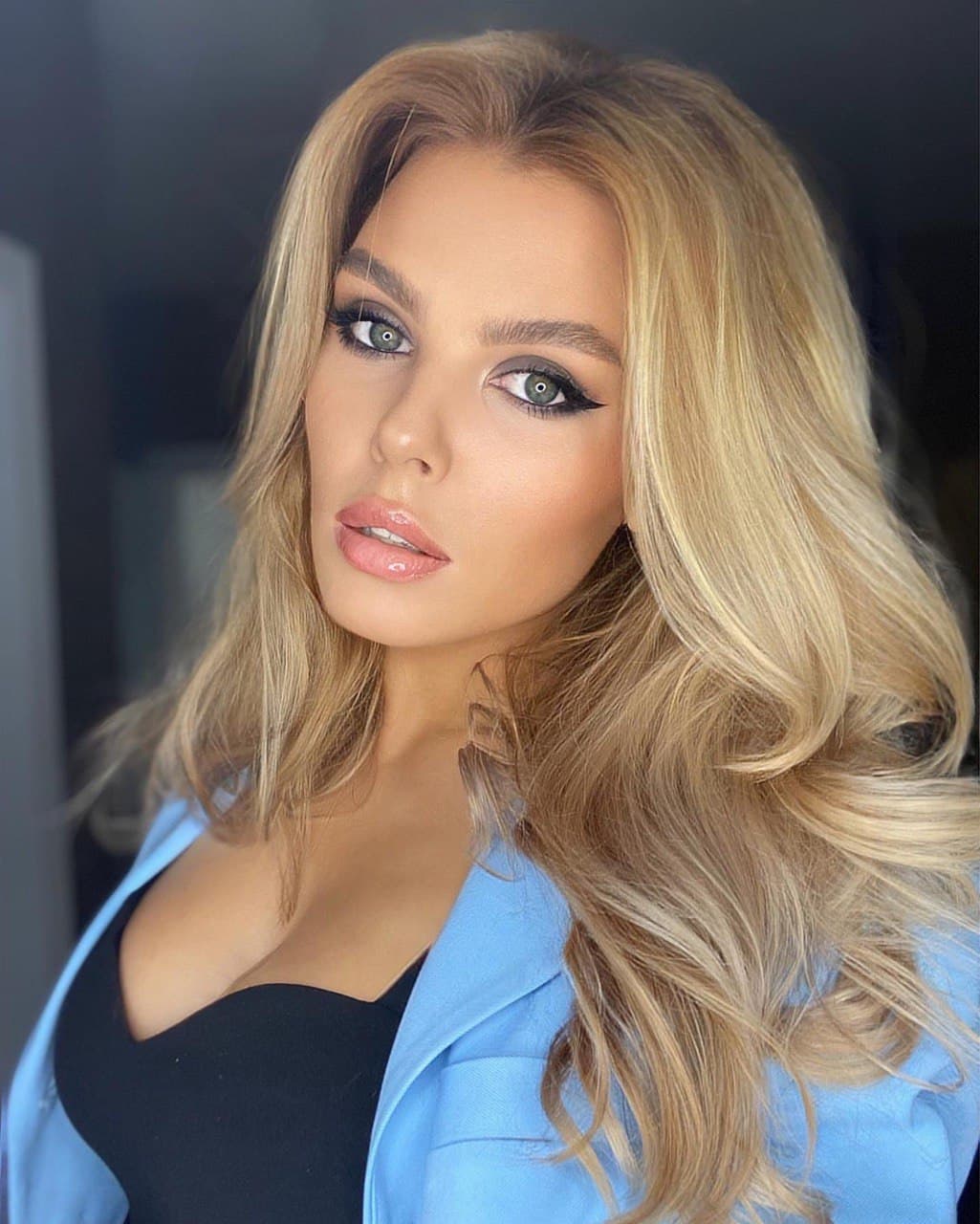 Violet Rich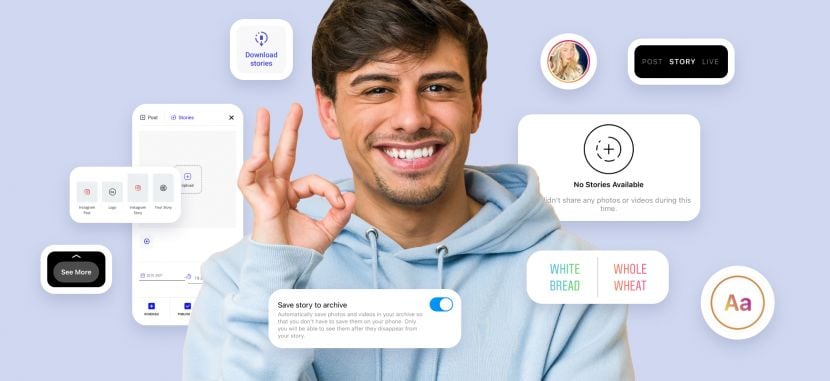 This guide will cover all you need to know to date without wasting your time:
About trends in Stories design and in-app Instagram features.
All hacks and tips about this social media marketing tool.
The basics of Instagram Stories engagement boosting.
Everything about the topic given in a Q&A style.
We promise, you won't find such a trove of handy information about Instagram Stories in one place anywhere else.
Let's get started.
---
Chapter 1: Instagram Stories basics in 2021
In this chapter, you'll get acquainted with basic questions about this social media tool. Everything that you've been embarrassed to ask. Here you can just find all the definitions and brief answers, which are on the top of your mind.
What are Instagram Stories?
Instagram describes it as a feature that lets you "share all the moments of your day, not just the ones you want to keep on your profile." Here you can post something like a video, image, or animation outside of your profile grid in a maximum 15-second format. And all these will disappear after 24 hours. Seriously.

Here's a quick rundown of 16 practical questions about Instagram Stories:
How do I add Stories?
Just swipe right from anywhere in the feed. Tap the button in the center of the display to take a photo, hold it to make a video, swipe left and right to use AR-mask, add GIFs, polls, hashtags, stickers, or swipe-ups. This instrument is much more engaging than posts, haven't you noticed this?
Why do you need to create Stories?
According to TechCrunch, Stories have 500 million viewers every day. So not using stories for your business is wasting your time on IG. Here are some numbers that will inspire you to begin your stories story right now:
Total Number of Daily Active Instagram Users: 500 million.
Instagram Stories Daily Active Users: 700 million.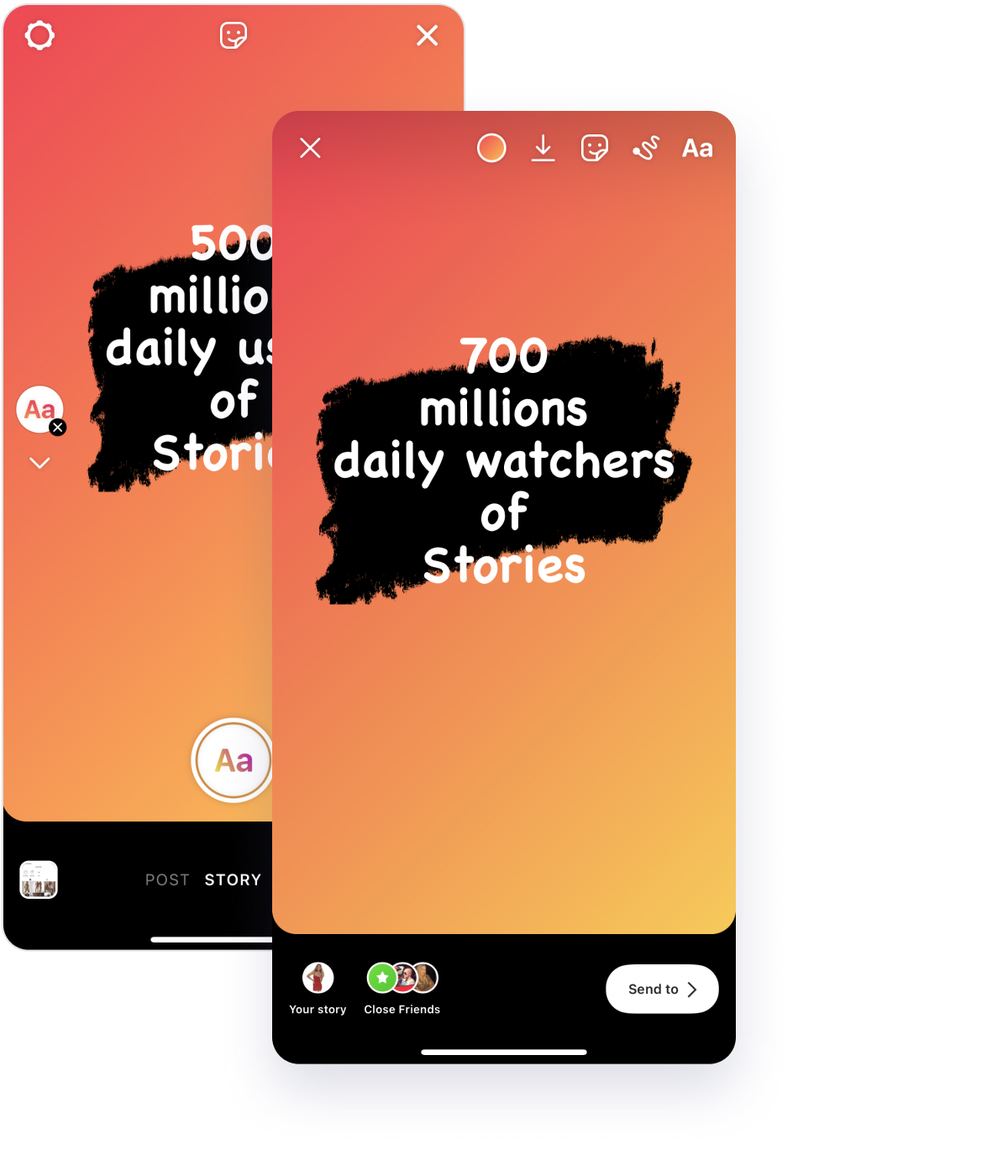 20% of people swipe up on a link in branded stories. An estimated 75.3% of US businesses are on Instagram in 2021. One-third of the most-viewed Instagram Stories are from businesses. 70% of shopping enthusiasts turn to Instagram for product discovery.
How can I tell who's seen my Story?
Swipe up on the screen when your Story is open. Here are the number and the usernames of profiles that viewed it.
A little secret for you: use Story viewer to watch Instagram stories anonymously, and download them automatically, without missing anything.
What if it's been over 24 hours since I posted my Story?
The list of viewers is available up to 48 hours after you post a Story.
How many Stories do I need to post daily?
From one to infinity. It depends on your industry and audience.
How can I download Stories on iPhone?
One way is to set it up in Instagram's settings. Do you see the three horizontal lines in the upper right corner of your profile? Tap them. SettingsPrivacyStory. Switch on Save to Camera Roll. Now every Story will be saved to your iPhone.

You can also save a particular Story: tap three dots in the right lower corner of it, and Save Story or Save Video to download any Story from the last 24 hours.
How do I download somebody else's Instagram Stories?
This is perfectly legal - you can record any story by taking a screenshot video, without permission. But this is just so inconvenient and absolutely not productive! So it's much more comfortable to use a tool to save stories. The only thing you need to do is add a public account from which you want to save Instagram stories, and you can save as many stories as you wish. No limit on saving.

Can people see when you screenshot Instagram Stories?
Nope.
Why are my Instagram Stories blurry?
This can be due to a number of reasons, including your phone's storage settings, poor internet connection, or the app automatically reducing image quality for file compression.
How do I repost stories on Instagram?
Do you ever find a story that will look great in your content plan at a future date? Or maybe to keep your followers engaged and build trust by telling a story of an actual person and posting user-generated content.
If I've tagged you in a story - you can repost it in about two seconds.
If not - only screenshotting the story or making a screen video of it will help you. Other methods work poorly.
Instagram Stories or Snapchat?
Both.
But if you're looking for a single answer about which is better to promote your brand, it's probably through Instagram Stories. Over 500 million people use Instagram Stories daily, Which exceeds the 200 million who use Snapchat every day.
Enough questions for now! Let's just look at:
Instagram Stories in numbers.
Here I have gathered some stats from original research on the web in 2019 — numbers analyzing over 30,000 stories of over 400 users.
Key findings:
One to seven Stories is the optimal posting length.
Better to post almost every day with single days off.
The best time to post to Instagram Stories is outside of work hours.
More content leads to greater reach and impressions.
How many Story-days a month is an average for different niches?

It is better to focus on the key information in the first story. Or make your users play the game called "wait till the end."

Instagram Stories vs. posts engagement

The average Instagram post engagement rate is 4.7%
The average for Instagram Stories is around 7.2%

But don't forget that engagement does not always mean a sale. This parameter is valuable for long-lasting communication with the buyer. And more than half of active users need to see information a minimum of three times before deciding to make contact.
What is the maximum resolution for an Instagram Story?
It just covers all the display sizes of modern smartphones. Instagram Story image dimensions are always 1080 x 1920 pixels.
What are the dimensions of Instagram Stories videos?
Try to film your videos vertically, with an aspect ratio of 9:16.
How long can a video be for an Instagram Story?
15 seconds.
The length of Instagram Story videos is fixed, but it won't talk you out of making a longer video! You'll just have to cut it into short clips.
How can I view Instagram Stories anonymously?
Watch them anonymously with Instagram Story Viewer for free. You don't need to install any app.
Chapter 2: Tools and Hacks to Create Eye-Catching Stories
In this chapter, we will concentrate on practical questions concerning Stories creation. Let's analyze what design is trendy today, and what style of presentation is better to choose in 2021. What psychological tricks are used in the story strategy of big brands, and which of them are more likely to be adopted.
Trends and designs of Instagram Stories in 2021
How can you make your Instagram Stories trendy and stylish? How do you make Stories in a way that will catch the eye of possible followers or customers? This is just vital knowledge for those who are keen to make money or gain popularity through Instagram.

Let's boost engagement in 5 steps.
# 1 THINK OUTSIDE THE APP
Creating Stories with in-app Instagram tools is ok, but this is not enough for 2021.
Thanks to Instagram Stories app templates, all you need to do is upload an image and text. Graphic designers have made templates for you already. So let's showcase your brand in minutes, using only your phone!
5 Stories apps to use in 2021:
I took an example of a story about an iPhone golden case and made the same Story in different apps to be more illustrative.
This is a very creative and old app, which dates back to a popular presentation platform. Choose a template, add color, flair, and personality. No need for graphic designers anymore!
Tips:
Add your logo.
Add brand colors.
Keep the same layout.
Price:
Free to download + free features
Premium $10.99 / month

This French-made app is minimalist and stylish. One hundred animated templates are fully editable. You'll love this app for its simplicity and clear layouts.
Tips:
Add your logo.
Add brand colors.
Add your fonts.
Price:
Free to download + free features
Premium $9.99 / month

This app seems to be very similar to the previous one. But it has its own advantages. Firstly, it is loved by Selena Gomez and the White House social-media team. Secondly, it is minimalist, but offers really award-winning creative templates like ripped paper, natural textures, etc.
Tips:
Add unique stickers.
Add your fonts.
Add music.
Price:
Free to download + free features
Premium $2.99 / month
In this app, you can modify the templates right away, and there are numerous themes to choose from. The Luxstory app templates are constantly updated, so you'll definitely find what inspires you.
Tip:
Use the stellar camera effects.
Price:
Free to download + free features
Premium $1.99 / week

This is the most powerful app to create a central resource for all your brand assets, so you remain consistent in your message – no matter who's designing.
Tips:
Add your colors.
Add your logo.
Collaborate with coworkers within the app.
Price:
Free to download + free features
Premium $2.99 / month
#2 STAY BRANDED
Choose your brand fonts that look great together.
Stick to 3-5 colors to use in Stories backgrounds, fonts, and graphics. Sticking to specific colors in your Instagram Stories is a key to building brand memorability.
Find your ideal templates and use them most of the time, adding something new a few times a week.
Tips:
Pair handwritten fonts with bold angular fonts.
Pair san-serif fonts with serif fonts.
Pair chunky sans-serif fonts with light serif fonts.
#3 BE TRENDY WITH AR MASKS
Augmented reality is not new. Now it is a part of the reality of each Instagram user.
AR effects can be made by brands and casual users. You can make your own AR masks where an object can be not only a face, but the product as well.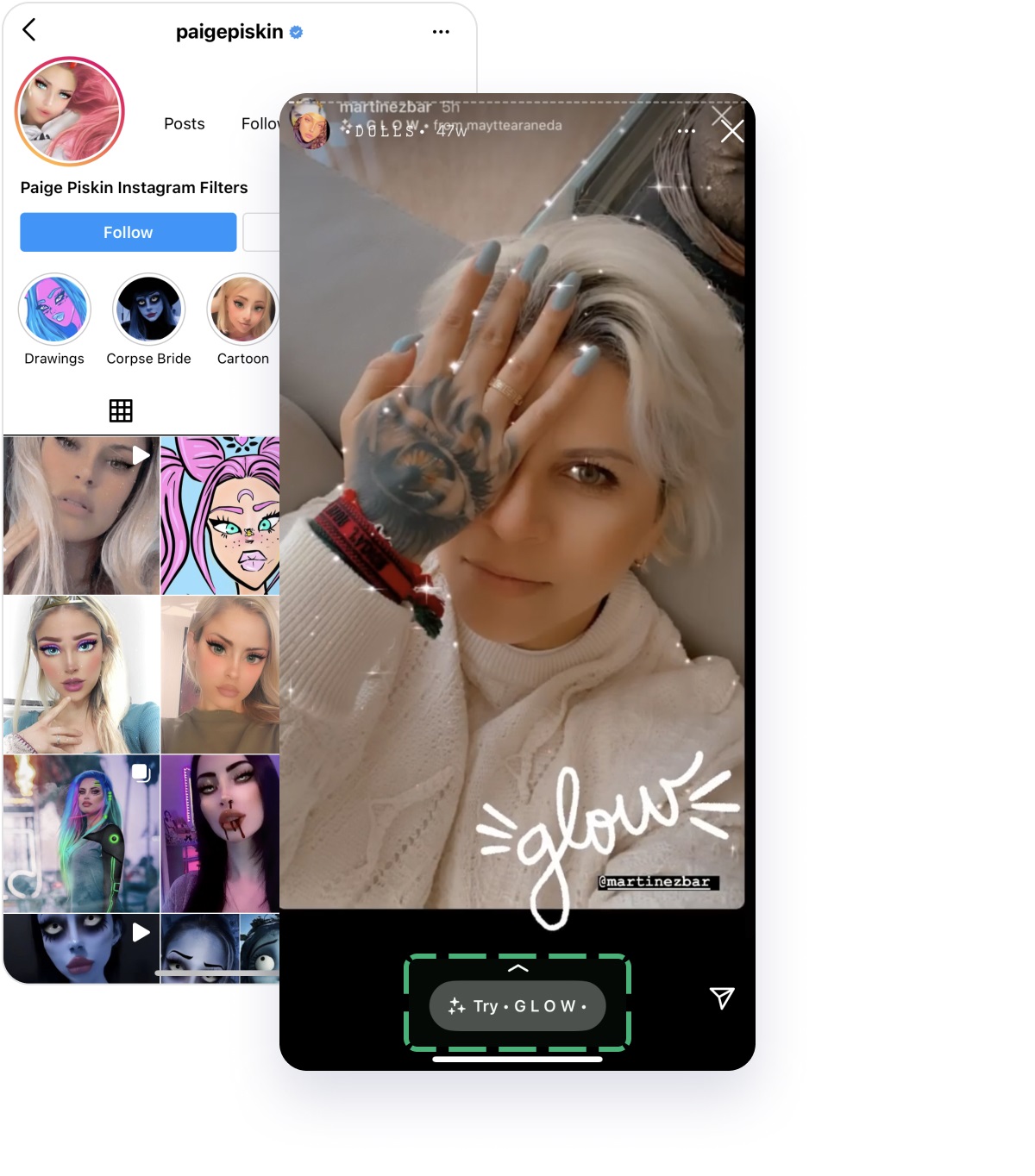 This is still hot and trendy, although the feature was added more than a year ago. Check it yourself: open random Instagram page stories. How many of them contain no effect at all? I'll bet almost all Stories in 2021 are made with AR masks.
How to use the trend
First, get your AR mask. How can you do it?
Create your own if you have design skills.
Just master an AR mask tutorial, find an amazing idea, and make your page viral with an amazing AR mask. This way is free of charge.
Take a course on AR design.
All masks are created in the Spark AR studio. This program is rather simple yet deep and full of possibilities. It's better to take a course to master it. You can find tons of tutorials on YouTube, or you can even buy a course from an AR creator. The costs are from $50 for a course.
Order from an AR-designer.
In case you're not tech-savvy at design, or you just don't have enough time to study, then ask a professional to help you out. Popular AR-masks designers are ready to create a mask for your needs: for example, Allan Berger, or Johanna Jaskowska. You can also find and buy AR masks from a service like Every Woah. Or even order from designers on Fiver. The simplest mask will cost from $15.
As a brand, you can create your product-related AR effect, which allows you to try it out or interact with it. As an influencer, you can create a mask that will impart your aesthetics or lifestyle.
Communication through Stories
Design is important, but there is always something more. Communication. How do Instagram Stories work as a brand or personal representation? This is a good question. Firstly, we need to know what exactly Instagram Stories means to those who're looking at them.
Here we have some trends and types of successful communication through stories:
1. Closed book stories
This is something enigmatic for the follower. Something that he wants to read/open now, and can't wait anymore. This is a slight psychological game, which works great only if the result is satisfying for the person who plays. Only in that way, it will bring a positive vibe and overall respect to your profile.

2. Ultra-usable content story
This Instagram Story strategy offers a viewer the chance to get into the topic and receive some tips about it, without any cost. This tool is absolutely stunning for this goal as its all-display format allows you to show more than a normal post. Moreover, the viewer of Stories can tap to slow down and read about each tip one by one. This is much more comfortable than reading through a long caption.

3. Selling Story
There are lots of big brands that are using Stories as a serious tool for selling. Look at the strict way the Yeezy brand selects their Stories. Only the best feedback reposts and straight and clear presentation of every mode.
This way is great for those viewers who are just tired of endless communication through Stories.
4. Real-time dive in a Story
This strategy is closer to a blogger profile than brands. But it can be used anywhere. The idea is to let your viewer live your life today. Show a bit more and keep them interested with the help of details and high-quality photos. Show your aesthetic without any words or filters.
5. The Story as an intriguing preview
This technique just uses a Story as a place for the presentation of something much bigger than 15 seconds of media.
We can see a good example of such a lead-up in the Fender profile.
Creating aesthetic Instagram Stories brings a style to your profile and amazing engagement. Instagram Stories design is totally up to you as far as using the in-app features. Here some rules for this:
Use a high-quality background image to tell a Story.
Always put captions duplicating your spoken message on video Stories.
Decorate with minimal graphics and stickers.
6. Music in Instagram Stories
Music is always a great idea. You can add a soundtrack to your story that fits any moment and helps you express how you're feeling.
When you tap to add a sticker to a photo or video in Stories, you'll now see a music icon. Tap on it to open a library of thousands of songs. You can also choose a song before capturing a video. Instagram renews the library with new songs every day.
Chapter 3: How to promote through Instagram Stories
We center this part of the Instagram Stories guide on the major points of promotion through this tool. We're answering top questions on this topic and showing best practices. Look at some possibilities that you definitely should try out on your profile immediately. The Stories feature needs more than just tapping through in 2021. How do you make engaging Stories? Seven hacks about Story engagement-boosting features that are easy to try right now.
#1 PUT A LINK IN STORIES
You can put only one link in bio, but you can put hundreds of links to your products and services in your Stories. Every day. As many as you need. Look how Sephora does this:

This feature is available to accounts with 10,000+ followers or verified accounts. Nothing can stop you reaching these numbers and status on your profile. Just post a cohesive feed and stories and invite the right people to your world.
This Instagram bot service will carefully follow and unfollow accounts, like posts and watch Stories on your behalf, all automatically. Just choose the target group that you'd like to be a part of your possible audience.
#2 USE IN-APP TOOLS
Start conversations with Instagram Stories stickers, polls, questions, and all in-app features. It gives you an opportunity to get into deep communication with your followers. Ask for help, ideas, grades. And of course, tell a story about the product you offer. Look how 9gag professionally use Stories - they've created their own traditions, like Trivia Monday, which are very popular among their followers.
Don't forget to use these tools analytically - and sum up your results weekly. Try to get information from Stories polls and questions about options for your product. Find your perfect time for communicating through Stories. And of course, discover lots of topics for future posts.
#3 ADD LOCATIONS
What can be easier than just tapping on the automatically offered location tag? Add a transparent geo sticker to every one of your stories to get 15-200% more views and engagement.
#4 REPOST STORIES
Reposting user-generated content is easy and very engaging. Just tap the send icon (that looks like a paper airplane) under the post and select "Add post to your story." ASOS made a pleasant section using this feature:
#5 GET SCREENSHOTTED OR SHARED
It is sometimes hard, but so productive, to create "savable" content for your feed. Encourage people to share your Instagram Stories with amazing, useful, and unique information. Share data your audience will definitely love.
Unique recipes
Your top places to visit in a city
Usable shopping lists, etc.
Here is a direct example of this technique by howtofoodprep:

#6 CREATE A CONTENT CALENDAR
Spontaneous posts are great, but inspiration can't be on your mind constantly. Any successful marketing story is based on discipline. Create a content calendar and post Stories on a regular basis with a special scheduling tool.
For this, you need to identify your key themes, choose a style of communication, make a plan of types of publications. Every day you should be ready to post, and that is why it is essential to create content beforehand.

Basics of Stories marketing and Instagram Stories ads
Don't forget that you have only 15 seconds to catch attention. This is a really sharp battle. Do you still question why Instagram stories are important? And are you wondering if Instagram stories work?
Don't miss an opportunity to sell and promote in IG through a professional ads strategy - read this Instagram Ads ultimate guide.
Instagram stories are better than posts, if you know how to use them properly.
After paying for almost the same video, showing on Story ads and post ads we've found that Stories promotion is much cheaper, gives your content more impressions and still works well.

The total spend for stories was $824, which generated 2,045 unique link clicks, with a cost-per-click (CPC) of $0.40.
The total spend for posts was $860, which achieved 1,622 unique link clicks, with a CPC of $0.53.
Draw your own conclusions.
How to Use Instagram Stories to drive more engagement
The best way to get inside your content's success is by using Instagram Insights. The statistical data provided by the platform will ease your work and help you make decisions. To see all info, tap on a Story, then swipe up the Story you are viewing.
Analyze your Story's data on a regular basis. Ensure that you're continually improving:
Pay attention to useful information such as:
Impressions – The total number of views of your story.
Reach – The number of unique accounts that have seen your story.
Impressions and reach are different metrics
A single person can view your Story multiple times: if they view it 5 times, you will get 5 more impressions. Reach is about the number of unique accounts that viewed your Story.
Taps forward – The number of times someone taps to skip to the next piece of your Story, or back to a previous piece.
Replies – The number of times people send messages through the Send Message option on your Story.
Swipe away – The number of times someone swipes to skip to the next account's Story.
Exits – The number of times someone leaves the Stories viewer to return to their feed.
Next Story – The number of taps to the next account's Story.
Interactions - Website clicks or Profile visits.
To view Instagram Stories insights for all your previous Stories go to your profile, tap the three horizontal lines icon, then tap the Insights menu.
Research
The ultimate way to gather all the best practices of Instagram Stories usage is to look closely at successful accounts. Get inspired by your competitors content and new projects with Stories Saver. Create and launch promotional campaigns. Stay ahead of the curve and set your trends.
How can I download Instagram Stories?
Use a tool for this.
Instagram Stories downloader helps you to save other people's Instagram Stories. This is so simple and gives you a wide field of content to analyze and get inspired by.
DM with Stories
We have a guide for Instagram DM. Read it through to master this amazing promotional tool.
What is an Instagram DM (Direct Messaging) group and how does it work?
This is a group of Instagram users, normally about 10-15 people, and they all team up to engage with each other's content. If you join DM groups and can drive massive traffic to your Story right after posting it, that will be graded as good traffic by the Instagram algorithm. Your Story may appear in the Instagram Explore feed.

As long as the engagement stays high, Instagram will know by their data that your post is good, and they will leave it there for an extended amount of time. The longer your post is on the Explore page the more viral you will be.
How to join a DM group?
PAY FOR IT
Just ask somebody whose account you admire: "Hi, I love your account and I'm impressed. I wanted to know if you have any DM groups open for sale. I would really like to get in one with you."
EVEN EXCHANGE
Same as above, but you offer your group instead of money.
FORM YOUR OWN
The third way is to simply just form your own. It's not as fast as the two previous ways. Offer to other Instagrammers: "I'm going to start up a DM group with more accounts like yours. Would you like to join?"
Remember, you are allowed to send 10 to 15 messages per hour per account with at least a 1-minute break between each message. Make every single message different.
These days Instagram Stories have become an amazingly important part of a social media marketing strategy. I hope this guide was useful and gave you a new perspective on this tool.
Now go use Stories to the fullest!
Client Management
Instagram Client Management: From Leads to Loyalty with an Automated Tool
next guide