Discover valuable hacks for pitching brands, selling your goods, and other methods to make money of your content.

Margarita Terzi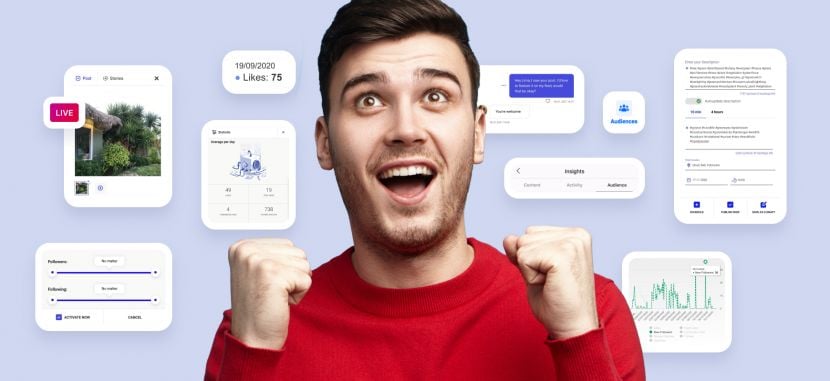 Chapter 1: Monetize on Instagram: strategies for micro and macro-influencers
How much should you charge per post, per Story, per video? What are the industry standards?
When it comes to pricing, a lot of people stress and don't know their value. Even if you don't focus on brand deals but prefer to sell your products on Instagram, brands may reach you and offer cooperation, so you've got to realize your worth.
In this chapter, I will provide you with examples of how influencers calculate their rates. You will learn the working formula and automated tools to calculate your real worth.
1. Best monetization methods on Instagram

You don't have to become a big influencer with a million YouTube views and 150K followers on Instagram to make money. The key takeaway is that shoutouts are the most insignificant way to monetize your Instagram.
I'll tell you at least 16 working methods to make real money from a good niche account.
Note: By the time you are reading this paragraph, you should already be providing valuable content in a distinct segment and have organic followers.
#1 – AFFILIATE MARKETING
Let's say you win over followers in your niche. But you have nothing to sell to them – you don't sell personal workouts, books, painting, or courses. All you need is to join an affiliate program in your niche and start earning commissions – capitalize on someone else's goods and services.
What is crucial – you don't need a crazy count of followers to make money. If you manage to sell a product to 100 people with a $20 commission, your passive income will be $2K even if you have only 1K followers in total. That's why gathering eyeballs in a specific niche was so important in the first stage.
Trusted affiliate platforms to join:
Sellfy
Amazon Associates
Clickbank
Rakuten
CJ Affiliate
Pepperjam
AWIN
You can earn cash per clicks or actual sales – the monetization models are up to you.
#2 - SELLING ACCOUNTS
You can grow accounts in a certain niche and sell them to companies. Not everyone has time, skills, and patience for social marketing from scratch so that brands buy ready-made accounts in their niche.
This monetization way proves that investing your time in growing an Instagram profile equates to building a business – you can sell it any time.
Here are platforms to check:
Social Tradia
Fame Swap
Viral Instas
#4 CONNECT WITH BRANDS
Finally, you can partner with brands when you get your loyal audience around. Just enter any influencer marketing platform, and brands will reach you with offers. There are gigs for any type of influencers – from micro-bloggers to mega influencers, so don't hesitate to join.
Influencer marketing platforms
AspireIQ
Upfluence
NeoReach
Lumanu
#paid
Famebit
Shoutcart
Keep on reading this guide to learn how to negotiate with brands.
#5 – SELLING YOUR SERVICES
Many influencers start Instagram promotions with a hot idea of what they want to sell to their followers. If you don't have a precise plan yet, grab some of the top goods for 2021.

Keep in mind, this product or service should correlate to your audience and solve their problem. These goods are on the cusp now:
Do you enjoy writing, and the Instagram caption limit is never enough? Maybe you can write a book for your audience and sell it through your profile. Writing is an excellent monetization option since you can sell it on Amazon Kindle – there is no need to find a publisher.

You don't need to be a fashion designer to sell funny T-shirts on your Instagram. A merch campaign is an excellent way to express your creativity and get extra coins. You can start an online shop or market them directly from your Instagram page. Don't forget to design logos, fonts, and memes on T-shirts correlated with your audience.
Remember that a good story behind each T-shirt will gather more attention and purchases.
People are sick of fast-fashion and standardized looks. Instagram is a place where fashion and art admirers love to discover new brands and collections. Great idea for 2021 – repurpose clothes by creating your own design on them. You can paint on denim or make custom prints and make real money from your page. Instagram shouldn't be the only place where you sell – distribute items on Etsy, and through a personal e-commerce platform.
Second-hand clothes are getting extremely popular on Instagram and will be even more in demand in 2021. You can unload your closet or find pre-worn vintage online and resell it. Sometimes vintage needs a bit refurbishing, and then people become more open to buying it. If you have a passion for fashion, really consider vintage as your niche.
Guides, courses, online coaching
People love it when they spend time on Instagram learning something new. If you are an expert in a particular niche, record your course, develop a landing page, and sell this knowledge to your fans. Makeup artists, fitness trainers, nutritionists, yoga instructors successfully sell their programs. And people love to buy courses from Instagram because they can see reviews, real testimonials, before/after content, and so on.
If you generate working content, you can offer these services to other Instagram users. If you are a fashion influencer, you can contribute and elaborate content strategies for brands in your niche. Companies will be more than willing to cooperate with your cause - they see that your content performs well on your own account.
2. Sales funnel for Instagram influencers
Okay, I'm trying to sell on Instagram. But nobody is buying my stuff.
Probably you don't know or don't use the sales funnel.

3 levels of the influencer's sales funnel:
Know – On the first level of the funnel, you get the audience to know who you are. In this step, there should be no risk for them. Your free tips and posts on Instagram are a part of this level. People test drive you to understand whether they trust you or not. The posts and all the free stuff you offer to your followers work like samples in Sephora.
Like – On this level, you build trust with your followers. It can be advanced content you offer in private groups that people should follow. The aim of this step is to make people like you enough that they will be ready to invest in your product.
Trust – On this level, your follower turns into a hot lead ready to buy what you offer.
PRACTICAL EXERCISE # 1 – PLAN YOUR SALES FUNNEL
Look at the following examples. Create your sales funnel in your niche.

3. How to get paid brand deals
Checklist before you partner with brands:
#1 – ACTIVE COMMUNITY
First of all, you need a loyal community that sticks around for your free content. It takes time, but sooner or later you will be ready to collaborate with big brands. Focus your energy on building a real audience to guarantee companies' ROI.
Note: Don't buy followers, brands will immediately recognize it and will never cooperate with you. Your audience doesn't have to be big, but it has to be real.Smaller and middle influencers are more favorable among brands because big influencers have lower engagement rates.
#2 – NICHE
Brands want to work with you if you guarantee your audience is their perfect customer. Brands look for specific demographics that should be represented among your followers.
For example, a beauty influencer making content about makeup, style, and health, having 10K followers, will have a lot more trouble pitching to companies. If you instead choose to niche down and create tutorials for women who suffer from acne, you will be very attractive to the companies who sell to this type of audience. 100% of your audience is a perfect fit.
#3 – DATA
To start pitching to brands, you need to provide demographics data on your audience. Companies are not going to pay you just because you like their product. They want to be sure your audience loves this product too. What kind of data do they need?
Demographics: Age, gender, interests, lifestyle, location.
Rates based on your affiliate programs: Conversion rates, CTR. Monitoring affiliate stats guarantees that people actually buy from you and trust your account.
Other platforms: Email list, YouTube, Facebook group, a community in messengers, and a blog will increase your rate. Even if your follower count is smaller on Instagram, you can charge more if you can perform cross-channel campaigns.
Impressions: Just because you have followers doesn't mean you have influence. There are many fake accounts on the web. Impressions show better how far your content goes – not all people may follow you, but they actually see your content.
Note: You should explain clearly to brands why they will benefit from paying you. Showing data is an effective way to demonstrate your value as an influencer and jack up your prices.
It's convenient to store and represent this data in one file, right? That's why you need to create a media kit or an influencer CV. Keep on reading to learn how to do it and get your free template.
4. Influencer media kit: how to create a catchy one

A catchy media kit, along with your email or a DM, is a crucial step in negotiating with brands. It should represent not only your social growth but your style and value.
Bio. Your Bio in your media kit serves the same functions as the Instagram bio – you should highlight the niche and value you work for. What problems do you help to solve?
Social statistics. Here you point out your social media metrics – followers, likes, engagement rate, CTR, impressions. Include all the platforms you influence and gather your tribe.
Demographics. In this section, you describe your audience. As we figured out before, presenting your audience demographics is a must. These numbers give a brand a precise portrait of your audience and whether they can become clients.
Other platforms. Present your blog and KPI with SEO metrics.
Testimonials. If you've partnered with brands before, include your experience with your media kit. Even if those brands were local, real reviews are better than zero.
PRACTICAL EXERCISE #2 – PREPARE YOUR INFLUENCER MEDIA KIT
#1 COLLECT YOUR SOCIAL DATA
Platforms to gather data on your account:
1) Inflact Profile Analyzer – shows engagement rate, user activity, and top posts you can include in your media kit.
2) SocialBlade – measures your social metrics.
3) Social Bluebook – a web service that allows you to calculate your rates and create a media kit.
#2 COLLECT YOUR AUDIENCE DEMOS
Go to online platforms or Instagram.
Collect the demographic data – age, location, gender.
Store these numbers in a spreadsheet and update as your followers grow.
#3 BUILD YOUR MEDIA KIT
You can use Social Bluebook to create your media kit online. Alternatively, download free templates from our design team and fill in your data.
PRACTICAL EXERCISE #3 – RESEARCH BRANDS
Before applying for paid offers, do research on brands you want to cooperate with – just as you prepare for a job interview.
Try to determine what social media this brand focuses on to highlight the values you can provide in your pitch. Here is a questionnaire to help you:
What social platforms does this brand partner on?
Does this brand practice influencer marketing?
Who is their potential customer?
What products/services would you like to promote? Why?
Find contacts – email, social media account of a responsible person. Don't write to a general company email.
Explore this brand's press kit to understand their tone of voice and get inspired.
This research will help you to position yourself and tie back to a brand you want to cooperate with. Further, I'll show pitch examples and templates that will help you land a job.
5. Establish your post rates: formulas & tools
Charge per followers rate $100 X 10K followers = post cost
Examples:
Mid-tier influencers. Christina Galbato is a luxury travel blogger who charges $100 per 10K followers – many influencers adhere to this proportion. Thus, she rates approximately $2.3K per post as she has 230K followers. She also charges $700 for her stories.
Micro-influencers. Micro-influencers also price their work based on their follower numbers. Thus, a fitness and nutrition influencer with an audience of 30K charges $325 per post. At the same time, she offers discounts for packages of 3 posts – $825 in total.
This method is pretty simple, but not perfect. It doesn't count your engagement rate.
Rates based on CPM and CPE
Let's get familiar with some advanced advertising terms influencers and brands use to calculate the rates.
CPM – cost per 1K impressions is a marketing term referring to the cost of reaching 1K customers with a campaign. CPM shows the price of views, and it varies on different platforms. For example, Instagram CPM is $4-8, while on YouTube, it is $7-10.
Note: Brands use this KPI to estimate and increase exposure.
Instagram CPM x number of followers / 1000
CPE is the cost per engagement, and this metric is more sales-driven. It indicates the likeliness your followers will buy a product that you present. Thus, smaller influencers have better CPE thanks to the higher engagement, and brands are more willing to cooperate with them. This means they will get higher ROI.
| | | | |
| --- | --- | --- | --- |
| Category | Avg CPE (US$) | Avg CPE (GBP£) | Avg CPE (AU$) |
| Animals | 0,37$ | 0,28£ | 0,51$ |
| Beauty & Personal Care | 0,41$ | 0,31£ | 0,57$ |
| Entertainment & Events | 0,43$ | 0,32£ | 0,59$ |
| Fashion | 0,37$ | 0,28£ | 0,50$ |
| Food & Drink | 0,41$ | 0,31£ | 0,57$ |
| Health, Fitness & Sport | 0,36$ | 0,27£ | 0,49$ |
| Home & Garden | 0,39$ | 0,30£ | 0,54$ |
| Photography, Art & Design | 0,37$ | 0,27£ | 0,49$ |
| Social Enterprise & Not-For-Profit | 0,28$ | 0,21£ | 0,38$ |
| Social Media, Web & Tech | 0,33$ | 0,25£ | 0,45$ |
| Travel & Destinations | 0,37$ | 0,28£ | 0,51$ |
PRACTICAL EXERCISE #4 – CALCULATE YOUR RATE BASED ON ENGAGEMENT
Don't get stressed that you need to go back to school to calculate the percentage. I'll show you the automated service that estimates your value for you.
But if you want to deeply understand the industry, use this formula.
Paste the CPE for your niche from the table above.
CPE * Engagement rate* Followers number = post cost
Download this glossary to understand the advertising terminology you might need when negotiating with brands.
Note: You can use CPM and CPE to evaluate your fees. Also, you may charge more from brands with higher profits and less from startups.
Always estimate your time and efforts for producing posts.
Social Bluebook rates
If counting is not your cup of tea, you can register on Social Bluebook. This platform calculates your rate based on the industry, competitors, and your ER. It also takes into account your other social channels apart from Instagram. You can adjust the type of upload you perform for a company – a shout out, direct link, feed promotion, etc.
Chapter 2: Negotiating with brands
1. How to pitch sponsors like a pro

To plan your pitch email right, use the AIDA strategy.
Tip: Remember, you should contact an account manager, PR manager, or marketing manager of the desired company. Feel free to use LinkedIn to get their contacts.
2. Pitch outline based on AIDA strategy
Attention
Catchy email topic. A precise and memorable subject line or a headline should present your offer before a reader opens it.
Interest
Reasons to cooperate. Go to the point and write why YOUR audience is a perfect fit for this brand. Prove that you and your followers already need this product, and for this reason, you want to make a partnership.
Example:
Hello, (brand name). My followers send me 10 DMs a day about what skincare products I use. I'm a big fan of your toner and face cream, and I'd love to create content around it. Can I have an email of a person who work with influencers?
Social statistics. Write about your performance, followers, likes, and engagement, but briefly. The major data will be attached in your media kit.
Demos. Words mean nothing without metrics. Prove your audience is a perfect fit for a campaign by showing demographics related to a brand's ideal customer.
Desire
Advantages. Continue pitching with the exclusive benefits a brand gets when working with you. You need to showcase your advantages over other influencers that might be pitching for this cooperation. You can highlight your skills, expertise, and growth on other social platforms.
Pro tip: Include ROI discussion in your pitch. When you guarantee a report of your work and metrics that will help to estimate the effect – you show you care about this brand's revenue.
Hack: Mention a brand's founder, CEO, or creative director by name. Showcase that you are familiar with the company and researched it before pitching them.
Testimonials. If you've partnered with brands before or performed lucrative affiliate campaigns, attach screens with data and reviews.
Action
Contacts. Leave the actual contact details and links to your social accounts.
Media kit and CTA. It can be one sentence wrapping up – "would love to hear from you soon," "would love to partner with you." Stimulate a reader to look at your media kit attached. This file is a must so that a responsible person could print it and present it to colleagues.
Can you negotiate with brands in Instagram DMs?
I would not recommend doing this. Use a brand's Instagram to get the email of a person who handles influencer relationships. The reason is an Instagram account of a company is always managed by a person who is not responsible for negotiations with influencers.
Hack: Use LinkedIn to find the contact details of a PR or account manager of this company.
PRACTICAL EXERCISES #5 – CREATE YOUR PITCH EMAIL
Using the hacks above and pitch templates, create your first pitch. Send pitches to many companies to increase your chances.
3. Signing an influencer contract: all you need to know
Before signing a contract:
I'm happy your negotiation resulted in a partnership offer. Before you sign any documents, though, confirm that both sides have the same expectations. In your final letter, clarify the following questions:
the scope of work you are to do
content schedule
your rates
payment terms and conditions
Working under contract assures you are protected in all aspects.
If a brand approves your cooperation, they will send you a contract you need to sign. Make sure you keep the countersigned copy in your documents. Influencer marketing is a business, after all.
Contract benchmarks you need to know:
Agreement terms showcase the general subject of a contract between you and a company. In this part, you will find a quick summary and the basics – parties' contact details, dates, etc.
Roadmap of your agreement. This section will indicate the time period you are going to partner with a brand. Are you going to become a long-term brand ambassador or post several times? A contract should clarify the timelines.
Deliverables. Sometimes this section also includes a schedule if an influencer needs to adhere to a specific timeline. It should cite what the influencer's services include and fines for violation.
Cancellation conditions. his part will include the clauses about when, why and how parties can terminate this contract. Poor execution, breaking guidelines, and other conditions should be explicitly mentioned.
Collateral details. Will a brand provide an influencer with content and materials? Sometimes companies mention particular phrases that should be present in a caption.
Confidentiality and exclusivity. Companies struggle to protect the confidential data they share during campaigns with influencers. Also, it might be forbidden to work for brand competitors for a certain period of time.
Content ownership. A contract should indicate the rules of re-use of the content produced during the campaign. Can you use these posts for your future advertising? Can a brand reuse the media for marketing? Negotiate the details.
Compensation. The payment always varies from free products and services to fixed rates or payouts based on the ROI. All the conditions and bonuses should be present in a contract.
Federal Trade Commission laws. A contract should determine how an influencer complies with FTC guidelines. A post should include a disclosure that this content is sponsored, that's why many influencers add hashtags to disclose. Bloggers are sometimes unwilling to reveal that they got paid deals, so this point should be discussed and determined in a contract.
Payment conditions. All details considering payouts should be clearly highlighted in a contract – payment methods, invoices, payment schedule, etc.
Reports. Some companies require that an influencer provide a report when a campaign is over. They may ask you for screenshots of your dashboard, specific metrics, and other data. This data should be negotiated and mentioned in a contract.
Anything else. Typical contracts include a conventional Force Majeure clause that could change the agreement conditions. For example, a travel influencer can't post if he is in Bali during an earthquake, and there is no Wifi.
A well-written contract will safeguard your reputation and guarantee you get paid. Download the typical influencer contract to know your rights.
Video Content
Instagram videos: minimum investments and maximum ROI
next guide