"Can I create an engaging video without any experience or costly equipment? Will a video on Instagram help me sell and grow my community?" Yes – read this guide to the end and level up your account with trendy video posts, IGTVs, and Live streams.

Margarita Terzi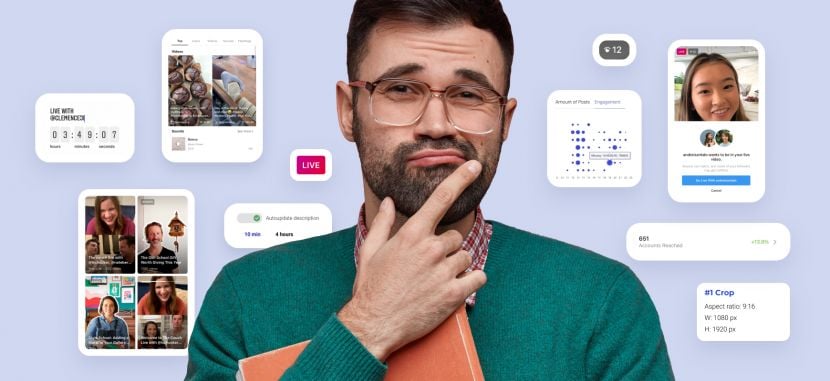 If you have 0 ideas, $0 budget, 0 skills - just your phone and this guide - you can create a fine-tuned IG video that will be appreciated by your community and stimulate sales.
What will you learn:
What to film
TOP Insta video formats in 2021 and when to use them. This knowledge will help you accomplish marketing goals through videos at every stage – from lead generation to upsales.
How to generate ideas for clips – effective brainstorming techniques tied to your goals. This insight will help you to find a balance between creativity, budget, and goals.
How to film with maximum ROI
Practical advice on how to look better on camera will help you to build professional compositions even at home.
Tricks to overcome the fear of going Live.
Post-production on your phone: best editing apps, top effects 2021 + apps you need, and use of copyrighted music in clips. No special skills are needed.
Promotion strategies. The right packaging and promotion of IG videos will help you to get more reach, views, and sales.
Video repurposing – learn how to make the most of IGTVs and Live streams and use this content for your website, blog, podcast, etc.
Chapter 1: What videos should you make to sell and engage on Instagram?
The Instagram algorithm doesn't rank video content higher. People see in their feed the posts and type of content they tend to engage with most.
Insight: Videos occupy 4X more space on the Explore page.

The primary question you might have now is:
"Which type of video will my followers actually watch? Which video will help me sell/gain engagement?"
The answer depends on your marketing goal. If you need to prove your expertise on a certain topic, a live Q&A in Stories works best. If you need to sell, IGTV demos and tutorials are the best formats.
Further, I'll provide content forms that Instagrammers love watching and correlate them with your Instagram marketing objective.
Most engaging Instagram video types in 2021
ONLY formats that bring engagement and money in 2021:
Vlog on Stories

For whom: Influencers, brands, small businesses.
Purpose: Build a personal brand, reveal behind the scenes of your brand, build trust, establish a unique brand voice and personable image that resonates with your target market.
Instagram formats: 15-second Stories, Highlights, IGTV for extended videos.
The biggest trend for 2021 is a short format – no more than 15 seconds. For this reason, taking advantage of Instagram Stories is the winning strategy. Reveal the highlights of your activities without any preparations, but always add captions if you speak so that viewers can get the main point without sound.
Why does this format win?
People love the effect of shaky cameras and not pre-planned content – an effective way to build trust. You don't need any investment to maintain a vlog – only your personal experience and a smartphone. If you are a company owner, you can hire a vlogger who will tell your brand's story on Instagram. Plus, this format is widely used across other social media – Facebook, YouTube, Snapchat so that you can reuse the vlog content.
Note: People can only respond to videos in Stories privately in DMs so that this format is perfect for building intimate and lasting relationships with your audience.
Read this ultimate guide to film Stories like a pro.
Lives
Streaming is estimated to grow to $70.5 billion by 2021.
For whom: Services, learning centers, businesses, event niche, entertainment industry, artists, influencers.
Purpose: Q&As or interviews, live demos of your products, education about your product, live webinars, launching a new product, broadcasting events.
Instagram formats: IG Lives.
Why does this format win?
Streams are becoming popular because viewers have a feeling they may miss something cool if they don't watch to the end. Running lives is an effective way to engage with the audience in real-time.
You can save Lives and repurpose them for Stories, IGTV, your website, and other platforms. Live duets with more popular users will stream their audience to your account. Lives are cost-effective – no expensive equipment needed.
Note: Lives create intimacy within your community. The communications get deep, so that they trust and are ready to buy from you.
4 TOP engaging Lives to produce on Instagram:
Q&A. Hosting an opinion leader in your niche is likely to bring their fans to your account. They will learn about you, your product, and your brand, and become a part of the community. If booking leaders and influencers is costly, you can organize a Q&A with an in-house expert – your CTO, CEO, a member of the designer team. The expertise of your organization will stimulate trust in your products and services. Well-organized live Q&As bring real value to your community to get real engagement, sales, and new followers, and establish brand awareness.
Live tutorials/demos. Polished tutorials may look aesthetic but live how-to's showcase products in real conditions. No-edit live demos bring more views since they are authentic and interactive – you can answer questions in real-time. At-home tutorials work for every niche – makeup, sport & fitness, e-commerce, online learning, etc.
Live contests. Streams with giveaways convert because they have a call-to-action and are spiced up with urgency. Viewers have only up to 60 minutes to play and win the free product, coupons, discounts, etc. Moreover, they can't postpone following the link/registration if it's a part of the live contest. As a result, you get leads in a short time, engagement, and sales.
Live events. As a result of the coronavirus pandemic streaming events will get higher exposure. You can stream meetups, live concerts, exhibitions, or classes to get more engagement, shares, and followers on Instagram.
Educational videos
Example: @dwellmagazine, an interior design magazine, produced an IGTV about home devices that accelerate home sales.
For whom: Businesses; beauty, lifestyle, fitness, and sports influencers; providers of services and non-physical goods; public institutions, etc.
Purpose: Create value for your account, grow followers, grow engagement, sell products/ services, establish brand expertise.
Instagram formats: Lives, IGTV, feed videos.
Why does this format win?
People are no longer on Instagram to admire selfies – the community demands mindful content. You make your audience feel they spent quality time on Instagram by producing educational content. Short courses, explainers, and how-tos tied to your community will spur curiosity and make people share your account with like-minded users.
User-generated content (UGC)/ Testimonials
The dental clinic reuses user-generated reviews of their services. Perfect decision for the niche where people trust word of mouth.
For whom: Manufacturers, online businesses, e-commerce.
Purpose: Stimulate sales, showcase product use cases, prove the quality and build trust, strengthen the community around your brand.
Instagram formats: Lives, IGTV, feed videos.
Why does this format win?
Testimonials produced by users result in more sales than perfectly-edited presentation videos. UGC is also a way of interacting with your community and improving organic engagement.
Organic testimonials are free and cost you zero time and effort. The only question is – how to accumulate these videos?
Note: Offer a gift for customers producing video testimonials of your goods. No one would refuse a one-month discount. Plus, a competition between customers will result in more buzz around your brand.
Hack: Generate a branded hashtag for UGC content so that you can search for it easily.
PRACTICAL EXERCISE #1 – COLLECTING UGC VIDEOS
Before starting filming by yourself, use the most natural option – encourage your clients to create videos for your brand. Follow these steps:
Think over a list of questions for video testimonials. To make the creation easier for your public, outline questions they should cover in a video:
What was your main doubt about purchasing? Revealing hidden hesitations will convince potential customers. What results did you achieve with the help of this product? Ask users to talk about benefits at the beginning of the video. What features help you to get this result? Ask users to explain what product qualities they find the most effective. What are alternative use-cases of the product, if any? When customers begin utilizing a product, they may invent unusual use cases. Uncover them in videos.
Create a branded hashtag to have UGC tagged and systemized.
Announce the contest details among your clients – via emails, direct mass-messaging, Stories.
Download and post UGC on your Instagram. Use the Inflact Downloader – a free service allowing you to save any content from Instagram in its original quality.
Re-serve UGC for your Instagram clips, website, e-mails.
TikTok videos
Fenty Beauty is merging TikTok videos from their clients into their IGTV clips.
TikTok is blowing up and is predicted to become the next Snapchat.
For whom: Influencers, artists, personal brands, companies, products for generation Z.
Purpose: Smooth production of entertaining and engaging clips.
Instagram formats: Feed videos, Stories.
Why does this format win?
TikTok videos have no limits in terms of creativity, and they are simple to produce. The in-built editor, free music, and ideas from TikTok creators can sparkle your Instagram up with catchy clips. TikTok videos last 15 seconds, which is a perfect fit for Instagram Stories' timing. If you create extended 60-second TikTok clips, they will occupy 4 Stories perfectly placed together.
TikTok clips are addictive and easily go viral across Instagram so that you can attract new followers. If you sell to or influence gen Z, TikTok videos on Instagram work much better than conventional video ads. Replace old school hard-selling techniques with humor, creativity, and rhythm.
How to choose the video format based on your marketing goal
Shooting creative TikTok videos for your business is not enough.
A strategy is a must if you need not only likes but real clients, strong community, and sales. Look at the following scheme:

Videos should solve the challenges your audience and potential clients face at every stage – from attraction to delight. A well-thought-out video strategy guides customers through awareness, liking/evaluating, and buying.
Knowing and following the PURPOSE of your videos at each stage will help to choose the most engaging format with the best KPI.
Note: Each stage should include at least 2 videos.
| | | | |
| --- | --- | --- | --- |
| Type | Explanation | Formats | Example |
| Attract | A video should introduce solutions to an existing consumer problem— highly-emotional short clips that go viral. | Instagram video ads, Stories ads, IGTV. | Adidas Runtastic ad illustrating the results a customer gets after the app installation. |
| Convert | Converting videos should educate and inspire so that a viewer acts – filsl in a contact form, clicks a link, etc. | IGTV, Lives – allowing sharing links in captions. Video ads are leading to a website. | IGTV by Adidas Runtastic explaining nutrition schemes for the customers. |
| Close | These videos help to convert leads into customers through use cases, testimonials, in-depth tutorials. They should illustrate the result and emotions a customer gets after buying. | IGTV and feed videos with testimonials, target video ads on Stories, UG Stories. | |
| Delight | Delight videos aim to increase loyalty within existing customers so that they build a community around your brand. Buyers share "delight" videos with friends which, powered by their positive experience, results in new clients. | Entertaining videos in feed/ IGTV; Stories, mentioning existing and new clients; educational IGTV courses expanding clients' expertise. | Adidas Runtastic is filming competitions to engage with followers, encourage them to share this clip with friends to practice the same. |
Key takeaways:
"Attract" videos shouldn't put your product in the center – speak about your target customers and their challenges tied to your brand mission.
Converting videos provide more in-depth information than "attract" clips. It can be a webinar, an expert interview, a Q&A proving your expertise on the topic. Stories with a swipe-up link are also well-suited to converting.
Use before/after clips as "Close" videos to illustrate the results.
"Delight" clips should encourage followers and clients to share the content due to enhanced value – jokes, in-depth tutorial in your niche, etc. Quality "delight" videos build up brand loyalty, so you need to develop your brand voice and style for this type of content.
Now you understand what types of videos will be on the cusp in 2021. You know how to achieve marketing goals through videos at each stage of the consumer journey.
Instagram videos examples by niches: hot ideas 2021
The easiest way to produce a video is to remake a winning one. Killer and simple ideas for Instagram videos to repeat in 2021:
Niche

Idea

Example

What do you need

Fashion industry

Unfiltered catwalk made at home/studio.

Phone, model, your products, natural light.

Regram (reuse on IG) users content.

Just ask clients to tag you in their Stories.

Animated captions on videos to announce sales, promo codes, giveaways.

Adobe Spark or any other app where you can animate graphics.

Beauty/makeup

Unfiltered video-selfie with your makeup, products.

Your phone, daylight, a model.

Stop motion video of your products.

Your product, nice wall/ background, Life Lapse app.

Jewelry shop

Transform regular flat lay images into short videos.

Your products, mirror, flowers.

Influencers

Lives with experts, discussions, interviews.

An interesting person for your community.

Screen record and voice-over how you edit photos – simple genius.

Your phone.

Film landscape short clips instead of taking images.

Just tap on Record every time you want to take a shot.

Share styling hacks in the TikTok format.

Your phone and the TikTok app.

Restaurants

Film home cooking series with chefs.

A chef from your restaurant, a phone and a bit of editing.

Create a collage from the videos of your clients eating your food.

UGC and a simple collage maker.

Education/ online services

Record your voice over a slide-show to present a webinar on IGTV.

A slide-show, a basic video editor with the voice-over function.
Couldn't you find the idea for your account? Learn how to research videos in your niche for the future remake.
Monitor Instagram recommendations from the Explore feed.
Tap on any video on Explore and scroll down.
Tap on the IGTV icon on Explore to research IGTV in your niche.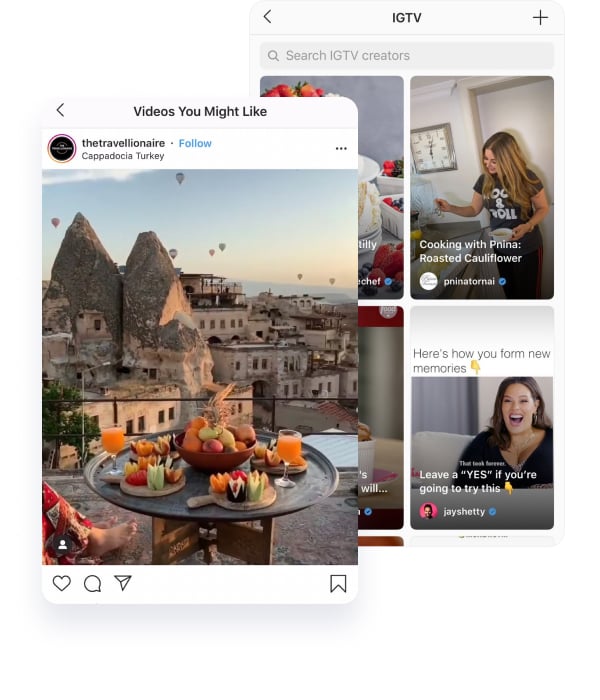 Monitor videos on Pinterest.
Type a keyword and pick videos in the search bar. You will see leading content you can reproduce.

Check the trends on Vimeo, TikTok, YouTube.
You can monitor top video platforms, see what type of content is trending and remake it for Instagram.

Now you understand what videos to film in 2021, how to correlate them to your marketing goal and where to find ideas. It seems you are ready for the brainstorm.
After brainstorming we will move on to practice shooting IGTVs, Lives, feed videos – the easiest and the most effective ways.
PRACTICAL EXERCISE #2 – BRAINSTORMING YOUR VIRAL IG VIDEO
Take a sheet of paper or open a blank document on your PC. Prepare for writing down your ideas.
While brainstorming alone or with your marketing team, answer the following questions:
What is the purpose of this video? What should a viewer be inspired to do after watching it?
Ideas: share with friends, repost in Stories, DM for more details, follow the link, register, buy a product, take part in a challenge, etc.
What are the possible resources for production?
Ideas: only a smartphone, influencers or other talent, UGC, equipment, studio, editors, etc.
What are my target viewer's problems and interests?
Collect social stats of your audience.
Analyze their problems/needs.
Find references to speak their visual language.
After this analysis, you can narrow down and concentrate on the content you CAN and SHOULD produce.
Chapter 2: How to produce and promote IGTV on a budget
Shooting clips for IGTV is a win-win because you can share the 60-second preview in the feed so that a clip appears on your profile. You can post an IGTV clip on Stories via stickers.
Note: It's important to promote IGTV through the other Instagram video formats. Thus, you can film the backstage for your vlog on Stories, highlight IGTV in the feed and answer questions after during a Live session.

Establishing your IGTV channel
PRACTICAL EXERCISE #1 – GETTING STARTED WITH IGTV
Option #1 – Upload via the IGTV app
Download the IGTV app on your phone.
Sign in using your Instagram nickname.
Tap on the "+" button in the upper right corner to upload videos.
Option #2 – Upload from Explore
Open the Explore page.
Click on the "+" button.
Upload any video from your gallery.
After you submit the first clip, you will notice the IGTV tab in your profile.
Filming IGTV without breaking the bank
Note: The maximum length of IGTV is 60 seconds, so you need to outline the video. You might need to prepare a short script to include all the details.
A video script is a chronological description of an IGTV clip, usually presented in the form of a spreadsheet with two columns – audio and video part.
Example of a video script:
| | |
| --- | --- |
| Visual | Audio |
| Tutor speaking to camera. Image next to him – Sales graph. | "This graph shows us that there was an increase in sales in May…" |
| Tutor speaking to camera. Image changes – Pie chart. | "... and this pie chart may hold the key to understanding why." |
Where to find talent for engaging IGTVIf it is not going to be just you speaking in front of the camera, you might wonder where to find talent to film. Here are the easiest options:


| | |
| --- | --- |
| Your team | Ask your workers to take part in filming and share their expert knowledge. |
| Influencers, Instagram models | Discover micro-influencers in your niche and offer cooperation. Use Inflact search to find accounts based on the category, follower count, gender. |
| Freelance spokesperson | You can use services like Fiverr to hire freelance actors or people who will create a voice-over in the language you need without an accent. |
| No actors needed | You can create IGTV without actors. Film a beautiful landscape with your voice-over and subtitles, create an animation, use UGC. You will find the tools below. |
5 Tips to look your best on camera
These tips will help to get a high-production cost image with minimal efforts.

PRACTICAL EXERCISE #2 – FILMING AN IGTV IN A HOME SETTING
Place your camera/phone vertically.
Make sure you are filming in a full HD resolution and in vertical filming. If you film a horizontal video you will need to cut a part of it when editing.
Pro hack: If you need to film your face close up, don't come too close to the camera. Use the zoom-in function instead – this way the proportion and angles of your face will remain natural.
Adjust the lighting.
Even the cheapest lighting will make your IGTV look professional. The ring light is the easiest for homemade filming.
Natural sunlight is always a win – film in front of your window. Also, you can use a reflector to reflect the harsh sunlight making it less bright.
Hack: Use a daylight lamp you have at home. Place it behind the camera in front of you/your actors.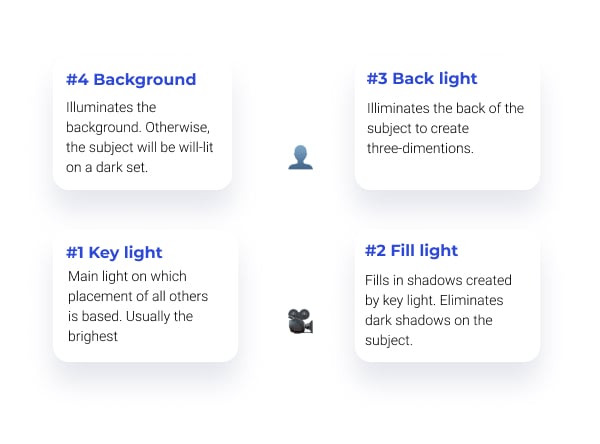 Pre-plan the music you are going to use. Choose a track that resonates with your audience's tastes and your brand voice.
IGTV= 50 video+50% music
Tap on Record and have fun. Start filming your video. Remember you can divide your video into episodes, edit and

Delete some of them.
How to edit IGTV on your phone professionally
Production of engaging and converting clips doesn't have to be overwhelming and time-consuming. You can film everything with your phone, trim and mix clips, add music and cover image – so easy!
5 Apps to make fun video edits for IGTV
Most of these Instagram video makers are free and all of them are user-friendly. They allow you to produce fine-tuned clips on the go without a costly team, equipment, or software.
App

Functions

Price

OS

Note

Video Shop

Trim clips, slow footage down, combine multiple videos into one, filters, sound effects, add text, attach a soundtrack.

Free

iOS, Android

All-in-one app to create professional IGTVs.

Magisto

AI-powered editing based on video style, in-app music library, direct export to FB ad manager, analytics, cloud storage in paid versions.

Free,

Pro and Business $50/month

iOS, Android

Works better for Stories and feed clips; editing of longer videos is paid.

Apple Clips

Live titles – automatic transcription of videos, background editing, mixing clips, trimming, adding filters, stickers.

Free

iOS

Awesome app for Apple users allowing you to transcribe IGTV clips.

InShot

Trimming, changing speed, music and text layering with timeline, flip and rotate option, easily resize footage for Instagram aspect ratio, color and blurred video borders, adding voice-over.

Pro

$3.99/month

$14.99/ year

Remove watermark and ads

$2.99

iOS, Android

The perfect tool for IGTV and Stories with extended features.

LumaFusion

6 video/audio tracks for photos, videos, audio, titles, and graphics; markers to discuss edits; extended audio features; layering video at the same frame.

$46.99

iOS

App loved by pro videographers and vloggers.
Copyrighted music for IGTV – can I use it?
Yes, you can use soundtracks with copyrights in the background, but only if you don't gain income from this video. Otherwise, you will have to pay royalties from your income to the owner. You can use royalty-free music platforms to apply music with no copyright or license for this purpose. For example, music stocks, Purple planet music, Narrator tracks, and many more.
Insight: 60% of users watch videos with the sound off. That's why it's important to use subtitles and Copy so that people will get your message. Moreover, subtitles and captions make your content inclusive for people with hearing impairments.
A good example of a transcribed IGTV by @dwellmagazine.
Apps to transcribe IGTVs:
Clipomatic – automated captions for Stories and IGTV in more than 25 languages. When you speak out loud the app generates captions, and you can edit style and fonts after.
Anchor Video – transforms podcasts, interviews into animated clips with captions. A perfect solution to share valuable audio content on IGTV.
Apple Clips – in-built Apple app with the function of transcribing in real-time.
Hack: Use the transcript of your video to Copy and Paste the text in your blog if you have one. Thus, you re-serve the content to get the maximum value.
IGTV promotion: how to package your video and get views
"I upload fine-tuned IGTVs that give valuable advice but still get few views. What am I doing wrong?"
Make sure you follow my advice.
IGTV Thumbnail
A cover image should be catchy and explain what a video will be about. People don't click on IGTV if they don't like the cover image. A killer thumbnail can really help your clip to go viral.
| | |
| --- | --- |
| DOs | DON'Ts |
| Emotional image of a person. | Blurry shot for the background. |
| Put caption in the center. | Put caption at the bottom/top. |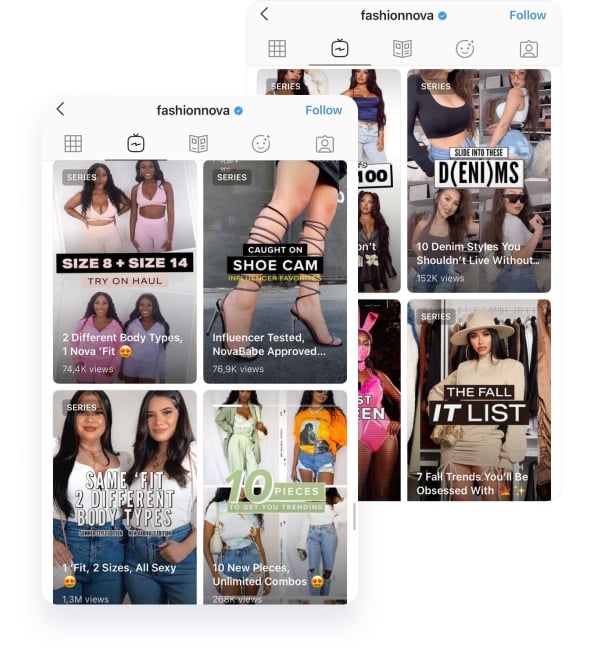 You can create your IGTV thumbnail via Canva or any other photo editor.
Note: A thumbnail will appear on your profile feed if you decide to share IGTV. Make sure it fits your profile aesthetics.
IGTV Title

IGTV cuts off the title in Browse so that you have just 3 words to convince a viewer to tap on your clip.
Always think about the first 3 words being a Holy Grail of your headline. They need to be clear and catchy to generate clicks from Browse and Explore sections.
Description

Use the description field to briefly explain what your video is about. Don't overthink it – highlight what people will get after watching your IGTV and use key phrases so that the Instagram algorithm understands and serves it to the interested audience.
2 must-use things in IGTV description:
Links – clickable links are available for all accounts. You can direct viewers to your landing page, website or affiliate link – that's how you can monetize video content and get sales right from Instagram.
Hashtags – get 3X the reach and get into the Explore feed. You can add up to 30 hashtags to your IGTV description which really improves the exposure of your clips.
I advise you to research hashtags via the Inflact Hashtag generator – an AI-powered and multi-language tool. You can enter up to 5 keywords to get a list of both frequent and rare hashtags that are suggested by Instagram. Simply Copy and Paste your winning set.
Read our dedicated guide to execute an Instagram hashtag strategy like a PRO.
IGTV promotion hacks
Post a preview in the feed. By doing this your IGTV shows up in the feed of people who are following you. After watching a preview, they will likely keep watching an IGTV and click your link, which results in leads/sales. When an IGTV lives in the feed as a post with description, you get higher chances to engage and communicate with your audience in the comments.
Use all Instagram video services as one. Make use of Stories, Live, and the feed to promote your IGTV clip for your target audience.
Stories before upload – use them to tease and show the behind-the-scenes filming process.
Tip: Use a countdown sticker to warm up your audience before the IGTV release. That's how you drive notifications and the audience will be there as soon as you upload a clip.
Feed – post the preview as we've described above.
Stories after upload – encourage viewers to share an IGTV in Stories to get higher exposure.
Lives after upload – go live to point back to the video and collect feedback, respond to common questions, and drive extra traffic. Use digital meetups to generate new ideas for IGTVs.

Conclusion: By using these additional tricks you will get more eyeballs on your IGTV content.
IGTV FAQ
The hottest questions about IGTV you need to know.
How are views counted on IGTV?
Views for an Instagram TV are defined as the number of times people watched at least 3 seconds of your clip.
How many channels can I have on IGTV?
One user is allowed to run one channel per account.
What are the most engaging IGTV themes?
The idea should be simple. For example, you can take a 1-star product from Amazon in your niche and review it. Also, cooking shows are getting extremely popular.
How long can an IGTV clip be?
The time frame for an Instagram TV clip is between 15 seconds and 60 minutes.
What is the best length for an IGTV?
It depends on the niche you specialize in. Monitor the Audience Retention metrics in-app to estimate how long people watch videos and use this timing in the next clips.
What marketing strategies should I use on IGTV in 2021?
This year unscripted, behind-the-scenes, tutorials, content produced with influencers and generated by users get the most views. Authenticity, fun and value are the cornerstones of your IGTV marketing strategy.
How to measure IGTV performance
After you launched your first IGTV, open the Insights to figure out what type of content your audience wants from you.
View the Engagement – likes, comments and views indicate how much your audience interacts with your content.
View the Average percentage watched – this shows the retention, i.e. how much of the clip most people watched.
View the Average percentage graph – this will show the % of people who watched your IGTV by the time. Use this graph to see when viewers tend to drop off and identify the best length.
Chapter 3: Producing engaging Live streams
How to overcome the fear of going Live
Do you constantly postpone going Live because you feel nervous?
You're really missing out because the Instagram platform prioritizes Lives to other content. When you go live on Instagram, your followers always get a notification. Your live session is always at the beginning of the Story feed.
Live is the most organic and engaging way you can speak to your audience.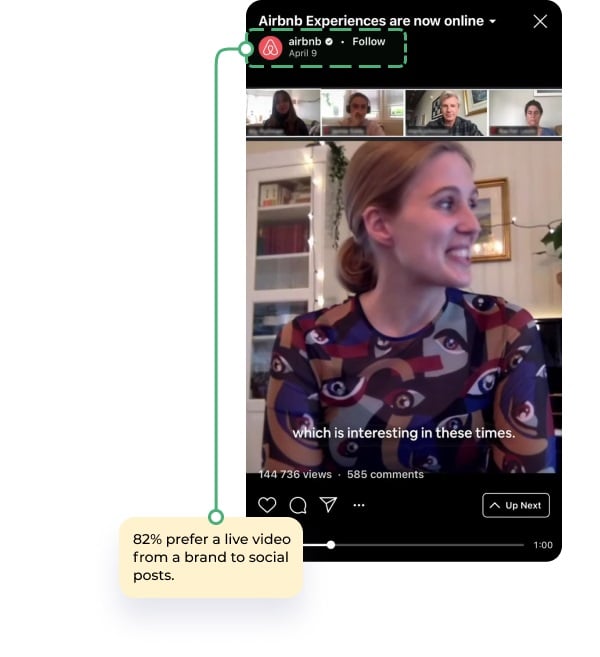 5 Practical tips to feel more confident when going Live:
Practice on Instagram Stories first. If you are nervous before going live, speak to the camera in real-time. You can identify the best angle, lighting, without the need to share a Story.
Begin with short live streams. Avoid being stressed if you go live for the first time – don't push yourself to stream for 30 minutes. Start with 5-minutes sessions until you feel relaxed in front of the camera.
Create a plug and play formula of Live. Once you have outlined and practiced at least 2-3 streams, you will notice a particular pattern.
Example of a formula for running a Live:
Key takeaways
Personal experience
Top mistakes
Undesired outcomes
Solution
You can use the same pattern for all the streaming sessions you produce on Instagram. The process may run in a different direction, but you are going to feel more confident with a plan.
Begin with interviews rather than organizing a solo live show. If you are petrified of speaking, hold interviews with other people. When you are having a conversation online, you can forget you are Live in front of viewers – these Lives look natural.
Go Live at an unpopular time. You can begin streaming when people are sleeping or at work – less viewer means less stress for the first time. After these trials, you will be comfortable with streaming at prime time.
Preparation for engaging and converting Live streams
What should I do so that a Live goes smoothly?
Outlining
Planning ahead is a must for any type of video content if you aim to engage, convert, and sell instead of just talking about your day. Even the most casual and authentic Live should be outlined.
You don't need to learn the script by heart, but the structure must be pre-planned.
PRACTICAL EXERCISE #1 – PLANNING AN ENGAGING LIVE
Take a notepad and a pencil or open a blank document.
Write down your goal – i.e., win more followers, streamline people to your website, stimulate sales, generate leads, etc. Based on your goal, mention the main topics you want to cover.
Answer the following questions:
Who? Think over who your audience is and what their characteristics are. Try to speak their language.
Example: If you live stream for gen Z, watch their favorite YouTubers and TikTokers to get the audience's voice.
What? What is your audience's pain point? What are they interested in learning from you? Collect questions people asked you in the comments, in the DMs, and via email to answer them all during the session.
Prepare photos & videos you are going to share. Instagram allows sharing content on one screen during the sessions.
CTA. What should this Live encourage people to do? Correlate your goal with a call-to-action.
How to look good on camera during Live
Put your camera at eye level. Your face will look slimmer if your phone is a bit elevated. Fix the phone on a shelf or the windowsill so you don't need to hold it.
Use a flash of natural lightning. Sit next to your window. The glass will work as a natural softbox for your video and block UV.
Hack: Put a white sheet/fabric on a window to soften the rays even more.
Keep in mind the background. You don't need to be in a studio to go Live, but make sure people won't see your underwear, a crack in the wall, etc.
Instagram Live killer promotion strategy
Treat your Live show as an event and tease viewers before the Live takes place. By generating interest in advance, you will get a lot more views.
A Strategy to promote your Live in advance:
Timeline

Activity

Example

2 weeks before the event

Stories. Collect questions/ topics for Live through Questions stickers, polls. Promise to answer the questions during the upcoming Live. That's how your stream will cover topics that are really interesting for your followers.

DM lists. Add the users who were active with your Story to the DM group. You will notify them and tease before the Live takes place.

You can label these dialogs via the Inflact Direct module.

Email. Use your email list to collect questions/topics for Live.

You will send the reminder to the interested people just before the broadcast.

A week before Live

Teasing posts. Create a feed post, and a Story where you mention unique benefits/audience pain points you are going to reveal during the upcoming Live.

Use hashtags from the Inflact hashtag generator so that like-minded people see your post.

Encourage people to share the post on their Stories.

Ad campaign. Promote this teasing post via Facebook Ad manager to your target audience. You can also share the stream to your Facebook page.

24 hours before Live

Set a countdown reminder on Stories. When people click on it, they will get notified when you start Live.
Invest your time into warming up your audience before going Live.
With this strategy your Live will get the maximum number of interested viewers!
Adjust the Live Settings

Before going online, make sure you have fixed the Live adjustments.
Privacy – You can choose to go Live only for Close friends. Or you can hide the stream from particular users.
Messages – You can adjust in the settings who can send you messages during the Live.
Saving – You can save the Live to your gallery or Instagram Archive. Set the saving options to reuse this content in your campaigns.
Sharing – You can broadcast your Live to your Facebook page, which will increase the reach.
The preparation is over. Now let's see what Instagram Live features will help you to engage with the audience, grow your community and generate leads.
Going Live with maximum reach

#1 CHOOSE THE TITLE AND FILTERS/MASKS FOR YOUR LIVE
The title for your Live will add more context for the followers – they can easily decide whether they want to hop in or not. So make the title short, teasing, and spicy!
#2 GIVE THE VIEWERS TIME BEFORE GOING TO THE MAIN POINT
People may need some time to go online and join your Live. Give them up to 5 minutes and begin with small talk, background music, etc.
#3 USE THE ENGAGEMENT-BOOSTING FEATURES
These tricks will bring more action to your Live:
Question stickers – You can post questions in real-time. Choose the most interesting question from the box and share it with the viewers.
Hack: If you got a question that is too complex or not related to the topic, say that you will talk about this issue in the next session. Don't leave the questions without a comment.
Answer in Direct – Tap on the paper airplane to continue discussions, share coupons or links with users in private messages.
Invite a guest to your Live – Click on the two faces to co-host your Live. You can also send a request or accept requests from viewers who want to appear in your Live.

Share media – You can share a slideshow, images, or videos while doing a Live. This feature works great when you need to explain an intricate topic or present a new product. Your face will move to the right top corner.
When showing slides, you can choose the next image right from your Gallery on the bottom on the Live screen.
Hack: People may want to get your slideshow. Offer them the ability to download this information by following a link to your website to increase conversions.
Pin comments – You can highlight your comments so that new viewers can find them easily.
Raise money for nonprofits – Add the donation sticker to your Live so that viewers can support verified organizations.
Congrats – your Live was successful! Let's learn how to re-serve the stream.
6 ways to reuse Lives in 2021 – maximize your ROI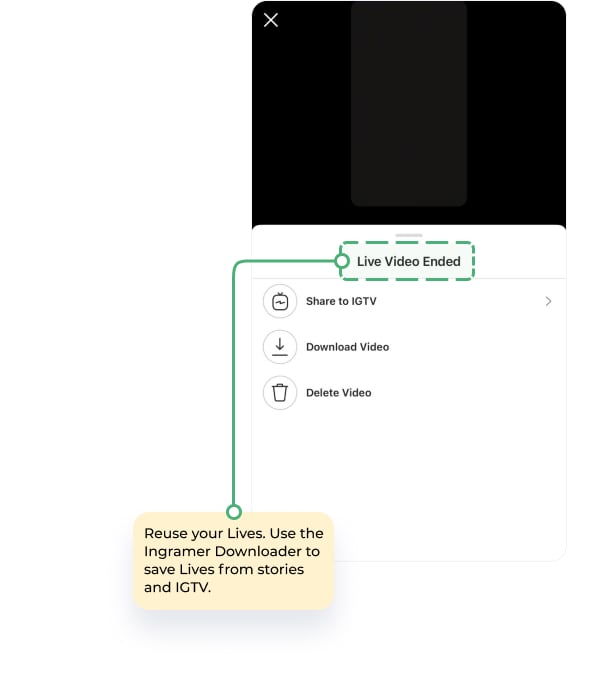 Note: Repurposing content is a real way to get the maximum ROI from every content piece you produce.
How to save your Live streams:
Option #1 – save Lives to your Stories for 24 hours. In this case, all the reactions, comments, and views will be saved.
Use the Inflact downloader to download the Live from your Stories.
Option #2 – download the Live as you finish.
Reminder: When you download a Live right after the session, the video is saved without comments and views.
Best practices to reuse Lives:
On Instagram. Trim the Live to fit the 15-second Stories format, 60-second feed videos, and 60-minute IGTV clips. Remember to add the Q&A to the Highlights.

Note: Moments of your Live will work perfectly for ads on Stories, feed, and Explore.
You can use the most engaging pieces to create a showreel.
On other social platforms. Publish your Live on Facebook, YouTube, TikTok, and any other platform you use for promotion.
Use the moments that will add value to your product/company/brand. But don't make the Live extract too polished so that it looks inauthentic.
Embed to your website. Publish Lives to you blog or product demos. If you promote a course, you can post a live session on your landing page to answer the typical questions.
Create a podcast. You can convert a Live video to audio to reach even more users across various channels. Many people listen to audio using iTunes, Soundcloud, or Alexa Flash Briefing so that you can distribute Live to new audiences. Attach a link to the video version of a podcast to drive people to your Instagram.
Transcribe into a blog post. People still want to read, and converting your Live interview into an article will contribute to your SEO. If you don't have a blog yet, you can use the text in a Facebook, LinkedIn, or Medium post.
Send to your email list. If some of your leads missed your Live on Instagram, send them the record via email. They will be pleased and won't miss the next session.
How to estimate the effectiveness of Lives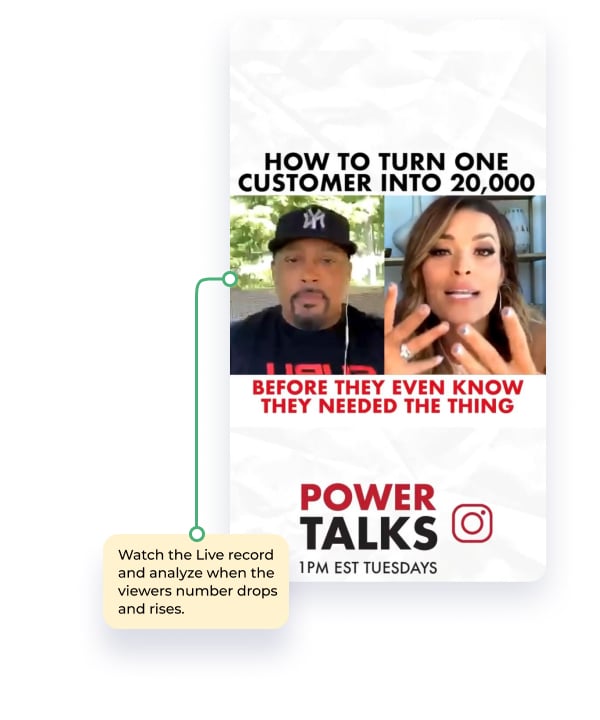 After you've held a stream on Instagram, saved it, and have an idea about how to re-serve it, I advise you to measure the performance.
What KPI should you track after Lives:
Website/ link clicks – Check how the number of Website clicks has changed after a Live.
The number of leads – Track how many people filled in the contact form if you shared one in your Live.
New followers – Measure how many new followers you attracted after the Live.
Note: Instagram allows you to monitor only the number of viewers at a time. After the session is over, watch the record and analyze when the viewers number drops and rises. This step will help you to determine the most engaging moments for the future.
What else can you do?
Ask your followers – Via Stories and in a post, ask the audience to give feedback on your Live.
Analyze weak points – Watch the Live with your team and point out what can you do to improve the next Live. Maybe you will want to answer the questions faster, to provide more media, or change the location.
Chapter 4: Create best-selling feed videos on your phone
Now you know how to produce engaging IGTV on a budget and go Live with no fears. You can repurpose Stories and Lives and post an IGTV preview by adding a catchy cover image to them and publishing in the feed.
In this chapter, I will cover the biggest editing trends for feed video content and apps you need to produce them. You don't need to memorize the Instagram feed video dimensions – just save this image:

Instagram feed videos: trends 2021 + apps you need
#1 – A CATCHY COVER IMAGE

Regular video posts influence your feed aesthetics. That's why it's important to create a winning cover photo so viewers will click on it. Checklist for the cover photo:
Expresses the main message of videos.
Depicts the most emotional moment of the video.
Contains a caption/main takeaway/title.
What app will you need?
Canva – A free online service where you can add texts, graphics, stickers and emojis to your cover image. There are convenient templates for popular Instagram content types.
GoDaddy Studio – An app where you can create more sophisticated designs for video thumbnails. They offer an in-app library, trendy fonts, and graphics. There are many pro effects like masks, blending, and layering.
#2 – ANIMATED VIDEOS
Animations work great for the feed. They can be explainers, animated GIFS, etc. You can repurpose animation for ad campaigns too. Plus, you don't need actors or good light to produce an animation. Don't think it's complicated – I'll show you the right tools.
What app will you need?
Adobe Spark allows you to create professional-looking animations without any background in design. You can easily animate texts and graphic elements so that your clips look eye-popping. The app is free, available for iOS and Android, and packed with templates, stock content, fonts.
#3 – STOP-MOTION EFFECT
Stop-motion videos are perfect for the retail industry and Instagram shops. You just need your product, your phone, aesthetic background, and one app.
Hack: Promote stop-motion clips via Facebook ad manager. You can create videos with your products for Stories and feed.
What app will you need?
Life Lapse claims that you don't need to be a pro to create high-production stop motion clips. For newbies, they offer tutorials in the Academy. You can produce everything in a home setting. The toolkit includes multiple effects (speed, boomerang), music, timer feature. Also, you can save clips as GIFs. The 7-days trial is free. Android and iOS compatible.
#3 – TIKTOK VIDEOS
TikTok clips can last 60 seconds, which perfectly fits the feed timing. With the in-built TikTok editor, you can combine a cover image and clips, add music, and apply effects and filters.
What app will you need?
TikTok is not only a blooming social platform – you can use it as an editor for Instagram videos. You can choose clips from the phone gallery or film on-the-go, trim, add transitions, masks, captions, top music hits. Moreover, TikTok is the right place to learn the latest social media trends through in-app challenges and DIY clips. You can find new creative ideas and apply them to your brand. When you download a TikTok video, there will be a watermark. But you can remove it or cut a clip.
If you sell on Instagram for a younger generation, this app is a must to speak their language.
#4 – GIFS
GIFs are fun, short, and easy, and they can easily go viral. Moreover, it's easy to produce them on your phone. If you are missing Live photos on your feed, post GIFs. Your followers will love the fun content and will share!
What app will you need?
ImgPlay is an app that allows you to produce GIFs from a phone using images, clips, and graphics. Also, you can convert Live photos from your gallery into GIFs. You can trim clips, crop, and add text and stickers. It is possible to animate text and apply filters. You can use it on Apple and Android-based devices. The app is free, but to remove the watermark and the ads and to get more filters, you will need to pay $2.99.
How to get maximum exposure on feed videos
Do you want more people to see your polished feed video? Do as follows:
Determine the best time to post
There are two working methods to reach the maximum number of your followers. It's time to take your phone and practice.
PRACTICAL EXERCISE #1 – THE BEST TIME TO POST ON THE FEED
Option #1 – based on your followers' activity
Open the Instagram app and go to the Insights.
Click on the menu item Audience, scroll to the end.
See the time and days when your followers are the most active.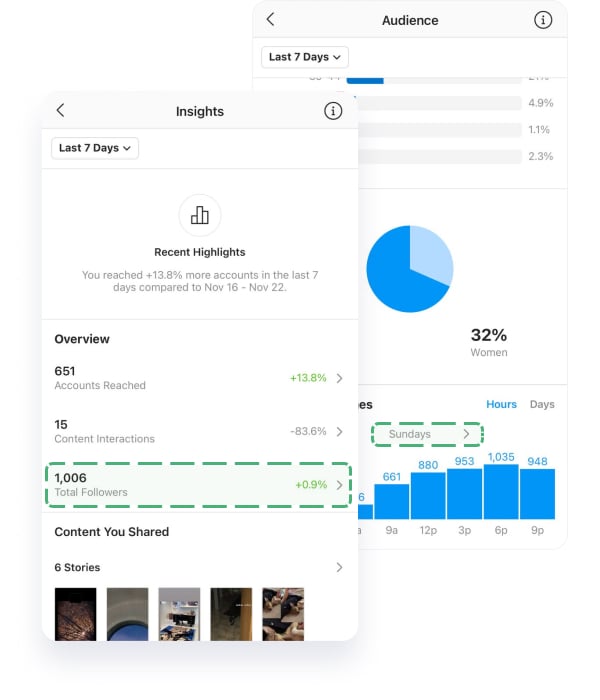 Option #2 based on your competitors
Go to the Inflact profile analyzer.
Paste the nickname of your competitor into the search bar.
Find this section and determine the optimal time.

To get the maximum reach at a popular time, you need to be consistent about posting.
Schedule videos in advance.
Inflact post-planner is a tool where you can schedule videos, Stories, and regular photos.
How does this scheduling tool enhance your promotion?
Hashtags auto-update feature. You can test up to 90 hashtags for your video post by switching them after 10 minutes and after 4 hours. Thus, your video will appear in more top hashtags and you'll get more views.

Hack: Add location and tag popular accounts to get more views on your video content.
Develop hashtag marketing.
A hashtag strategy is crucial when it comes to the promotion of feed videos, IGTV, and Stories.
Inflact Hashtags generator is a must-have tool you need on your dashboard when posting videos.
AI-powered hashtags, hashtags suggested by Instagram, and advanced analytics all-in-one – read our fully-fledged guide about Hashtag marketing and go into action!
Highlights as a Pro
Sales-boosting Instagram Highlights Guide
next guide